Are you tired of searching for a good, interactive ball launcher for dogs for your pet and you to have proper fun playing?
The end of your search is on the horizon, so continue reading this article and find that one interactive tennis ball launcher that's just right for you. In it, we will go through the best launchers for small and large dogs, the best automatic, and more others.
The Summary
Best 6 Interactive Ball Launchers For Dogs
BEST OF BEST INTERACTIVE BALL LAUNCHER
Afp Automatic Ball Launcher
Playing By Themselves
This tennis ball shooter for dogs is made to be used in a way where you don't have to constantly play with your pet, but can be interactive for you to bond with your pet but, make it seem effortless. It's designed for your dog to be able to put the balls in by himself and in a way that the launcher throws the ball automatically without you having to activate it.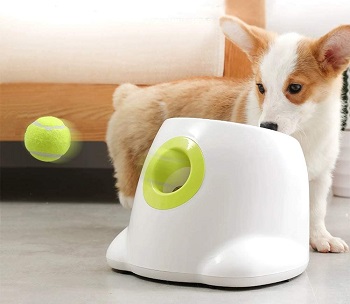 Diferent Plugs For Diferent Countries
You won't have to worry about your countries electrical standards because this AFP ball launcher comes with an electrical plug that matches your countries standards, but if you choose to use it with batteries, you can but you'll have to buy 6, C-sized batteries separately.
Distance Option For Activity Level
You can adjust the distance of 10,20 or 30 ft to match your dog's activity level and age. You'll do that by pressing on a button located on the launcher as well as a light indicator to show which distance setting is currently in function. It also has instructions that tell you how to use the device correctly for long-lasting use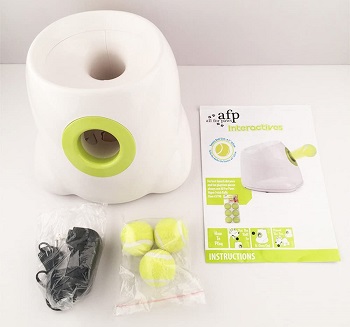 Additional Costs
The balls that you are able to put inside the ball basket are of standard size and you'll get three of them with this interactive ball launcher for no first time additional costs. it is recommended to only put one ball at a time for best results. a sensor inside will scan every ten seconds for a ball and launch it out once detected
In Short:
Your dog can play fetch with himself
Comes with electrical plug corresponding to your countries standards
Has 3 tennis balls of standard size
Fits one ball at a time
adjustable throwing distance up to 30 ft
BEST SLINGSHOT INTERACTIVE BALL LAUNCHER
Hyper Pet Ball Launcher
Quality, Tough Material
This interactive ball launcher is made of high-quality steel and it will make sure that this launcher lasts a long time. The simple all-black design will make it appealing to anyone and it makes the launcher look sturdier than it already is. It has a grip handle for you to not bruise your hands using it and for better and stable grip when in use.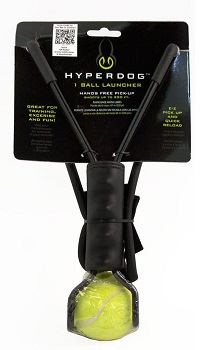 Large Throw Distance
It's able to throw balls up to 200 ft of distance which is quite impressive so if you have a more active dog and the space to use it to its' full potential, it's definitely a good choice. It also has a grip handle for you to not bruise your hands using it and for better and stable grip when in use.
Construction And Size
It's interactive in the sense that you have to shoot the ball out so a lot of the distance that it's able to travel will be up to you. It won't take up much space when not in use because of the fact that it has a collapsible construction and it's small.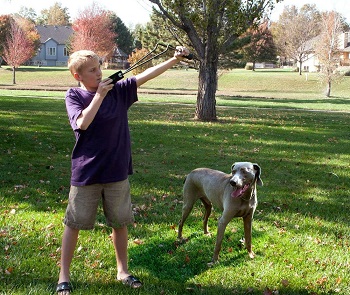 Different Variety To Choose From
Another thing you don't have to worry about is ball size. You can fit any tennis ball inside of it and it allows for you to pick up balls hands-free. To make it for fun, you can opt for a 4 ball design that allows you to throw 4 balls at a time so it is a great option for a ball launcher for large dogs.
In Short:
Made out of high-quality steel
Up to 200 ft of traveling distance
Fits any size of ball
Small and collapsible for easy storage
Has a grip handle for painless and simple handling
BEST AUTO INTERACTIVE BALL LAUNCHER FOR DOGS
Idogmate Dog Ball Launcher
AC Adapter Design
This automatic ball launcher for large dogs is easy to carry around wherever you need to because of the built-in hollow handle on the side of it. The power supply cord is positioned at a 90-degree angle to prevent your dog from accidentally plugging the machine off.
Safe Ball Diameter
The balls used for this interactive ball launcher are 2.5-in in diameter. This ball size makes it safe for your pet to carry inside his mouth. This is only true for large dogs since small dogs can't fit this size of the ball in their mouth. you'll get 3 of them with the launcher and they are made out of safe a and organic paste for making the balls so they are safe for you pet
Different Power Options
It gets its' power either through an AC adapter or 3 Li-ion batteries that are chargeable. Both options are included in the package so you can choose either of the two at any time if you're using it outdoor or indoors. For the Li-ion batteries, the distance will reduce over time so you should charge it frequently.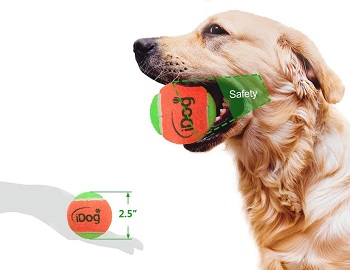 Remote Controlled
On the launcher, you'll find buttons for distance settings. You can choose between 5 options: 10-40 ft of throwing distance and a random option to keep it interesting for the dog. It also comes with a remote control to adjust the settings that you can find on the launcher.
In Short:
2 power supply options: AC adapter or 3 Li-ion batteries
3, 2.5-in diameter balls included
Change the distance settings through a remote or on the launcher
Has a hollow handle for easy transport
BEST ELECTRIC INTERACTIVE BALL LAUNCHER
Jopetio Automatic Tennis Ball Dispenser
Environmentally Friendly
Environmentally friendly materials used in the making of this interactive ball launcher are great for your pet. Not only that, but you also don't need to plug it into electricity.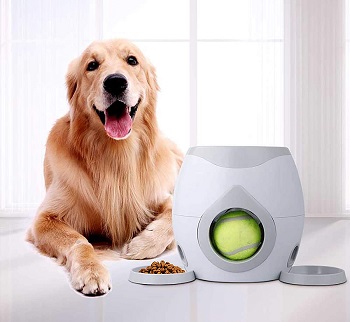 Food Reward System
It's great for teaching your dog to play fetch with a launcher because it awards your dog for placing the ball inside the machine by slowly distributing food awards when he succeeds. It has 2 trays for releasing the food on them so that your dog doesn't eat the reward from the floor.
Teaching Device
Keep in mind that this is not really a ball launcher. It's made to teach your pet action-reward system and to keep him amused when you're not playing with him. It's also good for teaching your dog to not eat his food too fast by distributing small amounts of food every time he successfully places the ball inside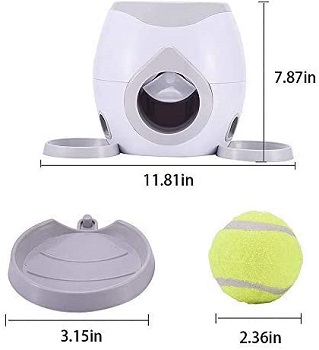 Start To A Ball Launcher
It's a great start to an actual launcher because it's similar in construction to a launcher. It's easy to clean and the food can be put inside of it easily through a hole on top of it which can be closed with a lid.
In Short:
Not an actual ball launcher
Teaches your dog to play with a launcher
Has a built-in food reward system
Rewards your dog with food after successful ball placing in the machine
No electricity needed
BEST INTERACTIVE DOG BALL THROWER STICK
Chuckit! Ball Launcher
Multiple Size Options
It comes in multiple sizes so you can choose one that will best suit your needs. with a longer one, you'll get greater throwing distance so if your dog is highly active and you don't want to struggle even less with throwing the ball with it, that would be a good option for you, but if just want to store it easier take a smaller one. You won't sacrifice much of throwing distance either.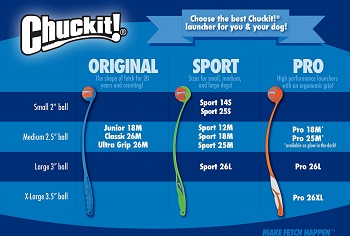 Ball Material
The ball that you get with the launcher is a rubber ball that is able to bounce high. The color of the ball provides high visibility for the owner and the dog in case it gets lost in the grass or wherever. The launcher is also compatible with tennis balls of standard size.
Multifunctional Toy
This interactive ball launcher for dogs can be used not only on solid ground but in the water as well so you can train your dog to go in the water by fetching the ball that's in a body of water.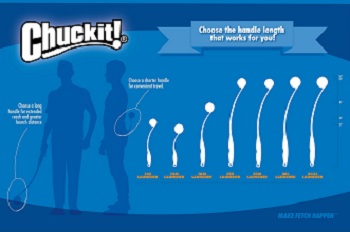 Easy Ball Pickup
It's made out of plastic material that is flexible to give you more moton speed to get a greater throwing distance. Another cool feature of this launcher is that you don't have to pick up the ball by yourself. The ball launcher is designed to make the ball pick up easily without having the need to bend over to get the ball
In Short:
Multiple sizes available
Compatible with most sizes of tennis balls
Comes with rubber, high bouncing ball
Made out of plastic
Allows for hands-free ball pickup
BEST INTERACTIVE AUTO BALL LAUNCHER FOR DOGS
iFetch Interactive Ball Launcher
Angled Ball Placing Basket
The angled basket to place the balls for launch is made for your dog to stand behind the launch hole so when teaching, encourage them to stand behind it.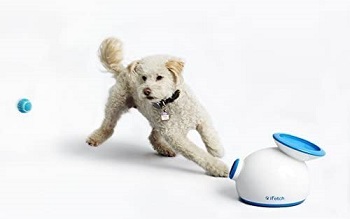 Set Up And Training Instructions
The launcher is made to provide safety when your dog plays on his own. Set up and training instructions that come with it will help you with that by taking you step by step on how to train your dog to play with the iFetch interactive ball launcher by themselves.
Optional Indoor/Outdoor Use
The 3 different distance settings of 10,20, and 30 ft by pressing a button on the machine are good for using it indoor as well as the AC adapter that you can plug in for it to run without batteries. You can also choose for the launcher to randomly choose between the provided distances.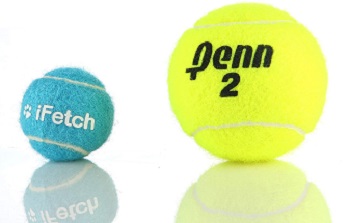 Good Small Dog Breeds Option
The balls that you can fit into the launcher are 1.6-in in diameter which means that the ball launcher is made to be used by smaller dog breeds. The size of the ball is made to fit into the small dog's mouth without being too small for the dog to accidentally choke
In Short:
Throw distance up to 30 ft with included random distance setting
Built for smaller dog breeds
Designed for your dog to play by himself
Includes training instruction
How To Pick An Interactive Dog Ball Thrower
Interactive means that two things are influencing each other so in this sense interactive would mean that either your pet and you are interacting or your pet and the ball thrower are. It's important to interact with your pet because it bonds you and your dog and you could use the time to teach them how to properly play and behave. This is why it's important to have an interactive ball launcher that will help teach your pet.
Functional For The Owner – The product that you're getting has to be well suited for you as well as your pet. There's a wide variety of different products so for each one you'll have to make sure of different things that make it suitable for you as well like a grip handle if you're getting a slingshot or remote control for you to be able to control a ball launcher from a distance. To put it simply, it has to be owner friendly as well
Constant Supervision Required – Although most of the ball throwers have to include you for your pet to play with them there are some that allow for your pet to play along with them, that doesn't mean that you can just leave your pet alone. They have to be properly trained to play with the toy because these toys, although durable, aren't invincible so constant supervision is advised.
Choking hazards – the balls that come with these products are non-toxic and safe for the pet, but you'll have to know your pet and how he behaves with toys to know if they are safe for them since manufacturers don't guarantee that the balls won't break or that your dog won't chew threw them and possibly swallow a piece that could choke them.
Outdoor Option – If you have a highly active dog, you should consider getting a product that's fit for outdoor use as well. Some of these products that are for manual use can throw balls up to 200 ft away. Others are made of durable materials that can withstand outdoor weather conditions. Not only that but they also have a battery option when you don't have an electric socket to plug it in.
To Sum Up
Today, you can get a lot of cool interactive ball launchers for dogs and a range of varieties to suit your dog breed best. With that said The best launcher that I would recommend is theHyper Pet Ball Launcherdue to its ability to throw the ball up to 200 ft away, great design and function properties that make it owner friendly as well, and the fact that you can throw pretty much any type of ball with it. Now, if you're busy with work and only have a small amount of time to interact with your pet you should read this article about the best automatic ball throwers for dogs for hours of fun and exercise and if you're more olf fashioned and just want a stick for your dog check out this post about dog ball thrower sticks, and get one suited to your dog's needs.