Are you looking for a tennis ball shooter for dogs to up the fun when you're playing?
Then search no more by simply continuing to read this article about exactly that. We will go through some of the best ball shooters today with included automatic types and any more, and review what makes this type of ball launcher great.
The Summary
Best 5 Tennis Ball Shooters For Dogs
BEST OF BEST TENNIS BALL SHOOTER FOR DOGS
Paws & Pals BazooK-9 Ball Launcher
Fun Design
The design of this shooter is made to resemble a bazooka or a gun. The way it functions is similar to those two as well and with a cool army grey and green color which makes it seem even more like a weapon, even your kids will have a fun time playing with your dog.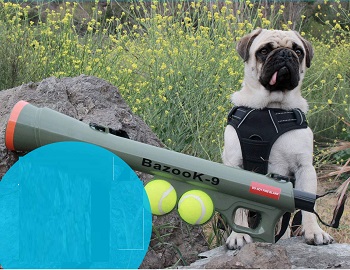 Items That Come With It
The 2 tennis balls that come with it are of standard size and have a squeaky functionality to surprise your dog and the tennis ball shooter for dogs can fit other standard sized tennis balls as well. Another thing that you'll get with the shooter is a shoulder strap for more comfort when shooting.
Shooter Range
The distance that it's able to achieve when shooting out of it is 70 ft, but it's adjustable to your liking when you pull the lever to create tension and then pull the trigger to shoot out the ball. The lever can be pulled however you like to give it more or less range with 9 distance settings on the lever.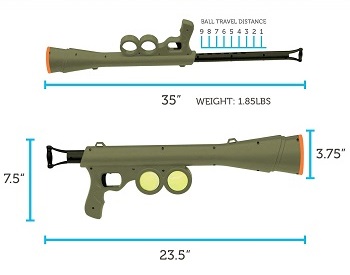 Ball Storage And Pickup
The balls can be picked up from the ground with the shooter by placing the front of the shooter on it and then pulling the lever and it also has storage for two extra balls.
In Short:
Launch distance adjustable with a lever
Shoots when the trigger is pulled
shoots up to 70 ft away
Comes with 2 squeaky tennis balls and an arm strap
BEST AUTO TENNIS BALL SHOOTER FOR DOGS
GoDogGo Fetch Machine
Safe Launch
The tennis ball shooter for dogs features a safe launch design by shooting the balls upwards meaning that it won't launch the ball straight into him. For added safety, it has a sensor that is dog activated if your dog gets too close to the ball launch area to stop the ball from shooting.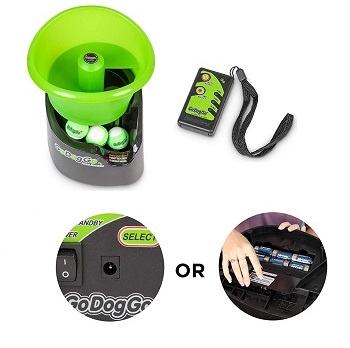 Time And Distance Settings
In addition to 3 distance settings ranging from 10,20 or 30 ft is the 3-time settings which mean that you can set the ball launch time intervals to 4, 7, and 15 seconds and you can set up all of it using a remote control that comes with it.
Balls Suited For It
For the ball placing, you'll get a bucket to put in a lot of balls so that you or your dog don't have to constantly fill it up with balls, and of course, you'll get a tennis ball to go with it, but if you want you can put in any size of ball ranging from 1.6-in to 2.6-in in diameter, but throwing distance will vary depending on the size of the ball.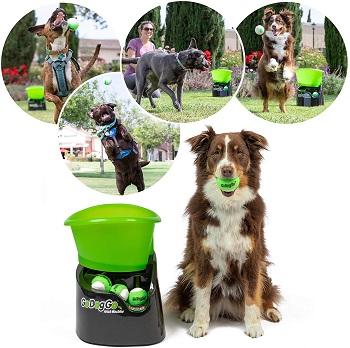 Energy Types And Saving
It will not launch if the ball is not inside due to an auto-stop feature which saves you energy. Another energy-related thing is that it can run on batteries as well as an AC adapter. The AC adapter is included but batteries are not.
In Short:
You can choose from 3 time and distance settings
Can be remote controlled
Has a dog activated sensor to prevent shooting when the dog is close
fits most sizes of balls
has a large basket for placing multiple balls inside at once
BEST SLINGSHOT TENNIS BALL SHOOTER FOR DOGS
Spunky Pop Bow Blaster
Playful Bow Design
Although it functions as a slingshot shooter, this tennis ball shooter for dogs resembles a bow for more fun added while playing fetch with your dog. It has a grip handle for you to hold it properly and an armrest for better balance and aim.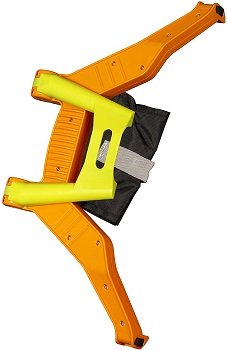 Left Or Right Handed Use
You don't need to worry about being right or left-handed cause it's made to be used by both can adjust the height and distance yourself by simply aiming higher and by pulling the ball harder. With that, you'll get a throw distance of up to 150 ft.
Multifunctional Ball Pouch
The pouch where you place the ball is wide and can fit multiple sizes of balls and even different toys to launch. It can also be used for your own pleasure and entertainment since it can be used for things like shooting water balloons.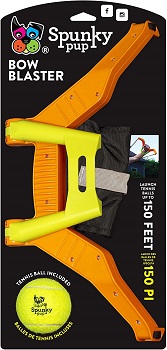 Easy To Use
You'll get one ball to go with it and don't worry about spring tension tiring you out, it's made for very energetic and active dogs without it possibly tiring you out in the process. It is made for outdoor use since it can damage house property because of the limited space that you get in the house
In Short:
 Can be used to throw water balloons
Ball pouch fits multiple sized balls and other toys
Made for right-handed and left-handed people
shooting distance of up to 150 ft is great for active dogs
BEST BLASTER TENNIS BALL SHOOTER FOR DOGS
Marshmallow Fun Company Ball Blaster
Lightweight And Easy To USe
Since this tennis ball shooter for dogs only weighs 1 pound it's safe and easy to be used by kids as well and the blaster gun resemblance might make your kids want to play with your dog more than other dog toys would.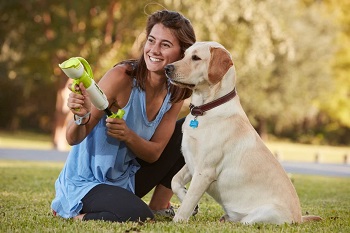 Pump Pressured Shooting
The way it works is that you pump the lever on the back a few times and press the trigger to shoot the ball out. For ball pickup, all you have to do is place the front on the ball and scoop it up. You don't have to worry about picking up slimy balls or hurting your back by picking them up.
No Electricity Use And Range
It doesn't use electricity nor batteries to run and it can launch balls up to 50 ft. It's a great middle-ground for active and less active dogs. You control the launch distance by how much you pump the thing up. With time the pump may lose it's pressure so it won't shoot up balls as far as it used to.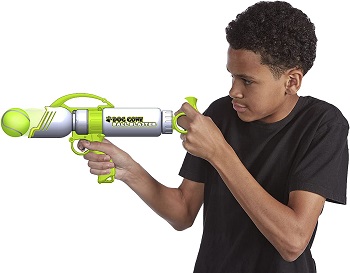 One Ball Launcher
It fires one ball at a time and doesn't have a storage unit to save balls for faster reload and use. It works best with standard sized tennis balls, but you're going to get one with the blaster so if you don't have tennis balls readily available to you, you can use the one given with it.
In Short:
Range up to 50 ft
Doesn't run on electricity
Uses pumping pressure to shoot out balls
Ball pickup is easy by scooping the ball with the front
BEST LARGE DOG TENNIS BALL SHOOTER
Nerf Dog Stomper
Innovative Design
This tennis ball shooter for dogs is designed to withstand tough conditions due to the tough and durable materials that it's made of. It is innovative and thoughtful in operational design and it brings something new to the table with the way that it's used.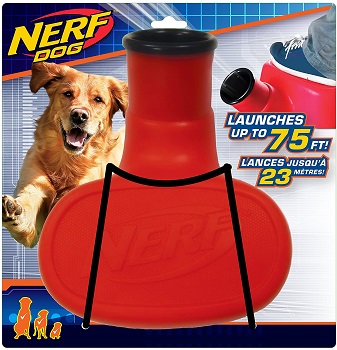 Foot Powered Use
Using it is very simple, simply load the tennis ball into the hole and press with your foot to shoot the ball into the distance. That means that you don't have to use your hands to operate it so it's especially good for people with shoulder pain and other arm problems.
Height And Distance Adjustment
The Nerf dog ball shooter works with any standard sized tennis ball and you'll get one ball with it as well. It doesn't need any type of adjustment. How you get it is how you use it. The shooting angle is already set with the way it's built.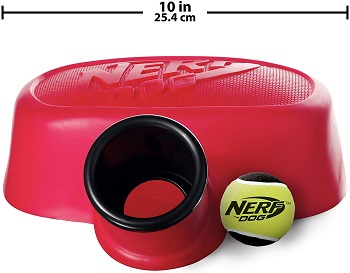 Middle Ground Distance
The Nerf tennis ball shooter shoots the ball up to 75 ft away and it's controlled by how hard you stop on the designated area. It is recommended to use with medium and large breeds because of the ball size. Note that your dog can't use it on his own since you have to push the ball in hard enough.
In Short:
Simple to use with no needed adjustments
Made out of tough materials
Fits one type of ball size
Made for medium and larger breeds of dogs
Range up to 75 ft away
Controlled by foot
How To Pick A Tennis Ball Shooter For Dogs
Tennis ball shooters for dogs are usually made to be fun for the pet and owner as well and even though most of them are cheap because they are simple in design and don't require electricity to run you still want to make sure that you're getting a product that will last so here are some things to consider before buying
Designed For Kids  – They are usually made to resemble a gun or a bow and that can carry with it a lot of fun for the owner, especially kids because it not only makes it a great dog toy, but also a kid toy. Your kid can practice shooting with of course taking the appropriate safety measures to not shoot the dog or themselves when the ball is in.
Different Distance For Different Dogs –  Even though they don't use any power supply to work, they can shoot the ball out to some impressive distances. They usually go from 50 ft with some having the range of up to 150 ft. You can adjust the distance manually yourself, but it's best to consider getting a shooter of smaller range for less active dogs and the ones with larger distance for more active dogs.
Hands-Free Pickup – They are usually designed so that you don't have to pick up the ball with your hands that put you at risk of back issues when you bend to get the ball and your hands don't have to get dirty because all you have to do in most cases is place the front of the shooter on the ball and pull the lever to keep the ball inside.
Indoor Use – Most of these are not fit for indoor use because of the pressure that is released when you shoot it and the range that it's able to achieve so if you're looking for an indoor option as well, try to pick the ones that come with preset distance settings and that run some form of electric power.
To Sum Up
You can really get playful when choosing the right tennis ball shooter for dogs and yourself, but the one that I would recommend is the Paws & Pals BazooK-9 Tennis Ball Launcher simply because it creates the perfect middle ground with the ability to be used by large and small breeds of dogs and the distance maximum makes it good enough for active dogs but it can also be adjusted to fit smaller dogs as well. It's all-around a versatile and fun product to have. If you'd like to take a break and provide your dog with a launcher that he can use by himself, check out this post about self throwing balls for dogs, and if you want to still interact with your pet during playtime read this post about interactive ball launchers.