Is your pet restless when it comes to playing fetch and you are just too busy to make it happen?
You went on a search to get a self ball thrower for dogs to suit your lifestyle and the dogs' energy level best?
End your search here by continuing to read this article about it where we reviewed the best self throwing balls for dogs money could buy and choose the one that's best for you by checking out products in 6 different categories like cheap, safe, interactive, and many more.
The Summary
Best 6 Self Ball Thrower For Dogs
BEST OF BEST SELF THROWING BALL FOR DOGS
GoDogGo G4 Automatic Ball Launcher
Flexible With Ball Size
What makes this launcher flexible is the fact that it works with most different sized balls. You can use it with a regular-sized tennis ball and smaller ones, depending on the size of your dog. The ball you can use range from 1.75-in in diameter to 2.5-in in diameter.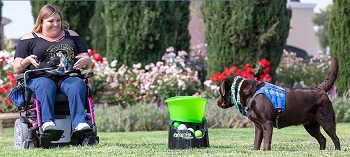 Self Throwing Features
To get your dog to a place where he can use it by himself the design helps greatly. You'll get a large, deep bucket for your dog to place the ball inside efficiently. Another thing to aid with this is the launch pattern that shoots the ball up in the air so that it doesn't directly shoot into your dog.
Power Saving And Powering Options
This self ball thrower for dogs has an autostop, ball-activated feature where it won't launch if the ball isn't loaded which will in turn save you some electricity. It can be powered through an AC adapter or batteries to make outdoor use possible as well.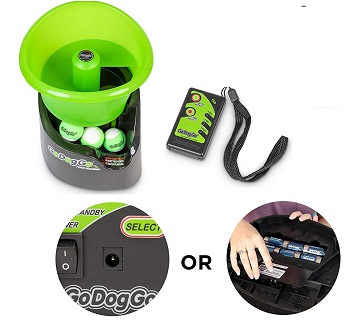 Time And Distance setting
It will bring you 3 distance launch settings: low, medium, or high to give you a launch up to 50 ft away and 3, time settings to launch the ball every 4, 7, or 15 seconds. With a range of up to 50 ft, it will be suited for large dogs as well as small dogs.
In Short:
Has a range of up to 50 ft away
Offers 3, time settings to launch the ball every 4, 7, or 15 seconds
Powered through batteries or an AC adapter
Has a ball activated auto-stop feature
Launcher ball up to protect your dog from direct hits
BEST INTERACTIVE SELF THROWING BALL FOR DOGS
iFetch Interactive Ball Launcher
Ball Placing Hole Purpose
With an angled ball placing hole, your dog will easily be taught to place the ball behind the machine for his own safety. This only applies to small dogs because larger dogs could easily place the ball from the front of the launcher considering their size.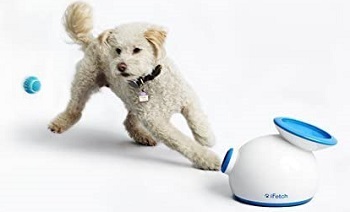 Ball Size For Smaller Dog Breeds
The self ball thrower for dogs can throw balls of 1.6-in diameter and other similar sized ones but the 3 balls you get with the machine are of 1.6-in diameter size. This will make it perform well with small dogs, but not large ones. The self throwing ball machine will not work well if the balls are too wet or dirty.
Indoor/Outdoor Distance Settings
The launcher can throw balls 10, 20, or 30 ft away. This distance choosing range makes it good for indoor use as well without you having to worry that your dog or ball will damage something inside the house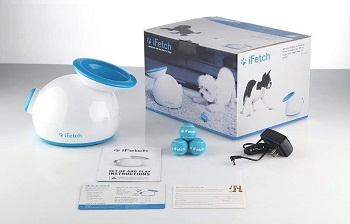 Easier Training
If you don't know where to start when training your dog, you can check out the play instructions that come with the self ball thrower to properly train your dog to play on his own. Keep in mind that your dog should always be supervised when playing to prevent potential harm
In Short:
Can be used outside because of 3 launch settings up to 30 ft away
Angled ball placing hole teaches your dog to safely put the ball inside
Works with balls of 1.6-in diameter and similar sizes
Suitable for small dogs only
Training instructions included for proper training
BEST SAFE SELF THROWING DOG BALL TOY
PetSafe Automatic Dog Toy Ball Launcher
Flexible Use With Different Sized Dogs
The self ball thrower for dogs functions best when used by dogs over 10 lbs. but since its maximum range is 30 ft it's better to use it with smaller dogs that can fit standard-sized balls in their mouth since the distance available might not be enough for large dogs to run for. it will give you 9 distance options that are adjustable by a knob on the self ball thrower.
Knob Adjusted Settings
Another thing that is adjustable by a knob is the throwing angle with 6 options to choose from. The launcher also has a motion detector that detects any movement in a 7 ft radius which will prevent the ball from being launched so that your dog and you are kept safe.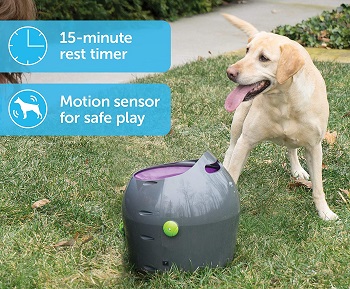 Sounds Produced
You can choose to activate a sound that plays when a ball is detected and will launch after 2 seconds. Another sound that is available to activate is the one that lets you know when a 15 minute resting period is activated to prevent your dog from over exhausting himself.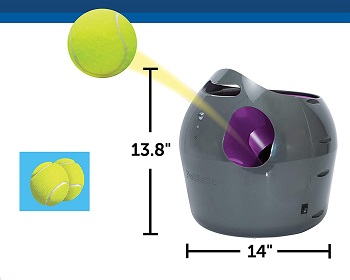 Balls Best Used With The Machine
With this automatic dog fetcher, come 2 standard-sized tennis balls. This does not mean that the ball launcher doesn't work with other, different sized balls, but it works best with those. Your dog can load up to 3 balls at a time.
Powering Options
Powering options that you get to choose from are through an AC adapter and batteries. The launcher is also waterproof so your dog can play outside even when it's raining
In Short:
2 powering options for indoor and outdoor use
The launcher is waterproof
Has multiple motion detectors to keep your dog and you safe
Produces sounds that can be turned off for delayed ball launch and 15 minute rest period
Fits standard and other sized balls
comes with 2 standard tennis balls
BEST AUTOMATIC DOG SELF BALL LAUNCHER
All for Paws Automatic Ball Launcher
Using The Launcher
The ball launcher doesn't have angle choosing settings but is a bit angled as a whole to get you at least some angle when the ball is launched. It's small in size and very light with 4.1 lbs. When it's turned on, it produces some sound so teaching your dog to use it properly from the start is imperative.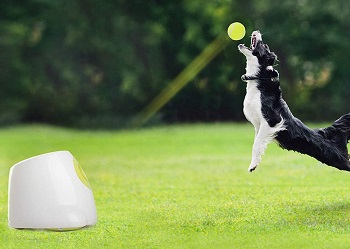 All For Paws Balls
For best results, it is recommended to use this self ball thrower for dogs with All For Paws balls that you can buy and the 3 balls that you get with the launcher. The balls have a 2-in diameter so it's fit for use with smaller dogs, but that doesn't have to stop you from using balls from other brands.
Push Of A Button Distance Choosing
The launching distance comes with 3 options to choose from. The options are 10, 20, or 30 ft. You can adjust these settings with the push of the button that you can find located on the dog self ball launcher.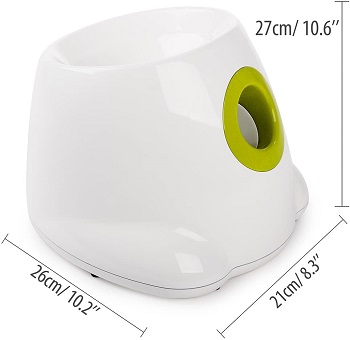 Powering The Launcher
Like many others, this launcher works with an AC adapter that comes with the launcher and with 6, C-sized batteries which makes it good for outdoor use as well. Note that prolonged battery use might affect maximum throwing distance.
In Short:
A bit loud when turned on
10, 20, or 30 ft launching distance adjustable on the launcher
Comes with 3, 2-in all for paws tennis balls
Optional outdoor use with batteries
BEST SMALL DOG SELF BALL THROWER FOR DOGS
Idogmate Interactive Ball Launcher
Design Features
The launcher has a boxed shape and on top of it, you will find a ball placing hole that takes up almost all of the top space. Another thing located on the top is the handle for easy transport. The launcher comes in 2 color options. blue and grey and white and green.
Dirty And Wet Ball Throwing Mechanism
The mechanism inside the launcher where the ball is located when put in the machine allows for dirty and wet balls to be dropped in without affecting performance. The only thing that could affect it is by using damaged balls.
Remote Controlled Distance Choosing
It has 4 distance options to choose from that are 10, 20, 25, or 35 feet. You can adjust these settings directly on the launcher or using a remote control that comes with this self ball thrower for dogs.
Product Made For Small Dogs
The launcher is designed to be used by dogs under 30 lbs only because it fits inside small balls of 1.75-in in diameter that makes it unsafe to be used by larger dogs. If you really like the machine, you can choose to buy the option for larger dogs as well.
In Short:
Available for use with wet and dirty balls as well
Has included 3 balls of 1.75-in diameter
Made to be used by dogs under 30 lbs
Controlled by a remote or directly from the launcher
Has 4 distance options that are 10, 20, 25, or 35 ft
BEST CHEAP SELF LOADING DOG BALL THROWER
Felix & Fido Playball!
Smart And Safe Design
The launcher is colored red and white. It is angled so that the top where the dog places the balls for launch, and the launching hole are not top of one another but rather, the top is located a bit to the back of the launch area for your small dog, not to place the ball inside directly in front of it. This feature makes it a self ball thrower.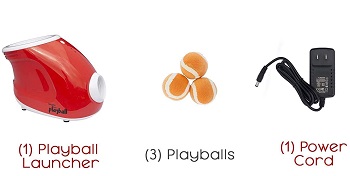 Special Ball Design
For self ball thrower for dogs to work, you'll have to use 1.5-in diameter balls. The 3 balls that come with the machine are smooth and resistant to saliva so that you don't have to worry about performance issues. You can use other, same-sized ball as well but the balls provided ensure long-lasting use before having to replace the ball currently in use.
Indoor Use recommended
It can be used outdoor via batteries that are not included and indoors by using a wall plug which is included. Outdoor use might not be as great because of weak throwing distance and seeing as different weather conditions like the strong wind may affect performance greatly.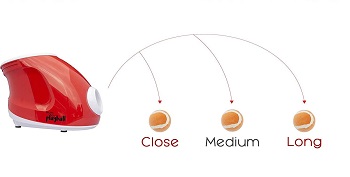 Launching The Balls
When the ball is placed inside, the launcher will wait a few seconds before launching it automatically. The way you can choose to set the 3 distance options up to 20 ft is directly from the launcher and a light indicator will tell you what mode is currently on.
In Short:
Angled to be safely used by your dog
Throwing distance maximum is up to 20 ft
Weak in power so it's not recommended for outdoor use
has a few seconds launch delay
How To Pick A Self Ball Thrower
For your pet to safely and efficiently use a self ball thrower for dogs, there are some things that you must take into consideration before buying since, without owner supervision, our dog can be put in danger. There are many things to take into account but the ones that stand out most are launcher design, ball launch delay, and others.
Play Training – No launcher will ever be made for your dog to use the launcher on his own from the start. A learning period where you train your dog to use it on his own is required, but luckily enough, some launchers can provide you with training tips to make the process faster so picking ones that have this will shorten and make the training period more efficient
Angled Throw And Design – A lot of the times, these types of launchers will in some way be designed to help you with training. They might have an angled design to encourage your dog to place the ball inside behind the launch are or the angled throw will make sure to not launch the ball directly into your dog. No matter what it is, these are the things that you should look out for
Ball Launch Period – In one way or another, there should be a few seconds time period before the ball is launched to give your dog time to remove himself from the launcher. This is made possible by either a built-in- launch delay or through ball activated sensors. Some may even provide you with a sound before the ball is launched to now exactly when it will happen.
Slimy And Dirty Ball Launch – Most launchers will have weaker performance when slim and dirty balls are put inside. This is something our dog can't control when playing by himself so choosing a launcher that isn't affected by this is something to think about when buying.
To Sum Up
Self ball throwers for dogs can be a great asset to you when you just don't have the time to play with your energetic dog, but teaching your dog to safely use it can be a challenging task so to aid with that, ball launchers have to be made in a certain way and the one that does exactly that best is the GoDogGo G4 Automatic Ball Launcher. Not only does the angle throw make it safe to use but it can also be used by various types of dogs, small or large. Now, if you're looking to get a launcher specifically made for smaller dog breeds check out this post about small dog ball launchers, and if automatic is just not your style and you want to play with your dog read our post about interactive ball launchers.