Are your hands tired from throwing all the balls lately so you've found yourself searching for an electric dog ball thrower?
Stop your search right here and read this article to find the best electricity-powered launcher for you. The type of launchers we will go through here vary in price, functionality for small or large dogs and more so you're sure to find the right fit for you.
The Summary
Best 5 Electric Dog Ball Throwers
BEST OF BEST ELECTRIC DOG BAL THROWER
Franklin Pet Supply Ready Set Fetch
Angle Adjustment
It will provide you with 3 angle settings that you'll have to adjust manually by using the provided retractable legs on the front bottom of the launcher to make the ball throw not only far but also high. The angles available are low, medium, and high.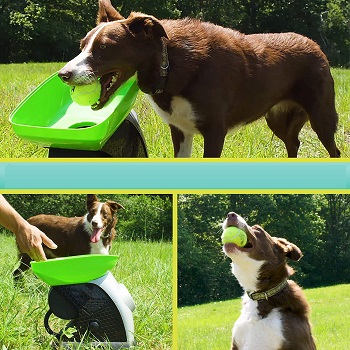 Ball Launch Options
With a knob located on the side of this electric dog ball launcher, you can adjust the throwing distance up to 25 ft away. When the ball is about to launch, this electric ball thrower produces a sound to warn you and your dog. This safety feature can also be turned off.
Ball Diameter
It has a deep basket to place balls inside so that your dog can use it on his own efficiently. It comes with 1 standard-sized tennis ball and is available for use with same-sized balls which means that the balls you are able to place inside have a 2.5-in diameter and can be used by large dogs.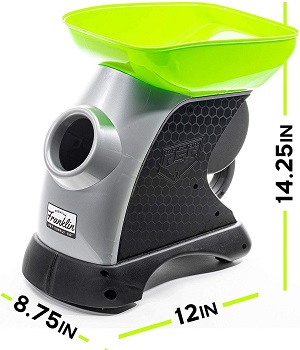 Powering Type
For powering the launcher, you'll be able to run it through a power cord and through batteries. The AC adapter power cord is included with the launcher while batteries are sold separately.
In Short:
Throws balls up to 25 ft away
You can manually adjust the throwing angle
Has a deep basket for easier ball placing
Fits standard sized tennis balls and comes with one
BEST LARGE DOG ELECTRIC BALL LAUNCHER
iFetch Interactive Ball Launchers
Rechargeable Battery
This launcher runs on electricity in the sense that you'll have to charge the built-in battery with a provided power cord. There is no AC adapter powering option so you'll have to rely on the battery and charging it for it to work properly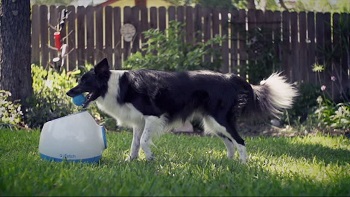 Distance Features And Settings
As for throwing distance, it gives you 3 options to choose from: 10, 25, or even 40 ft. Another setting allows you to choose a random distance with each throw to surprise the dog every time.
Tennis Ball Use
The 3 balls that you'll get with the launcher have a 2.5-in diameter which makes this electric dog ball launcher fit for large dogs. YOu can also use similar sized balls but take into account that your large dog shouldn't use balls that are too small since they can choke on them.

Training Mode
When this electric ball launcher for large dogs arrives, it'll have a limited throwing range of 10 ft. This is a good distance to start with when training your dog to play with it. After the initial training period, you can easily unlock other distance options with the flip of a switch.
In Short:
Runs on a built-in rechargeable battery
Fit for use with standard tennis balls
3 tennis balls are included with the launcher
Arrives in training mode that can be turned off with a switch
BEST SMALL DOG ELECTRIC BALL THROWER
Pet Prime Automatic Ball Launcher
Outdoor Usage
The quality plastic build and optional powering through batteries will make outdoor playing an option as well. Another feature that makes it good for outdoor use is the maximum distance it can achieve.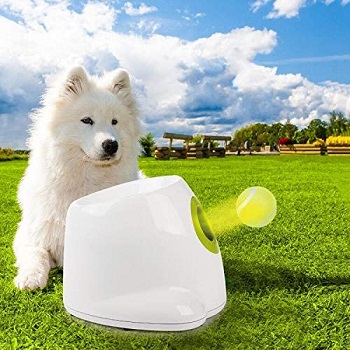 Light indicated Distance
The 3 distance settings can be set with the push of a button and be seen with a light indicator that tells you which distance is in use. The distances you get to choose from are 10, 20, or 30 ft.
Small And Medium Size Dogs
The small dog ball launcher will come with 3, 2-in diameter tennis balls. The ball size, overall launcher size, and available max distance all make it fit for use by small and medium-sized dogs. larger dog breed won't be able to use it because of small ball size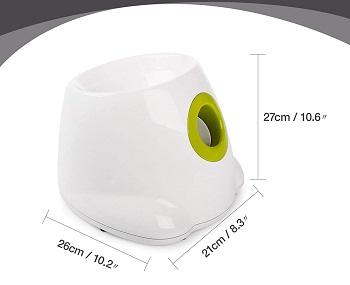 Powering The Machine
You can power this electric dog ball launcher with a provided AC adapter power chord or through 6, C-sized batteries that you'll have to buy separately
In Short:
Launch distance maximum is 30 ft
Built from high-quality plastic
fits 2-in tennis balls
Comes with 3 tennis balls
Powered by a power chord or batteries
BEST SELF-THROWER ELECTRIC BALL LAUNCHER
Luckeymore Automatic Dog Ball Launcher
Throwing Distance Options
This self-ball thrower for dogs throws balls up to 30 ft, with 2 more distance settings to choose from that are 10 or 20 ft. Another option for launching the ball is the random setting that will launch the ball at a random distance of the given three every time.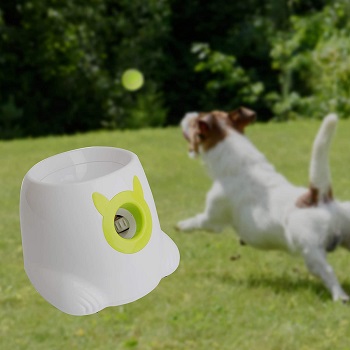 What's On The Launcher
You will be able to adjust the settings directly on this electric ball thrower and turn it on and off as well. On the launcher, you'll also find a secret treat compartment to train your dog on how to use the machine by himself by giving out food rewards.
Safety Features
It will come with 3, 2-in diameter balls that are durable and non-toxic. They are also felted just like a tennis ball that won't damage the dogs' teeth. The size of the balls makes it available for use by smaller dog breeds but not larger dog breeds. Another safety feature is that the launchers' ball drop area is slightly tilted to encourage your dog to place balls in safely.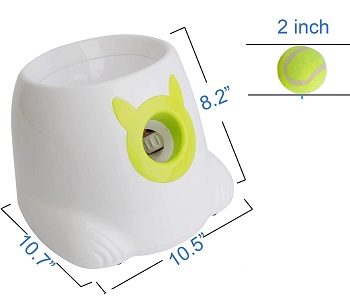 Options For Powering
As for power, you'll be able to plug it in, to work with an AC adapter which is included in the package or for a wireless option, through batteries. The batteries are not included and you'll have to buy separately 6, C batteries for it to function.
In Short:
Maximum distance achievable is 30 ft
Has a random distance setting
The package includes 3 2-in diameter balls
Powered through batteries or AC adapter
Tilted head for safe ball placing
Available for use by small dog breeds
BEST AUTOMATIC ELECTRIC TENNIS BALL LAUNCHER
Idogmate Big Dog Ball Launcher
Controlling The Settings
Using a remote control that comes with the machine, you'll be able to switch between 4 of the following distances: 10, 20, 30, or 40 ft with an additional setting that chooses the throwing distance randomly. You can also adjust these directly on the machine.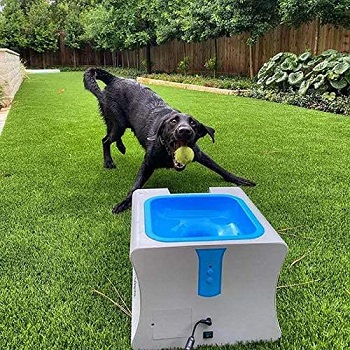 Launcher Power Options
The AC adapter that powers this electric tennis ball launcher is bent at a 90-degree angle so that it doesn't accidentally come out. Another way you can power the machine is through batteries that are rechargeable. Take into consideration that powering the launcher through batteries will weaken the throwing distance.
Large Breeds Launcher
Balls that can be used with this auto ball thrower for dogs are 2.6-in in diameter and you'll get 3 of them with it. The machine is meant to be used by dogs over 30 lbs.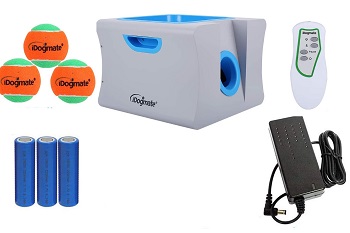 Playing By Themselves
The thing about using balls with this electric dog ball thrower is that it has no problem functioning even with wet and dirty balls thanks to the mechanism inside. This makes it good for the dog to play on his own. Another thing that aids in making that possible is the launchers' design.
In Short:
Gives you 4 distances up to 40 ft
Fits large sized tennis ball of 2.6-in diameter
Powers through an AC adapter or a rechargeable lithium battery
The special mechanism doesn't affect launcher performance with dirty/wet ball use
How To Pick An Electric Ball Thrower
Since their primary form of power is electric power, electric dog ball throwers can cost you a lot of money long term so it's important for them to have features that will save you some. Other things to think about are is it safe for use by your dog, how far does it throw, which dog breeds can use it, and many other differences so it's important to prepare before buying.
Optional Powering Modes – Most of these types of launchers have more than one way of powering the machine. Usually, with an AC adapter that you can plug into an electrical socket, you'll get the option of powering it through batteries. They can be disposable, but you can find products with rechargeable ones as well. This makes outdoor use options available to you, and with rechargeable batteries, you could, in the long run, save some money
Dog Breeds That Use It – These launchers come in all shapes and sizes but what determines best which dog breeds can use which machine is the ball size that is able to fit in the machine and more often than not the throwing distance that the machine is able to achieve. Larger dog breeds might not have much use from a machine that's only able to throw the ball 20 ft away.
Power Saving – Since they're electric, launchers of this sort will more often than not drain power so getting ones that save electricity should be considered. The best way to do that is that these launchers can have an auto-stop option that works in a way where the launcher won't run unless it's being used.
Playing Safely On Their Own – Many times, these tennis ball shooters for dogs will be designed in a way that makes it safe for your dog to play fetch on his own without your assistance. Things to look for here is the throwing angle of the ball, tilted construction so that your dog is motivated to place the ball behind the launch area, training tips can be of use and you can get them with some while some may have a treat compartment.
To Sum Up
With each product type there's one that stands out the most and electric dog ball throwers are no exception. This time it's definitely the Franklin Pet Supply Ready Set Fetch launcher. Not only is it made to be used by most dog breeds, but the upward throwing angle and a large basket make it much easier to be used by the dog himself. Now, if you're looking to get a ball launcher that doesn't run on electric power, you should definitely read this article about dog ball thrower sticks and if you're looking for a more interactive alternative and different product types to do so check out this post about interactive ball launchers.