Are you all out of options when it comes to searching for the ball launcher for large dogs and just want to end your search for it already?
Proceed with reading this article then and find out about the best different types of products for this type of playing with your dog. In it, we will go through a wide variety of categories for these products including slingshot launcher, stick launcher, and more.
The Summary
Best 5 Ball Launchers For Large Dogs
BEST OF BEST BALL LAUNCHER FOR LARGE DOGS
GoDogGo Fetch Machine
Safety And Energy Saving
This automatic ball thrower launches balls up in the air instead of laying low to provide your dog the much-needed safety when playing with it. For saving energy, it has a sensor that gives you an auto-stop feature that is ball activated.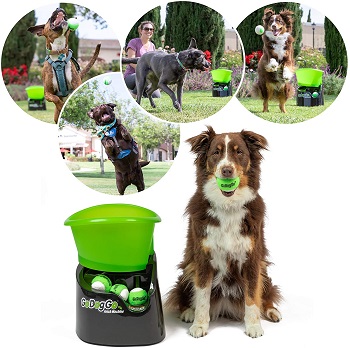 Variety Of Balls To Fit
The balls that are able to fit into this machine can be of various sizes. For it to work you can place balls ranging from 1.75-in to 2.5-in in diameter. The larger balls will better suit this tennis ball launcher for large dogs. Depending on size, the machine can fit inside up to 25 balls thanks to a deep basket.
Launch Time And Distance Options
You will get an option to launch balls with 3 different distance settings up to 50 ft away and for launch time, you'll also get 3, time options to choose from that include 4, 7, and 15 second launch time. The launch time can be set on the remote controller and you can choose to auto-launch the balls as well.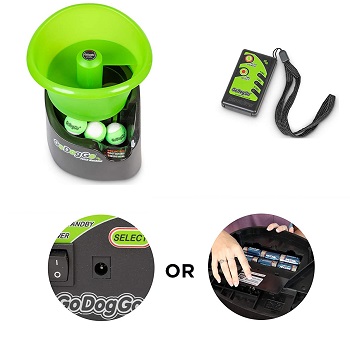 What Comes With It
You can choose to power the launcher through an AC adapter or batteries. You will get an AC adapter but not the batteries. You will also get 3, 2.5-in sized tennis balls.
In Short:
Has a ball activated sensor for auto-stop
Can be powered by batteries or electricity
3, 2.5-in balls included
It fits smaller balls as well
You can set the launch times
with 3 distance settings, it can shoot the ball up to 50 ft away
BEST INTERACTIVE BALL THROWER FOR LARGE DOGS
iFetch Interactive Ball Launcher
Angled Design
The whole product is slightly angled towards the air to provide a consistent launch angle since the angle can't be set on the machine. Another reason it is angled is to encourage your dog to correctly place the ball inside it by coming up to it from the back.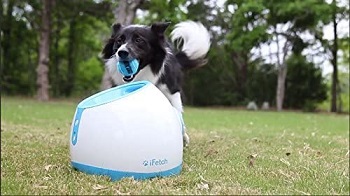 Power Source
The interactive ball launcher for large dogs doesn't run on power. Instead, it runs on built-in batteries that are rechargeable so it can be used outdoor. For charging you will get an adapter with this ball launcher for large dog to do so.
Ball Type Use
The package includes 3, 2.5-in sized tennis balls which fit into the standard sized tennis ball category but it works with any ball of this size. You shouldn't use balls that aren' too wet or dirty or damaged in any way since this will affect performance.

Beginners Training Mode
Launch distance ranges from 10 to 40 ft with a 25 ft launch distance in the middle of those two. That leaves you with 3 launch options and 1 random distance one. When you get the dog ball launcher, you'll have to flip a switch to activate other launch distances besides the 10 ft one which is the max in that mode. It's made like that to firstly train your dog to use it.
In Short:
Launches ball up to 40 ft
Training mode turned on when the product is bought
Runs on a built-in rechargeable battery
The package includes 3 balls
BEST BALL THROWING STICK FOR LARGE DOGS
Chuckit! Max Glow Pro Launcher
Stick Lenght
This is a short launcher stick. You should check the size of the stick before buying to see if it suits you well. Taller people might have a problem with this Chuckit ball launcher since they won't be able to reach the ground with the stick while standing up.

Throwing Distance
The dog ball thwoer stick will not give you a set maximum distance that you are able to reach. Rather, it measures throwable distance by enhancing your own throwing distance by 1-3x of your own throwing distance. In short, this means that the range depends on your ability to throw. Another variable that determines distance is the length of the Chuckit large ball launcher.
Smart and Cool Design
It has a cool, glow in the dark feature and is available in more than one color. This ball launcher for large dogs is made out of plastic and has an ergonomic grip handle for it to feel more comfortable in your hand while using it. You can also pick the ball up from the ground without getting your hands dirty.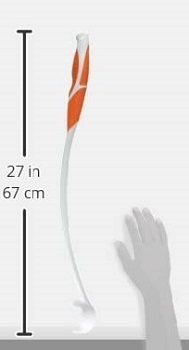 Contents Of The Box
The package includes one Chuckit 2.5-in diameter ball but you can use other balls of this size as well. For it to be a fun match for the glow in the dark stick, you can buy the glow in the dark ball as well.
In Short:
The stick glows in the dark
Short in length so not suitable for taller people
Weaker distance range
No set distance achievable
Has an ergonomic grip handle
BEST TENNIS BALL SHOOTER FOR LARGE DOGS
Nerf Dog Tennis Ball Blaster
Fun Toy Design
The design of this ball launcher for large dogs is made to feel like you're holding a toy gun to play with. It's good for kids because it allows them to wilfully engage in playing with the dog while they also have fun with the toy.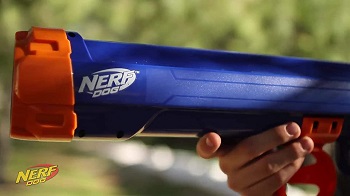 Distance Setting Lever
On top of this tennis ball thrower for large dogs, you'll find an orange lever piece that you can pull back however you'd like to adjust the launch distance. It will give you a maximum of  50 ft throwing distance.
Balls Of Different Properties
The 4  balls you get with the package are big enough to safely inside a large dogs' mouth. 3 of the tennis like balls have squeaky properties and one ball is lighter in weight for you to be able to achieve more distance when launching it. It works with other tennis balls as well.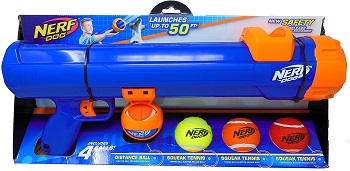 How To Use it
The way it works is simple. simply place the nozzle of the launcher on the ball and scoop it hands-free from the ground. Next, adjust the distance by pulling the orange lever throughout the whole length of the launcher and release the ball with a trigger.
In Short:
Provide for no bend-down ball pickup
Resembles a gun to make using it fun
Includes 4 balls, 3 with squeaky properties and 1 lightweight ball
Distance Can be adjusted with an orange lever on top of the launcher
BEST TENNIS BALL SLINGSHOT FOR LARGE DOGS
Hyper Pet Ball Launcher
Extra Ball Holder
Below the grip handle, you'll find located a bent, steel frame to put 1 ball inside for later use. It fits standard tennis balls inside. Other, smaller balls might not hold as well inside which means that smaller balls are more likely to fall off of it. It also makes ball pickup hands-free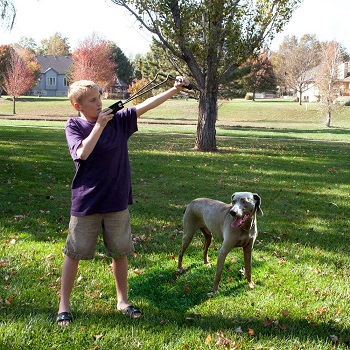 Force Need For Far Launch
The distance you can achieve with this tennis ball slingshot is dependant on how much you can pull back the stretchable band pouch although it says that it's able to launch the ball up to 220 ft away. If you're a bit weaker in strength or have some sort of arm or shoulder injury, you should proceed to buy this product with caution.
Replaceable Parts
If your pouch ever gets worn out, you can buy a replacement pouch from the same manufacturer. Nonetheless, it is a durable slingshot with full steel construction and a grip handle that gives you better control over the ball launcher.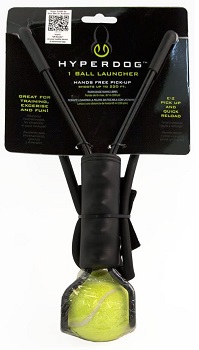 Ball Size It Works With Best
With it, you can launch any sized ball, but it's suited to best be used with a normal-sized tennis ball. That means that the tennis ball launcher for large dogs will work best with balls from 2.5-in to 2.7-in size. You'll get 1 ball within the package.
In Short:
 One regular-sized tennis ball included in the package
work with al ball sizes but best with a standard one
Can launch ball up to 220 ft away
Throwing distance is largely dependent on you
The ball can be scooped up hands-free
How To Pick A Ball Launcher For Large Dogs
Providing your dog with enough exercise using tennis ball launchers for large dogs can sometimes prove to be a hard task. Some are weak in power so they don't provide you with much distance, others are dependant on how strong your physical capabilities are so it's something to really think about before buying and this is exactly why there are so many options to choose from like automatic and manual launchers that can also be very different within those categories.
The Need For Exercise – large dogs are usually very active and need a lot of exercises so you want to provide them with a toy that will be able to shoot up far enough for them to get them to a point where they've been active enough. So, you should provide them with a product that has no less than 50 ft of throwing distance like most ball launchers for large dogs.
Manual VS Automatic – The manual products of this range will usually not have a set distance they can achieve and if they do, a lot of it will be dependant on your throwing capabilities. These launchers are made to enhance your already existing throw so you'll have to put some effort into throwing. If you don't want to or can't, you're better of buying an automatic launcher with a set distance.
Adapting To Provided Space – You won't be able to throw balls for your dog to catch however you feel like. You should adapt to the space you're given so buying a tennis ball launcher whose distance capabilities you can control is advised. You don't want to create a mess around your house or throw the ball too far in your backyard so that you lose it.
Owner Safety – Not everyone can buy the same product that will be used to its' full extent. With such a wide variety of products, you can choose from, get the one that you can safely use best. If you have some sort of back or arm injury or just aren't capable of using the launcher well, look for products that don't rely on your own strength to work well. For this, the best option would be a tennis ball shooter or an automatic and interactive ball launcher
To Sum Up
All things considered, the one product that stands out most with his distance capabilities and how much effort you have to put in to get it to that point is the GoDogGo Fetch Machine.  It has an impressive distance range, especially for an automatic launcher of up to 50 ft, it throws the ball up to make sure your dog doesn't get hurt, It can launch balls of most sizes and it even has an auto-stop feature to save power when it's not being used. Now, if you have a small dog and most of these products aren't fit for them read this post about small dog ball launchers, and if the automatic launchers appealed more to you, check this post about auto ball throwers for dogs out.