Want your beloved dog to have fun non-stop with a unique dog ball launcher that's either automatic or mechanical?
He certainly can with your help if you continue reading this article. You are certain to find one that will fit your dogs' behavior and your lifestyle best because in it we reviewed a staggering amount of them. Each is better than the other for different reasons and that's why you'll find interactive launchers, stick launchers, self throwing ones, and more.
The Summary
Best 8 Ball Launchers
BEST AUTOMATIC BALL LAUNCHER
iFetch Interactive Launcher
Upon receiving the product you'll have to turn off training mode if you want to unlock throwing distances up to 40 ft away. You'll also get a simple training guide on how to teach your dog to play with the machine without your assistance. Other throwing distances include 10 ft and 25 ft.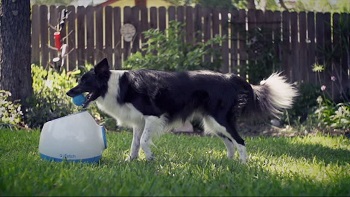 The balls it works with can be standard tennis balls. The 3 balls you'll receive actually have the 2.5-in standard tennis ball diameter. They can get dirty and wet but be careful with that. Some automatic ball launchers work worry-free with wet and dirty balls so be sure to check them all out.
In Short:
Comes with 3 balls
The balls have a standard tennis ball diameter
Comes working in training mode
You can unlock the 25 and 40 ft throwing distance easily
Comes with a simple training guide
Dogs can play on their own with it
BEST TENNIS DOG BALL LAUNCHER
PetSafe Automatic Tennis Ball Launcher
The best word to describe this launcher is safe. It has a motion sensor in the front that won't fire the ball if it detects movement up to 8 ft away. It will also produce a sound when the ball is ready to launch just in case. It has a total of 8 distance settings and 6 angle settings.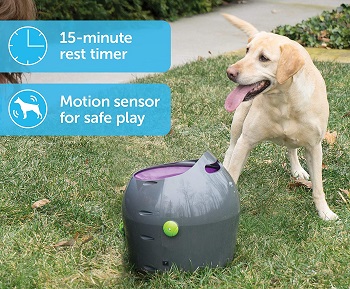 The machine will activate a 15 minute rest time on its own when needed so that the dog doesn't over exhaust. It works with regular tennis balls so the reoccurring cost will be a lot cheaper. If you'd prefer a smaller tennis ball thrower, you can read about them as well in the article about dog tennis ball launchers.
In Short:
Has a motion sensor to prevent unsafe launches
Produces a sound before launch
Has 9 distance and 6 angle settings.
Offers a 15-minute auto rest period
Works with standard-sized balls
BEST SELF DOG BALL THROWER
GoDogGo Inc. Fetch Machine
A total of 25 balls can be loaded in the deep basket at the top of this launcher. The number of balls depends on their size. This connects to the fact that it can work well both with large tennis balls or smaller tennis balls that are designed to fit in small dogs' mouths.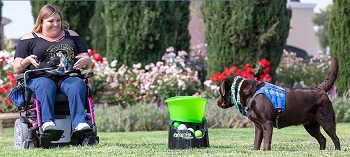 The standard tennis ball is its limit as it will not work with 3-in balls. You can choose for it to launch the ball every 4. 7, or 15 seconds. It works with a remote up to 50 ft away from the launcher. If you'd like to check out other self-ball throwers for dogs in other sizes, you're sure to find them in this article.
In Short:
The launch time can be set to every 4, 7, or 15 seconds
Has a deep basket that can hold up to 25 balls
Can shoot out different sized balls
Won't work with 3-in diameter balls
Can be remotely controlled up to 50 ft away
BEST INTERACTIVE BALL LAUNCHER
Hyper Pet Ball Launcher
The downside is that you'll have to do the job of throwing the ball but it will definitely enhance your throw to great lengths. It can throw the ball up to 220 ft away so it's great for big open fields and restless large dogs. It might as well shoot out smaller balls too.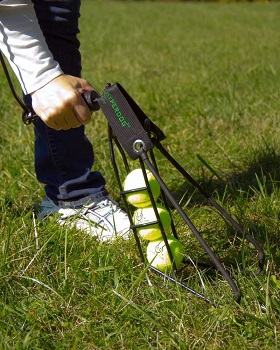 Initially, it comes with 4 standard size tennis balls that you can store in the bracket for repetitive and fast throws. You can pick up the balls with it as well. If you'd like a different approach to enhanced ball throws, you can check out other fun interactive ball launchers in the article.
In Short:
Cna shoot balls up to 220 ft away
Acts as a slingshot
Works best with large balls but can fire small ones
Comes with 4 2.5-in diameter tennis balls
Allows for hands-free ball pick up
Best for large fields and restless dogs
BEST LARGE DOG BALL LAUNCHER
Nerf Dog Tennis Ball Blaster
If you liked toy guns as a kid you'll love this launcher. It shoots like a gun. All you need to do is pull the top lever to create tension, and press the trigger on the bottom. It will shoot out balls up to 50 ft away so it's definitely great for larger dogs.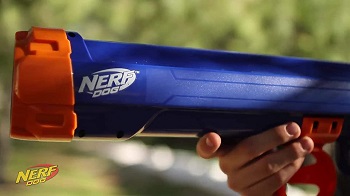 You can store one reserve ball on the actual launcher at a time. It comes with 4 balls and they're slightly smaller to fit dogs of all sizes. For more fun launchers such as this one be sure to check out the article about ball launchers for large dogs.
In Short:
Shaped and acts as a gun
Can be used for dogs of all sizes
Comes with 4 squeaky balls
Shoots balls up to 50 ft away
Has a bracket for storing one ball
BEST STICK DOG BALL THROWER
Chew King Ball Launcher
Ball throwing sticks usually only enhance your throw. This one also does it but you'll get to adjust the throw angle and distance depending on the ball. This is done by twisting the knob in the back. You can even use it for balls with a 3-in diameter.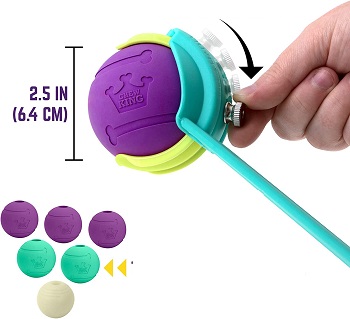 It comes with a total of 6 balls. Five out of six are made out of rubber and the last ball is a glow-in-the-dark one. Balls will be easy to pick up with the dog ball thrower stick as well. For more enhanced throws and clean hands, check out the article about more of them.
In Short:
Features a knob in the back
Has adjustable throw angle and distance
Can hold balls up to 3-in in diameter
Features 5 rubber balls
Comes with an additional glow in the dark ball
The balls can be picked up with the stick
BEST ELECTRIC BALL LAUNCHER
Idogmate Big Dog Ball Launcher
Machine likes this only works with specifically sized balls. Luckily this one works with standard-sized balls and you'll get 3 of them with the launcher. Don't worry about the balls being dirty or wet, this launcher can still throw them without getting damaged.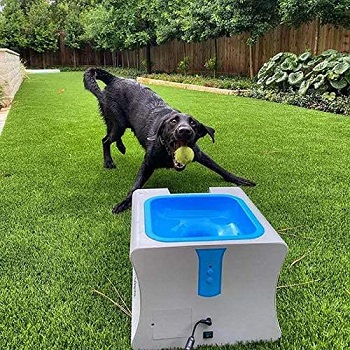 The max throwing distance is 40 ft but you can adjust it to throw balls to 10, 20, or 30 ft away as well. It comes with a remote controller as well. If you want to check out more remote-controlled and high-throwing distance launchers, be sure to read the article about more electric ball throwers.
In Short:
Can work with wet and dirty balls
Comes with 3 2.5-in diameter balls
Made for large dogs
Can throw the ball 10, 20, 30, or 40 ft away
Can be remote controlled
BEST SMALL DOG BALL LAUNCHER
Luckeymore Auto Launcher
The bracket where your dog will place the ball is angled to the back so that your dog learns to put the ball back from behind. This is only useful if the dog is small. It can be a launcher for small dogs only because the balls are small in diameter.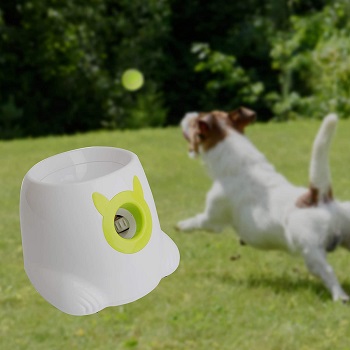 It can throw the ball up to 30 ft away and it has a random distance setting for the other two, 10, 20 ft throwing distances as well. It includes 3 balls and works with an adapter or batteries. It's the perfect small dog ball launcher for the indoors and many others are, but you can convince yourself by reading the article about them.
In Short:
Comes with 3 balls
Can throw the ball 10, 20, or 30 ft away
Has a random distance setting
The bracket is angled to the back for dog training
Good for the indoors
Should only be used with small dogs
How To Pick A Ball Launcher
There are many things you should know before purchasing a ball launcher. The reason why is so that you don't mess up and have to spend more on a different one in case the one you bought isn't the right fit. You can read about their price, types, size specifics, and more here.
Launcher Types – We were able to place these launchers into two categories. One is automatic launchers and the other one is manual launchers. Manual launchers will require you to do the work but the benefit is that they will keep you active and get you to bond with your dog better.
Automatic Launcher Troubles – Depending on whether an auto launcher is made for small or large dogs, the maximum throwing distance will still be only up to 50 ft. What's great though is that they can be used indoors by you setting the throwing distance to the lowest possible.
Manual Launcher Details – There are many manual launchers, unlike most similar auto launchers. You can get a stick thrower, a slingshot thrower, or a gun thrower. The gun throwers will have the lowest distance range while the other two might be able to throw the ball up to 220 ft away depending on the type.
Auto Launch Branding – For small dogs, the most know launcher is the AFP launcher but be careful because there are a lot of cheap copies out there. Both iFetch and idogmate launchers have small and large dog launchers while a brand like Godoggo has universal launchers.
Ball Size Importance – A large dog with a ball that's too small might choke on the ball while a small dog with a ball too big wouldn't have the use for it because he or she couldn't pick it up with its mouth. A standard 2.5-in tennis ball will do just fine for large dogs while anything around 2.0 in diameter will do fine for small dogs.
Throwing Balls – You want to pay close attention to what size of the ball the launcher can throw if it's an automatic launcher. manual launchers don't care all that much about it unless it's a ball gun blaster or sticks with a non-adjustable ball pick-up area.
Manual Thrower Brands – The most known brand for this is the Stickit! stick thrower. We didn't review it here because the chew king has an adjustable angle of throw and distance and can hold balls of different sizes. For cannons and slingshot, the most know are nerf guns that are great for kids, The hyper pet brand, and the K9 brand.
Average Pricing – For good quality and long-lasting auto launcher, you will have to spend at least 100 dollars with the top quality ones being prices as high as around 200 dollars. Manual launchers are the cheapest and some can cost as little as 15 dollars, depending on the product.
To Sum Up
We couldn't possibly recommend the best ball launcher out of all of these if they're all just so different and each one excels in a different area. All you need to make sure of is that you get the type that suits your lifestyle and that you get the one that can throw balls of a size suitable for your dog. For more specific info on dog ball launchers, be sure to read the following articles: automatic ball launchers and dog tennis ball launchers.