Are you tired of machines, indoor play, and just want a dog ball thrower stick to enhance your own throwing range?
We've got just what you need because in this article we will go through the best sticks to throw balls so continue reading to find out about high quality made ones, some cheaper alternatives and more to suit your needs and taste best.
The Summary
Best 5 Dog Ball Thrower Sticks
BEST OF BEST DOG BALL THROWER STICK
Flingerz Whistling Ball Launcher
Stick Build
For the stick itself, you'll get a basic, unicolored, plastic stick with a grip handle to control and hold it better. The top part of this dog ball thrower stick, the one that holds the ball is a flat piece of plastic that you just stick into the ball to pick it up and throw without using your hands. the whole product is also waterproof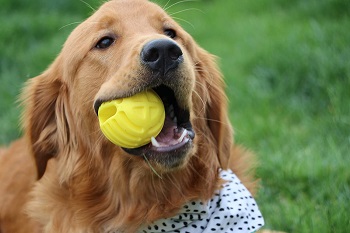 Ball Material
As for the ball material, it's made from poly-1 plastic that makes it ultra-hard and durable. It's made to be non-toxic and really tough so your dog chewing it wouldn't be a problem if your dog likes to chew a lot on balls.
Whistling Noise
A cool feature of the ball is that it grabs the dogs' attention when thrown because it produces a whistling sound while flying through the air so if your dog is not as interested in the ball this is sure to grab his attention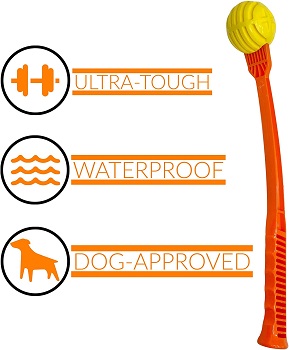 Use Of Grids On The Ball
Although the balls' size is that of a standard tennis ball, small dogs shouldn't have a problem putting it in their mouth as well because of the grids on the ball. Another way to use the grids is to place food items inside for a treat when playing with the ball.
In Short:
extremely durable ball material
Ball produces a whistling sound to grab the dog's attention
The ball is made with grids for treat placing and for smaller dogs to grab
The product is waterproof
Allows for hands-free ball pickup
BEST FOR LARGE DOGS BALL THROWER STICK
Franklin Pet Supply Dog Fetch Toy
No Hands Pickup
The three flexible grip hooks with rubber on top of each one and top of the ball thrower stick will allow you to pick up the ball without using your hands and it will also provide you with a firm grip so that the ball doesn't fall out before launch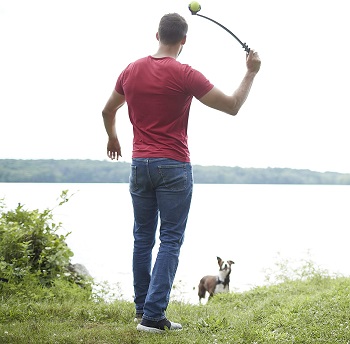 Clever Design
The dog ball thrower stick is made out of durable plastic materials and is 25-in long. It also has a flexible joint just above the grip handle that is made with ergonomic standards that both allow you for easier and safer throwing.
Ball Dimensions
The tennis ball that goes with this ball launcher for large dogs is a standard-sized one meaning that its dimensions go from 2.5-in to 2.7-in. It has squeaky properties when chewed on hard enough, but the ball thrower stick also allows you to place inside other tennis ball-sized balls.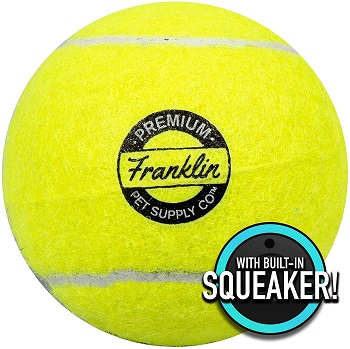 Safe Use For The Owner
It is made to keep your shoulders and back safe from having to pick up balls from the floor or from hurting your shoulder by throwing the ball far enough for your dog to run after it. It's designed to effortlessly enhance your ball throwing abilities.
In Short:
3 grip hooks hold the ball firmly and allow pickup without hands
25-in long
Has a flex joint for easier throwing
Features an ergonomic grip handle
Includes squeaky tennis ball
BEST CUSTOMIZABLE DOG BALL THROWER STICK
Chew King Fetch Balls
Features Placed On Top
This is a fetch stick that allows you to adjust the throwing distance and angle by simply using a knob on top of the stick that when turned goes from hard to soft. Another thing that comes in handy is that you can adjust the size of the ball that fits inside to 3-in.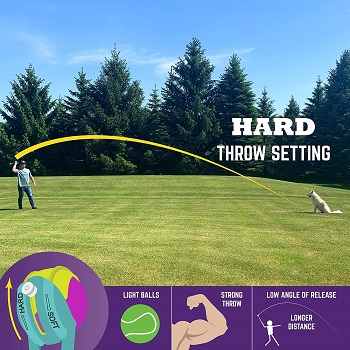 Turning Knob For Angled Throwing
The turning knob will allow you to throw the ball in 3 different modes. one for longer distances, medium and short. The angle of the throw is also determined in each one of the available distances. The longest distance has a low angle while the short distance has a high angle.
Ball Quantity And Size
To best use this stick for throwing balls, you'll get 5 rubber balls of the same 2.5" size and of lightweight with an additional glow in the dark ball. You can also fit tennis balls inside so it is a good tennis ball shooter for dogs. Try to experiment with the adjustable knob to see how far and how high balls of different weight will fly.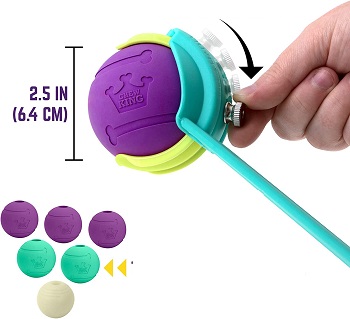 Clean Use
You can clean the dog ball thrower stick in a dishwasher and you can pick the balls up by pressing the launcher head on the ball so that you don't get your hands dirty.
In Short:
Can fit balls up to 3-in size
Comes with 5, 2.5-in balls and 1 glow in the dark ball
Adjustable throwing angle and range
Can be cleaned using a washing machine
BEST CHEAP DOG BALL THROWER STICK
Outward Hound Dog Ball Launcher
Stick Design And Material Build
It's designed to look like a sword, but functionally it does the job of throwing balls far away well. It's made of plastic and for using it, you'll be able to use only the balls made specifically for the launcher. The stick is angled a bit on the top part for more efficient throws.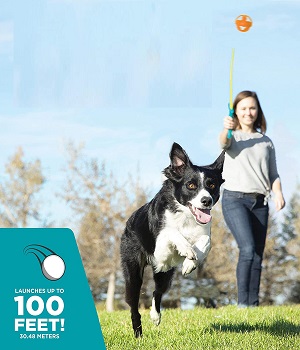 Sound Produced Throws
The dog ball thrower stick has plastic ridges on it to produce a zip sound when the ball is thrown to better capture the attention of your dog. You can throw up to 3 balls with it and they will all produce the sound
Special Balls For Use
With the ball thrower stick, you'll get 2 balls that are waterproof and durable but made squish for their chewing needs. They are hollow and the way you pick them up is by simply scooping them with the stick through the hollow holes.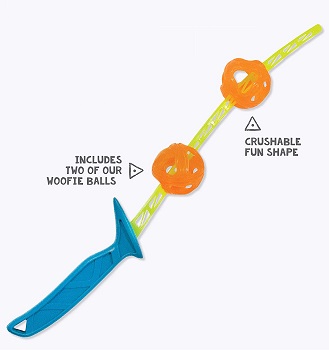 Large Throw Distance
The ball launcher can throw balls up to 100 ft away. It's a great fit for dog breeds that need a lot of exercises. Another thing that aids in throwing distance is the aerodynamic build of the balls.
In Short:
throws balls up to 10 ft away
Can throw 3 balls at once
Uses special balls for use
The 2 balls are durable, waterproof and squishy
BEST INTERACTIVE DOG BALL THROWER STICK
ChuckIt! Sport LX Ball Launcher
Family Pack
This launcher comes in a two-piece pack so that you could play fetch with your dog and another person or if one gets worn down, you have the option of using the other one. It's fully built out of durable and light plastic materials.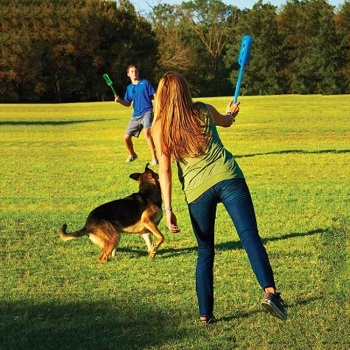 Enhanced Throw Distance/Speed
The stick is angled to enhance throwing distance. Another thing that enhances throwing distance is the fact the ball is not held on top of the dog ball thrower stick, but rather close to the middle and the holding cup extends to the top to give the ball speed when it's being thrown.
Ball Pickup Performed By Dog
Like with most, you don't need to bend over to pick up the ball, but that is a standard feature for this type of product although with this one you can even train your dog to place the ball in to assist you with this as well.

Regular Ball Use
This is a medium-sized product and it allows for balls of 2.5-in size to be put inside. You'll get one orange ChuckIt! ball with the product but you can put any same sized ball inside as well like a regular tennis ball
In Short:
Comes with 2 sticks and 1 ball
Design enhances speed and distance
Made for your dog to be able to put the ball inside it
Made for larger dog breeds
How To Pick A Dog Ball Thrower Stick
Although they are made simple by the way they work and the way they look, there are more than a few things that distinguish a good dog ball thrower stick from a bad one. They can be different in design to enhance throwing distance abilities, simple functioning design additions like a provided grip handle, and more so to choose which one's the best, consider these things before buying.
Clean Ball Pickup – You're better off without the product if it doesn't have this feature because all of them have it. Some pickup balls easily while with others you'll have a bit more trouble if the design isn't as good. The important thing is, you don't want to bend over every time to pick the ball up so look for products that have a long handle.
Specialized Balls – Some of them will allow you to put the regular-sized ball inside, but a lot of them only work with specialized balls, designed specifically for a certain product. This will, in the long run, prove a not so good investment since you'll have to buy special balls over and over again unless the balls are really durable.
No Defined Distance – These products don't have a set throwing distance usually. They are made to enhance your already existing throw whether it's weak or strong. Some can guarantee a certain throwing distance, but in the end, it's up to you how far you'll throw the ball.
Design For Greater Achieved Distance – They are mostly made of plastic that is either curved and flexible or they have another thoughtful addition to the design that will help you throw the ball far like a good grip handle, flex joint. These things are important to consider otherwise the ball won't get thrown as far as you might want to and you'll have to put more effort into throwing it.
To Sum Up
A stick to throw ball for dog is really simply made. There's not much to them at first glance, but there's a lot of space to deliver a great product with amazing features and performance. Having said that, the one that really shines through most out of all of them is definitely the Chew King Fetch Balls. the fact that with just the stick you can adjust the throwing angle and put balls inside up to 3-in size is impressive for a product that should simply enhance your throw. If interacting with your pet while playing appeals to you, but you're looking for a different form of ball throwers, definitely check out this article about different types of interactive ball throwers and if you want to completely take yourself out of the playing equation then make sure to read the post about auto ball launchers for dogs.