Are your hands tired of all the balls you've thrown lately and are looking for an automatic ball thrower for dogs that you and your dog will love?
Stop right here then because your search is over. In this article, we've gathered the best auto ball dog launchers for your and your pet's pleasure and amusement. We've covered a wide variety of launchers varying in price, performance, power, and more.
The Summary
Best 6 Auto Ball Throwers For Dogs
BEST OF BEST AUTO BALL THROWER
Pet Prime Automatic Ball Launcher
2 Size Options
It comes in 2 sizes to choose from, maxi and mini style. They are different from one another in dimensions and ball sizes that can fit in. The mini-sized auto fetch machine can fit tennis balls of 2-in size and the larger sized on balls of 2.5-in size.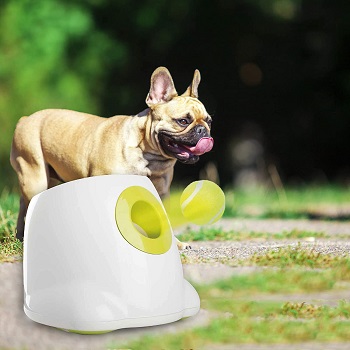 Balls Used For Operating
This auto dog ball launcher does not support regular sized tennis balls, but you do get 3 balls of the correct size with the machine. It is recommended to use balls specifically designed for it but you can put any ball inside of it as long as it fits into the 2-in diameter.
Flexible Throwing Range
The self ball thrower for dogs has 3 distance settings ranging from 1o-30 ft of throwing distance. It's easy to track what distance setting it is on since it has lights on it to determine which distance is being used and it is changed by pushing a button located on the machine.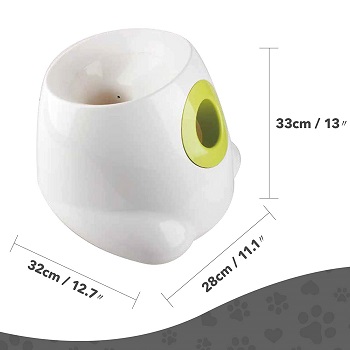 Outside Build
It's small and made out of quality plastic so that your pet doesn't accidentally damage the machine. It's available to use both outdoors and indoors and that is accomplished by being able to run on 6, C batteries that you have to buy separately or with an AC adapter that you get with the machine.
In Short:
3 distance settings
Made out of quality plastic
Doesn't support regular sized tennis balls
With it, you get 3, 2-in diameter balls
Able to run on batteries and an AC adapter
BEST INTERACTIVE AUTO DOG BALL LAUNCHER
iFetch Interactive Ball Launcher
Sized For Small Dogs
This auto ball thrower for dogs is small in size and fits 1.6-in diameter balls inside. You'll get 3 balls with it and it's made for small dogs. You can get the same dog launcher but in a larger size, if you have a larger dog.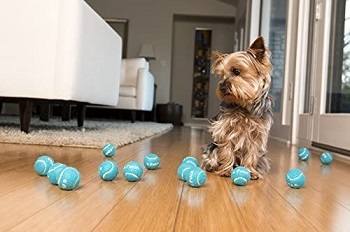 Playing Fetch Without Your Assistance
Automatic ball launcher for dogs in this sense means that you can train your dog to play fetch with himself. It is made for your dog to be able to place the ball inside on his own and the tube where the dog places the balls is tilted so that your dog is encouraged to place the ball inside standing behind the throwing area. This is why you need to pair a smaller model with your small dog.
Range Distance And Varieties
It's able to throw balls up to 10,20 and 30 ft and it is made to throw only one ball at a time so that your dog doesn't get confused when playing fetch with himself. If you want to keep it interesting for the dog, you can choose the option where the launcher throws the ball a random distance every time.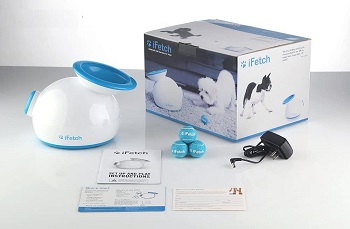 Training Tips For Interaction
You can use the interactive ball thrower inside as well as outside because of the option to run on batteries or for it to be plugged into an electric socket. It'll take some training for your dog to use it on his own, but they have some training tips to make the process faster on their official page.
In Short:
Comes in two sizes for small and larger dogs
Official site features training tips
Made for the dog to play fetch with himself
Safe for the dog because of tilted ball placing a tube
3 balls for playing fetch included.
Can be used outdoor and indoor
BEST LARGE AUTO BALL THROWER FOR DOGS
Franklin Automatic Tennis Ball Launcher
Angled Throwing
This automatic fetch machine has 3 angles from which you can throw the ball. That is achieved by having legs in the front that can be retracted completely or pulled out to a certain point to create the medium and high throwing angle option.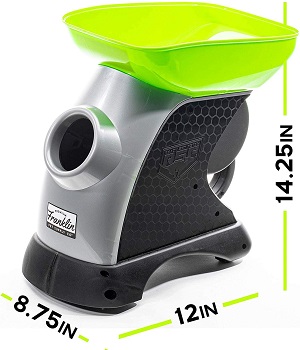 Safe Throwing Features
Not only that it can change the throwing angle, but it also has a distance setting and with it, you can adjust the throwing distance up to 25 ft. To ensure your dog's safety, the thrower produces a sound before launch to alert your dog that the ball is about to be thrown and gives him enough time to get ready for it. This option can be turned off if you or your dog don't like it.
Ball Options
This auto ball launcher for large dogs is made to fit standard sized tennis ball so if you have any tennis balls lying around, you can use those but you'll get one either way with the machine. It's important to keep the balls dry and clean for you to get the most of the machine's performance.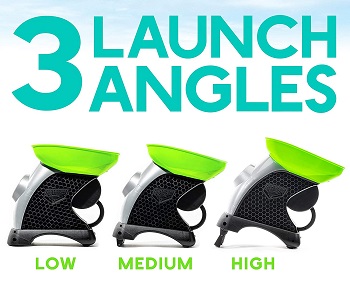 2 Power Options
You don't need to constantly change batteries with this thrower because it hs an AC adapter that's included in the package for you to plug it in and not have to worry about changing the batteries. It does have a compartment for the batteries as well and if you decide on using it with them, you'll need 8, D-sized batteries for it to work.
In Short:
Has distance setting as well as angle setting
Can choose between using it with batteries or AC adapter
Can produce a sound to alarm your dog that the ball is about to be thrown
Fits any standard sized tennis ball
BEST ADAPTABLE AUTO DOG FETCH MACHINE
PetSafe Automatic Dog Toy Ball Launcher
Visually Functionally Pleasing
The outside of this launcher looks amazing with the combination of dark grey and purple color for the exterior. Not to mention that it's waterproof so you can use it outside during rainy days as well. The option for battery use will help with that and you'll need 6, D-sized batteries.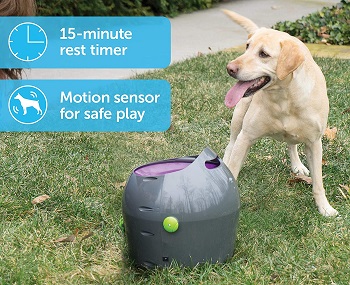 Motion Sensors And Sounds For Safe Use
It's made with you and your pets' safety in mind with a motion sensor in the front of the petsafe auto ball launcher that detects people and dogs standing up to 7ft in front of it and won't shoot if detected. It will also alert you 2 seconds beforehand when the ball is detected and is about to be thrown if you choose to turn on this option.
Over-Exhaustion
Another great feature of this ball thrower for dogs is the 15-minute rest option. the way it works is that your dog will play fetch with it for 15 minutes and then it will automatically enter into rest mode so that your dog doesn't exhaust himself.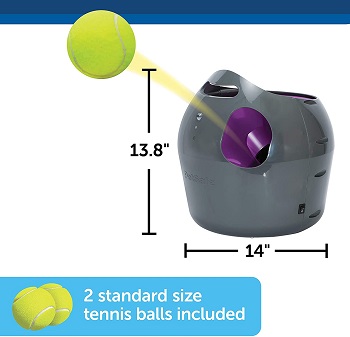 Use With Different Sized Balls
It can fit any size ball into it and it has a long-range of throwing distance and angle options. just twist one of the two knobs and choose from 9 distance settings ranging from 8-30 ft of throwing distance and 6 angle settings. It can be used by dogs of all sizes but is best to use it with dogs over 10 lbs.
In Short:
Has a sensor to detect motion up to 7-ft away
15-minute rest function to prevent exhaustion
2-second throw delay option to keep the dog safe
Waterproof for outdoor use
Works with standard size and small tennis balls
Can be used by small or large pets
BEST SMALL AUTO BALL TOSS FOR DOGS
IDOGMATE Rechargeable Automatic Ball Launcher
Remote Controlled Settings
With this automatic fetch machine, you don't have to be next to it to change its' settings, You will get a remote control with it and you switch between 4 distance settings, the highest one being 35-ft and an option to mix up the distance automatically every time. You can also turn it off or on and pause it with the controller so that your dog can get a bit of rest.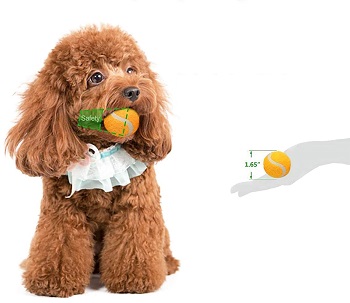 Dogs That Can Use It
This ball thrower is made specifically for small dogs because it can fit only 1.65-in to 1.75-in tennis balls which are perfect for a small dogs' mouth. This size of the ball prevents possible choking hazards that come with smaller size balls. you'll get 3 of them with the thrower, but the balls don't support heavy chewing because they're not as durable.
Power Saving
You can set it to turn off automatically which will, in return, save you energy. It has 2 energy consumption options, one through an included adapter that is positioned at 90 degrees to prevent your dog from accidentally plugging it off and the other through a rechargeable Li-ion battery. Both the adapter and the battery are included.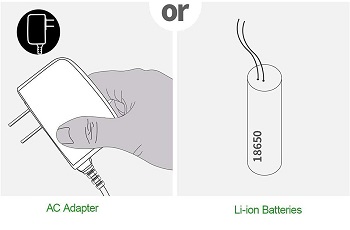 Useful Patented Feature
If you will like it or you lost your controller you can manage to set directly on the electric dog ball thrower as well. Another great feature that it has is a patented design that allows your dog to put in wet balls. It won't clog or block the thrower, it'll just keep working like it normally would.
In Short:
Has a patented feature that allows for wet balls to get thrown
Supports balls from 1.65-in to 1.75-in diameter
3 balls included
Comes with a remote control
Fit for small dogs only
BEST SHOOTER AUTOMATIC FETCH MACHINE
Hyper Pet K9 Kannon Ball Launcher
Fun Design
For this thrower, you'll get a bit more fun out of it as well. The auto ball launcher resembles a dog ball thrower stick and a gun. It is held like one to keep it fun for you as well. That means that you'll have recharge this auto ball launcher as well a shot it yourself, but the way it's built makes it easy and you won't get tired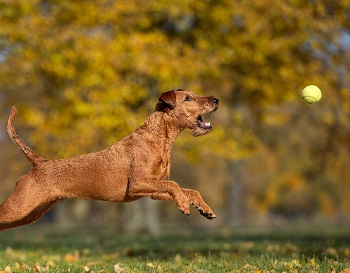 Ball Size That Work
You'll get with it one hyper pet tennis ball that is safe for your dog's teeth but is not intended for chewing so your dog should be under constant supervision because of it. Other than that, you can place in it any regular sized tennis balls which happen to be more durable.
Hand-free Pickup
It features a holder for the balls so you don't have to carry the balls in your pocket. Just place them in the designated hole and take it out whenever you need them. Other than that it allows you to pick up balls without having to use your hands. You just pace the front of the launcher on top of the ball and pull the bar.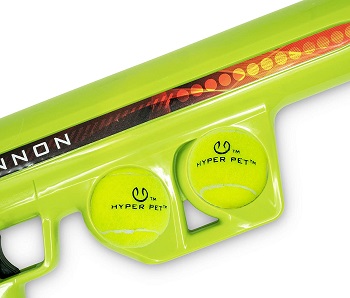 Throwing Distance Mechanism
The way you would launch the ball is simply by pulling a lever in the back of the cannon when you fill the launcher with a ball. The way you set the distance is not fixed, but rather the harder you pull on the lever, the further the ball is thrown.
In Short:
Resembles a gun to make it more fun for you
Fits regular sized tennis balls
Charges without you having to pick up the ball with hands
Has ball holding sockets
Doesn't have an automatic throw distance setter
How To Pick An Automatic Dog Ball Launcher
Usually, the most distinguished difference between auto dog ball launchers is if it's suited for small or larger dogs. This is almost always visible right from the start by the size of the ball, but surely that is not the only thing that you should consider before buying. You'd wanna see if it's safe and what makes it safe, throwing distance, and other specifications.
Ball Size – This is important because small dogs can't fit regular sized tennis balls in their mouth, but then again, the ball shouldn't be too small to potentially be a choking hazard. You will usually see them in 1.5-in to 1.75-in size while regular sized tennis balls come at 2.5-in to 2.7-in. These specialized size balls are usually made so that they don't support heavy chewing  so keeping an eye on your dog at all times would be important
Distance Settings – With most of these products, you'll be able to adjust the throwing distance on the launcher himself. That means that you'd have to be close to the launcher at all times. Some have a random distance option to keep it more fun for your dog, but you can also find ones with a remote controller.
Playing Fetch By Themselves – You can train your dog to play fetch with themselves meaning that you don't have to do any work, just keeping an eye on them. The manufacturer will usually provide you with training tips if the product has some built-in settings to keep your dog safe
Safety Measures For Safe Fetch – These products can come with sensors to detect any movement in a certain area to not throw the ball so that it doesn't hit your dog or you. Another way to ensure safety playing is with a sound that is produced before launch to alert your dog that the ball is about to be thrown, and by pausing the launch for a couple of seconds to give our dog time to move. You can even look for safety in design with the design of teaching your dog to load the balls himself from the back.
To Sum Up
Taking into account the safety that the automatic fetch machine provides with a built-in sensor for motion detection, sound release option to warn you and your dog, the simple functionality of the thrower, great design, and the fact that it can fit not only regular sized tennis balls but also smaller ones makes thePetSafe Automatic Dog Toy Ball Launcher the best option. If you have a small dog and you're looking for launchers made specifically for them you should check out this article about small dog ball launchers and make playing fetch fun and safe. On the other hand, if you're looking for a launcher for your big dog check out this post about ball launchers for large dogs to suit their highly active personality.