Have you found yourself searching for an indoor hedgehog cage?
We have just what you need. Read this article to see what is the best cage for your abilities and your pet's needs. In it, we'll go through the best of different size cages to movable options and different material options as well.
The Summary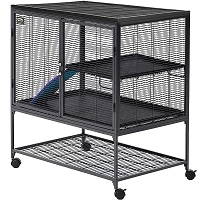 Midwest Deluxe Critter Nation
OVERALL RATING: ★★★★★
The safety measures, like a cover for the plastic ramp and adjustable platforms, make it great if you want to ensure your hedgehogs' safety.
Jump To Review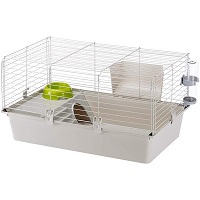 Cavie Small Animal Cage By Ferplast
OVERALL RATING: ★★★★☆
The accessories that this cage comes with make it a great fit for first-time owners and if you want to get the most out of a tight budget.
Jump To Review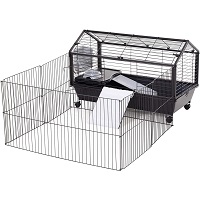 PawHut Rolling Metal Hutch Cage
OVERALL RATING: ★★★★☆
The playpen and habitat cage that you get with this one make it great for ensuring a comfortable and happy life for your hedgehog.
Jump To Review
What Is Indoor Hedgehog Cage?
An indoor cage for hedgehogs is a type of cage which can be used inside the house or apartment. Indoor cages are used as a new hedgehog habitat when the owners decide to have them as pets.
Can Hedgehogs Live In Indoor Cage?
It is not recommended to have a hedgehog inside the house, as they're wild animals, but they can live in indoor cages. If you found them injured, underweight, or at a young age it is important to take care of them inside the house, and indoor cages will be the best choice.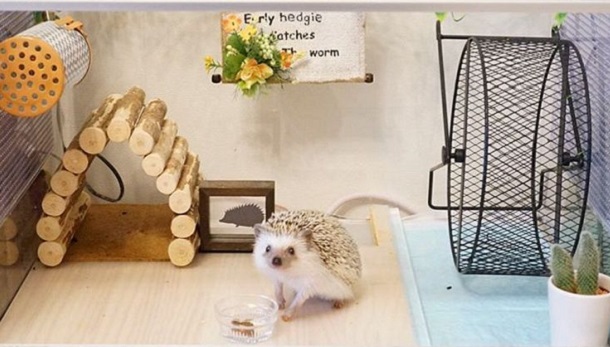 What Is a Good Indoor Cage For Hedgehog?
A good hedgehog cage for indoor use is the one that will provide enough space for moving, include all needed setup, and be functional for daily routine. An indoor cage that has high sides, a smooth surface, and great air circulation is the best type of indoor cage for hedgehogs.
Can You Use Indoor Cage Outside The House?
Most of the indoor cages are suitable only for houses, and not for backyards, mostly because of the construction. Usually, indoor models don't have a top cover than wires, which won't keep the hedgehog safe from bad weather. Also, indoor cages don't have isolation as outdoor wooden models, which can cause a lot of health problems if the hedgehogs get cold.
Benefits Of Having Indoor Cage
If you're doubting whether to get an indoor model for your hedgehog, here are some of the most important benefits of having it.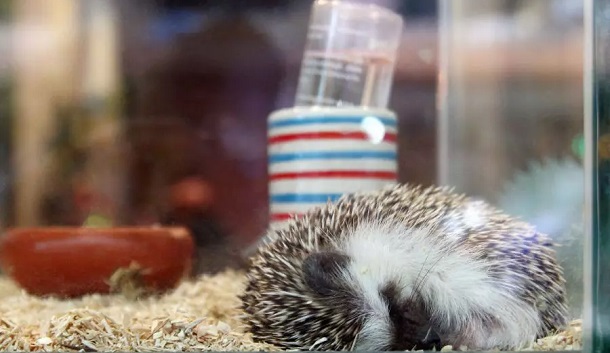 Easy Monitoring
If the cage is inside the house, you are able to easily monitor your hedgehog, especially, if he is injured or sick.
Safe Place
If you are afraid wild animals will attack the hedgehog, having an indoor cage will keep him safe while he is in the house or apartment.
Quick Moving
Most of the indoor cages are not too big and have wheels for easy moving so you can quickly change the position of it, and place it where you can easily monitor your pet.
Easy Fitting
Indoor cages can easily fit in every living space, they're usually in a neutral color and won't take up much space no matter where you place them.
How To Choose The Best Indoor Cage For Hedgehog?
You're not sure which specifications to consider when buying an indoor enclosure for your hedgehog? Here is the list of the most important features and advice for new owners.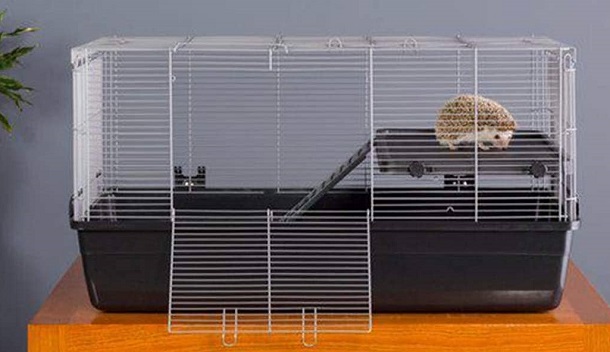 Sturdy Construction
To be sure the cage that you'll pick will last you for years, choose the cage only from reliable brands like Midwest, Cavie, Aivituvin, Pawhut, Prevue, etc. Those brands work with high-quality materials for stable and safe construction.
Perfect Size
Indoor cages come in a variety of sizes but on average they take up about 5 square feet of space. The minimal size of the cage needs to be 2 x 3 feet. Another thing to consider is the height of the cage and if it is tall, does it use the tall build efficiently like putting an elevated platform inside for good space usage.
Cleaning And Maintenance
We recommend picking a model which has a bottom surface made of stain-free material such as plastic. Most indoor cages come with litter containers for quick, efficient, and mess-free cleaning. It is really something you should look for in an indoor cage since cleaning takes place in the house and you don't want any sort of litter anywhere in your house besides the container and trash can. Also, you can choose a a model with sliding tray for quick cleaning.
Portable Model
Having a cage with wheels really helps with moving the cage around the house, It may be useful to choose a cage that stands on a legged platform so that you might use the extra space below the cage for food, accessories, and other supplies. If you rather prefer static models, they're also a great choice, especially smaller cages.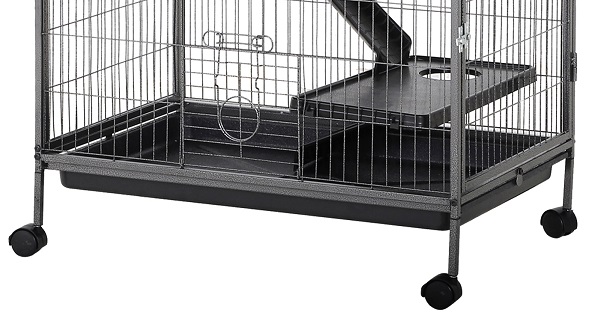 Access To Cage
For daily maintenance, feeding, and all additional stuff included in a pet's routine, it is important that the cage has large doors which allow you to reach every corner of it. If the cage is bigger, it is recommended to buy only models with multiple doors. Doors can be placed on the sides or on the top of the cage for safe access.
Outdoor Options
Even though they're indoor cages, it would be useful to have a cage that allows for outdoor enjoyment for your pet. The things that can help in making it an outdoor option as well are wood build and a waterproof and stainproof paint coating, reinforced wires to secure your pet from possible predators, and big enough doors to access the animal at any moment.
Air Circulation
To provide the hedgehog with optimal temperature depending on the season, the cage needs to be well ventilated, so it's not too hot or too cold inside. Otherwise, hedgehogs can have a health problems.
Best 6 Indoor Hedgehog Cages
Midwest Deluxe Critter Nation
SPECIFICATION:
Material: Metal, Plastic
Dimensions: 36 x 24 x 39 inches
Weight: 59 Pounds

Levels: 2
Doors: 1
Use: Indoor
Highly Functional Design
This all-black cage is beautiful to look at and it's highly functional as well. it comes with a leak-proof pan, an upper shelf that is adjustable and uses the cages provided space well since it makes it a 2-level cage, a plastic ramp to climb on it and it's placed on a stand with wheels.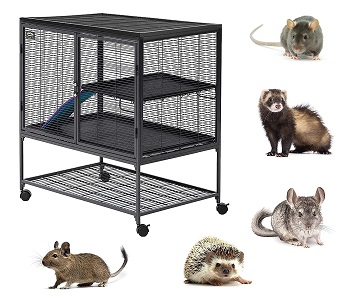 Safety Measures
The shelves are wide to prevent the hedgehog from falling. it's especially useful because of the fact that even though hedgehog climbs well, they have a hard time with decent. Another great thing to ensure safety is that the plastic ramp comes with a cover to protect the animals sensitive feet.
Dimensions That Fit Indoor
This cage takes up 6 square feet of space which is right in the middle of the recommended cage size and the large hedgehog cages on the market so it's great to fit in your household.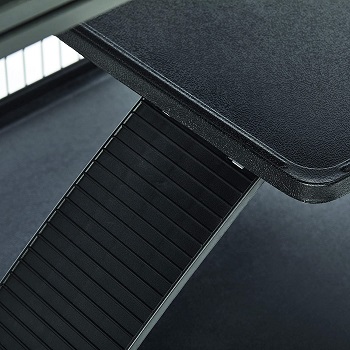 Easy And Safe To reposition
It is elevated and on wheels. This indoor cage includes a metal wire pan to place additional hedgehog supplies and accessories that are not in use. The wheels are easy to reposition because they are able to spin at 360 degrees and they are able to be locked in so that the cage stands in its place.
Overall:
Safety:
Mobility:
Size:
Weight:
Funcionality:
AVERAGE PRICE
$188 – $219 varies from webshop to webshop: Amazon, Walmart, eBay
In Short:
Beautiful all black metal cage design
Safe to use because of the wide shelves
The ramp comes with a cover to protect the animal's feet
The perfect size for indoor placement
Cavie Small Animal Cage By Ferplast
SPECIFICATION:
Material: Cast Iron
Dimensions: 30.31 x 18.9 x 16.54 inches
Weight: 8.46 Pounds

Levels: 2
Doors: 1
Use: Indoor
Simple Classic Build
This cage is made simple with a plastic bottom base that can be locked into place and is easily detachable, a wire rack cage top, and an access door on the side of the rack. the color combination is eye soothing because it's very neutral.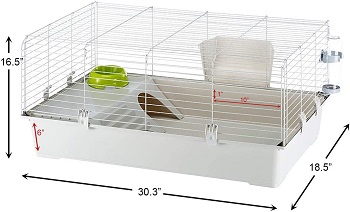 Small Space But Just Enough
The cage is built to be a great cage for first-time owners because, even though it's a small hedgehog cage, the space provided is just enough for your hedgehog. It's also designed to make maintenance quick and easy.
A Lot For A Small Price
The deep plastic bottom base is completely detachable and it's made so that the hedgehog can have a hideout and sleep spot while also having an elevated spot to climb on when he wishes to. It's easy to clean and the top wire rack is tall and has an opening access door for good possible interactions with your pet.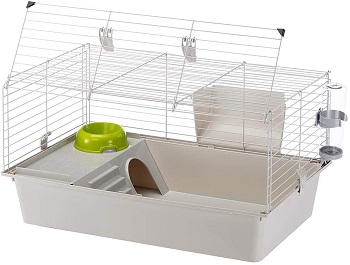 Basic Accessories That Every Hedgehog Needs
This cheap model includes hedgehog accessories that are good enough basic accessories to get you started and for your hedgehog to live a happy life. they include a water bottle, food bowl, hideaway, a hay feeder, and an elevated platform for feeding
Overall:
Safety:
Mobility:
Size:
Weight:
Funcionality:
AVERAGE PRICE
$82 – $131 varies from webshop to webshop: Amazon, Walmart, eBay
In Short:
Great for first-time owners
includes basic accessories needed for your hedgehog
Built simply for easy cleaning
Accessible through the door on the side of the wire rack
PawHut Rolling Metal Hutch Cage
SPECIFICATION:
Material: Cast Iron
Dimensions: 34.75 x 50.5 x 22 inches
Weight: 18.01 Pounds

Levels: 2
Doors: 1
Use: Indoor
Durable Quality Design
This indoor cage is built to last. it's made out of quality steel wires and painted all black. It makes the cage perfect for outdoor use as well because it's rustproof. it's very large but adjustable in size.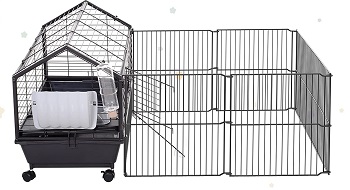 Two Space Build
The cage is made up of two parts that come together to form a large habitat. One is the cage itself and the other one is a playpen that is connected to the cage to prevent escaping. The playpen can be removed and tucked away when not in use and the cage and playpen are connected by an access ramp.
A Playpen To Go With The Cage
It is built with a rooftop to prevent escaping and it's easily portable because of the built-in wheels. The cage alone is just below 4 square feet of space, but when measured with the playpen, its size comes at 12 square feet of space. This makes the cage flexible to your needs and your pets.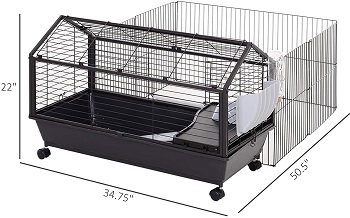 Small Cage
With all in mind, the cage still comes with a few accessories like a water bowl and a bottle, and a food bowl. With a playpen that hedgehogs need very much to lead a healthy and stress-free life. I wouldn't recommend using the cage for housing two hedgehogs because the cage is small even though it all around is large.
Overall:
Safety:
Mobility:
Size:
Weight:
Funcionality:
AVERAGE PRICE
In Short:
Comes with a playpen and cage
The cage itself is below 4 square feet
Made out of quality steel wires
Suitable for outdoor use as well
Has built-in wheels for moving
Aivituvin Wooden Small Animal Hutch
SPECIFICATION:
Material: Wood
Dimensions: 40.7 x 22.8 x 28.6 inches
Weight: 33lbs

Levels: 1
Doors: 4
Use: Indoor/Outdoor
Great Build For Outdoor Option
The cage is built with 100% Firwood and reinforced wire for a safe option if you're looking to put the cage outside every once in a while. It's colored with a beautiful neutral grey that's sleek and elegant to look at and the cage itself is built to look like a house.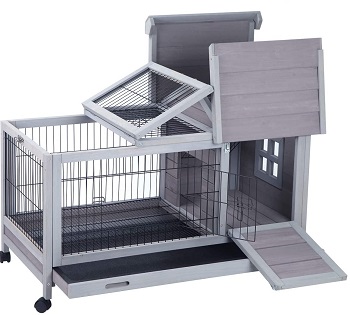 Built For A Consistently Clean Space
This indoor model sits on 4 wheels with brakes so that it stays in place and is also elevated. It has a wire rack above the litter tray so that your pet doesn't step in its own litter and the spaces between the wire are small enough so that your pet's feet don't get stuck in between holes.
Numerous Access Options
It has open roofs, a top cover, a side window, and two front doors. It is great for access to the animal from literally every side. The wood door also functions as a ramp if you decide on placing it outside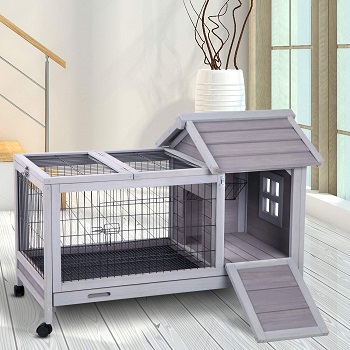 Large Enough For Two
The cage is big enough to house two animals. it consists of a playing area which is 3.23 square feet and a sleeping area which is 1.61 square feet. altogether you're left with a cage that's around 6 square feet big. With the cage, you'll get a metal feeder and a chewing toy. The chew toy is not necessary for hedgehogs but might come in handy as simply a toy for your hedgy.
Overall:
Safety:
Mobility:
Size:
Weight:
Funcionality:
AVERAGE PRICE
In Short:
Маde out of fir wood and reinforced steel wire
Has access are from every corner imaginable
Large enough to house 2 animals
Sits on 4 wheels with brakes for easy movement around the house
PawHut Small Animal Cage
SPECIFICATION:
Material: Steel/ Plastic
Dimensions: 41.5 x 17.25 x 26 inches
Weight: 22 Pounds

Levels: 2
Doors: 2
Use: Indoor/Outdoor
A Classic Material Build
This cage comes in a harmonious color combination of black and red. The materials used in the making of this indoor enclosure are the classics. Plastic for the bottom litter container and the wheels it stands on and metal for the cage wire.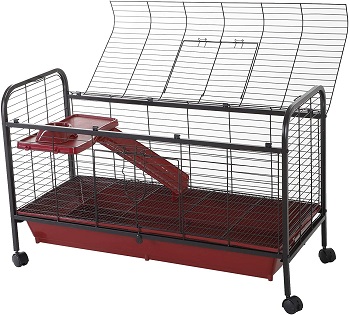 Wire Coating, Spacing, And Ventilation
A non-toxic, powder-coated metal coating finish was used in the painting of this cage so that your animal is safe when possibly chewing on the wire and 1-in spacing between wire provides excellent ventilation, but it's also small enough to prevent your hedgehogs' feet from getting stuck between the wire.
Deep Base And Its Litter Containment
The cute cage has a 5.5-in deep base to hold litter for cleanup with ease and without the possible chance of the litter overflowing. The multiple doors, removable bottom wire rack, and a fully opened top allows for easy access to your animal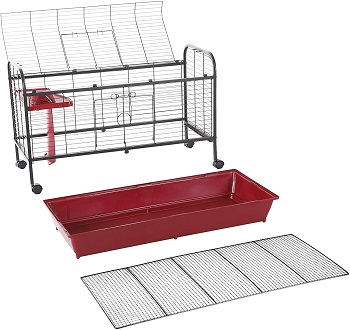 Space Usage
The cage provides your pet with an elevated area with a feeder to eat and drink, a ramp for easy access to the top platform, and a large bottom floor. It gives the pet 5 square feet of living space, but the ramp and elevated area for feeding use this cages tall build of 26-in height effectively to bring your pet enough comfort withing those 5 square feet of space.
Overall:
Safety:
Mobility:
Size:
Weight:
Funcionality:
AVERAGE PRICE
In Short:
Comes with a ramp, platform, and a feeder
The accessories make it a 2-level cage
1-in space wiring makes it safe for the pet
Has a deep bottom tray for rubbish
Prevue Universal Small Animal Home
SPECIFICATION:
Material: Metal/Plastic
Dimensions: 32.5 x 19 x 17.5 inches
Weight: 14 Pounds

Levels: 2
Doors: 2
Use: Indoor
Fit And Safe For Small Animals
The spaces between the wire are  3/8-in wide, which is enough for good ventilation and for the safety of the animal. It also has rounded corners to make it fit for most small animals because of no pinch points.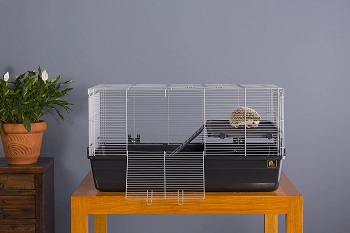 Deep Tub-Like Base
The cage has a very deep, almost tub-like base so if your pet is hanging around in the bottom part you might not be able to see him clearly. But to make up for this fact, it has 2 entry and access points, one from the top of the cage and one from the side of the wire rack.
Cage Stability
As for cage stability, the wire rack is connected with the bottom through 6 locking clips that are easy to use and provide quick separation of the wire rack from the bottom of the cage while making sure that it doesn't separate on its own.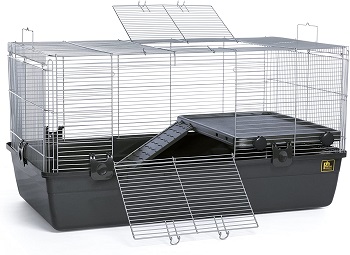 Adjustable Elevated Area
Although this indoor cage doesn't have a hideout, it comes with an elevated ramp as wide as the cage so it gives you the option of adjusting the height of the elevated area with a lock-in turning wheel so if you'd choose to place it lower, space below can serve as a good enough hideout area.
Overall:
Safety:
Mobility:
Size:
Weight:
Funcionality:
AVERAGE PRICE
$137 – $148 varies from webshop to webshop: Amazon, Walmart, eBay
In Short:
Has a very deep bottom base
Includes 6 clip-on locks for connecting the base and cage
Rounded corners to fit most small animals
The spacing between the wire rack is 3/8-in wide
Setting Indoor Cage
This is your first time setting the cage for indoor use? Here are all the needed steps that will help you to set it quickly and make the hedgehog's habitat functional.
Follow Setup Instructions
If you don't have set up knowledge, don't worry, every box includes setup instructions. Instructions include all the details such as the quantity of the parts in the box, image illustrious, and steps for easier setup. Most of the 24 x 24 models can be set in 15 minutes.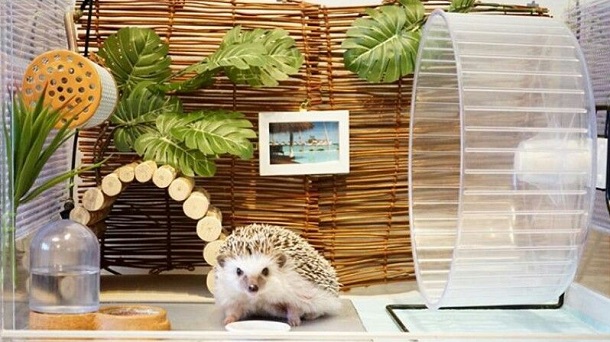 Customize Hedgehog's Habitat
So hedgehogs can have a functional habitat, it is important to add needed accessories in supplies for living. One of the essential accessories includes a feeding set, heater, litter tray, bedding, toys, wheels, and hideout. It is important to separate all the accessories and make the area functional and accessible.
Where To Place Cage?
If you don't have much space inside your house, the best choice is to place the cage in the corner or next to the wall. We recommend placing it where you spend most of your time for easier feeding, cleaning, and monitoring.
Safety Features To Consider When Picking Indoor Cage
Keep on reading and find out which safety features to consider before buying a cage for a hedgehog.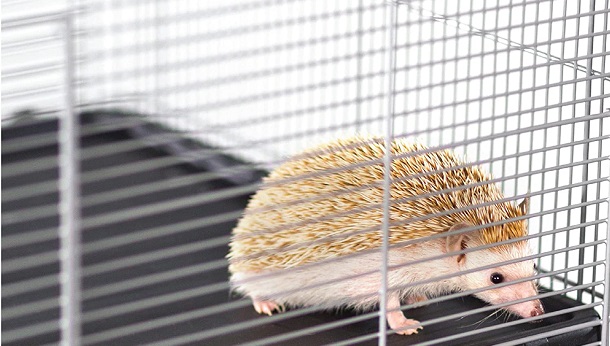 Space Bar
Hedgehogs are active animals that will try to escape if the space bar between wires is too big. We recommend buying only models which have 0.5 inches between wires.
Gaps
Just like the space bar between wires, if there are any gaps from which a hedgehog can easily escape, he will try it. Make sure there are no gaps which are mostly near the door, or at the bottom of the cage has a sliding tray. Hedgehogs can easily stuck between and injured themselves trying to escape.
Sharp Parts
If any part of the cheap cage has a sharp surface, corner, or edge, we don't recommend using it. Hedgehogs can easily get wounds from it or even stick between because of spikes. We recommend picking models only with soft and smooth surfaces.
Door Lock
To prevent escaping, check if the locks on the doors are sturdy and can't be easily opened from the inside. We recommend picking models with metal locks
Non-toxic Materials
All the parts of the cage including the construction, accessories, and included supplies need to be made of non-toxic materials. Choose an only cage with a label toxic-free to be sure hedgehog won't have any respiratory problems when living in his new habitat.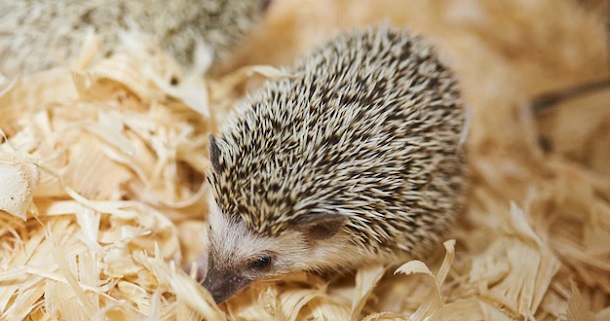 Wire Bottom
Models with wire bottoms are not recommended for hedgehogs, they won't be able to comfortably walk on the surface and their feet can easily stick between and cause a lot of trouble. If the cage has a wire bottom, it must be covered with a lot of bedding or mat.
Slippery Surface
Some surfaces, like metal ones, can be very slippery, and the hedgehog can easily slip and fall down, especially if he's climbing on platforms. Make sure to check if the ramp, platform wheel, and any other accessories have an anti-slip surface. For maximum safety, you can use anti-slip covers, which can be bought separately.
To Sum Up
Having an indoor cage for a hedgehog can be very functional for a daily routine. You can always monitor him, especially when he is injured or sick. One of the best models on the market for indoor use I'd recommend is the Midwest Deluxe Critter Nation. This sturdy model functional environment with large doors as well as rolling casters for easy moving.Add additional accessories and customize your new hedgehog's habitat.