Are you looking for a new heating lamp for hedgehog during cold weather conditions?
Then continue reading this article to find out about the best heating solutions for your pet to keep them healthy and safe. In this article, we will cover a few heating options and see why they might just be right for you.
The Summary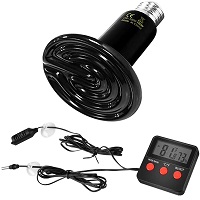 Simple Deluxe Heat Lamp
OVERALL RATING: ★★★★★
With a temperature regulator and flexible placement options, this heating lamp will fit into almost any hedgehog home.
Jump To Review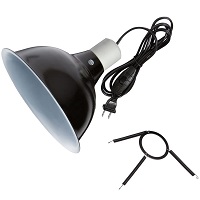 Zilla Black Reflector Dome Lamp
OVERALL RATING: ★★★★☆
The 8.5-in diameter of the dome for you to be able to buy almost any lightbulb makes it a great money-saving option.
Jump To Review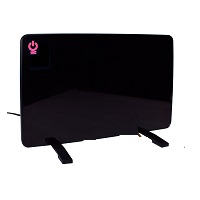 Cozy Products CL Heater
OVERALL RATING: ★★★★☆
The thin design and operational temperature of 130 degrees Fahrenheit make this heater a durable outdoor option.
Jump To Review
Do Hedgehogs Need Heating Lamp?
Heating setup is one of the main things to consider when planning to have a hedgehog as a pet. If it's too cold outside, they can attempt to hibernate which in some cases can be fatal. We recommend having all the needed heating elements before you bring the hedgehog home.
What Is The Best Temperature For Hedgehogs?
The ideal temperature is between 75 °F and 85°F, but they can tolerate temperatures between 72 and 90°F.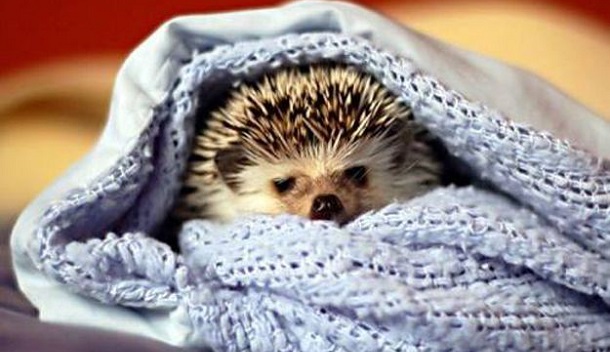 What Kind Of Heat Lamp Does a Hedgehog Need?
To keep the hedgehog's environment at optimal temperature, you'll need the right type of heater. For hedgehogs, it is recommended to have a heat lamp which is called a ceramic heat emitter (CHE).
This type of heating lamp emirs heat and not light, so the hedgehogs re not confused at night, thinking it is daytime, which can disrupt their biorhythm.
How To Set Heating Lamp For Hedgehog Cage
For those who are first time buying a heating lamp for the hedgehog cute habitat, here are all the needed tips for setup.
Determined Space For Heating
Your hedgehog should have the option of choosing if he wants to be warmed up or not, so rather than buying a lamp that doesn't focus its heating on a certain area, think about getting one that does exactly that. In the end, your hedgehogs know best what they need, you just have to make it available to them.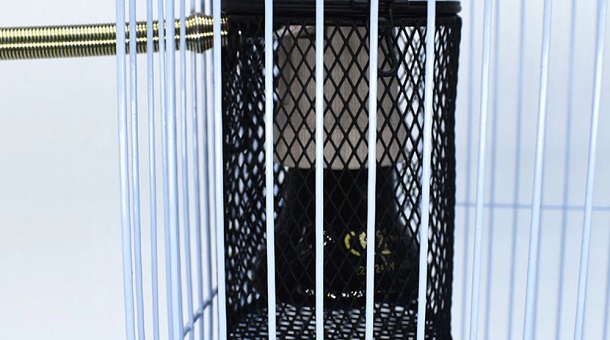 How To Pick Right Heater For Hedgehog's Cage
If you don't know which type of heating lamp is a good choice for the hedgehog's habitat, here is the guide for most important specifications to consider.
Wattage
The minimum wattage that s recommend is 100 watts, so your hedgehog can have warm habitat. If it's 150 watts, it will be optimal for the hedgehog's normal temperature.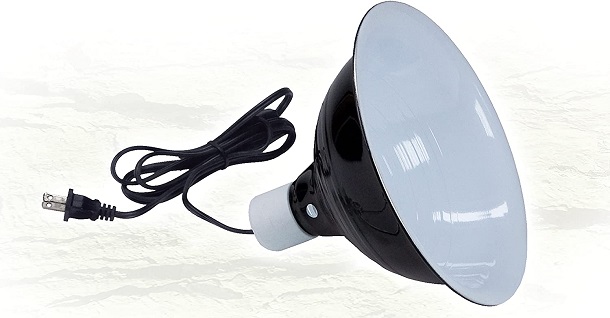 Lamp Size
The size of the lamp depends on how large is hedgehog enclosure. For smaller cages, we recommend using an 8.5-inch lamp, and for larger cages a 10-inch dome lamp.
Bulb Color
rather than getting lightbulbs that directly emit light, try looking for black or red lightbulbs that heat up just fine. White light isn't a smart option to put into your cage cause it may cause a fire if you have a plastic cage.
Material Type
When you're choosing the right bulb for the hedgehog's enclosure, make sure to pick the one made of white ceramic, which emits zero light.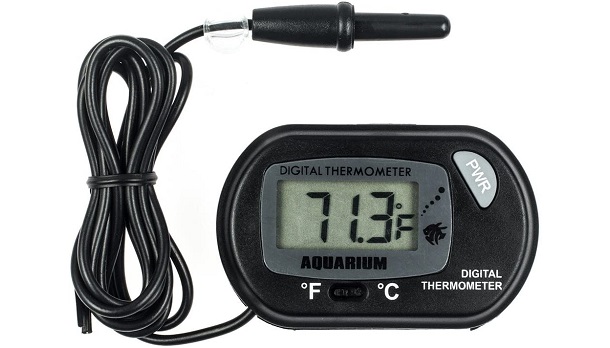 Thermostats and Thermometers
As the cage temperature can easily go up and down depending on the time of the day, it is recommended to buy an automated cage thermostat for easier control. This way you can set the optimal temperature when you plug the lamp into the thermostat control.
Make sure there is a built-in thermometer that will show the current temperature so you can be sure the setup is working properly. We recommend getting a digital thermometer.
Best 5 Hedgehog Heating Lamps
Simple Deluxe Heat Lamp
SPECIFICATION:
Material: Ceramic
Dimensions: 8.5 inches
Volt: 120V

Watt: 150W
Weight: 2.86 Pounds
Use: Indoor
Focused Heating Space
This hedgehog heat lamp can be rotated 360 degrees and has an 8.5-in diameter reflector made out of aluminum so you can choose where the heat will be omitted since it's good to leave your hedgehog with an option to leave the heated space at all times.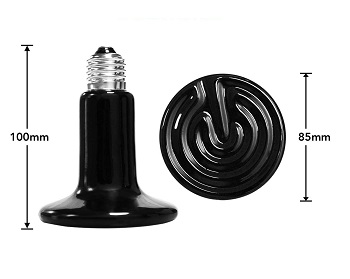 No Included Lightbulb
It doesn't come with a bulb so you'll have to buy it separately. When searching for a bulb, choose a black light bulb that's recommended to use with this lamp since it doesn't emit light visually, it just heats it.
Built To Prevent Over-Heating
The lamp is heat resistant so you won't have to worry about overheating and it has uniform heating which means that all parts of the heated area are heated equally. It's waterproof as well and comes with a digital thermostat that has a power indicator, buttons to adjust the temperature, and a temperature display that you can choose to view in degrees Fahrenheit or Celsius.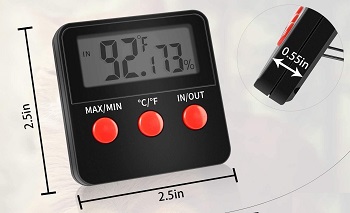 Adaptable Placement
The ceramic heat lamp for hedgehog also features a 6-ft long power cord, and it has an on and off switch, that saves energy, behind the reflector and it has a non-damageable clamp to place it in the 24×24 hedgehog cage.
Overall:
Heat output:
Sturdiness:
Size:
Weight:
Funcionality:
AVERAGE PRICE
$24 – $46 varies from webshop to webshop: Amazon, Walmart, eBay
In Short:
Can focus heating to a certain area
The heating Area is heated equally
Features a 6-ft long power cord
It's heat resistant to not make you worry about overheating
Has a digital thermostat for Fahrenheit and Celsius
Zilla Black Reflector Dome Lamp
SPECIFICATION:
Material: Ceramic
Dimensions: 8.5 inches
Volt: 120V

Watt: 150W
Weight: 11.2 Ounces
Use: Indoor
Suitable Lightbulb Options
This heating lamp for hedgehogs provides your pet with light and heat. It is made to fit many options of lightbulbs that you might want to use for your pet because of its 8.5-in diameter. The color on the inside of the lamp is a reflective white to give your pet more light.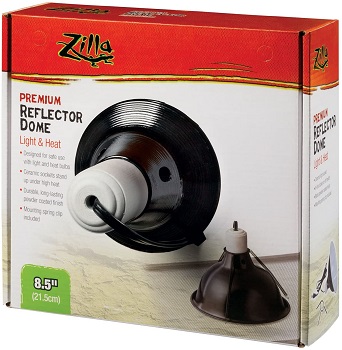 Endures Big Lightbulb Power Output
It is recommended to use ceramic heat bulbs or black or red light-emitting bulbs since they don't emit direct light which can harm your pet and cage, they simply heat it. it can endure lightbulbs of up to 150 wats because of the built-in ceramic socket which can withstand a lot of heat.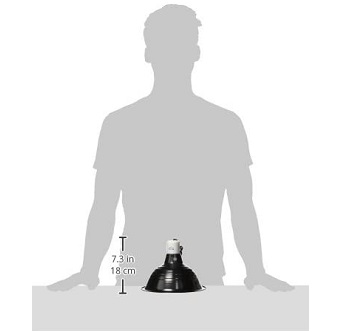 Chosen Space Heating
The lamp can be placed securely to hang from one place using clips. It is made to emit light in an area that you choose which is great for your hedgehog because they don't need consistent heating and can choose to leave whenever they feel like it.
Cord Lenght And Power Options
It does not have a built-in thermostat, it only has an on and off option. It comes with a 6-ft long power cord which should be enough to reach your electricity socket and to provide enough range for any liquids that happen to be inside the cheap hedgehog cage away from the electricity socket.
Overall:
Heat output:
Sturdiness:
Size:
Weight:
Funcionality:
AVERAGE PRICE
$20 – $21 varies from webshop to webshop: Amazon, Walmart, eBay
In Short:
8.5 diameter built to fit most lightbulbs
Emits heat focused on one area, not the whole cage
Comes with clips to hang it securely
Doesn't have a built-in thermostat
Cozy Products CL Heater
SPECIFICATION:
Material: Ceramic
Dimensions: 18.98 x 0.63 x 12.01 inches
Volt: 120V

Watt: 150W
Weight: 4.94 pounds
Use: Indoor
Thin And Space Saving Design
This heating lamp for hedgehogs is not really a lamp, it's a space heater and can be mounted to a wall. It's incredibly thin so it won't take up much space. You can put it against one of the sides of the plastic cage and it will warm up the animal that's in close proximity to the heater.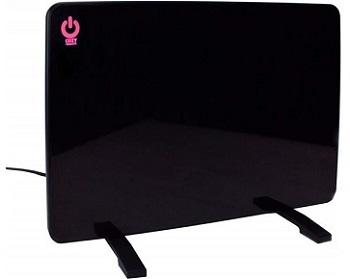 Warms Up Animals In Close Proximity
With this type of heater, you don't need to worry about replacing bulbs since it doesn't use them. . Note that this doesn't warm up the whole cage. It's meant to warm the animal that's standing close to it which is great because it gives your hedgehog the option of choosing when he wants to be warmed up to regulate his temperature.
Energy Saving
It uses 200 Watts of energy which is a lot less than most. For heating, it uses radiant and convection heat. I'd recommend it for outdoor use only because it's very powerful and can withstand extreme weather conditions.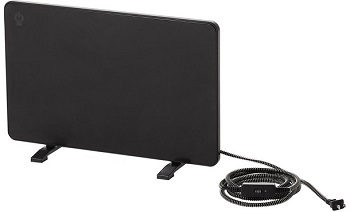 Heating And Over-Heating
The operational temperature is around 130 degrees Fahrenheit. That doesn't mean that the whole cage will be held at that temperature. It also has a built-in system to prevent overheating if the operational temperature spikes above 180 degrees Fahrenheit. It doesn't have a precise temperature regulator, you can only put it on low or high heat.
Overall:
Heat output:
Sturdiness:
Size:
Weight:
Funcionality:
AVERAGE PRICE
$20 – $21 varies from webshop to webshop: Amazon, Walmart, eBay
In Short:
Should only be used for extreme outdoor conditions
Operates with 200 Watts of energy
Uses convectional and radiant heating tech
Doesn't use lightbulbs
Where To Place Heating Lamp?
You can either place the heating lap directly on top of the cage if there is a wire lid mesh. Also, you can place it inside the cage if there is a barred loft area laying face down. You can use the lampstand which will keep the lamp balanced and untouched.
What Is The Correct Distance?
It is recommended to follow the instruction on the bulb so you can be sure where to place the lamp.
Which Additional Features To Consider?
When picking the heating lamp, make sure you choose the one that has an on/off switch for easier control. Also, check the plug setting as well as if it comes with a thermostat and thermometer.
These are two different things, while the thermostat controls the temperature of the bulb, the thermometer control the temperature in the cage.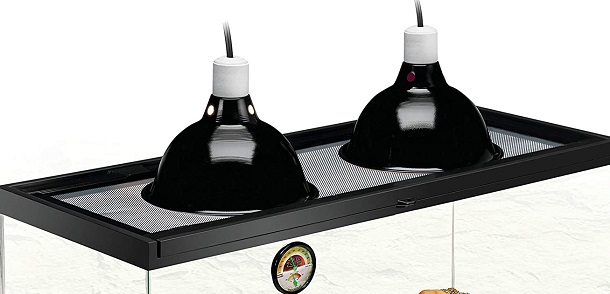 What Else You Can Use To Heat Hedgehog's Cage?
If you think the heating lamp is not too strong to heat up the cage, you can use pads that will keep the hedgehog warm when he snuggles in. Fleece pads, blankets and beddingcan be very useful to keep the hedgehog's body temperature normal.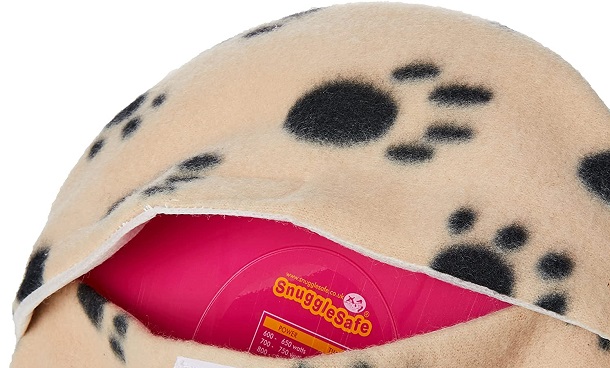 Heating pads are great because they're made from durable and safe material and they provide your pet a designated warm space. You can choose to buy them powered or the ones that use no electricity to keep your hedgehog warm.
If you notice it is not warm in the cage while the hater is constantly running, maybe the heating lamp is not too strong to keep the temperature optimal and we recommend adding another heat source. You can use a space heater and a humidifier which can help make the room warmer if it's constantly set between 50-50%.
Snuggle Safe Microwave Heating Pad
SPECIFICATION:
Material: Fabric
Dimensions: 8.5 x 8.75 x 1.5 inches

Warmth: 10 hours
Weight: 3 pounds
Use: Indoor
No Electric Power
For this heating opd, you won't need a power source that is in close proximity to hedgehog indoor cage, and with that maybe endangering their safety. you simply put it in a microwave to heat it up and place inside the cage. It's safer to use than a heating lamp for hedgehogs because of that fact.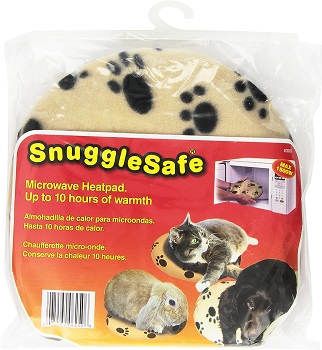 Microwave Instructions
You should keep the instructions to know how much time it takes for it to heat up because of different types of microwave power output. It can withstand the microwave power output of up to 1500 Watts, but every bit of information that you need for that can be found on the manufacturers' official site and in the instruction manual.
Heat Retainability
It retains heat for up to 10 hours, but that may vary because of external temperatures, whether it is your home or the outdoors. It is not recommended to be used outdoor because it doesn't provide your hedgehog with a constant heating source, it only retains heat well enough to be used indoor.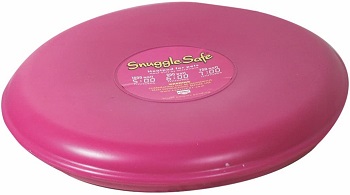 Heating Pad Material
Before reheating the pad, it should cool off completely. If heated correctly the material from which it's made, thermapol (non-toxic), keeps its solid form. The pad comes with a cover fabric to act as soft bedding for your pet. You can take it off easily to wash or when you're reheating the pad.
Overall:
Heat output:
Sturdiness:
Size:
Weight:
Funcionality:
AVERAGE PRICE
$20 – $50 varies from webshop to webshop: Amazon, Walmart, eBay
In Short:
Provides up to 10h of warmth
Needs a microwave to heat up
Heating time depends on microwaves power output
Provided heat time depends on external temperature sources
Made from Thermapol that is non-toxic
Comes with a removable fabric cover
K&H PET PRODUCTS Animal Heated Pad
SPECIFICATION:
Material: Plastic
Dimensions: 9 x 12 x 0.5 inches

Watt: 25 Watts
Weight: 1.39 Pounds
Use: Indoor
Fits In Small Spaces
This heating pad is great for small animals like hedgehogs are. It's not exactly a heating lamp for hedgehogs but it may as well function as one because it's small and fits most small spaces like a hideout area. It can be used as a bedding area and if your hedgehog wants to leave, he can simply walk from it.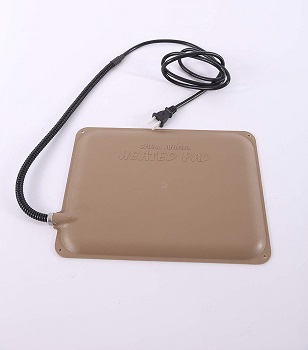 Heat Adjusts To Your Hedgehog
It's made from hard plastic that's weatherproof so you can use it indoors as well as outdoors. It adjusts to your pet's needs for warmth with an automatic thermostat that adapts to their body heat and it's made to reach a temperature of max 103 degrees Fahrenheit so that there is no chance of your hedgehog getting burns.
Power Saving And Durability
As for energy usage, it uses 25 watts so it saves you a lot of energy. The chord is 5 1/2-ft long and is surrounded by an 18-in steel case which makes it chew-proof.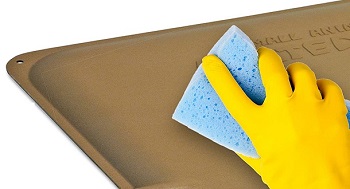 Fleece Casing
You shouldn't place anything else on the heat pad except for the fleece casing that you need to buy separately. It also might confuse that the pad doesn't feel warm to the touch. It is made in such a way and you can easily do a test to see if it's working properly by putting a pillow on it, wait for about 20 minutes and the pillow should be warm.
Overall:
Heat output:
Sturdiness:
Size:
Weight:
Funcionality:
AVERAGE PRICE
$32 – $49 varies from webshop to webshop: Amazon, Walmart, eBay
In Short:
Has an automatic thermostat to regulate your pet's heat
Small so it fits most small spaces
Weatherproof so it can be used outside as well
Low energy usage
cable cord is 5 1/2-ft long and chew proof
How To Prevent Hedgehog's Hibernation Attempts
Do you know how to prevent hibernation attempts? Here is all the advice that will help you provide the hedgehog long and healthy life in his new environment.
Ideal Temperature
As it's mentioned before, the ideal temperature is the key to keeping the hedgehog's body temperature optimal during hot or cold weather. We can assume that the ideal temperature is between 74°F -and 76°F.
Light And Dark Ratio
If there is not enough dark or sunlight depending on the time of the day, hedgehogs can possibly think it's time to hibernate, which can be really dangerous for their health. To prevent any hibernation attempts, it is best to rely on natural light, unless you live in cloudy areas. We recommend setting 12 hours light on and 12 hours light off if you're not planning to use natural light.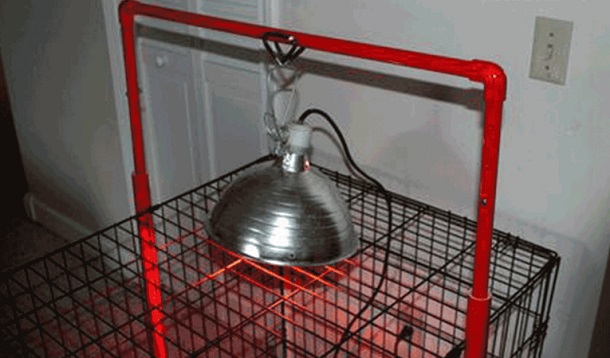 Adjust The Heater
Not all hedgehogs are the same, some prefer a little bit colder and some a little bit hotter temperature. We recommend gradually adjusting the heating system, depending on the hedgehogs' physical appearance and behavior.
Consult With Professionals
To be sure the heater that you pick, the temperature that you set, and all other conditions are ideal for your hedgehog, we recommend consulting the breeder, vet, and other professionals.
Frequently Asked Questions For New Users
Here are all the needed answers to the questions which might help new hedgehog owners when buying the heater for the first time.
Do Hedgehogs Need UV Light?
As we said before, hedgehogs are nocturnal animals, which means they can easily survive without UVB exposure. Even if they won't get many benefits from UV radiation, it is recommended to include UVB lighting as part of the cage setup.
How To Know If The Hedgehog Is Too Cold?
There are different signs that will show you your hedgehog might be too cold. The first thing you'll notice is how he is not acting as usual. Hedgehog won't use wheels and explore at night, he will eat less or not at all.
Also, you will notice sneezing. Don't wait too long until you notice those signs, and make sure to immediately check the temperature in his habitat. Also, hedgie's belly starts to feel cold and he doesn't want unable.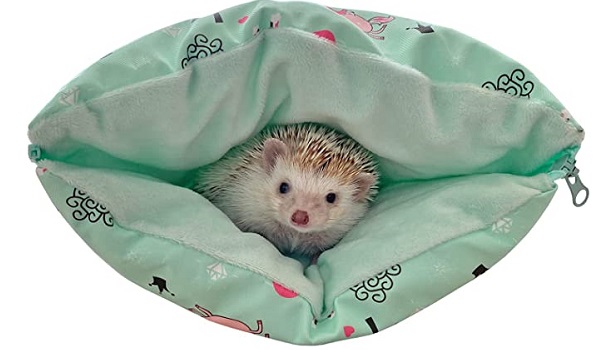 How To Know If It's Too Hot In Cage?
Pay attention to how hedgehogs behave to be sure if it's too hot in the cage. If you notice he became inactive, changes in appetite, or has some signs of lethargy and skin irritation, this might be connected with a temperature.
Do Hedgehogs Need Heater At Night?
On cold nights, we recommend turning on the central heating in the room where the hedgehog's cage will be, especially if you don't have a wooden cage with hideouts.
Can You Use Heating Lamp In Plastic Cage?
Yes, you can use a heater in plastic models but with extra care. As the heat can easily melt the plastic or cause the start of off-gassing fumes, it is important to clip the lamp near where are no plastic parts near or you can place the lamp next to the cage, for example on a nightstand or use a bookcase.
To Sum Up
Since keeping your pet warm with a heating lamp for hedgehogs is important to make sure that your hedgehog is healthy an easily manageable and reliable option that I would say is the best is the Simple Deluxe Heat Lamp. It comes with a much-needed digital thermometer to regulate the temperature, can be turned 360 degrees to choose the heating area as you please and find the best suitable one. All you need to do from there is choose the correct lightbulb to put in and this accessory is ready for use.