Have you found yourself searching for a plastic hedgehog cage for your lovely pet?
We've got just what you need. In this article, we will go through some of the best plastic cages for your pet. We've divided those cages through categories including large, small, on wheels, and 2-level cages. You can be sure to find the right cage for you and your pet's needs.
The Summary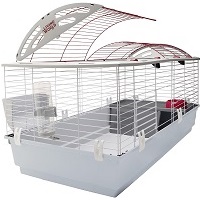 Living World Deluxe Habitat
OVERALL RATING: ★★★★★
With accessories included and a combination of plastic and wire materials, this cage looks and feels great for your hedgehog.
Jump To Review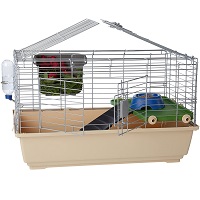 AmazonBasics Small Animal Cage
OVERALL RATING: ★★★★☆
Although small, this cage has just enough room for your hedgehog and it comes with a maintenance instruction manual that makes for a great first-time owner cage.
Jump To Review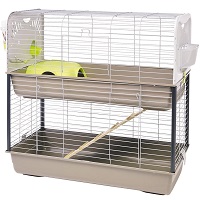 Lixit Animal Care Savic Cage
OVERALL RATING: ★★★★☆
This two-floor, tall cage comes with built-in accessories and a wooden ramp to climb that will make your hedgehog feel like he's living a rich life.
Jump To Review
What Type Of Cage Is Plastic Cage?
Plastic cages include all the models which have a plastic frame, bottom, or sides. Most of the plastic cages are made of wire mesh.
Can Hedgehog Live In Plastic Cages?
Yes definitely. Plastic cages are a great choice for hedgehogs as they're lightweight, affordable, and easy to set.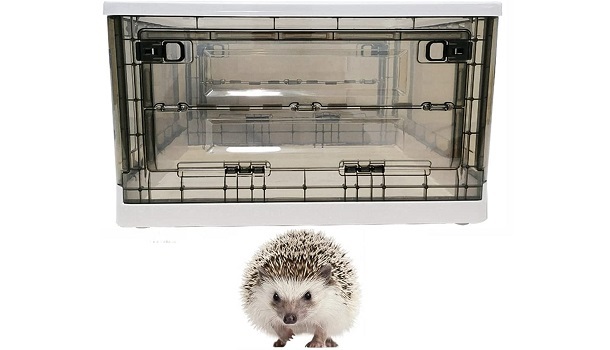 Which Plastic Models To Avoid?
Even if the plastic cages are a good choice for hedgehogs, there are some models which you need to avoid. Here is the list:
Toxic Materials
If the cage doesn't have a label toxic-free, we don't recommend buying it. Some of the models are coated with toxic paint which contains a lot of chemicals that can be harmful to your hedgehog.
Thin Plastic
If you think the plastic is too thin, we don't recommend buying it. Thin plastic can easily break if you accidentally hit the cage which can harm the hedgehog or make gaps so he can escape.
Poor Ventilation
We don't recommend buying a cage that has both bottoms, and sides made of plastic, there won't be enough air which can affect the temperature in the cage which is too high for a hedgehog. All sides need to be made of wires for air circulation.
Plastic Locks
If you can, rather avoid plastic door locks. They can easily break, and won't last you as long as metal ones.
Benefits Of Having a Plastic Cage
Why having a plastic cage can be beneficial we listed down below. Read it before you decide which type of cage you want to buy for your lovely pet.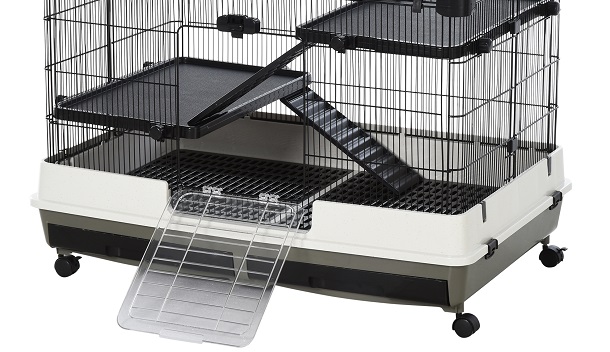 Affordable Price
As the plastic material is much cheaper than other ones, for example, metal, plexiglass, or wood, you can find plastic models for an affordable price. This way you can save some money to buy other needed accessories and supplies for the hedgehog-like food, toys, a feeding set, etc.
Easy Maintenance
For those who don't want to spend hours cleaning the cage, a plastic one is the best choice. Plastic can be easily washed with a damp cloth and a little bit of soap. As it's stain-proof material, you will need only a few minutes every week to clean the mess.
Lightweight For Moving
If you love to move the cage from time to time, having a plastic cage will be the best choice. Most plastic cages are lightweight so you can easily hold them and move them wherever you need them.
No Tools Needed
One of the pros of having a plastic cage is that most models don't require any tools to assemble, as they usually have a detachable system.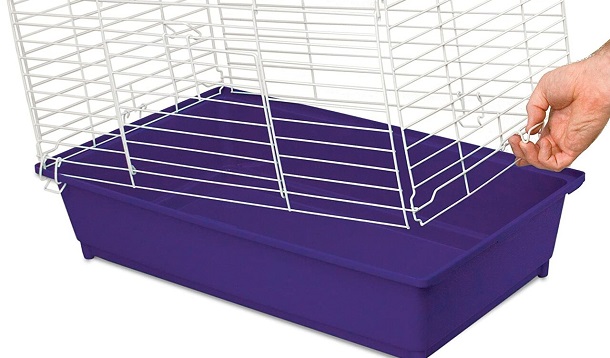 Modern Design
You can find different types of plastic models on the market, in many colors, so if you're looking for a cute model plastic one needs to be your choice. Color combinations like black and red, white and blue, green and beige will easily catch everyone's attention.
Buyer's Guide: Choose High-quality Plastic Model
You're not sure which plastic cage is the right choice for your hedgehog? Which >specifications to consider? We listed the most important ones which will help you decide which cage to buy.
Cage Size
Plastic cages go at about 4 square feet of space on average and that's enough for your hedgehog and everything that you might want to put in the cage for your pet to use. Don't go under that dimension, but you can always go above and provide more space for better comfort.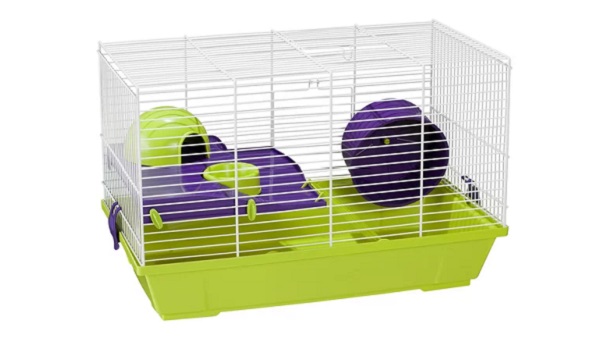 Type Of Cage
On the market, there are a variety of plastic models and you can choose a cage with one or two levels, depending on how many hedgehogs you're planning to have and where you'll place the cage. Also, you can choose between a portable model which has rolling wheels and a static one with legs or a flat bottom surface.
Door Size And Count
The doors on the cage should be big enough to put your hand through to be able to grab the hedgehog or clean the cage. Another thing to look out for is that a minimum of two doors are the best choice. Preferably one on the top of the cage and one to the side for multiple functionalities of both doors.
Easy Cleaning
Even if the plastic cages clean easily and are stan proof, make sure you can quickly do it depending on the system. Most plastic models have a detachable system, which is not the best option if you want to have a practical cage for daily maintenance. Large models with sliding trays are the best choice which will save your time with cleaning.
Best 6 Plastic Hedgehog Cages
Living World Deluxe Habitat
SPECIFICATION:
Material: Plastic/Metal
Dimensions: 46.9 x 22.8 x 24 inches
Weight: 19 Pounds

Levels: 2
Doors: 2
Use: Indoor
Quality designed Parts and Easy Assembly
This cage comes with a deep plastic bottom base and a tall wire cage with an upper wire which serves the purpose of a door. It also has plastic clips for easy assembly with no tools or instructions needed.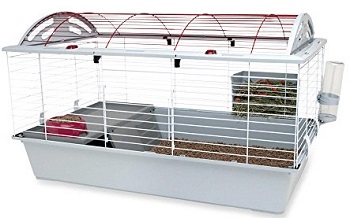 Deep Bottom Plastic
The bottom plastic is 6-in tall to make sure the hay doesn't fall out of the cage and to ensure a lot of coverage for the hay itself. It also comes with a plastic hideout spot and a little balcony.
Enough Room And Quite Tall
The dimensions of this plastic cage are quite solid and the overall square footage goes at around 7.5 square feet. It's also quite tall, 24-in to be exact so you don't need to worry about your hedgehog escaping. This is furthermore secured by the top wire on the cage.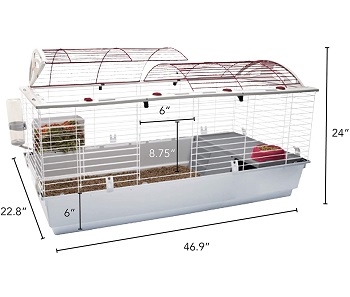 A Lot of Accessories
It also comes with a few useful hedgehog accessories: an access ramp, hideout, and balcony, a tip-proof feeding bowl, a small animal water bottle that's also drip-proof, and a hay guard. So all that it's left to do is buy the hay and the food.
Overall:
Safety:
Mobility:
Size:
Weight:
Funcionality:
AVERAGE PRICE
$95 – $152 varies from webshop to webshop: Amazon, Walmart, eBay
In Short:
Has a wire top that opens on two sides
Tall enough to prevent the animal from escaping
The bottom plastic secures the hay to stay in the cage
Comes with useful accessories
Easy assembly, no tools needed
AmazonBasics Small Animal Cage
SPECIFICATION:
Material: Plastic/Metal
Dimensions: 31.7 x 21.8 x 18.1 inches
Weight: 11.4 Pounds

Levels: 2
Doors: 2
Use: Indoor
Easy On The Eyes
The bottom plastic is a neutral beige color to fit any household and it's easy on the eyes while the top frame is made of cage wire. It comes with 2 doors that are placed next to one another to ensure easy access to your animal and a top that you can open.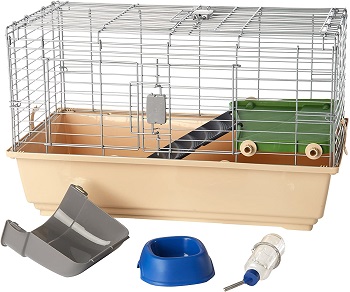 Small, But Enough
The hedgehog cage size is almost 5 square feet, which might seem small, but is enough for the recommended size of a hedgehog cage of 4 square feet. You'll have enough room for other accessories as well.
Cleaning Process And Tips
Since the bottom is made of plastic, rest assured you'll have to clean it often. It's recommended to just wipe with a damp cloth and once in a while clean the food bowl and water bottle with a disinfectant. Just make sure to wash with water as well to prevent poisoning.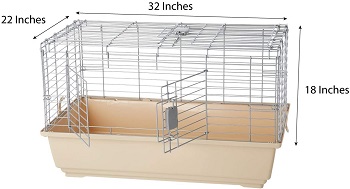 Simple For The First Time Owner
With the cage, you'll also get some basic accessories like a water bottle, feeder, and plastic hideout. It's all easy to assemble so if you're a first time owner and lack experience with cages, you don't have to worry about it, it comes with an instruction manual to make sure your cage lasts as long as possible.
Overall:
Safety:
Mobility:
Size:
Weight:
Funcionality:
AVERAGE PRICE
In Short:
The neutral color design makes it fit anywhere 
1 square foot above the recommended size
Needs to be cleaned often because of the plastic bottom 
Comes with a few crucial accessories
Comes with a manual with tips on maintenance
Lixit Animal Care Savic Cage
SPECIFICATION:
Material: Plastic/Metal
Dimensions: 20 x 39.38 x 38.25 inches
Weight: 11.4 Pounds

Levels: 2
Doors: 2
Use: Indoor
Very Tall And Spacious In That Sense
This 2- level cage is very tall. The second level is accessible by a wooden ramp that is a bit narrow so your pet might need some getting used to to be able to climb the ramp without problems.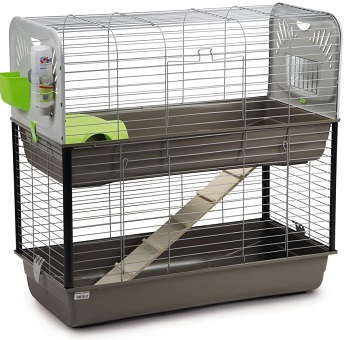 Doors On Both Levels
The cage doesn't have a top opening option so you have to rely on the first and second level door for cleaning and animal access. It's wide enough for both of your hand to fit so that you could clean it
The Second Level Holds Accessories
On the second level of the cage, you might want to add the plastic platform that comes with the cage for a good hideout and additional accessories that come with it that are built into the plastic sides of the second level and include a water bottle, feeding tray, and a hay rack.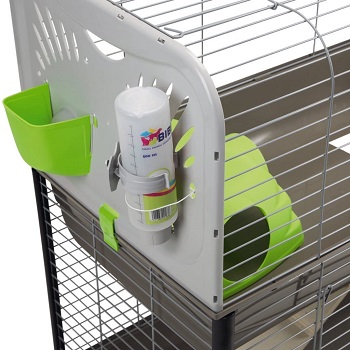 Collapsible, But Cramped
The 2-level plastic cage is collapsible which means that you use only one level instead of two, but it's quite tall and not wide enough so if your animal is not using both levels it might feel a bit cramped for them.
Overall:
Safety:
Mobility:
Size:
Weight:
Funcionality:
AVERAGE PRICE
$108 varies from webshop to webshop: Amazon
In Short:
The ramp connecting the levels is not wide
Built-in accessories are on the second level
It is collapsible, but each level is not very wide
Need to rely on doors for cleaning
Susupet Pet Playpen
SPECIFICATION:
Material: Plastic/Metal
Dimensions: 33 x 18.6 x 2.2 inches
Weight: 11 Pounds

Levels: 1
Doors: 1
Use: Indoor
Customizable Design And Easy Assembly
This playpen design is amazing. It comes with a wire cage door and plastic panels that are easy to assemble and are customizable to your wants and needs. You get with it mats to prevent it from slipping, connectors for the plastic panels, and even a hammer.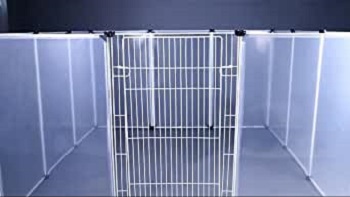 Strong And Quality Panels
A single panel can withstand 15 pounds of force which is more than enough for the calmer lifestyle that hedgehogs are used to, but will keep them safe if other animals you might have come snooping. Not to mention that the panels are 29-in tall. Keep in mind that this is a playpen, not a habitat cage.
Easy To Store Away
Since it's easy to assemble and disassemble you'll have no problems storing this indoor cage away for future use. Just make sure that you have a place to put all the smaller pieces that come with it like the connectors and anti-slip mats.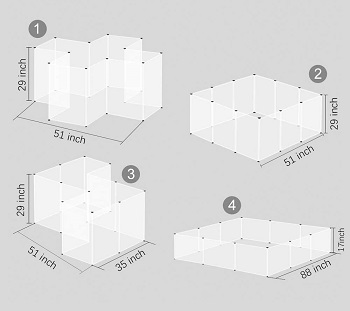 Environmentally Friendly Plastic
If you're worried that the plastic material might cause harm to your pet, don't worry. The panels are made from an environmentally friendly type of plastic and won't harm your pet. They are also machine washable and durable.
Overall:
Safety:
Mobility:
Size:
Weight:
Funcionality:
AVERAGE PRICE
In Short:
Comes with a hammer for an easy build
Adjustable shape for your needs
Environmentally friendly plastic doesn't harm your pet
Durable and washable plastic panels
It's a playpen, not a habitat cage
Ferplast Maxi Duna Multy Guinea Pig Cage
SPECIFICATION:
Material: Plastic
Dimensions: 38.98 x 20.28 x 14.17 inches
Weight: 15.43 Pounds

Levels: 1
Doors: 1
Use: Indoor
Materials And Accessibility
This large cage is completely made of plastic. The simplistic design makes it easy to use and clean. It doesn't feature a door option but the plastic grid on top can be opened to replace the fact that it doesn't have a door option.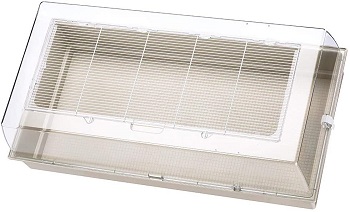 Detachable Top And Ventilation
The transparent top is completely detachable from the bottom so cleaning will be easy. It's wide and long enough for everything that your pet needs and the top provides enough ventilation because of the grid.
Dimensions And Space
The cute cage is just below 6 square feet big so the extra 2 square feet above the recommended size come in useful for the additions that you might want to add to your hedgehog's life. It's 14.2- in tall so tall enough to not make it seem cramped.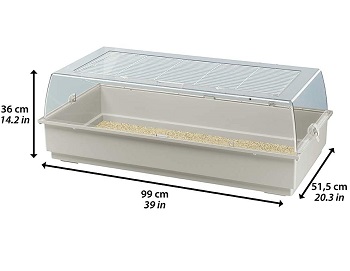 Safe Option For The Pet
Since it's made entirely of plastic and there's no wire grid so your hedgehog won't be able to try and climb to escape and his little feet are secure so that they don't get stuck between the grids. The placement of the ventilation grid also makes sure of that since it's placed right in the middle of the top plastic panel.
Overall:
Safety:
Mobility:
Size:
Weight:
Funcionality:
AVERAGE PRICE
$108 varies from webshop to webshop: Amazon
In Short:
Entirely made of plastic
The detachable bottom makes cleaning easier
Ventilation grids placed on top
No wire grid to harm your pet
Easy to use because it's simply made
Prevue Hendryx Small Animal Cage
SPECIFICATION:
Material: Plastic/Metal
Dimensions: 32 x 21.5 x 33.5 inches
Weight: 22 Pounds

Levels: 2
Doors: 2
Use: Indoor
Great Litter Containment
This cage design for containing mess and litter is amazing. The whole cage is wire grid made, but the bottom container is plastic and is easily removed. The excess mess and litterfall into the bottom plastic box so cleaning is quick and easy and you don't have to clean the whole cage that often.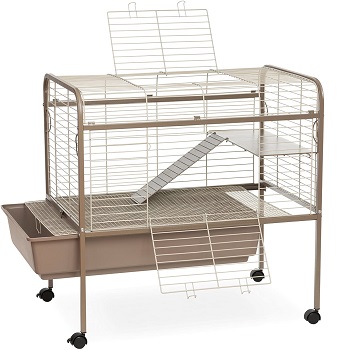 Wheels For Moving With Ease
It's easily moved from room to room thanks to the wheels on the legs. You don't have to keep the cage on the ground if you have problems with accessing things that are on the ground or if you don't have enough space to put the cage on higher ground.
Excellent Access To The Animal
This hedgehog habitat has two large doors, one on top and one on the side of the cage and the bottom wire can also be removed if it needs cleaning from the hay and litter. It also has a platform and ramp that is made entirely out of metal so that your hedgehog won't chew through it.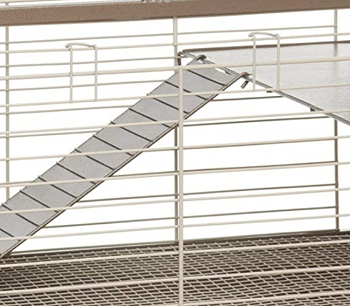 Easy And Fast Clean Up
To make sure that the cage is easily cleaned and doesn't soak up the litter and mess that gives off nasty smells, the whole cage is coated with a non-toxic powder finish to ensure extra cleanliness and easy cleanup.
Overall:
Safety:
Mobility:
Size:
Weight:
Funcionality:
AVERAGE PRICE
In Short:
Complete metal structure of the cage
Plastic bottom box for cleaner living space
2 Large doors in the right places
Easy to move from room to room
Extremely easy to clean
Setting Plastic Cage In Few Steps
Plastic cages can be set in 15-30 minutes, depending on the size and included accessories. Here are all the needed steps for beginners.
Check the Box Content
Before you even start with setup, you must check the content of the box. Make sure that everything came in the box. Use setup instructions for all information.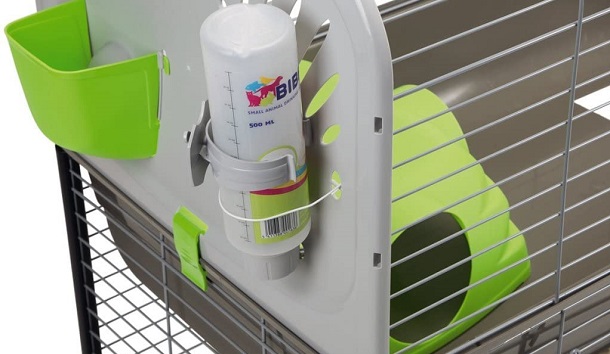 Start With Setup Steps
Setup instructions will help you set pet habitat much easier. Most of the instructions include pictures with explained steps. If the instructions don't have many details, you can always check the website of the manufacturer or contact them online for more questions.
Safety First
When you set the cage before you place the hedgehog inside it is important to check if everything is safe for use. The frame of the cage needs to be stable, without wobbling, all the detached parts need to be sturdy and connected and the door lock must work well.
Where To Place Plastic Cage For Hedgehogs
Here is the list of areas where you can place the plastic cage
Next to the wall – The best choice is to place the cage next to any wall so you can easily move around the house.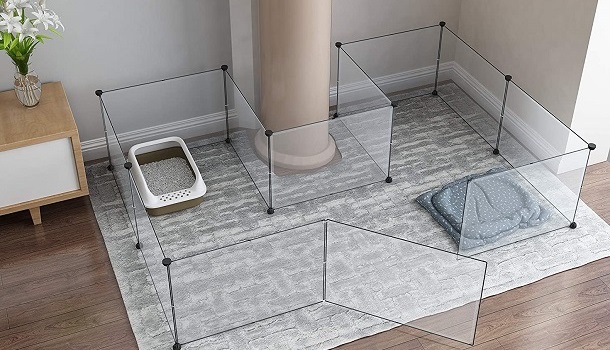 In the corner – For smaller areas, corners are the best option to place a hedgehog enclosure.
Room for monitoring – If you spend most of the time in the kitchen or living room, then place the cage where you can easily monitor your pets.
On the terrace with a rooftop – For outdoor use, we recommend placing the cage on the balcony or terrace with a rooftop, so hedgehogs can be protected from the sun, rain, and other weather conditions.
Top Of The Furniture – If the cage is small and lightweight to fit on the top of the commode, you can place it there. This way you can easily monitor hedgehogs, especially if they're sick or injured.
Areas To Avoid
We listed places where is not recommended to place the plastic cage due to different reasons.
Near Hear Source – Avoid placing a plastic cage near any heat source such as a fireplace. Plastic can be easily damaged from heat. Also, the temperature in the cage will rise above the optimal, which can cause a lot of health problems for hedgehogs.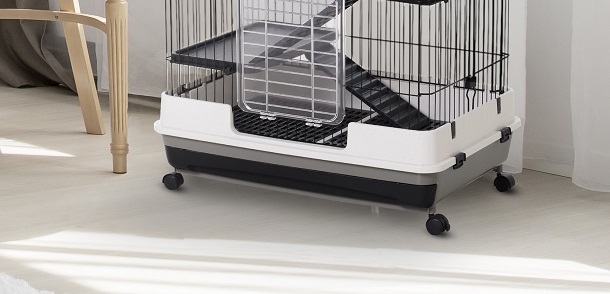 Direct Sunlight – As you know, hedgehogs are nocturnal animals, so we don't recommend placing the cage near a window where sunlight will directly hit.
Loud Rooms – We don't recommend placing the cage in a room that is too loud, so the hedgehogs are not stressed out.
Pet Area – If you have other pets at home like dogs and cats, we don't recommend placing the indoor cage in the room where they can free roam around. They will probably try to attack hedgehogs, especially if they're not used to them. Always make sure that your other pets don't have access to the room.
To Sum Up
Plastic cages are the perfect choice for hedgehogs, they're affordable, sturdy, and easy to clean. As one of the best models, Living World Deluxe Habitat has all needed specifications including sturdy construction, easy cleaning possibilities and easy accessibility. This model comes with included accessories. So, if you're a beginner, this model is great value for money.