Have you found yourself searching for cheap hedgehog cages that won't break the bank?
We've got something just for you. Read this article about the best affordable hedgehog cages that will go easy on your wallet and find the one that's right for you.
The Summary
Best 5 Cheap Hedgehog Cages
BEST OF BEST CHEAP HEDGEHOG CAGE
Songmics Playpen Small Animal Cage
Smart Material Usage
This cage has an elegant all-black color design and it's made to be simple. It comes with a fabric liner bottom, an Iron wire panel and plastic connectors, and a mallet for the assembly. Everything that you need for the assembly is already there.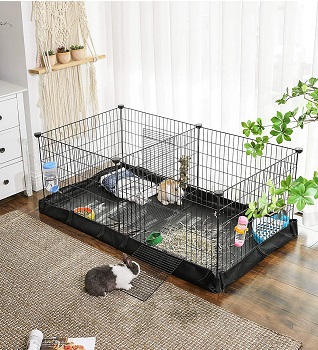 The Fabric Bottom
The oxford fabric bottom of this cheap hedgehog cage has a water-resistant coating so it makes it easy to clean or wipe off the litter while it also makes sure that your hedgehogs' feet are safe and protected.
Iron Wire Spacing
Another way to ensure safety for your hedgehog is the spacing between the iron wire. it's 1.1-in so there is little to no chance that the animal will escape or stuck its head or feet between the spacing.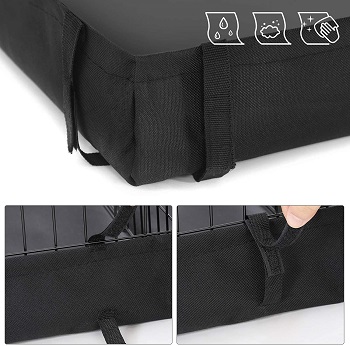 Multipurpose Assembly Parts
The contents of this cage make the assembly simple and have more than one purpose. For example, the pads that you attach on the bottom of the cage are not just here to connect the iron panels, but are also non-slip so they hold the cage in place and don't damage your floors
Divided Living Space
The square footage of this cage comes at 8 square feet of living space which categorizes it as a hedgehog habitat cage. It includes a divider iron wire panel with a door so that your hedgehog can have two separate spaces for anything that he might need.
In Short:
Has an easily washable, water-proof fabric bottom
Includes a divider panel to separate living from play space
Enough space to house 2 animals
includes a rubber mallet for the assembly
BEST SMALL CHEAP HEDGEHOG CAGE
Ware Chew Proof Small Animal Cage
All-Metal Build
This cage cuts straight to the chase with its design. It's an all-metal cage, meaning that the bottom is also made of metal, and it comes in a powder-coated color of white for the cage wire and blue for the metal bottom pan. Its size is 25 inches altogether.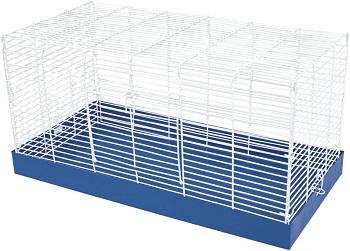 Affordable Quality
Since the cage is made entirely out of metal it makes the cage chew proof. For that low of a price you would have expected a cheaper material build, but the manufacturer provides affordable all-metal cages beyond this one as well.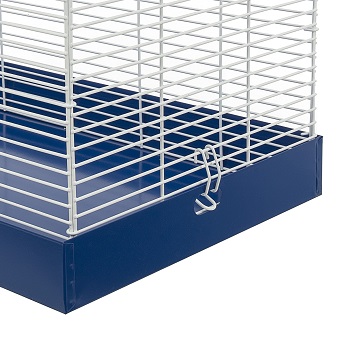 2-Piece Assembly
The assembly for this cheap hedgehog cage is easy. The base of the plastic hedgehog cage attaches itself to the metal grid with latches, and the metal grid unfolds, you attach the corners to one another, then flip it and attach to the bottom base using the clip-on latches.
The Access Door
Although the cage is easy to assemble it comes with a problem, the only access that you have to your animal is through a door on the side of the cage. This might make cleanup a lot more difficult especially since the door is not that big in the first place.
In Short:
Easy 2-piece assembly
All metal construction
The material makes the cage chew proof
Only one access door makes cleanup trickier
BEST INDOOR CHEAP HEDGEHOG CAGE
Tespo Playpen/Indoor Small Animal Cage
Sleek And Modern
This indoor hedgehog cage looks great for a modern home. the metal panels are see-through and a neutral colored with a few added pieces colored in black. It makes this cage look roomy and well ventilated.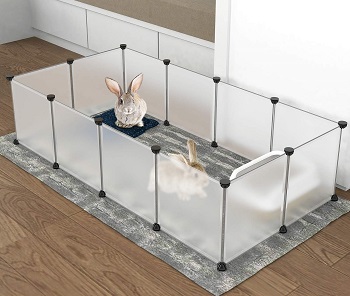 Customizable Build
This cage is completely customizable. It comes in a set of 12 metal panels that are easy to connect to one another in whatever shape or form you see fit for your hedgehog. It's able to expand in size by getting an additional set or you could just buy a set with more panels from the start.
Height Expansion
It doesn't only expand in width and length, but also in height by using the ABS connectors and cable ties. The cable ties strengthen the structure and for the edges of the metal panels that sit on the floor, you get anti-slip mats to protect your floor from scratches and the whole cage from slipping, and you get a hammer for easier assembly.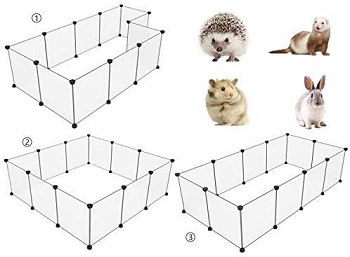 No Access Doors Or Top
It has no top, but also no access doors. You can make a top by using the customizable metal panels and if you're concerned about the height of the panels, again, you can build a higher construction. It really gives you an option to make a castle for your pet.
In Short:
Completely customizable shape and size
Metal panels give the cage a durable and sturdy build
Panels are seethrough and give you good vision over your pet
Comes with cable ties, anti-slip mats, and hammer for easy assembly
BEST LARGE CHEAP HEDGEHOG CAGE
Midwest Home For Pets
Bottom Base Usage
This cage can be a spacious home for your beloved hedgehog. It comes with wire rack panels and access doors for the top and for the bottom it uses a deep, plastic bottom base for better rubbish containment. Of course, this means that you'll have to clean out the base regularly, especially since it's an indoor cage and the smell of the litter is not pleasant.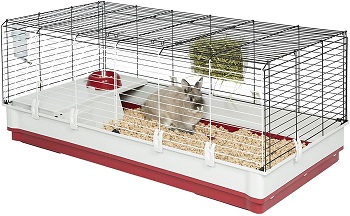 Elevated Living Area And Hideout
This cheap hedgehog cage offers just below 8 square feet of living space, but get a boost in that department thanks to the elevated living area one the side of the cage that also gives your hedgehog a hideout space below it that is much needed for a hedgehog and his living space.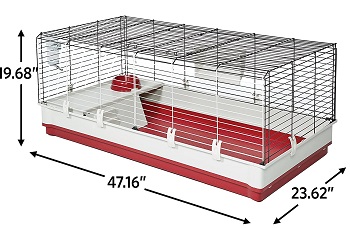 A Whole Side Panel For Access
One of the side metal wire panels has two doors for access that make the whole side panel detachable and attachable for access to the cage. The top doesn't come off as a whole, but rather, it has a small door on top that's just enough for access considering that you already have two on the side panel.
Needed Accessories Included
The cute hedghehog cage is compatible with Midwest's habitat extensions like a wooden hutch but also comes with a few accessories on its own. It comes with a water bottle, bowl for feeding, and a hay feeder.
In Short:
Gives your pet a large 8 square feet living space
Comes with accessories for little to no additional costs
Great Access to the animal with the side access doors
Has a deep plastic bottom base functioning as a litter container
BEST WOODEN CHEAP HEDGEHOG CAGE
Ruuhooi Outdoor Wooden Cage
Space Saving Shape
The cages shape is a triangle large space design and it's built out of firwood and metal wire providing a sturdy shape and stability. For the Assembly, you might need a drill to attach all the wooden pieces, but once you're done with it you don't have to worry about it anymore.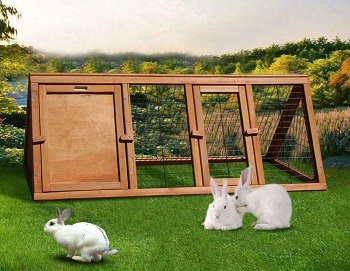 Solid Material Construction
This cheap hedgehog cage has solid natural firwood construction and wire mesh to go with it. It's split into two areas, one that serves as an indoor hideout and the wire rack one for playtime and outdoor activities. The two areas are divided with a door shape hole but doesn't have an actual door to separate your pet into one while cleaning the other.
No Bottom Litter Container
The wire rack part of the hedgehog cage doesn't have a bottom so it's better to use it as an outdoor option because you'd have to place something else on the bottom for litter containment when used as an indoor cage. Also, consider getting a heating lamp for hedgehog if the cage stays outside.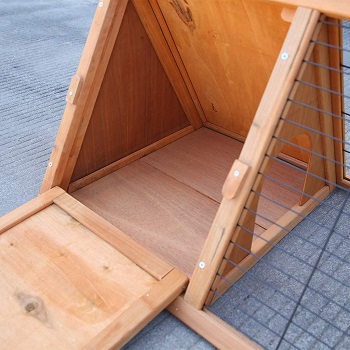 Waterproof For Outdoor Use
The roof is made out of waterproof asphalt that can be easily locked and unlocked using a wooden latch which provides extra safety for your pet when outside to keep predators out of the cage and your pet inside.
In Short:
Fit for outdoor use
The wire part of the cage has no bottom
Solid build because of fir wood material
Cool triangle shape for saving space
How To Pick A Cheap Hedgehog Cage
You can get a lot out of a cheap hedgehog cage depending on what you're looking to get. A lof of these cages get you a lot and good quality for a good price, but you still want to focus on getting the most out of the material build, maybe some additional items that you get with the cage and practical design.
Size And Design – For a good enough price, you can really get a lot of space to provide your hedgehog with. The recommended size is 4 square feet but these cages easily go up to 8 square feet of space which is really good since you have to think about things that you need to put in the cage as well
Additional Items – If you're really low on cash there are options where you get essential items with the cage itself of decent quality like a water bottle, feeding bowl, a hay feeder, and maybe even an elevated living space to put the space into good use.
Bottom Cage Materials – Since these cages are made for indoor use you should consider getting one with perhaps a deep plastic bottom or a canvas that is much easier to clean and maintain for a longer life span of the cage itself. It will also make sure none of the litter gets on your floors or carpets.
Important Safety Measures – One of the most important things to consider is if the cage is safe for your pet to live in. The wire cage part has to have small enough spaces between them so your hedgehog doesn't hurt himself. Consider finding a cage with either a tall enough structure with an open top or a top that opens so your hedgehog is unable to escape the cage and so that you have easier access to the cage to clean it or interact with your pet.
To Sum Up
All things considered, the one cage stands out the most and gives you the most for a good price is definitely the MidWest Home For Pets. It's big enough, and you get a lot of additional accessories. The materials used in the making of this cage are of good and of standard quality like a wire cage top and deep plastic bottom base and its standardized design makes it safe for your pet to live in. If your budget allows for your pet to live a comfortable life outdoor take a look at this article about wooden hedgehog cages that allow for indoor and outdoor use. If you just want to ensure your hedgehog with a large living space and you have the space for it in your home then read this post about large hedgehog cages and find the best fit for your pet and home.