Have you found yourself searching for cheap hedgehog cages that won't break the bank?
We've got something just for you. Read this article about the best affordable hedgehog cages that will go easy on your wallet and find the one that's right for you.
The Summary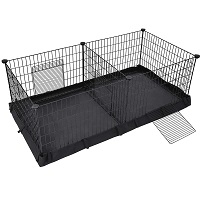 Songmics Playpen Small Animal Cage
OVERALL RATING: ★★★★★
The waterproof Fabric base and removable divider panel make this cage great for efficient, affordable, and smart use.
Jump To Review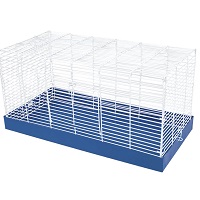 Ware Chew Proof Small Animal Cage
OVERALL RATING: ★★★★☆
For the price that it has, this cage doesn't save on material quality with its all-metal build and chew-proof feature.
Jump To Review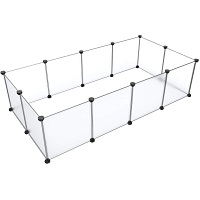 Tespo Playpen/Indoor Small Animal Cage
OVERALL RATING: ★★★★☆
Its flexible shape and seethrough metal panels make this cage a great customizable and adaptable indoor cage for your pet and household.
Jump To Review
How To Define Cheap Hedgehog Cage?
Cheap cages for hedgehogs include all the models that have a lower price than the average cages on the market. Usually average cage costs from $50 to $150 depending on the size, accessories, and material. So you can actually get a cheap model for $50 or less if you find a great deal.
Why Some Models Are Cheaper Than Other Ones?
There are different reasons why some cages have a lower price than others. We listed features that make the model cheaper than others.
Size Of Cage – One of the features that determine the price is size, as well. Smaller cages, like 24 x 24 models cost less than big models that have more than 40 inches. The main reason is the quantity of the materials needed for construction.
Included Accessories – If the cage doesn't include additional accessories like ramps, shelves, toys, feeding set, etc. it will probably cost less money than the one that includes all essential things.
Cheaper Material – Usually cheaper models are made of less expensive materials such as plastic. Usually, metal, wood, or acrylic models are much more expensive than plastic ones.

Functionality – If the cage has a wheel for moving, probably it will cost much more than static models. Also, the door lock and the sliding system can increase the price of the cage.
Do Cheap Models Have Lower Cage Quality?
If the cage is cheaper than other models on the market it doesn't necessarily mean it has a lower quality. Yes, he is probably made of cheaper materials, doesn't include accessories, and has a less functional system, but it doesn't mean that cheap materials are less quality than others. You don't need to worry about durability, cheap models can also last you as years as the expensive ones.
Why Having a Cheap Cage For Hedgehog Is Beneficial?
If you're still doubting whether to buy a cheaper model or the expensive one, here is the list of why cheaper models are more beneficial than expensive cages.
Saving Money For Food And Accessories
If you're planning to buy a cage, picking a cheaper model will save you money for a hedgehog's food and needed supplies. Do you have hedgehogs accessories at home or do you want to buy a new one separately? By buying a cheap model you can save some money and use it for needed accessories.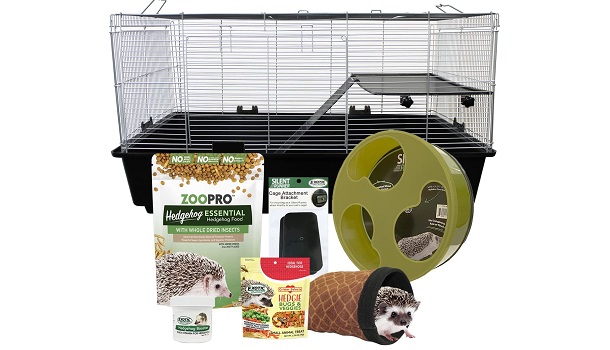 Value For Money
Not all expensive models are high-quality and the price doesn't determine if the cage will last you longer. You can find a cheap model with a high-quality construction which is almost the same as the model that cost 50 dollars more.
Buy Travel Cage
Do you need a cage that will use when visiting the wet or going for a trip with your hedgehog? If you buy a cheaper indoor model, you can afford an extra cage for traveling, as well. There is no need to spend a lot of money on a traveling cage that you will use only occasionally, probably a few times a year.
Easy Setup
Usually, cheaper models don't require additional tools and have a very simple construction that can be easily set up. If you're looking for a model that will require one tool or no tool at all, get a cheaper cage.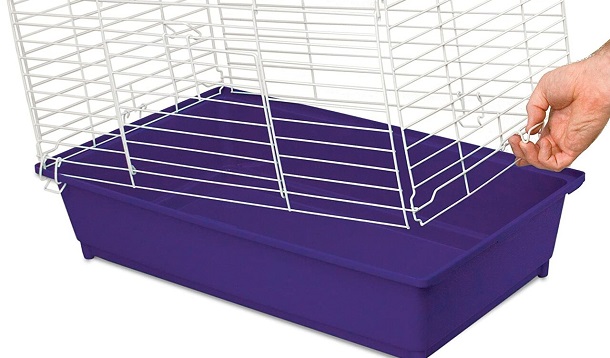 Cheaper Repair
If something breaks down in the cage, you can easily fix it. For example, if the plastic part of the cage break, use non-toxic glue and it will still be usable for a while.
Downsides Of Having Cheap Model
Even if having a cheap cage has a lot of benefits, there are also some downsides which we listed down below.
More Frequent Repairs – As most of the cheaper models are made of cheap materials, which might not be high-quality, probably there will be more frequent repairs compared to expensive models made of only high-quality materials.
Safety Risk – If the cage is made of cheap materials which as not sturdy, there is a risk to safety on a daily basis. Hedgehogs can easily break some parts, and escape out of their habitat.
Toxic Materials – There is the possibility that the cage is made of materials that include toxic elements that can be harmful to hedgehogs. Not all the models pass strict controls, so it is important to always check the labels and the type of materials.
Specifications To Consider When Buying
Do you know which specifications are most important when picking an affordable cage for your hedgehogs? Here is the list of main features.
Cage Size
One of the main specifications to consider when buying a cheap model is the size. Hedgehogs are very active animals that require at least 2-3 square feet. The minimal size of the cage for one hedgehog needs to be 24 x 24 x 15 inches. If you're planning to have multiple ones, make sure to buy a much bigger model.
Easy Access
So you can reach your hedgehog whenever you want to play with him, take him out or clean the mess, it is important that the cage has large doors for access. We recommend buying a model with front doors, or top doors if the cage is not tall. If the cage has a multilevel design, it is important to have doors for each level.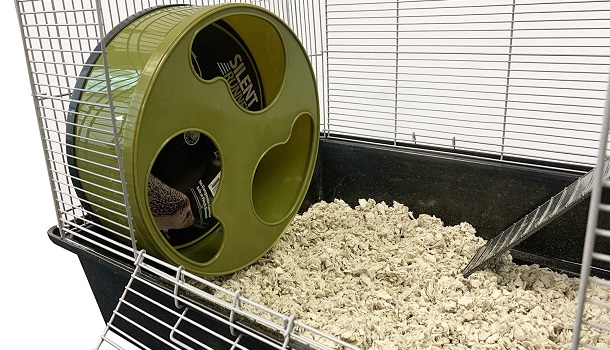 Maintenance And Cleaning
Even if the hedgehogs don't have much odor like other pets for example ferrets, it is important to keep their environment clean as much as you can. Pick a model that has a stain-resistant surface like plastic, which can be easily cleaned with soap and water. If the cage has a sliding tray, you can clean the mess whenever you want.
Best 5 Cheap Hedgehog Cages
Songmics Playpen Small Animal Cage
SPECIFICATION:
Material: Plastic/Metal
Dimensions: 23.6 x 23.6 inches
Weight: 12.55 Pounds

Levels: 1
Doors: 2
Use: Indoor
Smart Material Usage
This cage has an elegant all-black color design and it's made to be simple. It comes with a fabric liner bottom, an Iron wire panel and plastic connectors, and a mallet for the assembly. Everything that you need for the assembly is already there.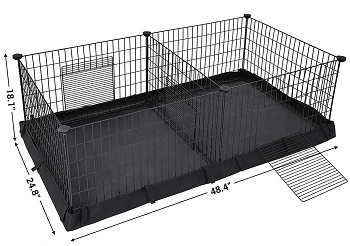 The Fabric Bottom
The oxford fabric bottom of this hedgehog cage has a water-resistant coating so it makes it easy to clean or wipe off the litter while it also makes sure that your hedgehogs' feet are safe and protected.
Iron Wire Spacing
Another way to ensure safety for your hedgehog is the spacing between the iron wire. it's 1.1-in so there is little to no chance that the animal will escape or stuck its head or feet between the spacing.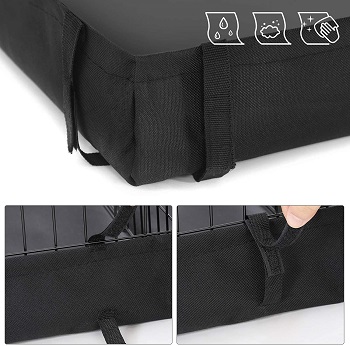 Multipurpose Assembly Parts
The contents of this cage make the assembly simple and have more than one purpose. For example, the pads that you attach on the bottom of the cage are not just here to connect the iron panels, but are also non-slip so they hold the cage in place and don't damage your floors
Divided Living Space
The square footage of this cage comes at 8 square feet of living space which categorizes it as suitable habitat for hedgehog. It includes a divider iron wire panel with a door so that your hedgehog can have two separate spaces for anything that he might need.
Overall:
Safety:
Mobility:
Size:
Weight:
Funcionality:
AVERAGE PRICE
In Short:
Has an easily washable, water-proof fabric bottom
Includes a divider panel to separate living from play space
Enough space to house 2 animals
includes a rubber mallet for the assembly
Ware Chew Proof Small Animal Cage
SPECIFICATION:
Material: Plastic/Metal
Dimensions: 12.5 x 25 x 12.5 inches
Weight: 6.5 Pounds

Levels: 1
Doors: 2
Use: Indoor
All-Metal Build
This cage cuts straight to the chase with its design. It's an all-metal cage, meaning that the bottom is also made of metal, and it comes in a powder-coated color of white for the cage wire and blue for the metal bottom pan. Its size is 25 inches altogether.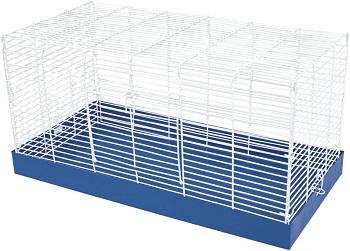 Affordable Quality
Since the cage is made entirely out of metal it makes the cage chew proof. For that low of a price you would have expected a cheaper material build, but the manufacturer provides affordable all-metal cages beyond this one as well.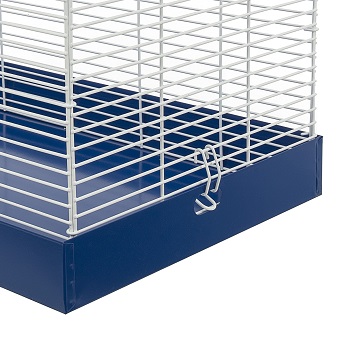 2-Piece Assembly
The assembly for this for hedgehogs is easy. The base of the plastic model attaches itself to the metal grid with latches, and the metal grid unfolds, you attach the corners to one another, then flip it and attach to the bottom base using the clip-on latches.
The Access Door
Although the cage is easy to assemble it comes with a problem, the only access that you have to your animal is through a door on the side of the cage. This might make cleanup a lot more difficult especially since the door is not that big in the first place.
Overall:
Safety:
Mobility:
Size:
Weight:
Funcionality:
AVERAGE PRICE
$49 – $62 varies from webshop to webshop: Amazon, Walmart, eBay
In Short:
Easy 2-piece assembly
All metal construction
The material makes the cage chew proof
Only one access door makes cleanup trickier
Tespo Playpen/Indoor Small Animal Cage
SPECIFICATION:
Material: Plastic
Dimensions: 15.6 x 13 x 2.8 inches
Weight: 4.98 Pounds

Levels: 1
Doors: none
Use: Indoor
Sleek And Modern
This indoor model looks great for a modern home. the metal panels are see-through and a neutral colored with a few added pieces colored in black. It makes this cage look roomy and well ventilated.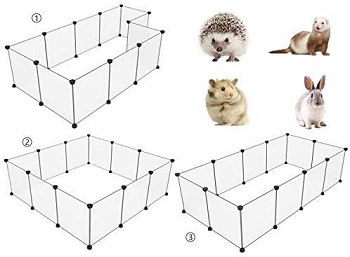 Customizable Build
This cage is completely customizable. It comes in a set of 12 metal panels that are easy to connect to one another in whatever shape or form you see fit for your hedgehog. It's able to expand in size by getting an additional set or you could just buy a set with more panels from the start.
Height Expansion
It doesn't only expand in width and length, but also in height by using the ABS connectors and cable ties. The cable ties strengthen the structure and for the edges of the metal panels that sit on the floor, you get anti-slip mats to protect your floor from scratches and the whole cage from slipping, and you get a hammer for easier assembly.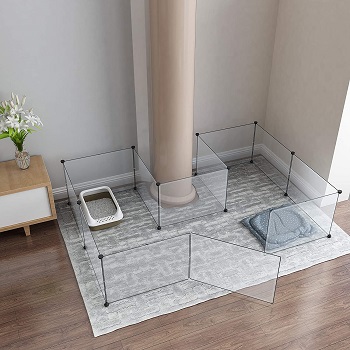 No Access Doors Or Top
It has no top, but also no access doors. You can make a top by using the customizable metal panels and if you're concerned about the height of the panels, again, you can build a higher construction. It really gives you an option to make a castle for your pet.
Overall:
Safety:
Mobility:
Size:
Weight:
Funcionality:
AVERAGE PRICE
$34 – $79 varies from webshop to webshop: Amazon, Walmart, eBay
In Short:
Completely customizable shape and size
Metal panels give the cage a durable and sturdy build
Panels are seethrough and give you good vision over your pet
Comes with cable ties, anti-slip mats, and hammer for easy assembly
Midwest Home For Pets
SPECIFICATION:
Material: Plastic/Metal
Dimensions: 47.16 x 23.62 x 19.68 inches
Weight: 16.7 Pounds

Levels: 2
Doors: 3
Use: Indoor
Bottom Base Usage
This cage can be a spacious home for your beloved hedgehog. It comes with wire rack panels and access doors for the top and for the bottom it uses a deep, plastic bottom base for better rubbish containment. Of course, this means that you'll have to clean out the base regularly, especially since it's an indoor cage and the smell of the litter is not pleasant.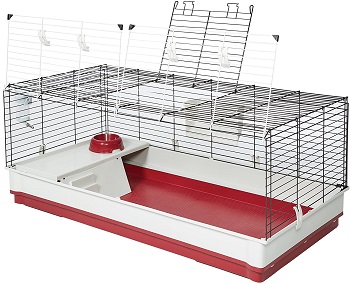 Elevated Living Area And Hideout
This hedgehog cage offers just below 8 square feet of living space, but get a boost in that department thanks to the elevated living area one the side of the cage that also gives your hedgehog a hideout space below it that is much needed for a hedgehog and his living space.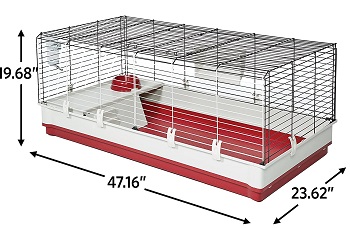 A Whole Side Panel For Access
One of the side metal wire panels has two doors for access that make the whole side panel detachable and attachable for access to the cage. The top doesn't come off as a whole, but rather, it has a small door on top that's just enough for access considering that you already have two on the side panel.
Needed Accessories Included
This cute-designed model is compatible with Midwest's habitat extensions like a wooden hutch but also comes with a few accessories on its own. It comes with a water bottle, bowl for feeding, and a hay feeder.
Overall:
Safety:
Mobility:
Size:
Weight:
Funcionality:
AVERAGE PRICE
In Short:
Gives your pet a large 8 square feet living space
Comes with accessories for little to no additional costs
Great Access to the animal with the side access doors
Has a deep plastic bottom base functioning as a litter container
Ruuhooi Outdoor Wooden Cage
SPECIFICATION:
Material: Plastic/Metal
Dimensions: 46 x 19 x 17 inches
Weight: 55 Pounds

Levels: 1
Doors: 2
Use: Outdoor
Space Saving Shape
The cages shape is a triangle large space design and it's built out of firwood and metal wire providing a sturdy shape and stability. For the Assembly, you might need a drill to attach all the wooden pieces, but once you're done with it you don't have to worry about it anymore.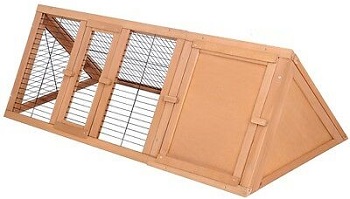 Solid Material Construction
This cheap cage has solid natural firwood construction and wire mesh to go with it. It's split into two areas, one that serves as an indoor hideout and the wire rack one for playtime and outdoor activities. The two areas are divided with a door shape hole but doesn't have an actual door to separate your pet into one while cleaning the other.
No Bottom Litter Container
The wire rack part of the hedgehog cage doesn't have a bottom so it's better to use it as an outdoor option because you'd have to place something else on the bottom for litter containment when used as an indoor cage. Also, consider getting a heating lamp if the cage stays outside.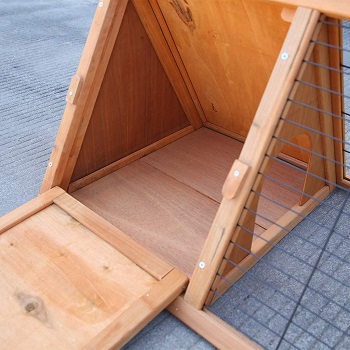 Waterproof For Outdoor Use
The roof is made out of waterproof asphalt that can be easily locked and unlocked using a wooden latch which provides extra safety for your pet when outside to keep predators out of the cage and your pet inside.
Overall:
Safety:
Mobility:
Size:
Weight:
Funcionality:
AVERAGE PRICE
$307 varies from webshop to webshop: eBay
In Short:
Fit for outdoor use
The wire part of the cage has no bottom
Solid build because of fir wood material
Cool triangle shape for saving space
How To Set Cheap Model?
You don't need to worry about setting up a cage that is affordable, usually, they're not too big and don't include too many parts in the box. Approximately you'll need from 15-20 minutes for setup.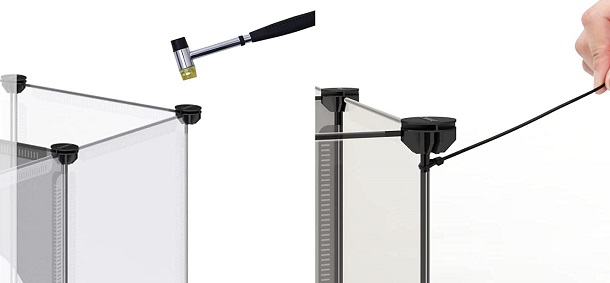 Do You Need Tools?
Models with detachable systems like plastic cages don't require any tools. If the cage has a wooden or metal frame, you'll need a power drill. Also, you can do it with a screwdriver which takes a little bit longer. If the cage has pannels, you will need a scammer to secure the connectors. Most of the playpens include the scammer in the box.
How To Customize a Cheap Model?
You can easily customize the cage for a hedgehog by using a few essential items. Hedgehogs will need bedding that can be made of natural material like wood or paper, or fleece as well as a polyester blanket.
The feeding set which includes a bowl and water bottle is necessary for the cage. Also, buy a litter tray which hedgehog will use as a toilet. If more items like toys fit in the cage, you can add tunnels and hideouts which will hedgehogs use for hiding and playing.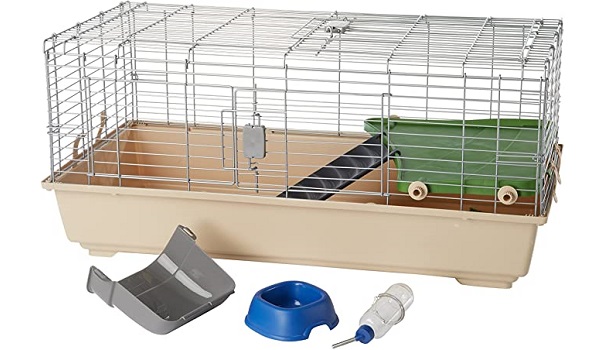 Safety Features To Consider When Buying Cheap Cage
One of the most important things to consider is if the cage is safe for your pet to live in. Pick only a model that is stable and sturdy for maximum safety.
The wire cage part has to have small enough spaces between them so your hedgehog doesn't hurt himself. It is recommended to choose models with 0.5 Inch space bar.
Consider finding a cage with either a tall construction with an open top or a top that opens so your hedgehog is unable to escape the cage, as they're known as good climbers. Also, doors need to have sturdy locks so the hedgehog can't escape out while you're not at home.
Where To Find Cheap Cage For Hedgehogs?
You're not sure where to find an affordable model for your hedgehog? We listed the most popular places where you can find a cage for a very good price.
Online Sales
The most popular online shops such as Amazon, Walmart, and eBay offer the same cages for different prices. You can compare some models and check when is the sale to save some coins. Also, there are discounts for new users which you can use for shopping.
Pet Shops
If you're having a pet store nearby, go and check which models are on the sale, and compare the prices from other shops, as well. If you're living in an area where are only popular pet stores, we recommend checking smaller and no named ones. Even if they usually don't offer bigger ones, you can still find an affordable model.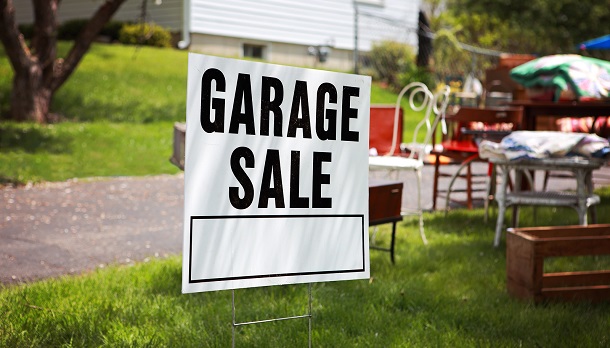 Yard Sales
If there is a yard sale in your place, you can save some money getting a used habitat for hedgehog that is still in very good condition and is not damaged.
Marketplace
There are different sites for selling used or new items, such as the marketplace on Facebook, where you can find a model for a very good price.
DIY Cage For Hedgehog
If you're having unused materials from which you can make a cage for your hedgehog, this is a great way to save up to $50. You will need only a little bit of knowledge, and follow the instructions on the internet. The video which can help you make a cage on your own is down below.

To Sum Up
Cheap model for hedgehogs can be made of high-quality materials and have ll the needed specifications as expensive ones. One of the models that is great value for money isSongmics Playpen Small Animal Cage. It's big enough, and you get a lot of additional accessories. The materials used in the making of this cage are of good and of standard quality, and you don't need to place bedding, there is a leakproof material at the bottom to save you some coins.