Do you want to save some money and buy a hedgehog bin cage that will be functional for indoor and outdoor use? You're not sure whether the bin is safe for your pet?
If you keep on reading, you will find out are pros and cons of having a bin cage, how to choose a model for hedgehogs and all the other frequently asked questions and answers for new hedgehog owners.
The Summary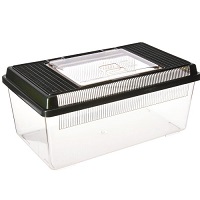 Exo Terra Faunarium
OVERALL RATING: ★★★★★
A simple clean bin with a black lid comes in different sizes. It is ideal for daily indoor and outdoor use.
Jump To Review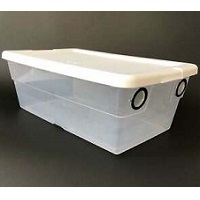 Bugzy Bugs Venter Container
OVERALL RATING: ★★★★☆
An affordable container for hedgehogs is easy to clean on a daily basis. This model has vent holes on both sides for airflow.
Jump To Review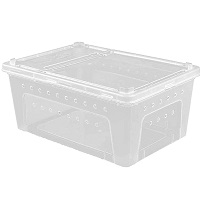 Hamiledyi Small Cage Container
OVERALL RATING: ★★★★☆
This model has a clear container as well as a lid so you can always check what is your hedgehogs doing. Multiple vent holes will provide great air circulation.
Jump To Review
What Type Of Cage Is Bin Cage?
A bin cage for a hedgehog is a container or storage box which can be used for hedgehogs.
From Which Material Are Bin Cages Made?
Most of the bin cages or containers are made of plastic. Also, a bin cage can be made of acrylic material.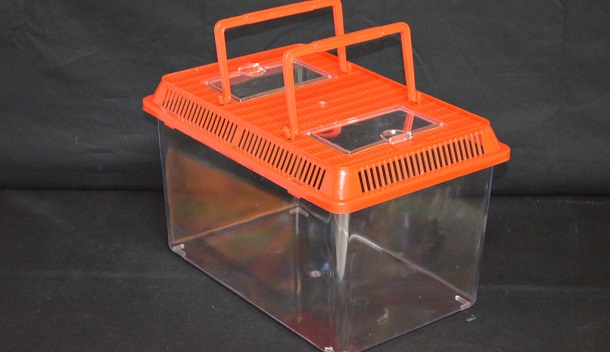 Are Bin Cages a Good Choice For Hedgehogs?
Some people might be surprised, but bin cages are actually a very good choice to have for a cage. The main reason is the ability to retain constant temperature which is optimal for hedgehogs, while other models like those with wire mesh systems, are not able to do it easily.
Pros & Cons Having Bin Cage
You're still in doubt about whether to buy or not a bin cage for your hedgehog? Here are some of the pros and cons of this type of model.
Pros Having Bin Model
Easy To Heat
One of the main pros which we mentioned above in an article, is that bins can easily heat up, which is especially important during the winter. Because the sides have no grid and have only small holes for air ventilation you are able to quickly heat the area.
Cheap Cage
Plastic bins are very inexpensive types of cages, which is the perfect choice for beginners or for those who don't want to spend a lot of money on a cage. They can be found in many stores for less than 30 dollars, depending on the size.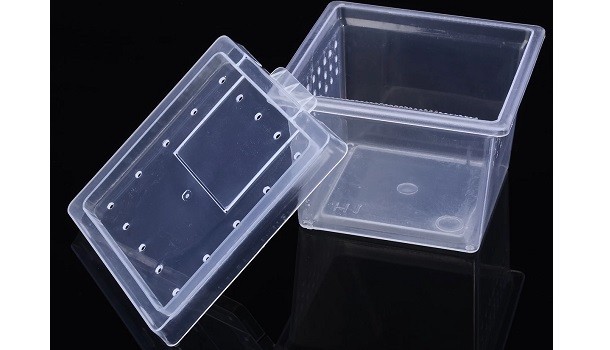 Lightweight For Transport
If you're looking for a model which can be easily held and moved to another place, a bin cage is the best choice. Most of the bins, especially smaller ones, have only a few pounds and every average human can hold them.
Travel Model
Do you need a travel cage to visit the veterinarian or take a hedgehog with you on a trip? A plastic bin is the best choice for shorter trips.
Easy Maintenance
One of the main advantages of having a bin made of plastic as hedgehog's habitat, is the stain and leak-proof material. You don't need to worry about messing around the cage. Use a cloth with soap to clean the mess when needed.
Prevent Escape
Hedgehogs are known as good climbers, but fortunately, they cannot climb on plastic. So, if you're planning to have a bin, you'll be able to have it without a lid.
Cons Having Bin Cage
Bad Air Circulation
If the bin doesn't have vent holes on the sides, during summer days it will be very hot inside, which can stress out hedgehogs and cause a lot of health problems.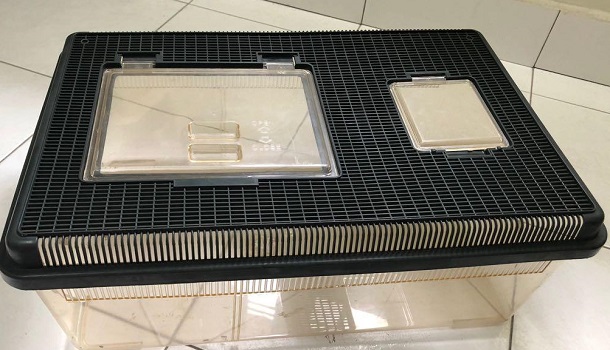 Small Size
Even if you can find bins in different sizes, they're not as big as other cages such as plastic, metal, or wooden ones. Hedgehogs love to have enough space for moving as they're very active animals, so having a small habitat can affect their mental and physical health.
Not Enough Room For Accessories
Hedgehogs need to have essential accessories like litter, a feeding set, a sleeping area, and an exercise area, and you won't be able to fit all of that inside of the bin.
Unpleasant Design
If you prefer a modern design that will catch everyone's attention, then a bin cage is not the best choice. Most of the bin cages are made of very simple, white, or colorful plastic.
Buyer's Guide: Pick Best Bin Cage For Hedgehog
If you need a guide that will help you pick the best model for your hedgehog, down below you can find all the needed specifications and advice for shopping.
How Big Should a Bin Cage Be?
The minimum size of the bin cage needs to be 24 x 24 square feet, so the hedgehog can easily move around. If you can find a bigger bin, choose that one over 24 models.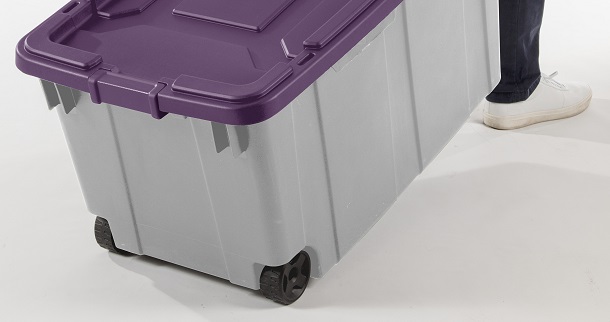 Static Or Portable Model?
Like the other models for hedgehogs, you can also find portable or static bins. Static bins have a flat bottom surface, while portable models have rolling casters for easier moving.
Easy Access
Most of the bin cages have access from above, depending on where they come with or without a lid. You need to be able to reach every corner of the cage, so we recommend only bins with full-width openings.
Best 3 Bin Hedgehog Cage Models
Exo Terra Faunarium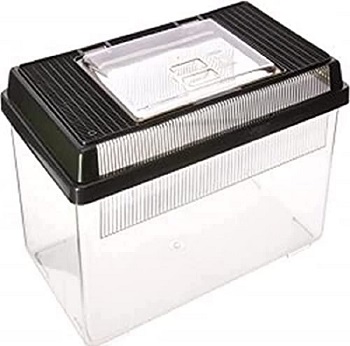 SPECIFICATION:
Material: Plastic
Dimensions: 17.99 x 12.01 x 6.5 inches
Weight: 2.2 Pounds

Use: Indoor/Outdoor
Shape: Rectangular
A simple model with a black lid will fit in every corner of your house. Bin is made of sturdy plastic which is hedgehog safe. The clear plastic model allows you easy monitoring wherever you place it. It is not heavy for moving at all.
Because of multiple vents, your hedgehog will always have fresh air even if you place a lid on the top. A plastic model can be easily clean and disinfected at any time. It is an ideal choice for traveling to the veterinarian, as well as for indoor use.
Overall:
Safety:
Mobility:
Size:
Weight:
Funcionality:
AVERAGE PRICE
$26 – $55 varies from webshop to webshop: Amazon, Walmart, eBay
WHY TO BUY
multiple vent holes for airflow
2 doors at the top
comes in different sizes
Bugzy Bugs Venter Container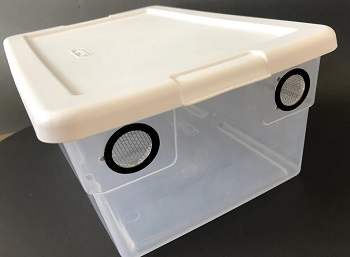 SPECIFICATION:
Material: Plastic
Dimensions: 13.62 x 8.25 x 4.88 inches
Weight: 2 Pounds

Use: Indoor/Outdoor
Shape: Rectangular
If you're looking for an affordable container that you can use occasionally for hedgehogs, this Bugzy Bugs model is everything you need. The clear bin has a white lid and all parts are made of sturdy plastic. The lid can be easily removed whenever you need access.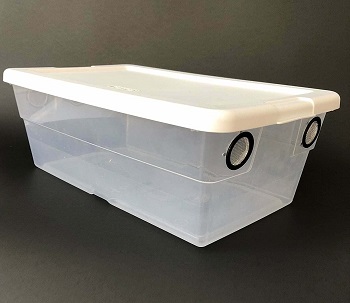 This container has vent holes on opposite sides for air circulation. Bin is lightweight so every human can take it and place it from one side to the other. To clean the mess from the bin cage, you'll need less than 10 minutes.
Overall:
Safety:
Mobility:
Size:
Weight:
Funcionality:
AVERAGE PRICE
WHY TO BUY
large vent holes on sides
clear color for monitoring
WHY TO AVOID
bin doesn't have vents on lid
Hamiledyi Small Cage Container
SPECIFICATION:
Material: Plastic
Dimensions: 12.6 x 8.6 x 5.9 inches
Weight: 0.5 Pounds

Use: Indoor/Outdoor
Shape: Rectangular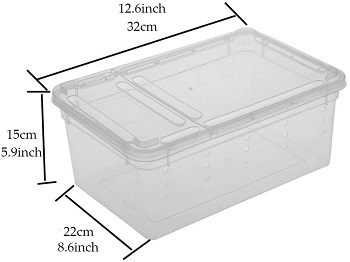 This practical bin for hedgehogs is fully clear, including the container and the lid so you can monitor your pets from any side. For constant airflow, there are vent holes. It is lightweight for carrying outdoor when you need to visit a vet or go for a trip.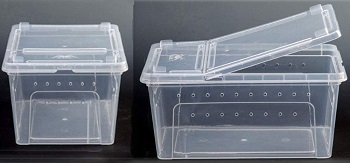 The top lid can be opened from one side so you can reach your hedgehog and feed him. The stainproof surfaces can be easily clean with a damp cloth. This non-toxic plastic is made of high-quality materials and it will last you for a long time.
Overall:
Safety:
Mobility:
Size:
Weight:
Funcionality:
AVERAGE PRICE
WHY TO BUY
lightweight for moving
included feeding bowl
Setting The Bin Cage For Hedgehog
A bin cage is one of the easiest types of enclosure to set, and you can connect all the parts in less than 5 minutes.
Do You Need Tools?
No, there is no need for tools, cause most of the bins have detached systems. The bin comes in one piece and you'll need only to connect it with the lid and place the casters if the model has it.
How To Customize Hedgehog's Environment?
Because of the specific design, you'll need to adapt to it. Here are some of the tips which will help you make the hedgehog's habitat functional. Also, this video can help new hedgehog owners to set their pet's habitats.

Essentials
Because the bins are not too big as other types of cages, we recommend placing only essential accessories inside, so hedgehogs are able to walk around. Use only essentials like litter, feeding set, bedding, etc.
Secure The Accessories
The whole lid is made of plastic, so you're not able to detach some of the accessories on wires. If the accessory is placed on the plastic bottom, there is a possibility it will easily slip on the side or a hedgehog will flip it around. We recommend securing the accessories with non-toxic glue at the bottom or buying essentials that are a little bit heavier.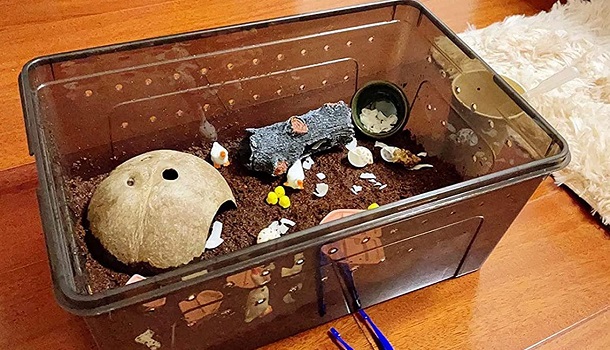 Easy Access
Hedgehogs need to have access to each area so they can do their daily tasks and have functional habitats. We recommend placing accessories near the side of the bin, and you can also use corners for extra space.
FAQ For Owners
If you want to know additional information about bin cages, here are some of the frequently asked questions and answers that will help you choose a model suitable for your hedgehog.
How To Provide Enough Air In Cage?
If you're worried about air circulation, we recommend drilling holes on opposite sides. Air circulation is especially important during hot days indoor, so your hedgehog doesn't stress out because of high temperatures.
What If Bin Is Too Small?
If the bin that you're planning to buy is too small for your hedgehog, you can buy one or 2 additional ones and connect them together. How To Do It? Cut the whole from which your hand can pass through. Connect them using the glue from the outer side of the bin and make sure there are no sharp edges so the hedgehog can easily walk from one area to other.
This can be used as a playpen, and hedgehogs will be entertained going through holes like their in a tunnel.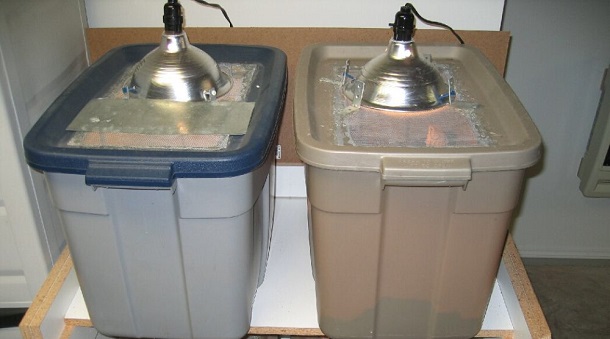 How To Heat Bin Cage?
Even if the plastic bin holds the temperature much better than wire models, it is important to have a proper heat setup. The cage should always be from 73 to 78 degrees, so if it's cold outside make sure to have a thermostat with a heat lamp to keep the temperature under control. Place the lamp above the bin so the hedgehog can't reach it.
To Sum Up
Bin cage for hedgehogs is the perfect choice if you're looking for a durable, easy to clean, affordable, and portable model for daily or occasional use. Exo Terra Faunarium bin cage is one of the best ones on the market. A clear minimum size cage allows you easy monitoring and the lid at the top has vent holes so you can always have it on for safety from predators.