Are you stuck thinking about what would be the best hedgehog habitat cage for your pet?
Then continue reading this article to find out about our selection of the best habitat cages to ensure your pet with what you consider is the best for him. We will go through a selection of a wide variety of cages including indoor, large, cheap, and wooden cages.
The Summary
Best 5 Hedgehog Habitat Cages
BEST OF BEST HEDGEHOG HABITAT CAGE
Mcage Indoor Small Animal Habitat
Pleasantly Tall
You might say that since this is a 4-level cage it would be massive. it is large but not massive since it's 43-in tall and the length and width give off the square footage of about 5 for the ground floor. Each of the levels is connected with a ramp and elevated, wide shelf, You could easily turn this habitat cage into a castle for your hedgehog.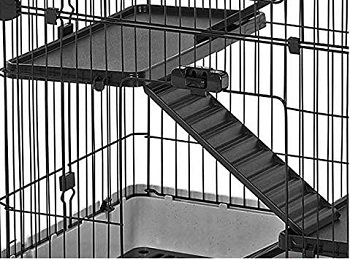 Safe Elevated Areas
The elevated areas are spacious and have lifted edges for added safety and the ramp is anti-slip and safe for your hedgehogs' paws. The spaces between the metal bars are 0.9-in which makes it hard for your pet's feet to get stuck and it provides good ventilation.
Wheels For Transport
This cage also comes with wheels to stand on so that it gives you the option of easy transfer around the house. The wheels have locks so that the cage stands in place.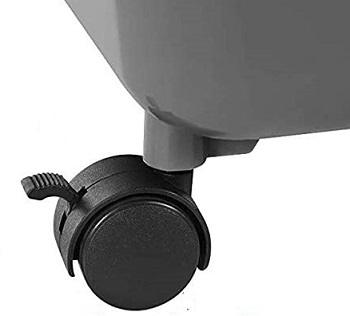 Tray For Cleaning
When it comes to cleaning this hedgehog habitat cage puts the words simple and easy into them. For cleaning, you'll get a bottom tray that you can pull out at any time without disassembling the cage partially, and just above it, there's a plastic panel with holes for the litter to drop to the tray.
Access Points
For access, you'll get 2 lockable doors on the side placed above one another for you to be able to access the higher parts of the cage and if that isn't enough the top of the cage also has a door.
In Short:
4-level cage
Ramps are non-slip so they are safe for the pet
Stands on wheels with breaks
Has a litter cleaning tray
Provides enough access with three lockable doors
BEST INDOOR HEDGEHOG PET HABITAT
PawHut 2-Tier Compact Small Animal Cage
Durable Cage Construction
This cage looks sturdy and durable and for the right reason. The materials used in the making of this cage are high-quality wire metal and durable plastic. It's worth mentioning that the metal wire is corrosion-proof and wear-proof, and with 0.5-in spacing, it makes it safe for the pet while providing good ventilation.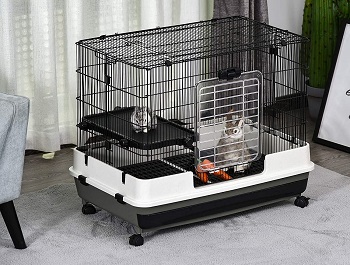 Small With Added Space
With this hedgehog habitat cage, your pet will get 4.5 square feet of living space which is enough to keep your hedgehog feeling comfy. With an additional area that is lifted above the ground and the ramp to access it you'll get a bit more space to place things like a feeding bowl or whatever you feel is suitable.
Weight And Transfer
It's not heavy, it weighs 21 lbs, but you don't have to worry about carrying it since it sits on 4 wheels with two of the wheels having breaks to keep it from moving around when you don't want to. But, there aren't many hedgehog cage accessories included with this model.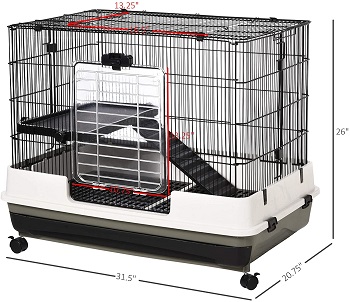 Litter Containment Measures
For litter and its cleaning, you'll get a bottom plastic tray with a rack with holes above it for your pet to be able to walk without stepping in his own litter. It also has a deep plastic base for any additional litter including hay from falling outside the cage.
In Short:
Made out of high-quality metal wire
Has a deep bottom plastic and a pullout tray for litter
Comes with an Elevated shelf and a ramp to access it
Easy to move around because of wheels
BEST WOODEN HEDGEHOG HABITAT SETUP
U-MAX Small Animal Hutch
Platform And Ramp
This cage contains a lifted platform with an access ramp that has small wooden grids to ensure that your pet doesn't slip. below the platform, there is a hideout area that is accessible easily by lifting the platform.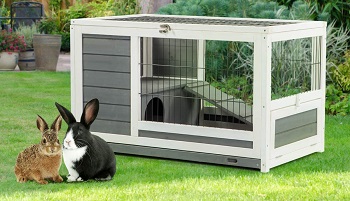 Walking Grounds
A Raised wooden construction on the bottom sides of the wire part of the cage provides for litter to stay in the cage. It has a pullout tray but doesn't provide a platform for walking so that your pet doesn't step in his own litter. It is made out of plastic so that it doesn't leak or rust.
Multiple Habitat Options
The cute hedgehog cage is sturdy and safe enough for outdoor use as well provided that there is no rain. The hedgehog habitat cage will keep your pet safe from predators and if you need to access your pet you can do that by unlocking the top or through a small entrance hole on the side of the cage.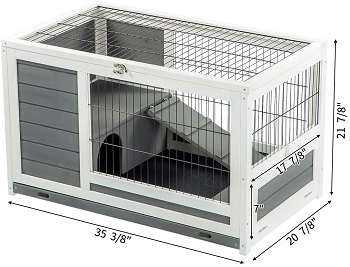 Unexperienced Assembly
If you're not experienced with assembling wooden construction and connecting them with a drill or screwdriver the cage comes with pre-drilled holes  so you know where and how to drill the screws in. the screws are included and it also has instructions for the assembly.
In Short:
Made out of quality wood and steel cage wire
Comes with predrilled holes for easier assembly
Can be used outdoors in dry weather
It has a pullout litter tray, but your pet walks on it
BEST LARGE HEDGEHOG HABITAT CAGE
Ware Living Room Animal Home
One Material Construction
This cage is designed with good materials in mind. The whole cage is made of welded steel for it to be chew-proof, strong and durable. The top edges of the cage are curved so it doesn't give it that boxed in look and to make the cage even more durable.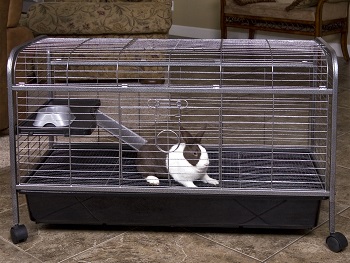 Plastic Made Parts
Smart enough not to make the whole cage metal, They made the tray for litter containment plastic since the metal would rust considering its function. The plastic tray is deep enough to resemble a plastic bottom that you see in most large cages so you won't have to worry about cleaning it too often or litter from falling out of it in case you forget about cleaning it. Above it, you'll find a holed plate for litter to drop in the plastic tray.
Accessories Material
When we say that it's all metal it really is all metal. the platform, ramp, and food bowl that come with this hedgehog habitat cage as useful accessories to make it not look empty and to use its tall build to its full extent are also made of metal.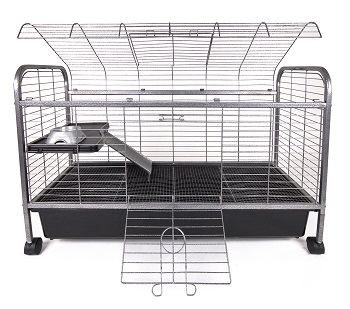 Visual Instructions
For the assembly, you can go to the official manufacturers' page and download a pdf with instructions on how to do it correctly. If you're more of a visual type of learner and are confused with the assembly, the instructions come with pictures and clear short text for instructions.
In Short:
All metal construction makes the cage durable
Litter container is made of plastic to prevent it from rusting
Assembly is easier with step by step visual instructions
Accessories are also made of metal
BEST CHEAP HEDGEHOG PET HABITAT
Kaytee Open Living Habitat
Topless Habitat Cage
For the price that it has, this cheap hedgehog habitat cage is made for safe living conditions. Even though it's an open habitat cage the steel wire walls are tall enough to prevent your hedgehog from escaping. If you're still unsure and want extra safety, you can buy the top of the cage separately.
Safe And Durable Construction
The locks and latches that are used for the assembly and the cage itself are chew proof so there is no chance of your pet ruining the cage construction.
Expands If Needed
It gives your pet 8 square feet of living space which is double the recommended size and for more space, if you're looking to get more pets or simply provide your pet with a more comfortable living you can connect cages of the same model to do so.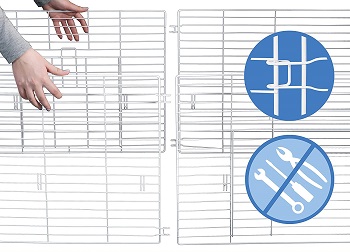 Bottom Fabric Liner
A great feature of this cage is its bottom fabric liner that not only covers the bottom but also the bottom sides of the cage edges so that litter is contained in the cage and doesn't fall. The material is waterproof and durable and can be washed. It's easy to take off and put back of the so-called "quick clip system".
In Short:
Can be expanded with cages of the same model
The fabric bottom is waterproof and washable
The top of the cage is sold separately
The steel wire locks and latches are chew proof
BEST 2-LEVEL HEDGEHOG HABITAT SETUP
Ferplast Rabbit Cage
Divided Healthy Living
This 2-level  hedgehog habitat cage is big enough to provide your hedgehog with comfortable divided living and littering space. It is large but will serve well as an indoor cage in most households. It's tall with 36.2-in of height and it will provide your hedgehog with 5.5 square feet of living space on the bottom floor and a bit less on the top floor considering the hole that is used for access to the second level.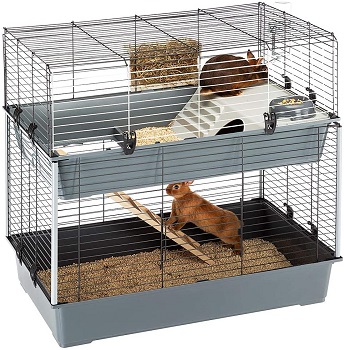 Extras For New Owners
It's great to start you off on your hedgehog having journey since it comes with extras that include a hay feeder, bowl for feeding and a large bottle for water, and a hideout spot that on top serves as a lifted space for feeding so that your hedgehogs' food doesn't mix with the litter.
Top And Bottom Access
The top floor is connected to the bottom with a wooden ramp with grids to protect your pet from slipping and for access, you'll get a sliding front door in the center and you can open both sides of it and for the top floor, you'll have access from the front and the sides.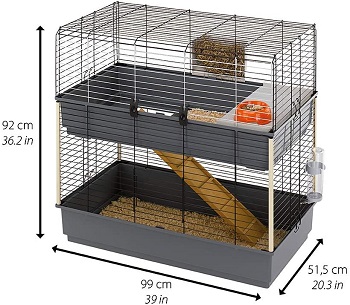 Stackable Parts
The cage is easy to assemble and disassembly is even easier with the option to just stack the disassembled parts on top of one another. as for litter containment, both floors feature a deep bottom base so if littering happens on the top floor you are safe that it won't fall out of the cage.
In Short:
Contains litter on both floors
Friendly for the first time owner with added extras
Easy Access to top and bottom of the cage
Disassembly is easier with part that stack on one another
How To Pick A Hedgehog Habitat Cage
When thinking about a hedgehog habitat cage there's a lot you can get from just searching that and get lost in the sea of information along the way. There's a lot to think about so here are some things to consider that will, after you've done your research, serve you as a great guide to choose from a wide variety of habitat cages that vary in size, material build, and more.
Separate Living Spaces – Just like you, your hedgehog also needs a living is that is divided for different purposes. In their case, it should be divided into play and care area so try to find a cage to separate those two. A lot of cages ill do that by simply adding a ramp and a shelf above the ground, but consider the ones that have a hideout area as well.
Ensuring A Clean Habitat – To make sure your hedgehogs' habitat is as clean as possible look into the options that provide you with a deep pullout tray that contains litter below the living area. The way it works is that you have a plastic or metal bottom plate with holes above the pullout tray and the litter drops down the holes and into the pullout tray.
Different Materials For Different Parts – If your cage assembles quickly with the help of lock-in clips make sure they are chew proof so that the construction of the cage isn't compromised with time. Also, consider that a pullout tray should be made of plastic since plastic doesn't rust.
Clear Assembly Instructions – You want your cage to last as long as possible and one way to make sure of that is to have either simple assembly or to have great instructions for the assembly so that you don't mess up from the start. These instructions can either be visual or, if you need a drill for the assembly, to have predrilled holes to guide you through it.
To Sum Up
All things considered, the one hedgehog habitat cage that I would recommend out of all these is theWare Living Room Animal Home. Its all-metal construction makes it incredibly durable and sturdy, the tray for litter is thoughtfully made out of plastic to prevent early damage to it and it even comes with accessories that all also not plastic made. If you're looking for a specific material for the construction of your cage I'd recommend you read this article about plastic hedgehog cages and if you took a liking to the wooden type of cage that you'd want to put outside read this article about wooden hedgehog cages and find the one for you.