Are you searching for cute hedgehog cages to go with your adorable pet?
Then keep reading this article to find out about our selection of the best adorable cages on the market. There's something for everyone's wants and needs whether it's to go with your kids' room and personality or you're looking for an outdoor option.
The Summary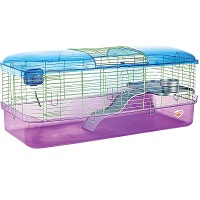 Kaytee Critter Deluxe Habitat
OVERALL RATING: ★★★★★
The seethrough colored plastic bottom and it's large space will give you great supervision over our pet and him more than enough space
Jump To Review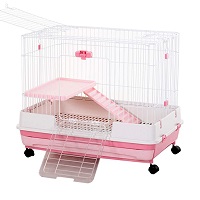 PawHut Indoor Small Animal Cage
OVERALL RATING: ★★★★☆
This cages adorable white and pink color and easy moving and cleaning properties will make a great cage for your child's pet.
Jump To Review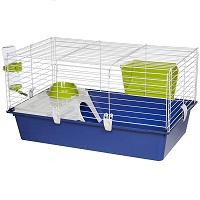 MidWest Homes for Pets
OVERALL RATING: ★★★★☆
The lightweight of this cage that has only 11.3 lbs and the small size makes it easy for your child to interact with their pet.
Jump To Review
What Makes A Hedgehog Cage Cute?
The cute model is a type of ordinary cage from the market that includes additional features and specifications which make it cute. This includes accessories, design, color, shape, and much more. Here is the list of main features that makes the cage cuter than other ones.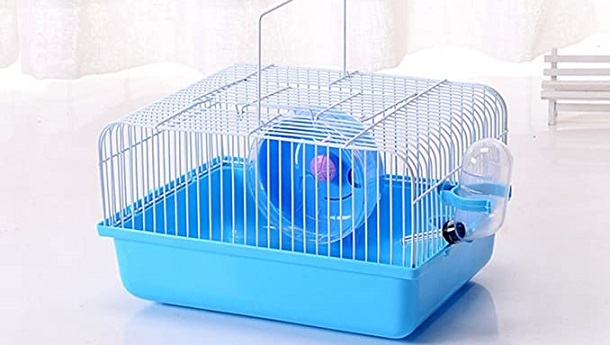 Color Combination
– Cute cages usually comes in bright, vibrant color combination which can include different variety like pink and white, purple and green, red and yellow, blue and green, and much more. Also, the cage can have a pattern on pannels which will make I'm much cuter and easily noticeable.
Shape
– Cute cages come in different shapes, like a triangle, hexagonal, and many more interesting shapes that will catch everyone's attention. A cute cage can also be in a rectangular shape and look very cool if it has all mentioned specifications.
Extra Accessories
– Additional accessories are the main features that make the cage much cuter and less ordinary than other ones. If the cage has colorful tubes, hideouts, ramps, and toys, the hedgehog's environment will look very fun and cute.
Why Buy Cute Cage For Hedgehogs?
For all hedgehog owners who still have doubts about whether to buy the cute-designed cage or go with ordinary habitat, here is the list of all the benefits that will cute cage brings.
Catch Attention
If your living space is in neutral colors and you want a model that will pop up in space, then a cute and colorful model is a great choice.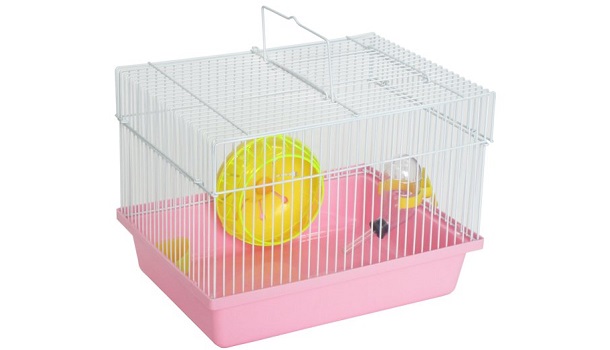 Fun Environment
We are sure the cute cage will bring much more fun to hedgehogs when you add all the cool accessories to the basic model where he will get easily bored.
Different From Others
Most of the hedgehog's owners have similar cages so if you want to have a unique one, buy a cute model for your living space.
Color Paint
Since color, in the end, is what makes a cute cage the cutest, color can actually have multiple functions. For example, the paint can make the cage waterproof and sunproof, if you're planning to use it outside.
Buyer's Guide: Pick The Cutest Cage For Your Hedgehog
Besides design, shape, and accessories, there are important specifications to consider before buying a cute cage. We listed the most important down below.
Size Of The Cage
if you're looking to buy the cage for yourself you really don't have to worry about size if its minimum 24 x 24 inches.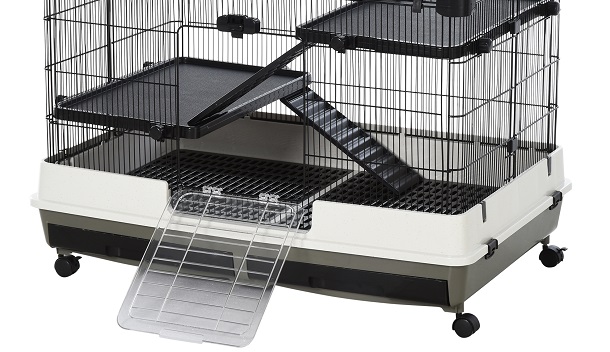 Easy Access
So you can do daily maintenance and easily feed your hedgehog, it is important the cage has door access. If the cage is smaller, one front or top door will be enough, but for larger models, we recommend buying a cage that has doors on each level.
Quick Cleaning
Besides the cage needs to look cute, it is important the model is functional so you can quickly clean the mess from uneaten food, and droppings. Pick a model that has a plastic bottom surface that is stainproof, you'll need a damp cloth to remove the mess. If the cage has a wire mesh bottom, you can slide out the tray and remove the mess anytime.
Best 6 Cute Hedgehog Cages
Kaytee Critter Deluxe Habitat
SPECIFICATION:
Material: Plastic/Metal
Dimensions: 42.25 x 7.75 x 18.25 inches
Weight: 12 Pounds

Levels: 2
Doors: 2
Use: Indoor
Seethrough Plastic
This cage is built with a combination of plastic and steel wire. What makes it stand out is the seethrough colored plastic for the bottom and top. It makes the cage look even roomier than it already is and the color combination is perfect to make it fit into the cute cage category.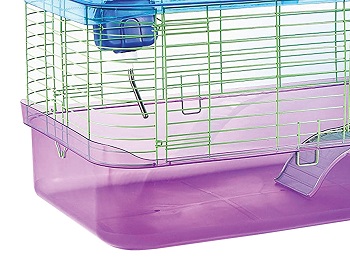 Lengthy, But Not Wide
It is lengthy, to be exact 48-in length, but not as wide with 18-in width. Still, it is large enough with a little above 5  square feet of living space and it comes with an elevated shelf and ramp to climb it to give you hedgehog more space than he would get without it.
Quick And Easy Cleaning
The seethrough deep plastic base makes your hedgehog be visible to you at all times and it serves as a litter container since is easy to detach from the wire cage with fast release latches to provide quick and easy detachment to clean the cage. To access your pet you'll get 2 access doors: one on top and one on the side of the cage with a z-lock.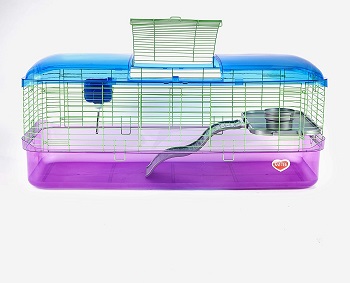 Assembly Process
The assembly process is also simple and easy with no tools required for it. You also don't have to spend more money on cage accessories because the cage comes with a 16 oz. water dispenser and a feeding bowl.
Overall:
Safety:
Mobility:
Size:
Weight:
Funcionality:
AVERAGE PRICE
$123 – $124 varies from webshop to webshop: Amazon, Walmart, eBay
In Short:
Features a see-through plastic base
Very lengthy, but not as Wide
Comes with a safety ramp and elevated shelf
Easy assembly and cleaning process
PawHut Indoor Small Animal Cage
SPECIFICATION:
Material: Plastic/Metal
Dimensions: 32 x 20.75 x 26 inches
Weight: 21 inches

Levels: 2
Doors: 2
Use: Indoor
Cute Colors
The plastic indoor model comes in an adorable white and baby pink color which makes it ideal for girls and to accompany their rooms well. It is designed to make maintenance easy and comes with a shelf and ramp to give your pet more living space.
Easy Transfer
It stands on 4 wheels so it's easily transferable. It has 4.6 square feet of space to live in and it weighs around 21 lbs which is heavy enough to make the cage stable but light enough for your child to handle with ease and to keep them safe.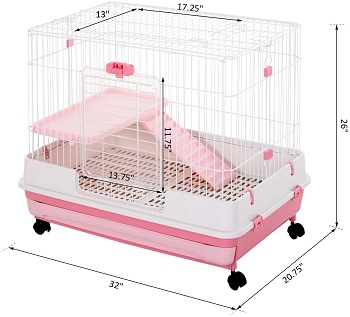 Pullout Tray Cleaning
It has a plastic base but includes an easy to pull out the bottom tray to contain rubbish. This will give your pet a clean living space at all times since the rubbish falls into the tray and keeps the rest of the bottom clean. It makes your child be able to clean this cute cage themselves without endangering the animal or themselves.
Wire Cage Paint Job
The 0.95 -in wire spacing will make you not worry about your pet getting stuck. The wire is painted to make it resistant to corrosion and from making it look worn off. It also has 2 access doors on top and the side with the one on the side having a lockable latch.
Overall:
Safety:
Mobility:
Size:
Weight:
Funcionality:
AVERAGE PRICE
$159 – $225 varies from webshop to webshop: Amazon, Walmart, eBay
In Short:
Stands on wheels for easy transfer
Pullout tray contains litter and makes living space cleaner
Light enough for your kid to carry
The wire part is corrosion and wear-resistant
Small enough for children to handle
Big enough for the pet to live comfortably
MidWest Homes for Pets
SPECIFICATION:
Material: Plastic/Metal
Dimensions: 30.3 x 18.5 x 16.5 inches
Weight: 8.46 Pounds

Levels: 2
Doors: 1
Use: Indoor
Color Combination
This hedgehog habitat comes with a beautiful navy blue color for the bottom with added additions of green for some parts. The wire is a simple white color to not give you that closed off, poorly ventilated feel to this cute model
First Time Owner Friendly
It's great for owners who are just starting, which makes it great for children too. It would fit well into a boys' room because of the colors and it comes most needed accessories like a water and feeding bowl. hay feeder, an elevated living space, and a little hideout.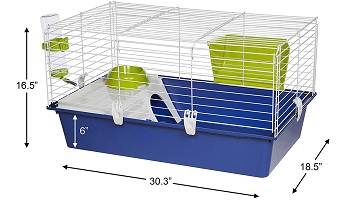 Lock-In Base
The base is attached to the wire cage with lock-in clips. The bottom base serves as a litter container. It has top door access to the cage, but also the entirety of one side panel can be opened like a door so there's a lot of space to access your pet without hurting them.
Small Size And Weight
The cages dimension is a little below 4 square feet which is less than recommended but can still be enough if you play with them often. The size is also suitable for kids since it's not too large for them and it's quite light only 11.3 lbs so your child can carry it with ease.
Overall:
Safety:
Mobility:
Size:
Weight:
Funcionality:
AVERAGE PRICE
$70 – $78 varies from webshop to webshop: Amazon, Walmart, eBay
In Short:
Lovely navy blue color fit for boys room
Great starter cage
The bottom is easily detachable and cleanable
Comes with basic extras
Weighs only around 11.3 lbs
A little smaller than the recommended cage size
>
Prevue Multi-Color Pet Playpen
SPECIFICATION:
Material: Metal
Dimensions: 13 x 35.83 x 8.67 inches
Weight: 1 Pounds

Levels: 1
Doors: 1
Use: Indoor
Multicolored Panels
The cheap playpen is multicolored by making every panel a different color. The colors are green, blue, yellow, and red so for 8 panels you'll get 2 of the same colored panels for each color. You can arrange the colors in any way you'd like so it makes it fun to assemble.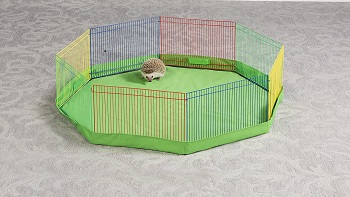 Above The Recommended Size
It provides little above 4 square feet of space but can be combined with cute cages of the same model to give your hedgehog even more space to make it a large hedgehog cage. It is first and foremost a playpen for indoor use and is very much needed for hedgehogs to live a healthy and stress-free life.
Available Cover Mat
You can make it more cage-like and prevent litter from going on the carpet or floors by getting a cover mat specifically designed for this model of the playpen, but it's sold separately so you can choose what's the best option for you and your pet.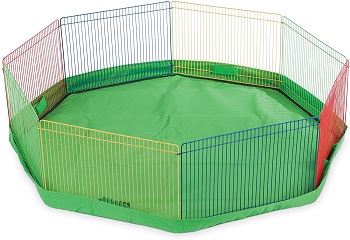 Regular Cleaning
The panels are made out of steel wire and are coated with a non-toxic powder coat. It is recommended to clean the steel wire often with a damp cloth and soap. You should inspect it often and if you see any visible damage remove it from use.
Overall:
Safety:
Mobility:
Size:
Weight:
Funcionality:
AVERAGE PRICE
$24 – $58 varies from webshop to webshop: Amazon, Walmart, eBay
In Short:
Contains 8 connectable colored panels
Gives little above 4 square feet of space
Connectable with other playpens of the same model
Cover mat is available but sold separately
Painted with non-toxic,pet-safe powder coating.
Lovupet Outdoor Small Animal House
SPECIFICATION:
Material: Wood/Metal
Dimensions: 48 x 20 x 40 inches
Weight: 44 Pounds

Levels: 2
Doors: 5
Use: Indoor/Outdoor
Colors To Choose From
For this 2-level cage, you'll be able to choose between 3 colors: pink, light blue, and black to choose the color that suits you and your household best. The paint makes the cage corrosion, water, and sun proof. The roof is covered with asphalt to prevent the build-up of water on the roof which makes it great for outdoor use
Thoughtful Additions
It is built in a way to give your pet the privacy that he needs, but also a large and open enough playtime area. This cute model has heart-shaped locks for doors and also has a trap door to keep your hedgehog on either of the two levels when cleaning it or making adjustments to it.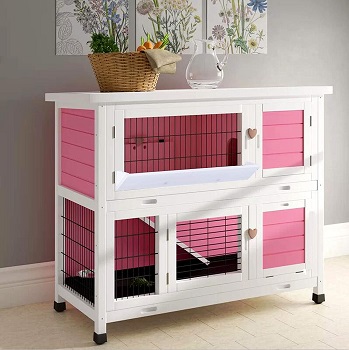 No Need For Accessories
The ramp is covered with a material that makes it slide proof and you don't need a feeding bowl since the cage comes with a wooden feed box built into the cage. It's also raised from the floor and the legs are protected with caps to prevent damage to floors and cage if you decide to put it inside your home.
Plenty Of Access And Simple Cleaning
If you're worried about cleaning the cage, it comes with 2 sliding pans made out of PVC plastic and it has 4 large access doors. 2 made out of steel wire and two made out of wood. You can also open the roof that is secured with a metal strut.
Overall:
Safety:
Mobility:
Size:
Weight:
Funcionality:
AVERAGE PRICE
$229 – $315 varies from webshop to webshop: Amazon, Walmart, eBay
In Short:
Has a Built-in feeding box
Multiple colors to choose from for you cage
Sits on legs with caps to prevent damage to floors
Water and corrosion proof which gives it an outdoor option
4 large access doors and openable rooftop
Rockever Wooden Small Animal Hutch
SPECIFICATION:
Material: Wood/Metal
Dimensions: 64.57 x 19.69 x 20.87 inches
Weight: 40 lbs

Levels: 1
Doors: 3
Use: Indoor/Outdoor
Extended Lenght For Housing
This cage has an extended length build. It will take up about 9 square feet and is capable of housing 2 or at least 3 hedgehogs. It's soft to look at because of its light blue color and the firwood and steel wire provide a good material combination that makes it stand out even more.
A Lot Of Rooms
This cute enclosure comes with 4 separate rooms, 2 for care, and two for play. The care rooms are surrounded by wood and play areas are surrounded by a metal steel wire. It has many access points, 1 for each of the care areas and 2 for each of the play areas and they are lockable so that your pet doesn't escape.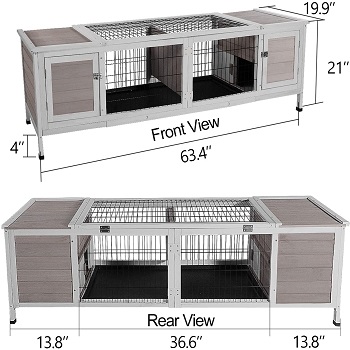 Missing Important Piece
The cage also comes with three pullout trays that are placed along the whole length of the cage but without a bottom wire so you would need to buy one of the same dimensions or make one yourself. It's also not recommended to use this cage as an outdoor one. The material build is sturdy but doesn't meet the requirements for outdoor use so it's advised to you use it as an indoor cage.
Required Tools For Assembly
For the assembly, you'll need to own a screwdriver and as for the weight of the cage, it's 41 lbs. It is lifted from the ground using 4 legs that have protective caps on them so if you're worried about damaging something, you don't have to be.
Overall:
Safety:
Mobility:
Size:
Weight:
Funcionality:
AVERAGE PRICE
$199 – $315 varies from webshop to webshop: Amazon
In Short:
Has extended length build of 63.4-in
Able to house 2 or three hedgehogs
2 separate care and 2 separate play areas
Requires a screwdriver to assemble
Not recommended for outdoor use
Setting Cute Cage For Hedgehogs
As with the other hedgehog models, you won't have a problem setting the cute enclosure for your hedgehog. Most of the models can be set in 15-30 minutes depending on the size. Follow these steps for easier setup.
Step 1. Check All Parts
Before you start with the setting, make sure everything came in the box. All the needed parts are listed in the setup instructions. If you got all items, you're ready to start.
Step 2. Follow Instructions
Setup instructions will help you easily set the cage. Most of the instructions include visual pictures which show you which parts connect together.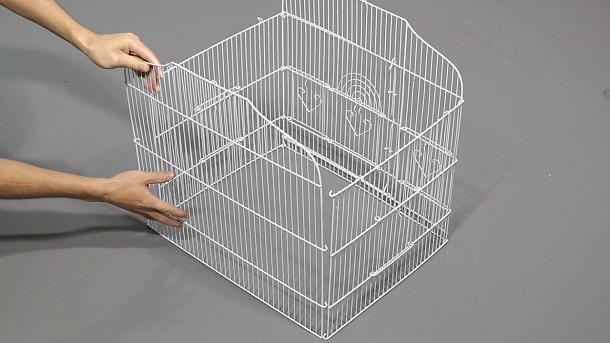 Step 3. Start With Frame
Always start with the frame, place the sides, and connect the bottom and top if they're included in the package.
Step 4. Add Accessories
After the construction is finished, you can add accessories such as ramps, shelves, feeding accessories, and toys.
Step 5. Test Before Use
When you finish with all setup, test if everything is well connected, nothing is wobbling and it is safe to place the hedgehogs in their new habitat.
Customize The Environment
If you're not sure how to customize the cage and make it cute as well as functional, here are our tips for new owners.
Accessible Areas – All the parts of the cage need to be accessible. Place the feeding bowl and water bottle on one side of the cage, and the litter tray or bedding on the other. If the cage has multiple levels, make sure the ramp is well connected with platforms for easier climbing up and down.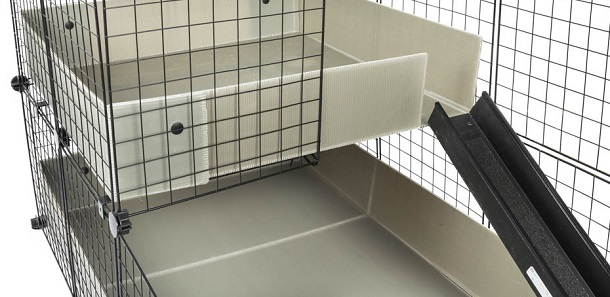 Decorative Accessories – Make the cage cute by using decorative accessories such as toys and other accessories. Add blanket with colorful pattern, 2 color combination toys, and colorful paper bedding. These are only examples of how to make the cage much cuter, but you can combine other materials and colors, as well.
DIY Project – If you love to be creative and want to make the cage much cuter, you can do it yourself. Paint the wires in different colors, draw small items on the wooden frame or make a colorful hideout from the materials that you have at home.
Safety Features To Consider
When making a cute cage for your pets, it is important to consider some safety features. Here is the list of the most important ones.
Non-toxic Materials
It is important to buy a model that is made of non-toxic materials which include paints and included accessories made of different materials. Also, if you're planning to use the paint to customize a hedgehog's habitat, always use non-toxic paint.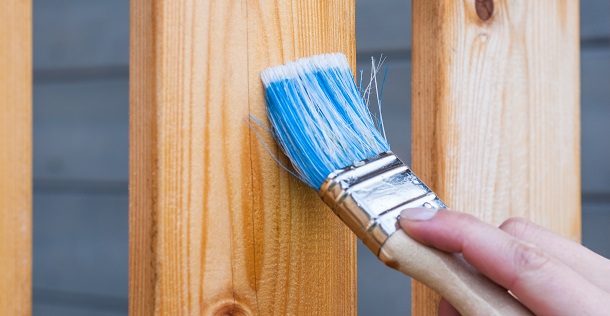 Fabric Materials
Avoid using toys with a fabric that can easily tangle in hedgehogs' spikes. This includes all the types of toys with hanging threads and similar materials.
Sharp Edges
If the cage is made of wires, it is important to check if there are sharp edges that can easily hurt the hedgehog.
Cage Gaps
If there are any gaps from which hedgehogs can escape, they will probably try to do it. Gaps are usually between the tray and wire mesh bottom as well as next to the doors. You can secure all the gaps using the strings.
Space Bar
Just like gaps, if the space bar between wires is too wide, the hedgehog will try to escape out. Make sure to not buy a cage that has more than 0.5 inches space bar.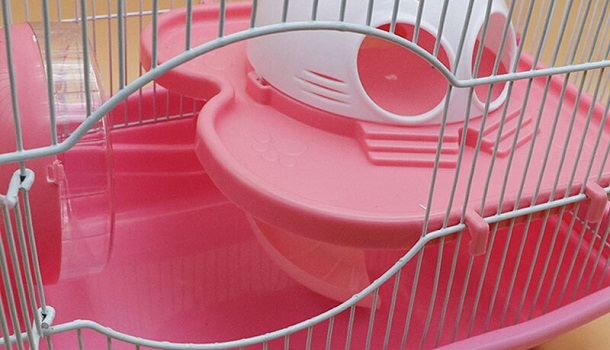 Lock System
If the cage has casters, it is important to check if there are at least 2 brakes to be sure it will stay in place and not wobble, especially if the model is tall.
Opened Top
We don't recommend using an open-top cage, which some of the playpen models have, cause there is possibility hedgehogs will escape. They are known as good climbers, and if the sides are not too tall, we don't recommend buying this model.
Air Ventilation
No matter if you're buying a cage or playpen, it is important that habitat is well ventilated. It needs to have at least 2 opposite sides made of wires for air circulation.
Indoor Or Outdoor Use
Not all cages are suitable for both, indoor and outdoor use. Models that don't have a top cover or lid can't be used outdoor.
Door Locks
Pick the model with sturdy locks, such as metal ones, so you can be sure hedgehogs are safe in their environment, especially if you're planning to place the cage outside.
Small Parts
Avoid models that have small parts that hedgehogs can easily swallow.
To Sum Up
Cute cages always catch attention and can look very unique depending on how you customize your habitat. One of the cutest models you can find on the market is Kaytee Critter Deluxe Habitat. This colorful playpen can be easily set, and it is big enough to fit multiple hedgehogs as well as cute accessories for playing.