Do you want to explore all the options that you can get with a hedgehog enclosure but don't know where to look?
You'll get to explore everything that you can find in this article where we made sure to make reviews simple and easily understandable. If you continue reading you're guaranteed to find a cage you'll like and you'll even find cages that you have not yet seen probably like clear and naturalistic cages.
The Summary
Best 12 Hedgehog Enclosures
BEST OF BEST HEDGEHOG ENCLOSURE
Midwest Deluxe Critter Nation
Safety First
We feel as if this is the best you can get not only because it's made out of wire, has two stories, and because it's elevated and sits on wheels for easy movement but also because it's made out of wire that has a 0.5-in wire spacing so it's safe for your hedgehog.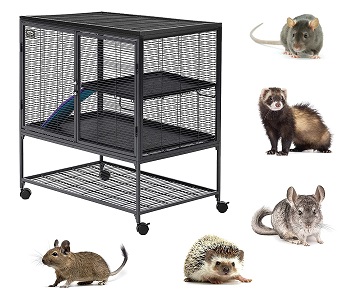 Plastic Bits And Supply Storage
The plastic ramp to the second floor comes with a cover so that our hedgehog doesn't clip while climbing up. The bottom is also equipped with a plastic pan where your hedgehog will get to litter and where you'll be able to place the bedding. Below there is a space for placing even more hedgehog cage accessories and supplies.
In Short:
Sits on wheels
Made out of 0.5-in spacing wire
Has a ramp with a cover
Features a 2nd story
Below there is space for storing supplies
BEST CHEAP HEDGEHOG CAGE
Amazon Basics Small Animal Cage Habitat
Two Material Build
You'll find that this cage is made out of two materials. The upper part is built out of wire while the deep bottom base is made out of PP plastic. Because the base of this cheap hedgehog cage is deep, you won't have to worry about your bedding hedgehog falling out and getting your floors dirty.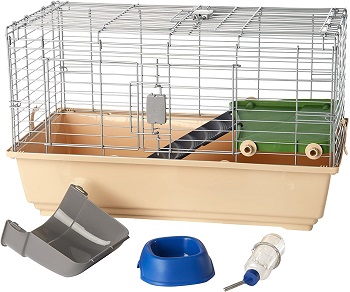 Plastic Accessories
Even though it's cheap, this hedgehog enclosure comes with all the accessories needed for starting off. These accessories include a water bottle that doesn't drip, a hay guard, an access ramp to the balcony, and even a bowl that won't tip over. All of these accessories are made out of plastic.
In Short:
Has a deep bottom PP base
The top is made out of steel wire
Comes with a non-drip water bowl and a food bowl
Features a ramp for access to the balcony
Comes with a ha guard
BEST INDOOR HEDGEHOG CAGE
Songmics Guinea Pig Run Cage
Assembly Process
Simplicity is what makes this cage stand out. It's entirely made out of steel wire panels. There are 8 of them and you'll need to connect them with connectors. You'll even get to make sure that they're connected well by attaching zip ties to where you placed the connectors on this indoor hedgehog cage.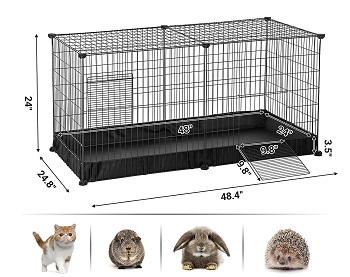 Fabric Bottom
The bottom would be empty if there weren't for the fabric cover. It has raised edges to create that deep base feel hedgehog enclosures usually have. The fabric of this indoor hedgehog cage is waterproof and really easy to clean so you don't have to hesitate with putting your bedding inside this cage.
In Short:
Made up of 8 wire panels
The panels connect with multi-angled connectors
Comes with zip ties
Features a fabric bottom
The bottom has raised edges and is waterproof
BEST WOOD HEDGEHOG CAGE
Aivituvin Indoor Outdoor Hutch
Cage Resistance
There's a lot to be said about this cage but let's start out simple. It's made out of wood and wire. The wood in question is fir wood and it's designed to be used outdoors. That's true because this wood hedgehog cage is waterproof and even resistant to corrosion.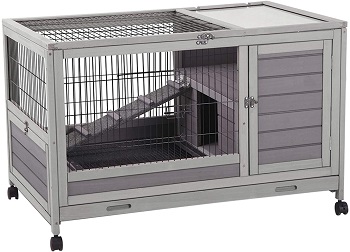 Interior And Access
On the inside of this wooden hedgehog enclosure, you'll find a ramp to the second story and an entrance to the private space below the second story. This private space can be accessed through the doors for it. you'll also get to interact with your pet through the top door and your hedgehog will get to access the cage through the side door.
In Short:
Made out of fir wood and wire
It's waterproof and resistant to corrosion
Features a 2nd story and a private space below it
Can be accessed through 3 doors
BEST 24 X 24 HEDGEHOG ENCLOSURE
Kaytee Habitat
Size, Materials Used, And Color
Hedgehogs, depending on the breed, need at least 4 square feet of living space and this is the cage that will provide your hedgehog with exactly that much. It's got a steel wire top and a deep plastic bottom. The bottom of this 24×24 hedgehog cage has a purple color while the wire is white on the sides and purple on top.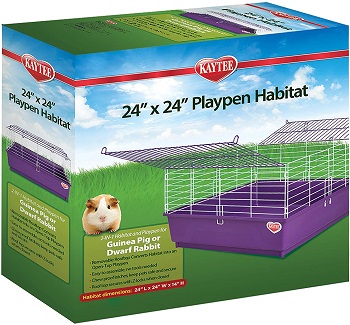 Access And Durability
For quick and easy access to your hedgehog in this hedgehog enclosure, you'll get to open up the two top doors for it. The base will be easy to clean since it's plastic and won't damage over time since it's scratch-proof. The wire is also chew-proof so it's bound to last a long time.
In Short:
Gives your hedgehog 4 square feet of living space
Made out of steel wire and plastic
Has a top access door
The wire is chew proof and the plastic is scratch-proof
BEST CLEAR HEDGEHOG HABITAT CAGE
Songmics Small Animal Cage
Customizable Design
This is primarily a plastic cage but it's thickened PP plastic that has metal edges. Due to the plastic, it's a clear hedgehog cage. It's made out of 24 plastic panels that are completely customizable. This means that you can place more on top, on the bottom, or wherever you'd like. You'll get to connect them with both zip ties and ABS plastic connectors.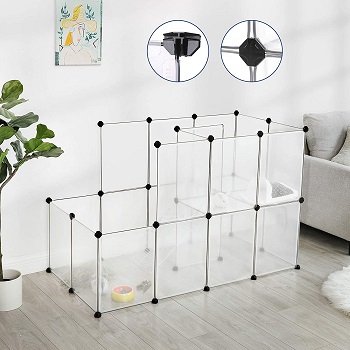 Other Bits
It's more of a playpen than it is a cage but the missing top can easily be made with other panels. You'll even get a rubber mallet to assemble the whole thing easily. You also won't have to worry about this hedgehog enclosure slipping or sliding because it comes with non-slip mats.
In Short:
Made with thickened PP plastic
Each panel has metal edges
It's completely customizable
Comes with 24 panels and more connectors
Has non-slip mats
BEST PLASTIC PET HEDGEHOG CAGE
Living World Deluxe Habitat
Size, Materials, And Shape
In terms of size, this cage is all your hedgehog will ever need since it will give him around 8 square feet of living space which is twice as much average hedgehog needs. IT's made out of wire and plastic since it is a plastic hedgehog cage. This cute cage has access doors in the front and one on top that's slightly rounded out.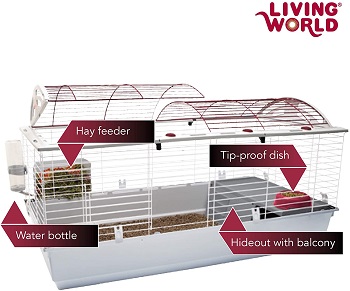 Additions To The Cage
On the right, you'll find an elevated area that your hedgehog will access through a ramp. Below this elevated area, there is a hideout spot for your hedgehog. These are not the only things this hedgehog enclosure comes with. You'll also get a hay feeder, a water bottle, and a food bowl.
In Short:
Has around 8 square feet of living space
Comes with a balcony and a hideout
Features a water bottle, and a food bowl
Comes with a hay feeder
Has 2 entrances, one on top, and one in the front
BEST OUTDOOR HEDGEHOG ENCLOSURE
Jaxpety Outdoor Indoor Hutch
Suitable For Indoors And Outdoors
Although it's fit for outdoor use since both the steel wire bits and the wooden bits have a spray paint that makes the whole cage long-lasting and rust-resistant you can still use it indoors as well. This is true because this outdoor hedgehog enclosure is quite small and very easily portable because of it.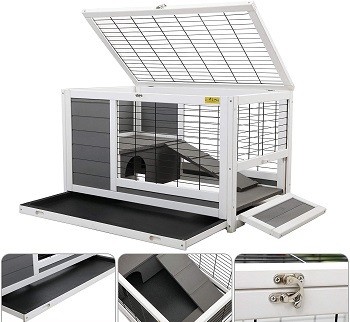 Inside Things
On the bottom, there is a hidden tray that you'll get to pull out to easily clean this hedgehog habitat cage. The inside holds a ramp for your hedgehog to reach the balcony that has a hideout area under it. The top opens fully and will allow you to interact with your pet while the side features an entrance for the hedgehog himself.
In Short:
The spray paint finish makes it rust-resistant
Can be used indoor as well since it's small
Features a hideout space and a balcony on the inside
Has 2 access doors
Has a hidden cleaning tray below
BEST 4 SQUARE FEET HEDGEHOG HABITAT CAGE
Exotic Nutrition Hedgehog Home
Perfect Square Footage
The reason why this might be considered the perfect hedgehog cage is that it gives them 4 square feet of living space. This is the minimal space requirement for hedgehogs. This 4 square feet hedgehog cage has a deep plastic base, a wire top, and it has a ramp and a 2nd level.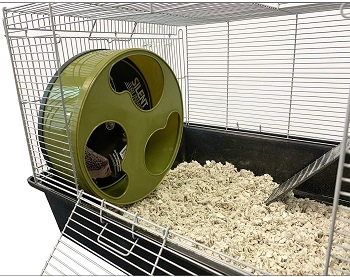 Beginner Supplies
The hedgehog enclosure is not the thing that takes the cake in this case. It's the hedgehog food, safe runner wheel, vitamins, and even a plush hideout that make this cage stand out. It's everything that you'll need, and more, to start off with your new pet hedgehog.
In Short:
It offers 4 square feet of living space
Has a deep plastic base and wire top
Comes with hedgehog food and vitamins
Features a runner wheel
Comes with a soft hedgehog hideout
BEST AFRICAN PYGMY HEDGEHOG ENCLOSURE
Krolik XXL Hedgehog Cage
Size Extention
Since African pygmies are a highly active breed of hedgehog, they need more space to run around and play. That's why we chose to review this cage that comes with an extension. This extension gives it an astonishing 10 square feet of living and playing space which is more than you'll need from this African pygmy hedgehog enclosure.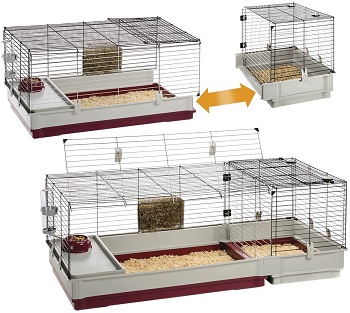 Base Depth And Interior Accessories
The plastic base is 5.5-in deep which is more than enough for you to place the bedding inside. You'll get to detach it from the pet hedgehog cage to easily clean it as well. The inside comes equipped with all the basic accessories, like a hideout, water bottle, and even a food bowl.
In Short:
Gives your hedgehog 10 square feet of living space
The extension can be taken off
The base is 5.5-in deep and can be detached
Comes with a hideout, water bottle, and food bowl
BEST SMALL PET HEDGEHOG CAGE
Ferplast Cavie Small Cage
Size Of The Cage
Although this cheap hedgehog cage is just shy of 4 square feet of living space, your hedgehog will get more space thanks to the balcony that has a hide-out space under it. The front door of this crate opens in full width so it will be much easier for you to clean the inside of this small hedgehog cage.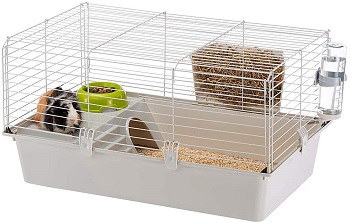 Base And Accessories
You don't have to worry at all that the bedding and hedgehog litter will end up on your floors since the base of the hedgehog enclosure is 6-in deep. It also comes with useful accessories like a hay feeder, a water bottle, and a food bowl that are all made out of plastic.
In Short:
Offers just a little bit less than 4 square feet of living space
Has a 6-in deep base
Comes with a water bottle and even a food bowl
Has a balcony and a hideout spot underneath it
The front door opens fully
BEST NATURALISTIC HEDGEHOG ENCLOSURE
PawHut 37" L Wood Wood Cage
Two Rooms Details
The inside of this natural hedgehog enclosure will give your hedgehog two spaces. One is a private hide-out spot that doesn't feature a balcony on top and the other one is a space where your hedgehog will get to play. The great thing about this naturalistic hedgehog cage is that the sides are made out of solid wood so there's no chance that your hedgehog will try to climb up.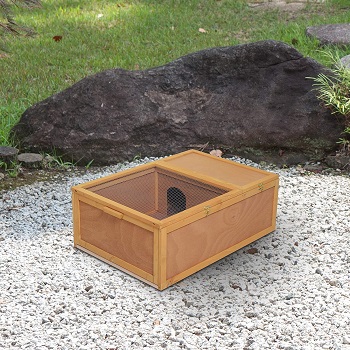 Wire Bits And Access
It's entirely made out of wood except for the top part where there is a wire bit. This is to help you keep an eye on your hedgehog and so that he can get enough light while inside this hedgehog habitat cage.The top opens fully so you can interact with your hedgehog wherever he is and the side panel slides open as well.
In Short:
Has a private and play space inside
The top opens fully
One of the sides slides open
The top features a wire bit for more light
Almost entirely made out of wood
How To Pick A Hedgehog Enclosure
Picking out the perfect hedgehog enclosure isn't all about size. It's about all the other things that you will provide your hedgehog with when you get the enclosure itself. that's why it's important to know about all the thing that you'll need before and after buying the cage so that you can better prepare yourself and make you hedgehog happy.
Hedgehog Cage Setup – The setup of most of these cages is simple. You'll get a bottom plastic base that should preferably be deep because you don't want your bedding and hedgehog litter from ending up on your floors. The top consists of a wire top that has a small wire spacing so that your hedgehog doesn't pinch his paws on the wire.
Outdoor Cages Setup – The setup for these cages is of course different. They are typically made out of wood, are elevated so that moisture and mold don't build up on the bottom, and provide your hedgehog with the basics. A hideout area and a ramp to the 2nd level.
Hedgehog Cage Size – Size, when it comes to hedgehogs only matters in terms of hedgehog breed differences. Generally, these cages shouldn't be smaller than 4 square feet. African Pygmy hedgehogs do need a bigger cage and the biggest it'll get is up to 10 square feet of living space that you'll have to measure out on your own. We recommend using a calculator that turns length and width into square feet.
Hedgehog Cages And Supplies – We've truly seen a lot of hedgehog enclosures but what comes to be the same almost every time is the fact that they usually come with important accessories for hedgehogs. These are water bottles, a food bowl, and most importantly a hideout spot. One thing is missing though and we do recommend you buy a heating lamp for hedgehog. This is probably the most important thing you should get.
To Sum Up
A basic hedgehog enclosure that's offered at least 4 square feet of living space and a few useful accessories is all you need and that is the Exotic Nutrition Hedgehog Home in our opinion. It even comes with hedgehog food and some vitamins to get you started on the right foot. If you want to learn more about cages for the great outdoors we advise you to read the article about wooden hedgehog cages and if you're more of an indoor type, then the article about indoor hedgehog cages will help you find one.