Do you want a wooden hedgehog cage because it's an appealing choice for your household and pet?
Then you have to read this article about the best wooden cages for your pet. In it, we will go through what makes a wooden cage a good option, some problems that may occur while choosing one, quality of build and how safe it is for your pet, and so on.
The Summary
Best 5 Wooden Hedgehog Cages
BEST OF BEST WOODEN HEDGEHOG CAGE
PawHut Wooden Indoor Elevated Cage
A Modern Household Design
The cages modern design looks like it's made to fit any modern household with beautiful shades of black and grey and mixing of wood and other materials give it a sleek and luxurious look, this wooden hedgehog cage is bound to be an attraction of any home.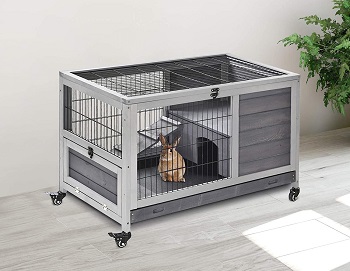 Safe Points And Features
The cage has more than a few safe points. It features lockable doors and a cage top and it sits on wheels from which two of them have breaks for easier and safer movement around the house or outside of it and to lock it in place while not in use.
Bottom Tray For Easy Cleaning
If a roof with an opening function for cleaning wasn't enough, you can always turn your trust to the removable bottom tray that makes cleaning easier and faster. The whole cage is coated with water-based paint to ensure long-lasting use.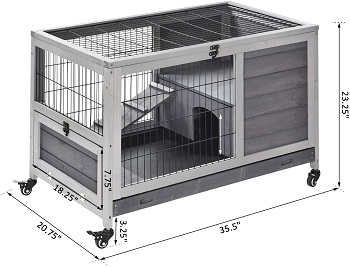 Outdoor Use
The cage is big enough and equipped with a ramp and a hideout spot, and if you're wondering if the cage is sturdy enough to be able to withstand outdoor conditions, it's more than equipped to do so and the spray wire keeps predators away from your pet.
In Short:
Sits on 360 wheels with breaks for better handling
Can be used as an outdoor cage as well
Features a beautiful black and grey neutral design
Sturdy and equipped with locks for doors
Has a bottom tray for simpler cleaning
BEST OUTDOOR WOODEN HEDGHEOG CAGE
Trixie Small Animal Hutch
Pine Wood Material Build
The pine from which this cage is made of releases a strong scent after unboxing and it gives you that authentic, wooden cage feel it holds itself above ground and weighs 40 lbs alone. Since you can put it outside, consider a heating lamp for hedgehogs too.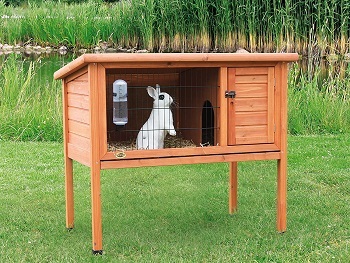 Construction Stability
The cage is heavy and the thin legs don't seem to make it hold well, but if you do your job right and assemble it correctly you won't have any trouble with this cage. since it's stationed above ground it's great for keeping predators away and with indoor use, you'll have space below for other hedgehog-related things you use.
Plastic Tray For Littering
It has a pullout plastic tray to keep maintenance simple and easy and the roof opens easily with metal hooks attached to it if you'd want to clean out the hut or if you would want to access your animal.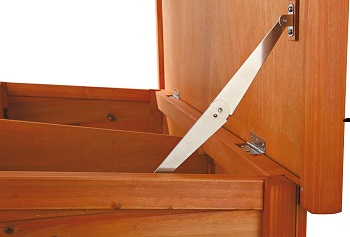 Great For Hedgehogs
This wooden hedgehog cage is perfect for them since hedgehogs don't need to chew on things like rodents do because their teeth don't continuously grow. You can be sure of a long-lasting product with a hedgehog in of these.
In Short:
Has a tall construction
Thin legs might not hold weight well
Easy cleanup thanks to the removable bottom plastic
Wood is a great material option for hedgehogs
BEST PORTABLE WOODEN HEDGHEOG CAGE
Living World Green Moving Home
Simplistic Natural Look
The simple natural wood color and transparent panels with ventilation on the top, and the holes on the sides with wheels on the bottom for easy transfer make it seem clean and a perfect addition to a simplistic looking household.
Eco-Friendly Materials
This cage is made out of rubberwood which is eco friendly, so if you want to help the environment while providing your pet with a good cage, this one might just be for you.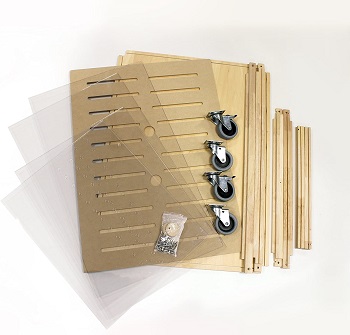 See-through on all 4 sides
The wooden hedgehog cage really makes it easy to interact with your pet since it's seethrough on all sides and the top where the ventilation holes are places is easily removed and locked in back in place.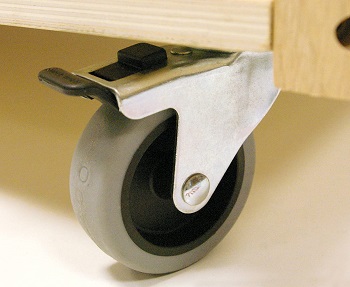 Dimensions and weights
The cage takes up about 6 square feet of space which is a lot less than most larger hedgehog cages and it weighs at around 36 lbs which is not heavy, but heavy enough to make it feel like it holds well and has a strong construction.
Assembly and Disassembly
It comes with screws and panels, so for the assembly, you should have a screwdriver available or a power drill so once it's in place disassembly is not a thing you could do in very little time.
In Short:
Made out of eco-friendly material
Smaller and lighter than most cages in the category
Looks great because of its natural wood color
A screwdriver is needed for the assembly
BEST LARGE WOODEN HEDGEHOG CAGE
Ferplast Krolik Rabbit Cage
A Wide Range Of Build Materials
This cage is designed to please your need for every type of material. It's made of wood, cage wire, and plastic. It makes the cute hedgehog cage, and the cage has a divided space for playing and a hideout.
2 1/4 Times The Recommended Living Space
It's a very large cage. It'll give your hedgehog about 9 square feet of living space and it's completely accessible from the top including the wooden hutch whose top comes of in seconds if your pet is hiding there.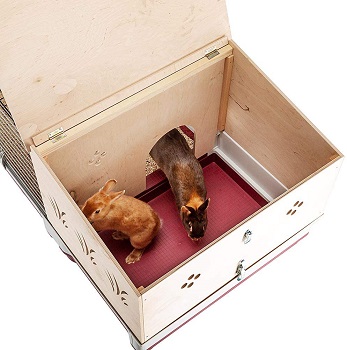 Longer Clean Up
The cage contains litter by using a deep bottom plastic that is detachable. It's not separate from the cage itself so you'll need more time to clean the cage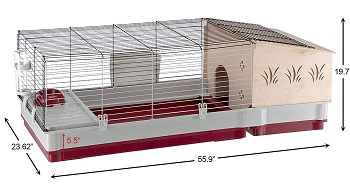 Accessories For The Animal
The wooden hedgehog cage comes with accessories and they include a large shelf for the placement of the feeding bowl, a drinking bottle with a hook to attach to the cage and anti-drip system, and of course, a hay feeder is included
Knock-Down System
For assembly and disassembly, this cage uses a so-called knock-down system which makes it quick to assemble and disassemble and it doesn't take up much space when it's not in use or for moving it from place to place when you need all the space you can get.
In Short:
Doesn't take up much space when not in use
It comes with some needed accessories
Built out of wood, plastic, and cage wire
Cleaning is a bit tricky because of the plastic bottom
BEST INDOOR WOODEN HEDGEHOG CAGE
Rockever Rabbit Hutch
Wood Color Options
This cage is almost completely made of wood with the exception of a wire rack that is reinforced with wood around each panel. It comes in two color combinations: baby blue and white, and a soft grey and white and has additional wooden panels built in to block pee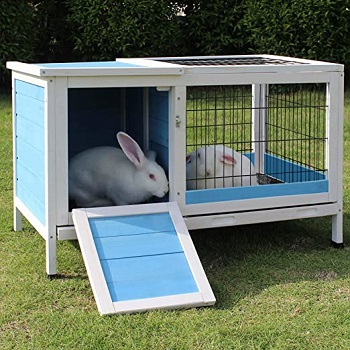 2-Section Cage
It's separated into two parts, a wire cage surrounded playtime part and a fully surrounded with wood care part. The wooden surrounded part has a wire rack on the bottom while the wire cage part doesn't. Both have a pull-out tray so the pull-out tray in the wire cage part also serves the purpose of ground.
Top Wire and Front Panel Access
The top wire opens for access and the wooden door on the front panel opens as well for access to the care part of the cage. The care part has a sliding door inside the cage itself so that you can separate your hedgehog while cleaning the play part of the cage.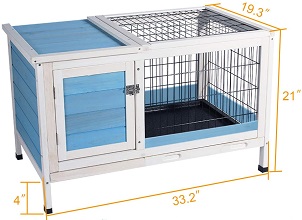 Elevated From The Ground
The wooden hedgehog cage is lifted 4-in from the ground and the legs have plastic caps on them to prevent damage to floors when used as an indoor hedgehog cage. For the Assembly, a screwdriver is needed, but once everything is in place it holds its shape and form well.
In Short:
Separated hut and playtime space
Accessible from the top and front panel door
Included slide door for easier cleaning
Comes with two bottom trays for litter containment
Has only one bottom wire rack
How To Pick A Wooden Hedgehog Cage
When you're looking to buy a beautiful wooden cage for your hedgehog there are some things you might want to consider before the final verdict. there's a whole variety of wooden cages on the market and they differ a lot from one another including size, accessibility, cleaning options, and transport option so here's what you should consider before buying.
Wood Thickness And Type – most wooden cages are built from a light and soft food material like fir wood which is good because it makes the wood easy to work with when you're assembling the cage and it's not as heavy so you won't have trouble moving it around if you'd want.
Bottom Plastic Trays – You should consider getting a cage with this option since wood is known to absorb any smell and litter that it gets into contact with. The wood is almost always painted with some kind of paint to protect from that happening, but over time it might wear off or get damaged and it's a faster and simpler option when it comes to maintenance.
Outdoor Or Indoor – depending on your needs and budget you should look to buy an option to please both so the things to consider are: dimensions so it's not too big to fit in the house, is the wooden structure waterproof and sturdy enough for outdoor conditions and is the cage safe enough to protect from predators.
Protection From Predators – these hedghehog habitats should have a lock door option on them and they should be spacious enough for your animal to retreat into the depths of the cage if a predator should come by the wire rack to try and harm your pet.
To Sum Up
If you're still having trouble deciding on what wooden hedgehog cage to get for your pet I would recommend buying thePawHut Wooden Indoor Elevated Cage. Its amazing visuals, strong build, easy cleaning options, and flexible placement option makes it a great cage for your pet to live in. If a wooden cage is not your style or your budget is limited I suggest you check out these plastic hedgehog cages that are also a good home for your pet, but if you're simply looking for some accessories to go with your cage look into some of the best hedgehog accessories for your pets home and needs.