Are you looking for a large cage for your hedgehog?
Then you should read our 6 large hedgehog cage reviews. In it, we will look into some of the best cages for small animals on the market and their specifications including outdoor, indoor, small, and affordable options.
Summary
Best 6 Large Hedgehog Cages
BEST OF BEST LARGE HEDGEHOG CAGE
Small Animal Cage By Midwest
A Clean And Large Living space
Its simple yet esthetically pleasing and spacious design will make for a great home for your hedgehog. It's equipped with a quickly removable and washable PVC bottom and has divided space for playing and littering. The 14-inch tall cage gives you the opportunity for easy interaction with your animal.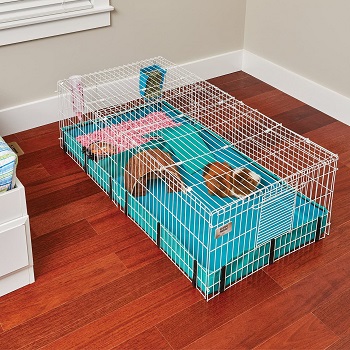 Expandable In Size
The recommended living area for a hedgehog is 4 square feet. You should have enough room for a litter box, wheel, eating place, and sleep space and a few hedgehog cage accessories. This cage comes with an 8 square feet space and is also expandable to 16 square feet so if you'd ever decided on getting another hedgehog, you don't have to invest in an even larger cage.
For First Time Owners 
This large hedgehog cage is easy to assemble and disassemble and it makes for a great indoor and outdoor cage since the PVC lined bottom is easily removed as well as the cage top. Your hedgehog can enjoy the great outdoors safely while you're washing the PVC bottom for example.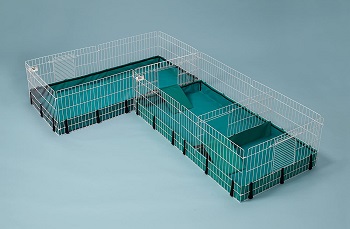 Safe For The Animal 
If you're worried about your hedgehog climbing the cage and eventually escaping, you can keep the cage top on. It's recommended since hedgehogs, although they can't climb vertically, tend to climb the cage if they're bored. The PVC bottom is also good for hedgehogs since their feet are sensitive.
In Short:
Offers a large, 8 square feet living space
Divided living and care space
Offers a removable cage top
Able to expand endlessly
BEST INDOOR BIG HEDGEHOG CAGE
Amazon Basics Small Pet Cage With Canvas Bottom
Sturdy And Elegant Visuals
This large hedgehog cage is available in two different colors: all black and blue. With its sturdy design, it makes for a cool and sleek choice visually. The blue one is brighter looking since only the canvas is blue and the cage is silver.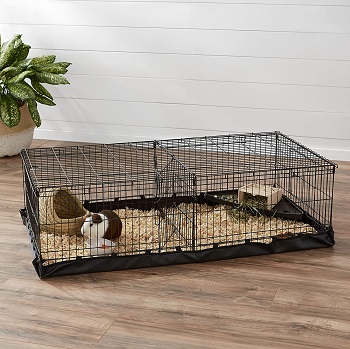 A Durable Polyester Canvas
It features a canvas bottom that is waterproof and easily removed. It makes for a clean choice if there's some liquid spillage and it gives you the opportunity for outdoor use. It's durable so you won't need to worry about overusing it in a short amount of time.
Good Cage Frame 
The indoor hedgehog cage has a frame made of iron wire and provides safe living space for your pet. It also has a divider to separate animals or living from care space and its 8 square feet makes it large enough for a hedgehog to live comfortably, but if you're looking to expand your cage you can do that too.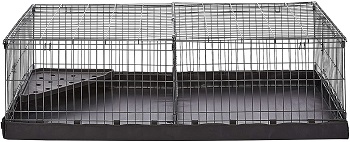 It's Easy To Assemble
Although the cage is easy to assemble, it comes with a manual for assembly that is a bit unclear so it takes a bit to get the hang of it, but once you've got it, you don't have to worry about it again.
In Short:
Waterproof and removable canvas
Great visual design and available color options
Easy to assemble, but the instruction manual is unclear
Expandable and easily transferable
BEST OUTDOOR LARGE HEDGEHOG CAGE
Lazy Buddy Wooden Cage
A Great Wooden Frame For The Great Outdoors
The quality wooden frame gives this pet cage a vintage and homey look. The eco-friendly, non-toxic paint makes it safe for your hedgehog to live in and to place it outdoors since it makes the cage waterproof so you should consider gettin a heating lamp for hedgehog too.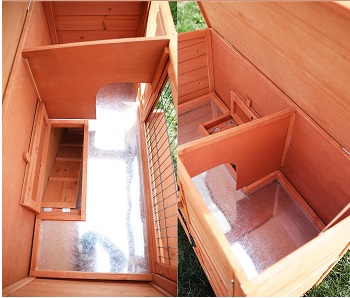 A Multi Door Design
This large hedgehog cage size might make it a bit harder to clean but the multi-door design settles the quarrel. It also makes it great for you and your hedgehog to interact better and it gives you the option of having multiple pets.
A Power Drill For The Assembly
For the assembly, it's better to use a drill and the instruction manual. The wood is soft so it requires a gentle hand and may require two people at times to assemble because of its size, building materials, and techniques required.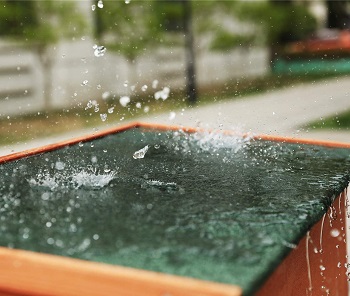 Made Out Of Light Materials
The wood used in the making of this cage is not heavy and the product weight is around 28.86 Lbs. You won't have much trouble moving the cage from outdoor to indoor spaces so that your hedgehog can have the best of both worlds.
In Short:
Quality, light wooden frame
Eco friendly, nontoxic color finish
Lots of doors for easy cleaning and interaction
Recommends a drill for the assembly
BEST PLASTIC BIG HEDGEHOG CAGE
Krolik XXL Hedgehog Cage
Wider Living Space
This large hedgehog cage is wider than most so it provides a larger living space for your pet. The bottom is made out of plastic so I wouldn't recommend it for outdoor use, but it's easy to move around the house whenever you might need it.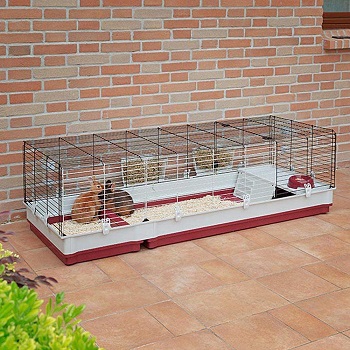 Extra Additions That Come With It
It comes with 2 large bottles for water that come with 2 hooks for placing it on the net, a water level indicator and capacity and steel valves to prevent dripping, 2 hay feeders, a feeding bowl, and an elevated feeding spot. It also houses a separate wire rack extension to divide the space however you want it.
 Base And maintenance
The plastic base is deep and it's detachable so it contains litter well, but the cleaning might be a little tricky since it's made from a hard material that goes 63.86 in length and 23.62 in width.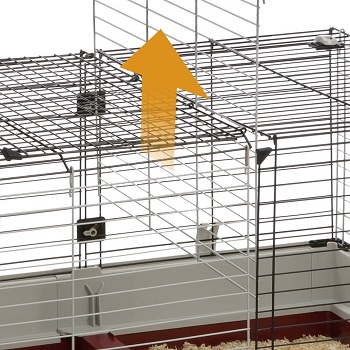 Perfect Travel Cage
The easy assembly and disassembly make this plastic hedgehog cage perfect for traveling since you won't have to carry the whole cage when you go somewhere, you simply disassemble it so it doesn't take up much space, and when you arrive at your destination assemble it back again.
In Short:
10 square feet of living space 
Comes with a lot of useful additions
The plastic base makes it hard to clean
Removable divider rack
Easy assembly and disassembly
BEST CHEAP LARGE HEDGEHOG CAGE
Rypet Small Animal Playpen
Simple Design And Purpose
This cheap hedgehog cage makes it easier and accessible for you to spend some time, and play with your hedgehog. It's made from polyester material and flexible plastic steel used for the edges of the cage and it comes in a couple of various colors
Accessible Playtime Cage
The polyester fabric makes the cage breathable and the plastic steel for the edges allows you to see your pet at all times through it. Odors are not something you would need to worry about because of the breathable material and the wash option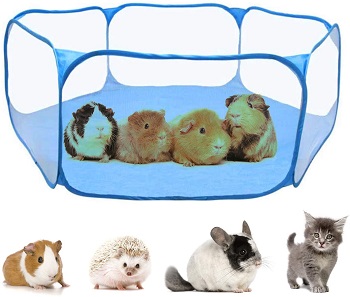 Easy Fold And Expandable Size
The cage is easily foldable and can be tucked away in no time. Its size is 10 square feet, but shrinks when folded. You should be careful when unfolding it since the edges material makes them unfold instantly
Permanent Living Option Warning
The large hedgehog cage serves its' purpose well, but this is not a cage to house your pet permanently. it's more of a play zone or perhaps a safe space for your newborn hedgehogs. Supervision at all times is advised because your pet might skip the fence otherwise.
In Short:
Different colors to choose from
Breathable and see-through cage material
Folding and unfolding is quick and simple
The animal can't live in it
Good playtime option cage
BEST CUTE BIG HEDGEHOG CAGE
Kavee C&C cage
Customizable design 
The large hedgehog cage design is completely customizable and offers at least 8 square feet of living space for your pet. The bottom is made out of coroplast which makes it waterproof and stain-resistant and the cage comes with two doors
Adaptable Safety 
It doesn't have a top option so you'd have to buy one for a larger price, but with the grid panels, you could customize it to have a top while sacrificing some living space. The edges are secured by caps and it makes it safer for your animal to live in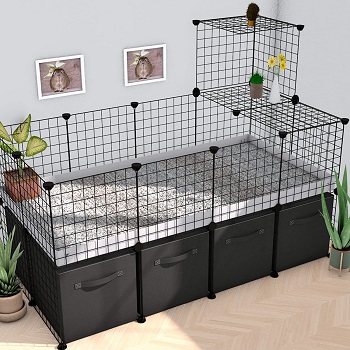 Great Travel Companion
Since this cute hedgehog cage comes with 14 grid panels and 28 connectors that are easy to take on or off and are completely customizable, the cage gives you a great chance at traveling. You could for example make a smaller cage for the time being and when you arrive at your destination assemble it back completely
Lets Your Creativity Run Loose
This Cage is adjustable to your needs and wishes. If you might want a 2-level cage you can just assemble it to be so. If you'd want more space for your pet you can do so and if you want a travel-sized cage, you can do so as well.
In Short:
Completely customizable design
The top option costs extra
Adaptable to your needs and wants
specialized coroplast bottom
Good for outdoor and indoor use
How To Pick A Large Hedgehog Cage
Every animal needs a large enough cage for their living needs. Not only large, but you'd want to make sure it's safe for them to be in, that it's portable and sturdy. But, before you chooose, you should know what to search in big hedgehog cages.
Average Size – the minimum standard size for a hedgehog cage is 4 square feet. Large hedgehog cages go at around 8 square feet and are the optimal choice since you need to make room for care and play area while also considering the room needed for extras like a feeding bowl.
Outdoor/Indoor Option – most large cages have both options because of the materials they're made of. You'd wanna look for an iron wire cage or something waterproof and resistant. You want to consider this into account because hedgehogs like all animals need outdoor activity time
Cage Top Is A Must – although hedgehogs are not vertical climbers they might try to climb the wire cage if they're bored so making sure your cage has a top is important. You can look into an option with a removable top, most large cages have one
Good Cage Accessibility – The cage top should be removable for easier cleaning or if not, it should have a removable bottom and a multi-door option all for you to be able to access your animal.
Cleaning & Maintenance – You should consider buying a shorter cage, a removable top, and having multiple options for you to be able to clean the cage with ease. Maybe even consider a canvas bottom instead of plastic for easier and faster cleaning.
To Sum Up
The best large hedgehog cage that I would recommend for your hedgehog is the Small Animal Cage by Midwest. I'd recommend it since it has a safe PVC bottom for your hedgehogs' sensitive feet, it's easy to clean, gives you an outdoor and indoor option, and is expandable in size so if you'd ever decided on expanding it's simple to do. If you're interested in more cage options for your pet read this post about the best hedgehog habitat cages, and find the one for your small animal. If you like the rustic wooden look for your animal cage look into some wooden hedgehog cages for indoor and outdoor use.