Have you been trying to find a blue hamster cage that, besides the color, will meet your other needs?
If yes, then you should read our reviews. Learn more about the best, multi-level, cute, and three other models that were worth to be put in our top six list. Also, don't miss our buying guide. Find it at the bottom of the article.
The Summary
Best 6 Blue Hamster Cages
BEST OF BEST BLUE HAMSTER CAGE
Savic Sky Metro Hamster Cage
The Simple Design
The Savic Sky Metro hamster cage comes with a deep blue plastic base and a wire top. This is an extra-large hamster cage that will meet all of your hamster's needs. It provides your little pet with a lot of space and it comes with all the equipment.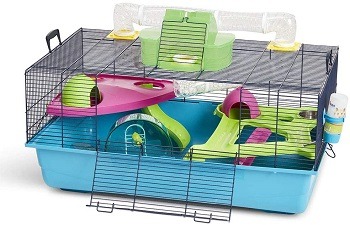 The Included Content
On the inside of this blue hamster cage, your hamster will get to play on a running wheel, climb a plastic platform, rest in a safe hideout house, or run through the external-internal tube. There is a water bottle that is included. This cage is ideal for first-time owners too.
The Maintenance
To clean and maintain your hamster cage, access easily through the front door. The door can be secured when closed, so you won't have to worry that your hamster will escape. This is a secure and safe cage that is simple to clean daily.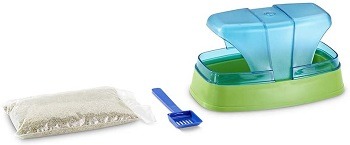 Useful Characteristics
The overall size of this habitat is 34in x 20in x 20in. The space between the bars is narrow which makes it completely safe and pet-friendly. Your hamster's paws won't get stuck in between the wires. Also, the wires are resistant to bites and are made of non-toxic material.
In Short:
Savic Metro cage is made of plastic and wire
the deep blue base is leak-proof
space between the bars is narrow
this cag comes with all the equipment
it provides a lot of space for activities
BEST MULTI-LEVEL BLUE HAMSTER CAGE
Prevue Blue And Green Hamster Cage
Product Description
Prevue hamster cage is tall and includes three levels and two green plastic platforms. There are yellow spiral slides and a small running wheel as well. The plastic base comes in blue. It is leak-proof and smooth.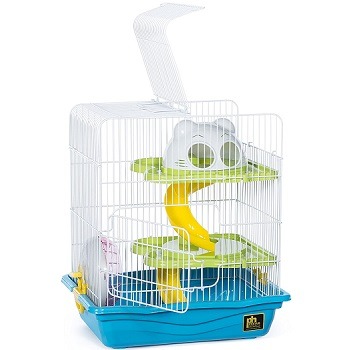 Pet-Friendly And Spacious
This cage measures 14″ long, 10 1/2″ wide, and 16″ high. It provides enough vertical space for one hamster. The cage is made of safe materials. It has no sharp edges and the bottom is smooth. Your hamster's paws won't get stuck between the wires.
The Ventilation
Prevue green and blue hamster cage is well-ventilated. The space between the bars is narrow enough for your hamster's safety but it lets the fresh air circulate constantly. This is important for your hamster's mental and physical health.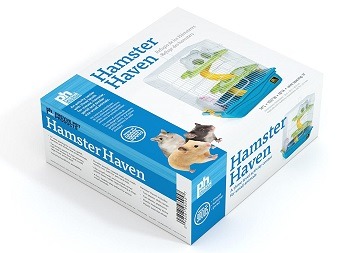 Lightweight And Portable
This cage by Prevue doesn't weigh much and it is simple to carry. There is a handle on the top. Use this cage as a portable hamster cage when you go on a short trip or when you are visiting the vet.
In Short:
includes three levels
it is lightweight and tall
there is a handle on the top
the cage is easily portable
includes platforms, slides, and a wheel
this cage is colorful, safe, and fun
BEST CUTE BLUE HAMSTER CAGE
Habitrail OVO Home Dwarf Hamster
Transparent And Small
The Habitrail OVO blue hamster cage is small and it is ideal for one dwarf hamster. It is transparent and includes some of the hamster cage decorations and accessories. The roof is retractable and allows you to access the cage easily.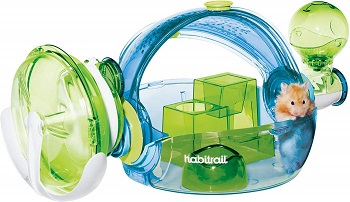 Safe And Cat-Proof
Your hamster will be completely safe inside of this cage. The Habitrail OVO small enclosure prevents any other domestic animal from access it. Still, for a complete hamster's safety, put the cage out of the cat's or other pet's reach.
The Vent Holes
The cage's rooftop has many small holes that provide great air circulation. This is extremely important for your hamster's health. The fresh air is constantly circulating this small hamster cage making it completely safe.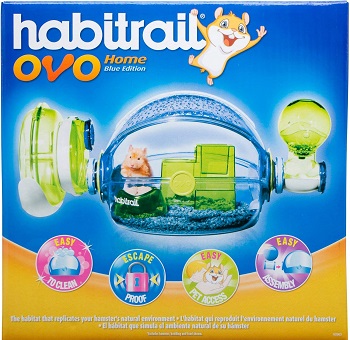 Security Locks And Connectors
There are front and back locks. They make sure that your hamster's cage is secured at all times. You can easily unlock them when cleaning the cage. The cage comes with lock connectors that will help you expand your hamster's habitat and connect it to other cages via tubes.
In Short:
small and transparent hamster cage
the top has many vent holes
this cage is pet-friendly and safe
it can easily be secured
connect it to other hamster habitats
BEST WITH TUNNELS BLUE HAMSTER CAGE
Pawhut Tunnel Hamster Cage Blue
Ideal Starter Kit
The Pawhut enclosure is a tall and multi-level hamster cage. It is perfect to be used as a starter kit and it is ideal for first-time owners. This cage is a hamster cage for 2 hamsters. It includes all the content that your little pets will ever need.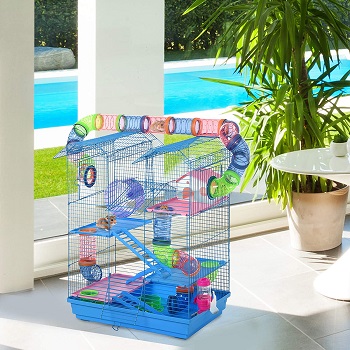 Fun Cage Equipment
This cool hamster cage includes external and internal tunnels, four plastic platforms, four ladders, a hamster hideout house, a plastic water bottle, and a food bowl. All of the content included is pet-friendly and harmless.
Quiet And Sturdy
Every hamster owner knows that these little animals love to stay active and play a lot. Especially during the night. This is why we suggest you consider getting the Pawhut blue hamster cage. It is quiet and long-lasting. It is made of strong and non-toxic material.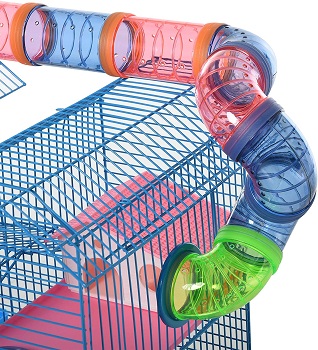 Important To Know
The overall size of this cage is 18.5″L x 11.75″W x 23.25″H. The tray size is 18.5″L x 11.75″W x 2.75″H. The cage comes with a large front door opening and it is simple to access. We loved the price of this product, it is affordable for everyone's budget.
In Short:
the cage is tall and multi-level
it is quiet, sturdy, and durable
this Pawhut enclosure fits 2 hamster
includes all cool and safe activity content
large front door opening allows easy access
the price is budget-friendly
BEST 2-LEVEL BLUE HAMSTER CAGE
Petloft Hamster Cage Blue
Size And Space
The dimensions of the Petfloft hamster habitat are 18.1 x 11.4 x 11.8 inches. The space between the bars is less than half an inch. This makes the Petflot cage perfect for hamsters. Their little paws won't get stuck between the wires.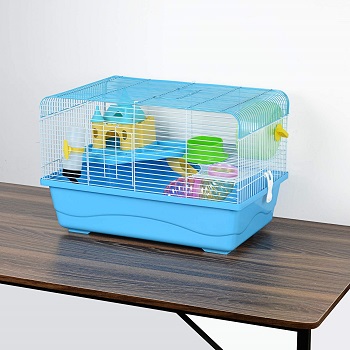 The Play Area
Petloft blue hamster cage includes a fun activity and play zone. There is a castle hamster cage house that will serve as a safe resting area. Then, there are the exercise wheel, a play tunnel, a small plastic slide, and the food dishes.
The Quality Material
This cage is made of high-quality materials. The deep blue base measures 16.9 x 9.4 x 5.1 inches. It is made of leak-proof and durable plastic. The top is made of a sturdy and strong wire net. The cage is lightweight and easy to carry with a top handle.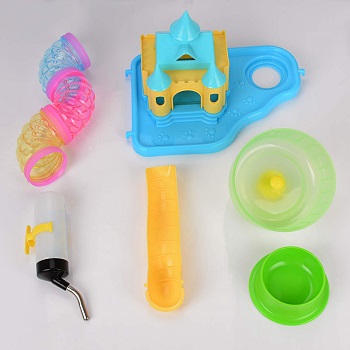 Have In Mind
Be careful if you have a dwarf hamster, this is not an ideal cage for them. When cleaning the cage, you will need to disassemble the whole unit. However, it takes no time to put it back together again. Secure the latches when you are done cleaning.
In Short:
made of quality and sturdy material
the cage is pet-friendly and non-toxic
it comes fully-equipped
this cage is ideal for one hamster
it is simple to assemble and disassemble
BEST CAT-PROOF BLUE HAMSTER CAGE
Ware Multi-Level Blue Hamster Habitat
Tall And Spacious
This tall hamster cage by Ware has three levels. It has enough space for one or two dwarf hamsters. The cage is safe and cat-proof. It is pet-friendly and made of safe and quality material. The overall size is 13.75 x 11.25 x 21.75 inches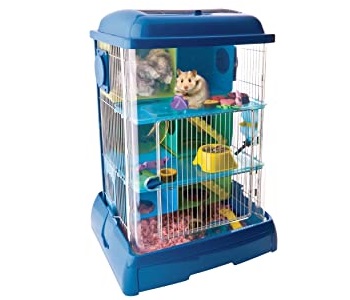 The Blue Design
This cage is made of blue and see-through plastic that is toxic-free. The wires are resistant to your hamster's bites. The bar spacing is narrow which makes this cage safe. The inside of the cage has two platforms, ladders, a wheel, a food bowl, and a water bottle.
How To Access The Cage?
There are two openings – the top and front access doors. Both openings are large and can be secured easily. This multi-level hamster cage is simple to clean and it is easy to refill the food bowl and water bottle.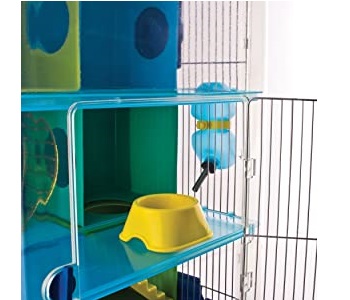 Sturdy And Durable
Only high-quality material was used for constructing this cage. This is why we are sure that this blue hamster cage will last you a long time. It is heavy-based, quiet, and sturdy. Also, the cost of it is very affordable.
In Short:
made of strong and durable material
the cage is long-lasting and sturdy
it has three levels and includes content
there are top and front access openings
this Ware cage is simple to clean
How To Pick: Blue Hamster Cages
Besides the blue color, there are a few features that you must have on your mind before buying a hamster habitat. For example, an ideal hamster cage has smooth surfaces, is made of safe material, it includes a playing zone, and it is simple to clean. Read on and find out more about this topic.
Pet-Friendly And Secure – A perfect blue hamster cage must be easy to secure. It shouldn't have sharp edges on the inside and it must be completely safe. A hamster cage with narrow space between the wires is the one you must look for.
The Quality Material – Have in mind that your hamster will probably try and bite on the wires. This is why you must be sure that the cage you are about to buy is made of non-toxic and bite-resistant material. Moreover, it needs to have a leak-proof base that is easy to clean and preferably odor-resistant.
Space For Activities – If your hamster already includes a resting and playing area, then you have found an ideal cage. On the other hand, if you really liked the cage that comes empty, don't worry. Make sure it has enough space for creating a play zone. Customize it on your own and get cool and safe hamster cage decorations.
The Easy Maintenance – Look for a hamster enclosure with a large access opening. For example, the top opening is a big plus because you will be sure that your hamster won't escape while you are cleaning. Make hygiene your priority and clean the cage regularly.
Why Buy Online? – We suggest you check out the products that we have listed on the online retail websites that you trust. You will be able to read customer reviews, often get a special price or free shipping. Also, buying products from a reliable online retailer allows you to contact their customer service in case something goes wrong.
To Sum Up
One of the best blue hamster cages that we have reviewed in this article is the Pawhut Tunnel Hamster Cage Blue. We liked it because it is a safe, pet-friendly, and tall hamster cage. It includes all the content that your hamster will ever need. For more similar models, we suggest you read our post about the best fun hamster cages.