Are you looking for a hamster cage for 2 hamsters?
Then you should read our article before buying. Why? Because we have prepared a top list of six best models and divided them into different categories. By reading our reviews, you will find out all you need to know about cute, multi-level, travel, and more models. Also, our guide will surely help you choose the right model.
The Summary
Top 6 Hamster Cage For 2
BEST OF BEST HAMSTER CAGE FOR 2
Savic Mickey 2 XL Hamster Cage
The Design And Material
The Savic Mickey cage is large and ideal for two or even three hamsters. It has two levels. This animal care Savic Mickey cage comes with a deep plastic bottom. The bottom is leak-proof. The top part of the cage is made of wires. There is one handle on each side of the cage.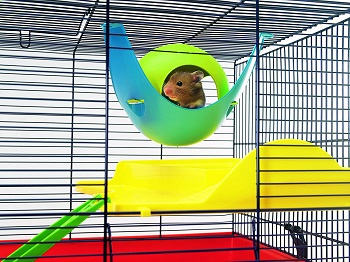 Comes Fully Equipped
In case you are looking for a cage that already includes fun activity contents, then consider getting this cage. It comes with a water bottle and a feeding bowl. There are the metro tunnels, an exercise running wheel, and a wire platform. There is enough space for extra accessories.
The Large Size
This hamster cage for 2 is considered to be a huge hamster cage. Therefore, you can also fit larger-sized hamsters in it. Savic Mickey 2 XL cage measures 31. 5in x 20in x 20in. The space between the wires is narrow which makes the cage safe for your hamster's paws.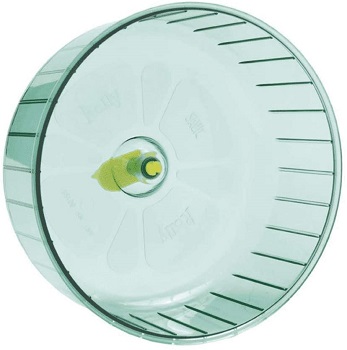 Easy To Clean And Move
The top handles on the sides will make this cage easy to move. Moving the cage with side handles will help you to clean the area around the cage. Also, there is a large door that makes access to the cage hassle-free and the cage cleaning an easy everyday job.
In Short:
this cage is of large dimensions
it fits 2 or more hamsters
the cage is simple to move
easy to access and clean
it is made of safe material
includes all necessary equipment
BEST CUTE HAMSTER CAGE FOR 2 HAMSTERS
Zoozone 2 Hamster Cage
Spacious And Comfortable
Getting your 2 hamsters a cage is not always an easy job. Have in mind that each of the hamsters will require its own space. Hamsters do love to hang out and play, but privacy is something they need to have. The Zoozone cage for hamsters is exactly what your hamsters need – spacious and roomy.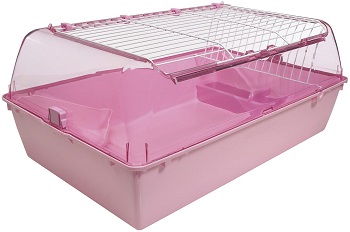 What Is And Isn't Included
The good part of this cage is not only the space. This hamster cage for 2 also includes a water bottle holder and a feeding dish. However, to make sure your hamsters feel happy, you will need to get essential hamster accessories and create an activity zone.
Customize The Cage
Luckily, all the necessary hamster cage decorations and necessities can easily be purchased online. The cost of such products is completely affordable. Get your hamsters a running wheel, tubes, and platforms. Assure they stay active. Don't forget the hideout houses – hamsters are big sleepers.

Good To Know
The overall dimensions of the Zoozone hamster habitat is 28.35 x 18.11 x 7.87 inches. The cage weighs 7.1 pounds. The wire top makes this cage well-ventilated and the plastic bottom makes it leak-proof. The cost of the cage is budget-friendly.
In Short:
this cage is roomy and comfy
it has a leak-proof plastic bottom
the wire top makes it ventilated
customize the cage easily
the price of the cage is affordable
BEST MULTI-LEVEL HAMSTER CAGE FOR 2
Mcage Large Hamster Cage
Choose Cage's Color
There are two colors of this Mcage hamster enclosure. Pink and blue one. Choose the color you prefer. The contents of the cage come in the same color. We consider this cage cute and interesting. It is safe and long-lasting as well.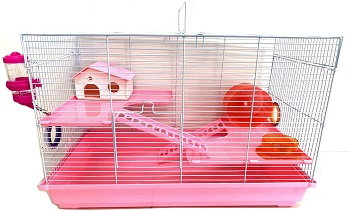 The Floors And Space
The Mcage hamster cage for 2 hamsters has three levels, two plastic platforms, and two plastic ramps. The ramps are secure for the hamster's little paws. Ideally, use this cage for two smaller-sized or dwarf hamsters. Don't use it for Syrian hamsters.
Easy To Carry
There is a top handle on this cage. It makes the cage simple to lift up when you need to clean the area around it. Also, this portable hamster cage can be taken with you if you need to visit the vet or go on a short trip and need to take your hamsters with you.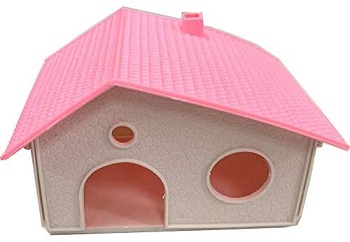 Useful Details
The size of this cage is 24″ L x 12.5 W x 16″ H. The space between the bars is narrow so this cage is safe for your hamsters. It is escape-proof and the access doors can be secured, allowing no other pet to access the cage. It comes fully-equipped.
In Short:
the cage comes in pink and blue
it comes already equipped
you can secure the access doors
there is a top handle included
the cage is easily portable
BEST CAT-PROOF HAMSTER CAGE FOR 2
Ferplast Favola Enclosure For Hamsters
Secure And Animal-Proof
If your wish is to get two hamsters, but you already have other pets at home and you are not sure about hamsters' safety, then think no more. The Favola enclosure for hamsters by Ferplast is a secure cage that will prevent any pet from entering it.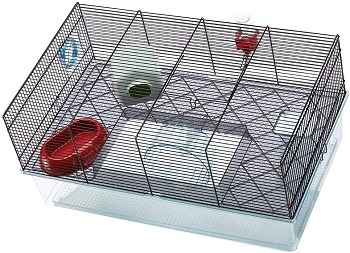 It Is See-Through
This Ferplast hamster cage for 2 comes with a transparent and leak-proof plastic bottom. The top is made of safe and chew-proof wires. It also makes the cage well-ventilated and allows the fresh air to circulate the cage all the time. Because of the two levels, this cage looks like there are 2 hamster cages in one.
Comes With Essential Necessities
Your two hamsters will love to play inside of this cage. It is large and spacious. There are the exercise wheel, a hideout, and a ramp included. We suggest you buy another plastic hamster house to serve as a hideout for your other hamster.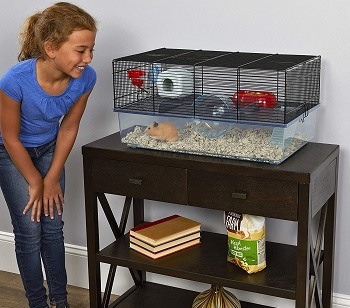 Use And Maintenance
This cage is made of only high-quality materials. Although it is leak-proof and anti-rust, we suggest you use it only indoors and not in a humid environment or outdoors. When it comes to cleaning – simply open the top door and access the cage.
In Short:
the cage can be secured
it allows no access by another pet
the cage includes all essential necessities
to clean, open the top access door
it is made for indoor use
BEST TRAVEL HAMSTER CAGE FOR 2 HAMSTERS
Petzilla Dwarf Hamster Cage
How To Use
The Petzilla cage is primarily made for dwarf hamsters. It is highly advisable to use this cage only for short trips. Hamsters require more space for their everyday activities but the Petzilla deserves to be on our list because it is one of the largest models for traveling.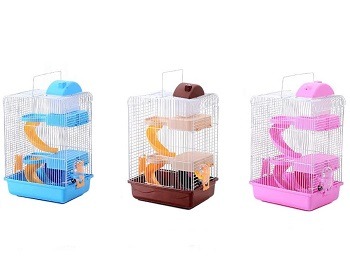 The Tall Design
This small hamster cage for 2 is tall. It is made of safe and chew-proof wires. The bottom part is made of toxic-free plastic just like the activity zone. There is a water bottle included and a food bowl as well.
It Is Fun And Cool
This cage will provide your two dwarf hamsters with a lot of vertical space. The cage includes different platforms and spiral slides. There is even a small plastic hideout on the top of the cage. The playground will keep your hamsters occupied during the trip.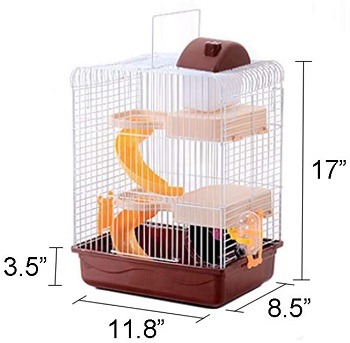 The Assembly
You can put this cage together easily and with no hassle. It will take no more than a few minutes. Also, the cage can simply be de-attached which will help you during the cleaning. Don't forget to clean the cage content as well.
In Short:
use it for 2 dwarf hamsters
it is advisable to use it temporarily
this cage includes a plastic playground
the material of the cage is safe
the cage is small and lightweight
BEST METAL HAMSTER CAGE FOR 2
Pawhut Metal Cage With Wheels
The Movable Design
If you are thinking of buying a very large cage for two or more hamsters, then you should consider getting this Pawhut hamster cage for 2. The cage is large, spacious, and heavy-based. However, it stands on four rolling casters and can easily be movable.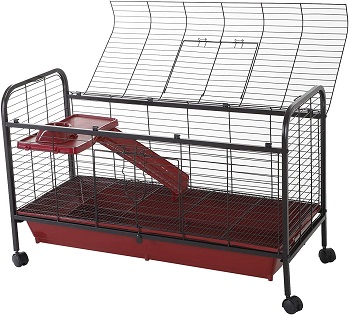 The Access To The Cage
There are two large access doors – the front and the top one. If you need to reach out for your hamsters, use the top opening without fear that your hamsters will escape the cage. Also, the large doors help with cleaning and refilling the food bowl and water bottle.
The Sturdy Construction
Hamsters are most active during the night. This is why you will need a cage like this one – quiet and sturdy. Your pets won't wake you up during your sleep and you won't have to worry about their safety. The cage can easily be secured. Also, it is made of 100% pet-friendly materials.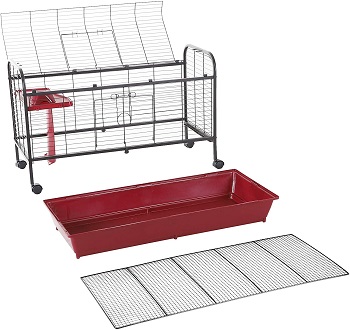 What More To Know
You are probably curious about the size. The dimensions of Pawhut hamster cage for 2 hamsters are 41.5′ L x 17.25′ W x 26″H. There is a removable hamster litter box tray with grids that you easily remove and clean.
In Short:
Pawhut cage stands on 4 casters
this cage is easy to move
there are two access doors
the cage fits 2 or 3 hamsters
it includes a removable tray
How To Pick: Hamster Cage For 2
Getting an ideal hamster cage for 2 is not an easy job, especially if you are a new hamster owner. This is why we have prepared this short buying guide. It will help you with finding the best cage for you. Read more about the most important features of such hamster cages – size, activity area, sleeping places, and a few other tips.
Size And Space – Have in mind that not every cage is large enough for homing two hamsters. Consider your hamsters' size. It makes a big difference if you have two dwarf hamsters, regular hamsters, or two Syrian hamsters. Syrian hamsters will require a special and large Syrian hamster cage.
The Play Zone – Allowing your hamster to play and stay active is of utmost importance. It makes your hamster happy and healthy both mentally and physically. Your hamster shouldn't' be bored, so a fun playing area is a must.
Resting And Hiding Place – Apart from playing, hamsters love to sleep a lot. It is important for them to find a safe and warm hiding place. Getting your hamsters houses and hideouts will surely help. You should know that hamsters mostly like to play during the night.
Other Hamster Decorations – Hamsters like to chew wood and wires (this is why you need to buy a chew-proof cage). Consider getting them chewing toys and wooden hamster houses. Other than that, your hamsters will love tubes, tunnels, and hanging hammocks as well.
Tips And Tricks – If your hamsters still don't know each other, we suggest you put them in two separate cages. Place the cages one next to the other and leave them this way for a week or even two. You should do that to gradually introduce the hamsters and to make sure they don't feel stressed.
To Sum Up
To conclude, we must say that there is one hamster cage for 2 that we particularly liked. It is the Savic Mickey 2 XL Hamster Cage. It has a lot of space for two hamsters, it includes essential activity accessories, and it is a pet-friendly hamster enclosure. You can add more toys and decorations such as a hamster play house, another wheel, or more hideout houses.