Are you looking to buy a plastic hamster house or a hideout to put inside your hamster enclosure?
Then keep on reading our article!
Find out which models we have put on our top six list. Learn all about the best of best, hideout, cheap, and other hamster houses. Also, read our buying guide and learn about the main features your new hamster accessory should come with.
The Summary
Top 6 Plastic Hamster Houses
BEST OF BEST PLASTIC HAMSTER HOUSE
Little Friends Hamster Hideout
For Small Animals
This plastic hideout house for your little pet is ideal for hamsters, mice, or dwarf rats. It is a small house that fits most hamster enclosures, from small hamster cages to larger ones. Get one or two such products and let your hamsters rest and chill.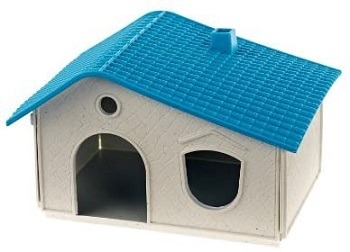 Safe And Good Quality
This plastic house by Little Friends is completely safe for your hamsters. It is made of high-quality plastics and is non-toxic. The house comes in white and the roof is blue. This house will make your little pet friend happy.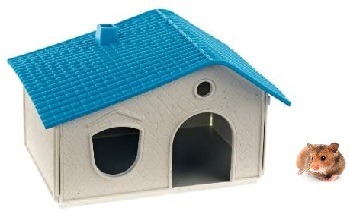 Why Is This House The Best?
We find this house one of the best plastic hamster houses on the market. Why? Simply because it fits most cages (it measures 13.78 x 9.45 x 9.45 inches), it is safe and very affordable. Check it out online to find out more about it.
In Short:
ideal for all small pets
fits into any hamster cage
the house is a perfect hideout
it is made of quality plastics
the price is very affordable
BEST HIDEOUT PLASTIC HAMSTER HOUSE
CoscosX Small Hamster House
The Simple Design
The CoscosX plastic hamster house comes in white and blue or purple. You can choose between these two colors. This hideout is a perfect resting place for your hamster. It is waterproof and lasts a long time.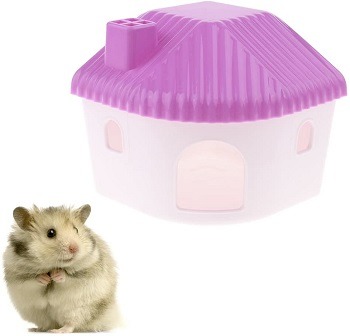 Fits Anywhere
The size of this great small hideout is only 5.71x 4.33 x 4.53 inches. The CoscosX plastic house will fit in almost any cage. In case you have a large and tall hamster cage, make sure to get two or three of these houses and provide your hamster with even more cool hideouts.
The Great Quality
Once you get this house, it will last you a long time. It is made of anti-aging material. What is most important is that the house is completely non-toxic. The plastic made for designing this house is hard and durable. Also, it is eco-friendly.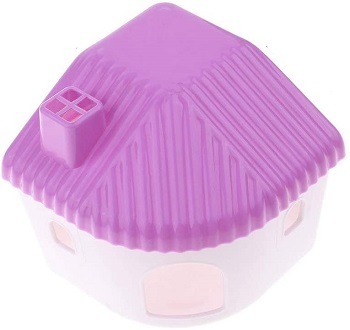 Easy To Set Up
The assembly is incredibly easy and fast. Simply attach the plates together. This house is very simple to maintain clean. It is resistant to odors and can easily be de-attached to save room when storing it.
In Short:
it fits into any hamster cage
easy to set up and de-attach
the price is very affordable
the house is simple to clean
material is non-toxic, hard, and durable
BEST CHEAP PLASTIC HAMSTER HOUSE
You And Me Plastic House
About The You And Me Hideout
This house comes in a translucent color. Choose between the grey or the green model. You can get two of these houses if they fit into your hamster cage or terrarium for hamster. This house comes in a medium-size so even a larger-sized hamster will fit in it.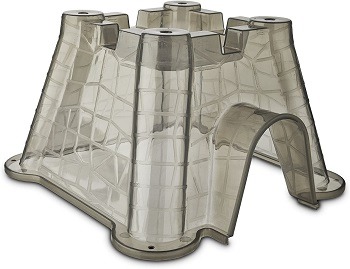 The Design
Your hamster will get to play on the top of these houses as well. This hideout house is stackable so if you get two or more houses you can install them one onto the other. This You And Me hamster house measures 12 x 10 x 6.5 inches.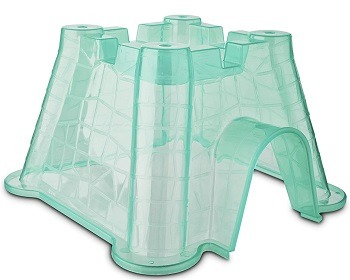 Easy To Maintain
You will get to clean this hideout plastic hamster house very simple. Use a clean cloth and warm water. This house is odor-free, non-toxic, durable, and made of hard and quality plastics. Maintain the cage often and don't' forget to clean your hamster's accessories.
In Short:
made of hard and durable plastics
easy to clean and odor-free
the house is stackable
it comes in translucent green or grey
budget-friendly price
fits even larger-sized hamsters
BEST SECURE PLASTIC HAMSTER HOUSE
Living World Hamster House
Why Get A Living World House?
The Living World plastic hamster house is here to create an additional nesting option for your hamster. If you have got an empty hamster cage or a large hamster hutch, your hamster will love the idea of having a cool hideout area.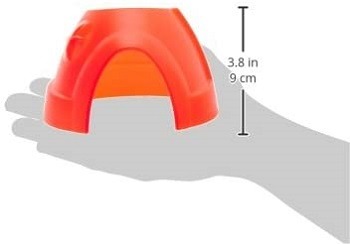 Secure And Cozy
Hamsters and other small animals like to hide and rest in narrow spaces. This is why they will love the idea of having a hideout in their cage. The Living World hideout house is safe and comfortable. It has only smooth surfaces and no sharp edges.
The Three Dimensions
The model we are presenting to you is perfect for very small hamsters. But in case you have a medium or larger-sized one, there are two more sizes of the same model. Choose between the small, medium, or large. The price of each house if very cheap.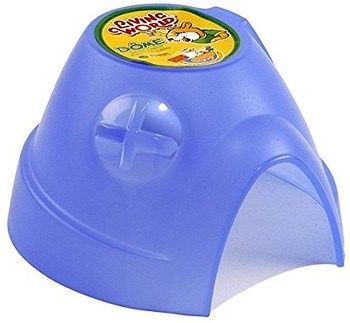 The Cleaning
Don't forget to clean your hamster's toys, decorations, and accessories from time to time. This little house is very simple to maintain clean. All you need to do is wipe it off with a clean and humid cloth or rinse it under the running water.
In Short:
the price is very cheap
there are three different sizes
the cleaning is very simple
your hamster will love to rest in it
fits in almost every cage, hutch, or terrarium
BEST PINK PLASTIC HAMSTER HOUSE
JPSOUP Plastic Hamster House
The Cool Design
The Loviver hamster house comes with a unique design. It is shaped like a castle. There are small hamster stairs that lead to the top of it. On the top, there is an opening that leads to a private side-space for your hamster.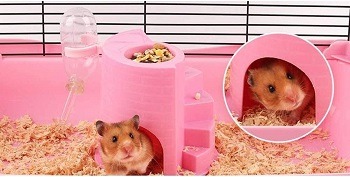 The Water Bottle
This pink Loviver plastic hamster house includes a water bottle. This small hideout is convenient to have. If you have bought an empty hamster cage with no accessories, then get this two-in-one hideout house with a plastic water bottle.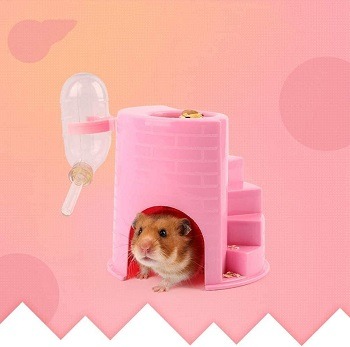 Multi-Purpose House
This Loviver house has more than one purpose. Your hamster will get to eat, drink, sleep, and stay active in this house. This house will fit into any hamster cage. Allow your hamster to stay active. Get it a multi-level hamster cage and this great quality plastic 2 in 1 house.
In Short:
this is a castle-shape plastic hideout
it is a two in one house
includes a water bottle and stairs
it has multiple purposes
the price is affordable
BEST 2 IN 1 PLASTIC HAMSTER HOUSE
Ueetek Hamster House Water Bottle
The 2 In Design
The Ueetek is another 2 in 1 hamster plastic house. This model includes the water bottle too. It comes in red plastic and features a stainless steel bottle mouth. The material used is of high-quality and durable.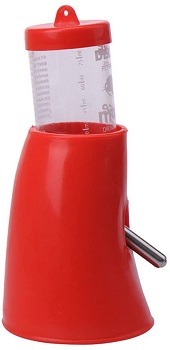 About The Bottle
The water bottle included is here to add convenience to this product. It is safe to drink out of this bottle and it is not easy to deform nor the bottle or the bottle mouth. The stainless steel mouth is eco-friendly, recyclable, and completely safe and healthy to use every day.
The Plastic Hideout
Your little pet hamster will love the idea of hiding in a safe and comfortable place. Especially after it has played, ran, and jumped around the cage. The house is made of anti-rust, sturdy, and non-toxic plastics. It has lookout holes so your hamster will get to keep an eye out.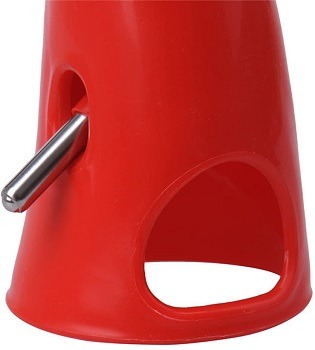 Useful Details
This product's size is approximately 6 x 3.1 x 6 inches (LxWxH). The water bottle capacity is 80 ml. The house is easy to clean. It is resistant to all odors. A small or medium-sized hamster can fit in this house. Add this cool plastic hamster house to your modern hamster cage.
In Short:
a great two in one product
a hideout house with a water bottle
it measures 6 x 3.1 x 6 inches
made of sturdy and anti-odor plastic
ideal for small to medium-sized hamsters
How To Pick: Plastic Hamster House
Before you buy a hamster house for your hamster enclosure, check out our little buying guide. Read our suggestions on the features that your new little hamster hideout should come with. If you still don't know whether to buy one, keep on reading and find out more in the following paragraphs.
Why Buy A Plastic Hamster House – Hamsters are small animals with a curious nature. They like to explore, but also rest. They feel most comfortable sleeping in hideouts. Getting your little fur friend a small house will help it feel cozy and get all the sleep it needs.
The Non-Toxic Material – Just like you hamster cage – all the toys, accessories, and hamster decorations should be made of a safe and non-toxic material. So, before you get your hamster a plastic hideout, read all about this certain model and make sure it is made of quality plastics.
The House Size – Obviously, the larger your hamster is, the bigger the plastic house needs to be. Also, your new hamster accessory needs to fit into your hamster's cage. It shouldn't' occupy too much space and you must let your hamster stay active. Luckily, there are models of all sizes so buy one accordingly.
The Maintenance – Make sure to clean your hamster's house from time to time. The cleaning is simple and fast. Simply wash it in warm water. Let your hamster enjoy the clean cage all the time and don't forget that its accessories' hygiene is also very important.
Where To Buy? – The hamster houses that we have reviewed in this article are all available online. Check each of them out, see which one suits you best, and buy the right one. We advise you to purchase from quality manufacturers and reliable websites.
To Sum Up
In the end, we consider that the Little Friends plastic hamster house will meet all of your hamster's needs. For more similar hamster accessories, decorations, and toys, check out our articles about the wooden hamster hideouts or hamster igloos and see if you will find another model that will fit nicely into your hamster cage.