Are you in search of a wooden hamster hideout for your hamster enclosure?
Great!
We have prepared this article with interesting reviews about the six best wooden hamster houses. Read all about the best of best, cute, blue, hut, multi-chamber, or natural model. If you don't know how to choose the perfect house, check out our guide. You will find it at the end of the article.
The Summary
Top 6 Wooden Hamster House
BEST OF BEST WOODEN HAMSTER HOUSE
Emours Natural Hamster Hideout
Safe And Cute
The Emours house for your hamster cage is here to provide your pet with a natural environment. This house is small and cute. It fits into almost any hamster enclosure. Your hamster will love its new resting zone.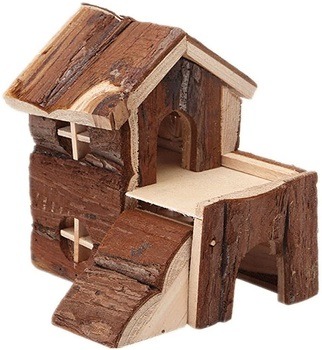 The Hideout Size
This small wooden hamster hideout measures 6.3 x 3.3 x 5.9inch ( L x W x H). It looks like a wooden house and it features a small 2-inch ladder. There is a window as well that measures 1.3 inches.
Important To Know
You should know that this house is made of safe wood. It comes fully assembled. The ladder can be foldable. This house promotes chewing instincts and nesting.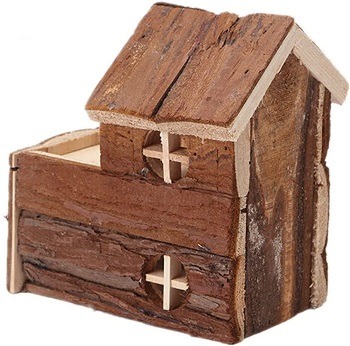 The Affordable Price
The cost of this small wooden house is budget-friendly. If your hamster cage has enough space for it, you should get it. We find such products very convenient. The Emours house is pet-friendly and safe.
In Short:
small, cute, and interesting design
fits in many hamster cages
the price is very affordable
it is made of safe and natural wood
includes a foldable ladder
BEST WOODEN HAMSTER HIDEOUT
Hamiledyi Hideout Hideaway
The Material Used
This small and colorful hideout for hamsters is made of 100% toxic-free material. The house is hard and durable. It is waterproof as well. This hamster house is reliable and it will last you a long time. There will be no cracking.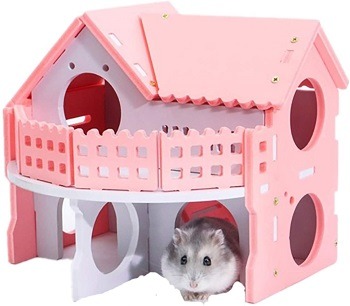 Safe And Tranquility Zone
Allow your hamster to have its chill and zone of tranquility. Hamsters love to sleep and rest in tight spaces. It is important for them to have such a hideout in their cage. The Hamiledyi hideaway will provide your hamster with a safe and natural environment.
The Setup And Purpose
The Hamiledyi wooden house for hamster is incredibly simple to set up. You will just need to put the right wooden board together. This wooden house has more than one purpose. Once set up, the house will serve as a chewing toy too.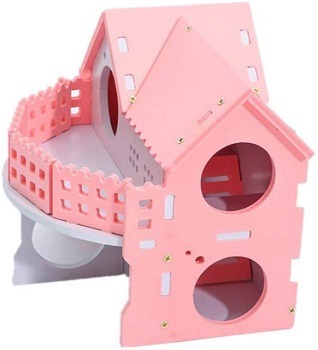 Size And Price
This wooden hamster house measures 6.6"X5.9"X5.9". It is suitable for all hamsters. Put the house in your tall, large, or small hamster cage. It will fit in a small or large Syrian hamster cage. The cost of this hideaway is low.
In Short:
small, cute, pink design
the size of the house is 6.6"X5.9"X5.9"
fits in almost any hamster cage
provides your hamster with tranquility
it is easy to assemble
BEST BLUE WOODEN HAMSTER HOUSE
Kathson Hideout Hamster House
The Dimensions And Assembly
The Kathson hideaway wooden house measures 6.2″H x 6.1″W x 5.9″ L. The house is ideal for hamsters or mice. It fits into any hamster cage. It is simple to assemble and quick. The house is sturdy and durable.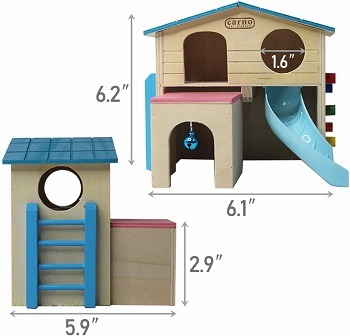 The Blue Design
This Kathson hideout comes with a blue roof, slide, and ladders. There are a sleeping nest included and a balcony. This small wooden hamster house is not only here to provide your pet with a resting zone, but the playing one as well.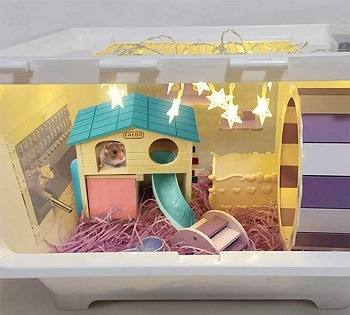 The Maintenance
Don't forget that the maintenance of the hamster toys and accessories is as important as the everyday cage and hamster litter box cleaning. Simply lift this house up and clean the inside and the outside of the cage. It is resistant to odors and water-resistant.
In Short:
small house with climbing wall gym
includes a balcony, sleeping nest, and a slide
it is odor and water-resistant
easy to maintain clean
ideal for hamsters and mice
BEST HUT WOODEN HAMSTER HIDEOUT
Pawchie Wooden House For Hamsters
Convenient Design
The Pawchie wooden hamster hut is made of natural wood. It allows your hamster to rest in a safe and tranquil place. It comes with one door and two windows. It provides easy access to the inside of the house.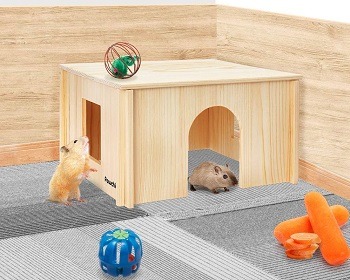 Smooth Surfaces And Setup
There are no sharp edges that could ever harm your pet hamster. This wooden hamster house comes with a smooth inlaid construction. It requires no tools, nails, or glue to be assembled. It consists of five solid wood boards that are easy to attach.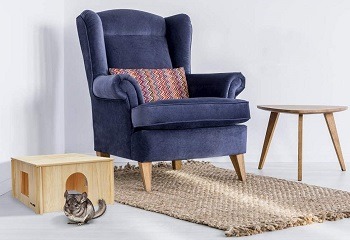 Multi-Purpose Wooden House
Apart from the resting area, this house allows your hamster to climb it as well. You can get two same Pawchie houses and stack them. This house's roof is plain and large. This house measures 11.7″ x 10.8″ x 6.8″(L x W x H) and it is ideal for large wooden hamster cages.
In Short:
the house is made of solid wood
it is safely-designed with no sharp edges
the house is easy to set up
it is ideal for large cages
your hamster will climb the roof too
BEST MULTI-CHAMBER WOODEN HAMSTER HOUSE
Niteangel Wooden House
The Three Chambers
This model of a Niteangle house for hamster cages comes with three chambers. It is made for small and dwarf hamsters (there are larger models by the same manufacturer as well). Your hamster will get to choose its favorite chamber to rest in.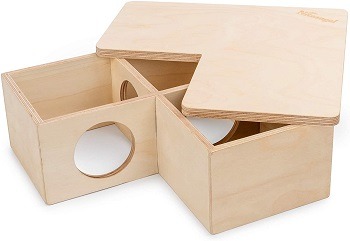 Small-Sized House
This wooden hamster house model is quite small. The house measures 9.2 x 5.2 x 3.4 inches. It is ideal for small hamster cages. Make sure both your hamster and its cage fit this house.
The Access To The House
There is only one entrance for entering and exiting the house. Other spaces are under the lid and provide a total dark. Your hamster will get to rest in this house even during the day.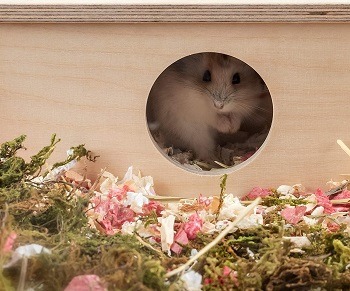 The Play Platform
The top of the house will serve as a playing platform for your hamster. In case you need to reach out for your pet while it is asleep, you will get to lift up the lid. It also helps with cleaning.
In Short:
top of the house is a platform
this model comes with 3 rooms
it is ideal for small or dwarf hamsters
there is one access and exit door
rooms under the lid are in the dark
BEST NATURAL WOODEN HAMSTER HIDEOUT
BLSMU Hamster House
General Overview
This wooden hamster hideout house measures 9.1″ x 5.9″ x 7.5″(L*W*H). This house is perfect for small hamsters, gerbils, and mice. It is one of the best hamster houses that you can put inside of any tall, small, large, or multi-level hamster cages.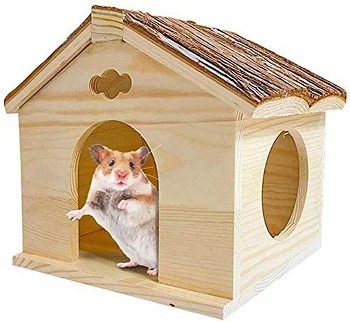 High-Quality Material
Only quality wood is used to build this hamster house. It provides your hamster with a natural sense of security. The material is toxic-free and there are no sharp edges. The house is without paint.
The Cute Appearance
This hideaway is shaped like a small house. It is interesting, small, simple, and cute. There is one access door and one side window. The roof has bark. It is ideal for one hamster. It promotes chewing instincts which helps hamsters grind their teeth.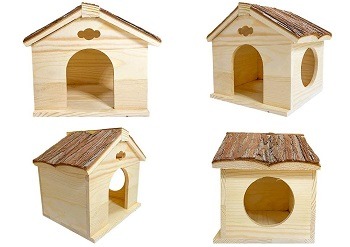 Why Is This House Good?
We like this wooden house for hamsters because it does not only serve as a cute hamster cage decoration, but it gives your hamster a sense of security. This house is convenient to have in your hamster cage. The price is medium but still very affordable.
In Short:
made of quality and natural wood
provides a natural sense of security
it is ideal for small hamsters
the design is cute and safe
price is medium but still affordable
How To Pick: Wooden Hamster Hideout
If you still don't know whether you should get such a hamster house, then read our guide. We hope it will help you with your decision. Learn more about the most important features that a wooden hamster house should always come with – security, high-quality material, size, and others.
Why Get A Hamster Wooden Hideout? – Hamsters have natural instinct of finding a dark and secure place to rest in. Your hamster will be more than happy if you get it a hideaway. It will get to rest in the dark during the day as well.
Safety And Security – When we say that a hamster house hideaway needs to be safe, we mean that it needs to be made of non-toxic material. Moreover, it should come with no sharp edges and it needs to be sturdy and durable.
The House Size – The house should be tight on the inside so that your hamster could squeeze in. However, that doesn't mean that you need to get your hamster a too-small wooden house. Check the house's dimensions and make sure it fits your hamster perfectly.
Don't Forget To Clean – Clean not only the cage, hamster food dish, or litter box. Never forget to clean the hamster hideaway, other toys, and accessories. Most of the models are very simple to maintain. Some of them even allow you to open up the upper part of the house.
The Price And Where Buy?– Most of the hamster houses come at a budget-friendly cost. They are convenient to have in every hamster cage. Check out each of the reviewed models online. Make sure that you buy from reliable retail websites.
To Sum Up
In our opinion, the best wooden hamster house is the Kathson Hideout Hamster House. We consider it a very cool and colorful hamster hideout that fits perfectly into modern hamster cages. There are more similar models available online. Check out our best plastic hamster houses article and see if another model might be the right match for you and your hamster.