Are you looking for a safe and easy to maintain hamster litter box?
Our article will help you find the right model for your hamster's cage. We have reviewed five models and divided them into different categories – best of best, corner, blue, pan, and cute. There is a bonus review and we invite you to check it out. At the end of the article, there is a guide that will help you choose the best model.
The Summary
Best 6 Hamster Litter Boxes
BEST OF BEST HAMSTER LITTER BOX
Heepdd Hamster Bathroom Container
Keeps The Cage Clean
A Heepdd hamster litter box prevents sand and bathing from being taken out. It keeps your hamster enclosure clean and tidy. The package includes a small shovel that will help you clean the litter sand more easily.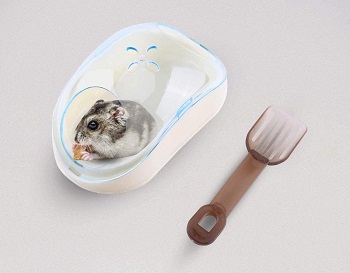 Safe And Delicate Design
This litter box is made of hard plastics. It is translucent, bright, and spacious enough. There are no sharp edges. The bathroom is leak-proof and lightweight. It fits in any hamster cage. Make sure your hamster cage is not too small the tray leaves it enough room for activities.
High-Quality Material
The material used is high-quality, completely safe, and toxic-free. This hamster litter tray is sturdy and pet-friendly. This hamster bathroom is odor-resistant, durable, and harmless in every way.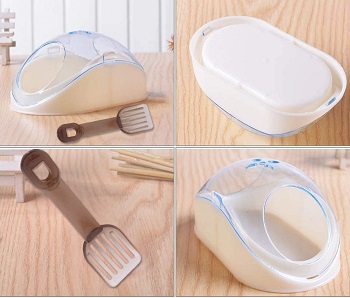 Helps With Relieving Stress
The Heepdd hamster bathroom is here to help with relieving stress. It allows your hamster to clean its fur which is hamsters' natural instinct. This small litter box helps to increase the activity level of your hamster. In coverts your regular cage into a fun hamster cage.
In Short:
keeps your enclosure clean
includes a small litter shovel
it is made of quality plastics
the box is lightweight and sturdy
helps with relieving stress
allows your hamster to clean fur
BEST CORNER HAMSTER LITTER BOX
Mkono Hamster Corner Litter Tray
Choose The Color
The Mkon corner tray for your hamster's cage comes in different colors – choose between yellow, white, pink, or blue. This litter boy for hamsters will fit into any cage. It is a small and long-lasting product.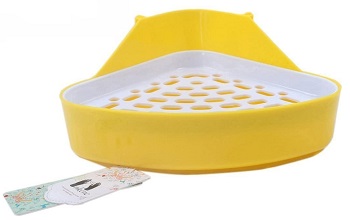 The Corner Design
The design of this litter tray is convenient. It is space-saving and cool. There is a removable grid floor that helps with keeping the mess away. Your hamster's feet will always remain clean.
Size And Quality
The overall size of the Mkono potty box is 9-1/2inch length,6-1/2inch width,4inch high. It is suitable for other small animals as well. However, it is not fit for relatively large-sized hamsters or rats.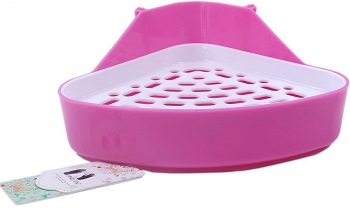 Useful Details
This hamster litter box comes with cage hooks that help you attach the box and prevent it from sliding. The material used is toxic-free plastics. The price of this hamster litter tray is very affordable.
In Short:
anti-mess corner design
fits into every hamster cage
the tray is small and sturdy
perfect for small animals
there are cage hooks included
the cost of the tray is budget-friendly
BEST BLUE HAMSTER LITTER BOX
SatisPet Plastic Container For Litter
The Translucent Design
This small container by SatisPet comes with a blue leak-proof bottom and a translucent plastic top. It is water-resistant, non-absorbent, and stan-free. The cool design of SatisPet hamster litter box makes it perfect for any modern hamster cage.
The Healthy Environment
A SatisPet litter box for hamsters will help you make your pet's life healthier. Apart from using this container as a potty, it lets your hamster to have a fur-cleaning zone. Simply fill the box with sand. Make sure to get a non-toxic and dust-free sand.
Clean And Practical
The hamster litter tray keeps the cage clean. It creates no mess and makes your hamster happier. It will allow it to have a special place for its bathing and the rest of the cage, your hamster will use for resting or staying active.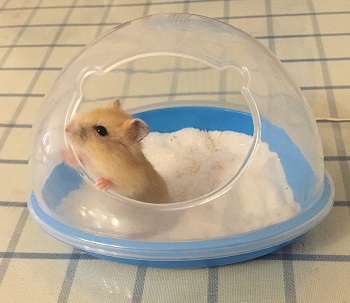 Why Get This Litter Tray?
First of all, the SatisPet container is a special place that will only be beneficial for your hamster. It is sanitary and easy to clean. Moreover, your hamster will love digging and burrowing as well. Also, this tray's price is very low!
In Short:
the design is cool and safe
it makes the cleaning easier
this tray is safe and non-toxic
it is beneficial for your hamster's health
the cost is affordable
BEST PAN HAMSTER LITTER BOX
Ware Hamster Litter Pan
Scatterless Design
The Ware pan for hamster litter comes with a scatterless design. This means that your hamster's cage will remain without a mess. The litter box will prevent messy spills and leave your hamster cage tidy.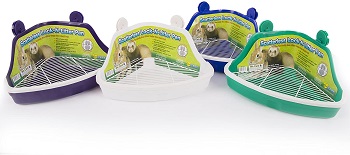 Long-Lasting Plastic
Just like previous models, the Ware hamster litter tray is completely made of strong and durable materials. The plastic is non-toxic and the pan is pet-friendly. It is also resistant to stains and odors. It is simple to maintain clean.
Easy To Assemble
This is a corner litter pan for hamsters. The pan assembles in no time and easily attaches to any wire hamster cage. The pan cannot be overturned and therefore the sand can't be scattered.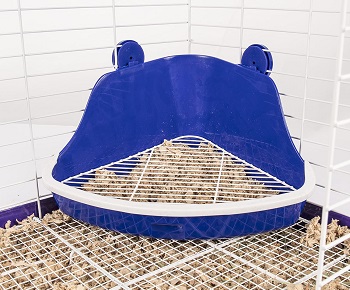 Good To Know
This hamster litter box is easy to clean. The sand is simple to remove. The dimensions of the pan are 12-3/4″ Width X 9-1/4″ Depth X 6″ Heigh. The pan keeps your hamster's feet clean and safe.
In Short:
this is a corner and scatterless pan
it easily attaches to any wire cage
the pan is safe for your hamster's feet
the plastic used is non-toxic
this pan is stain and odor-resistant
BEST CUTE HAMSTER LITTER BOX
Alfie Pet Hamster Litter Box
Main Characteristics
The Alfie hamster litter box is ideal for hamsters and other small animals. The pan's dimensions are 5.75″ in width and 4″ in height and depth. This hamster potty has an open-top cover and deep base. It is simple to clean the tray and it is space-saving.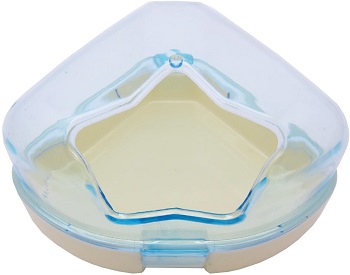 Includes A Shovel
The package includes an Alfie litter pan and a litter shovel to help with cleaning up the litter. The Alfie litter box is odor-free and simple to clean. The top and the bottom base can be attached and de-attached easily. This will help you maintain clean the tray.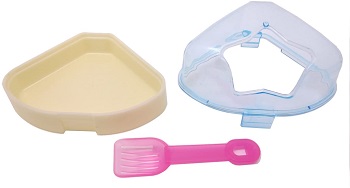 Why Get An Alfie Litter Tray?
Digging the sand around the cage is an activity your hamster will love to do. This will make the cleaning of the cage a hassle for you. This is why the Alfie tray's top is closed, except for the part with a small entrance hole. The Alfie cute tray fits in every small hamster cage.
In Short:
the pan is small and lightweight
the tray is space-saving
it is odor-free and easy to clean
there is a litter shovel included
top and bottom and easy to attach
BEST WITH LITTER HAMSTER BOX
Kaytee Potty With Litter
Kaytee Potty General Overview
This bathroom for your hamster by Kaytee is a small training potty. The Kaytee hamster litter box size is only 6-Inch long, 3-1/2-inch wide, 2-3/4-inch high. It is space-saving but roomy enough for your hamster. It is lightweight and easy to clean.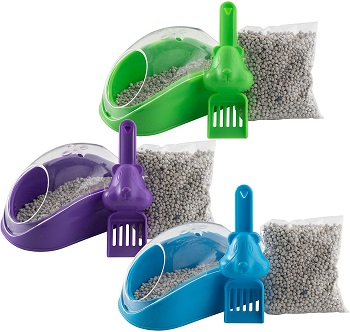 The Cool Design
This hamster litter pan has a non-leak sturdy-plastic bottom and a transparent top. It has a wide opening and allows your hamster to easily enter this tray. The top also prevents the sand from scattering all around the cage. The tray is pet-friendly and made of safe material.
Choose The Color
The colors of the tray that you can choose from are purple/pink, purple/clear, and teal/yellow. The package includes a small sifting litter scoop and a potty litter sand sample. The sand sample will help you start using the tray. If you like the sand sample, you can get easily get more online.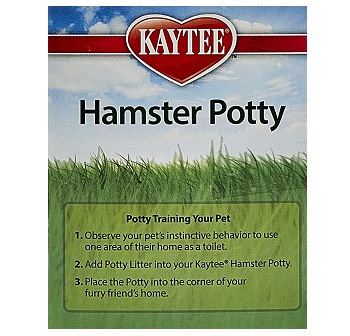 The Hamster Litter Sand
The sand sample by Kaytee is 100% toxic-free. It is made of safe bentonite and includes all-natural minerals. The sand included absorbs moisture. It is odor-resistant, dust-free, and easy to change and clean. Make sure to clean it regularly. Use the scoop included.
In Short:
Kaytee's potty comes in different colors
it is space-saving and small
the package comes with a scoop
there is a free sand sample included
the sand is safe and dust-free
it is super-absorbent and odor-resistant
How To Pick: Hamster Litter Box, Tray, And Pan
Before buying a hamster litter box, we suggest you read our buying guide. Hopefully, it will help you understand which model is the right one for you. The features your new hamster tray should have are the ideal size and design, the safe material, and easy maintenance. Read on and learn more about these products.
Size And Space – Whether you have a small or tall hamster cage, your new hamster tray needs to be space-saving. It should fit your hamster's size, but also leave it enough room for all the other everyday activities – rest, play, etc.
The Main Features – The litter pan that you want to buy should be made of durable and safe material. It needs to be easy to assemble and it would allow your hamster to access it with no hassle. A plus is if the pan includes a grate. It will remove the sand from your hamster's paws.
The Ideal Design – Ideally, your new pan is not easy to overturn. Also, it is great if it has a scatterless and anti-mess design. This way, you will be able to maintain clean your hamster's enclosure more easily.
Easy To Clean – Most of the trays are simple to maintain clean. They can be attached and de-attached with no problems. Also, many times you will find an odor and stain-resistant hamster trays as well.
Where Do I Buy The Best Litter Box? – In our opinion, it is best to get such products online and to buy from good and safe manufacturers. We suggest you check out the listed products' availability on reliable online retailer's websites such as Amazon.com or similar.
To Sum Up
Out of the six products that we have reviewed in this article, there is one hamster litter box that we particularly liked and it is the Kaytee Potty With Litter. The reason we liked it is because of its safe and pet-friendly design. It fits any hamster enclosure, whether big or small. For more similar hamster necessities, we invite you to check out our article about the hamster cage accessories.