If you are thinking of buying a hamster play house, make sure you read this article first.
There are six models that we have put on our top list. Learn all about the best of best, small, blue, and three others. We have made a small buying guide as well. Don't miss out on it. Find it at the end of the article.
The Summary
Top 6 Hamster Play Houses
BEST OF BEST HAMSTER PLAY HOUSE
Pinvnby Play House For Hamster
Small Amusement Park
This amusement by Pinvnby is a small and cool double-decker playground that you can put inside of your hamster cage. This play house easily connects with a platform. It is made of 100% natural wooden materials.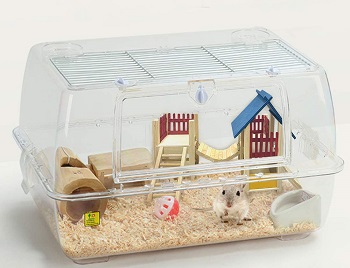 What Is Included
The play house includes a small slide. There is a bridge that connects the house with the platform. You can attach a small hamster ladder to the platform. The amusement park measures 15.7 x 8.3 x 6.7 inches after the assembly.
The Material And Assembly
The material used for the construction is strong and safe wood. This hamster play house and other accessories are handmade. No glue or plastics is used. The assembly is easy to simple and doesn't require glue as well.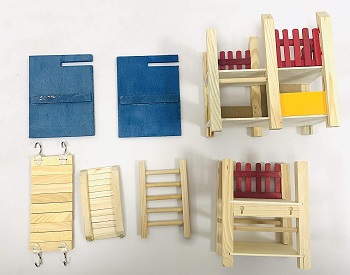 Includes A Hideout
Under the play house, your hamster will find a small hideout. It will like to hide and rest in it. Hamsters need hideouts to sleep in. This park encourages your hamster's natural nesting instincts and converts and cage into a fun hamster cage.
In Short:
includes a play house and more accessories
the amusement park is handmade
it is 100% safe and durable
uses no glue or harmful material
there is a small hideout
it is easy to assemble
BEST SMALL HAMSTER PLAY HOUSE
Kathson Hideout Climbing Play House
The Size Of The House
Kathson playing house is ideal for smaller-sized hamsters. Its size is 6.2″H x 6.1″W x 5.9″ L and this house will fit in any hamster enclosure. This hamster play house is fun and long-lasting. It will make your hamster happy and safe.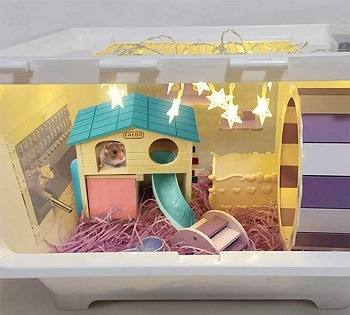 The Fun Design
Your hamster will love to play inside of this house. There is a top hideout area and a small spiral slide. On the side of this unit, there is a gym wall for climbing. Small hamster ladders are included as well as the balcony. Put this hideout play house inside of your small hamster cage and let your hamster enjoy and play.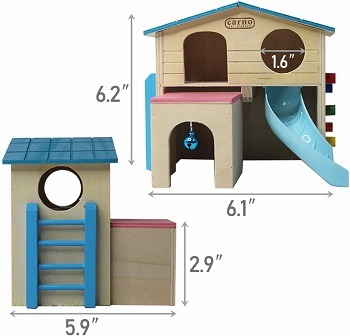 Lightweight And Easy To Clean
Lift this house up and simply maintain the area around it and clean the house. Don't forget that cleaning your hamster toys and accessories is as important as cleaning the cage and changing the litter boy. This house is odor-resistant and stain-proof.
In Short:
the size is perfect for smaller hamsters
includes a slide and ladders
it is made of safe material
the house is odor-free
simple to clean and lift up
BEST BLUE HAMSTER PLAY HOUSE
Pivby Exercise Nest House
Two Houses Included
The Pivby package includes two wooden play houses for hamsters. One of them is a house with a flat platform on the top, and the other one is shaped like a real house. Both of the houses will serve as wooden hamster hideouts and play zones.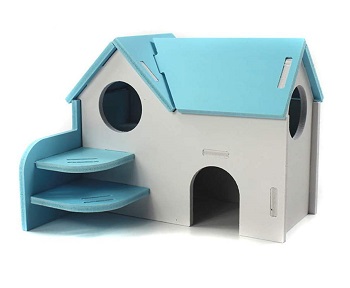 Main Characteristics
The house with the platform includes a small ladder, entrance door, and a small window. The other house has a wall gym and another level on the inside. The houses are odor-resistant, super cute, and the cost is affordable.
Pivby Houses Size
One of the two houses measures 7.1″*5.9″*5.5″, and the other one 6.7″*3.5″*3.3″. These houses are ideal for all hamsters except for the Syrian hamsters. The hamster play houses fit into any cage and make sure your hamster feels safe and happy.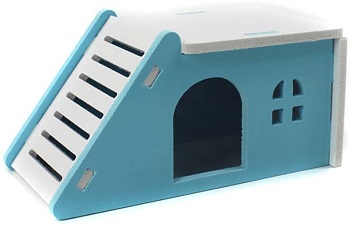 Quick Setup
The package does not include the instructions for the setup, but it is only because it is incredibly easy and quick to put these houses together. Also, the houses can easily be disassembled which helps with the cleaning.
In Short:
includes two play houses
they are made of wood
each house has a hideout area
easy to put the houses together
it is simple to clean the houses
BEST MULTI-LEVEL HAMSTER PLAY HOUSE
Pawsinside Castle For Hamsters
White And Green Castle
The Pawninside play house for hamsters comes in white and green. It is shaped like a small castle. This house is multifunctional. It has enough space both for resting and playing. This castle is fun, safe, and durable.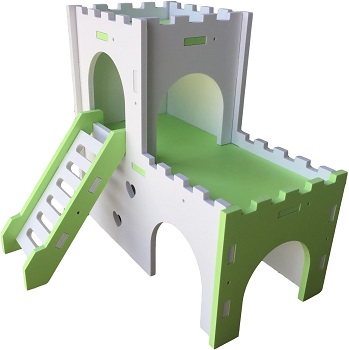 The Functional Design
Your hamster will get to climb the ladders to get to the platform. On the platform, your hamster will find a hideout resting zone. This hamster play house is going to be a new cozy place for all of the fun activities. The size is 11 x 6.5 x 10 inches.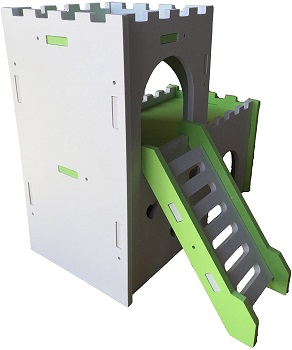 Pet-Friendly And Easy To Assemble
The material used is a wood-plastic plate. It is safe, durable, and pet-friendly. The houses are smooth from the outside and inside and there are no sharp edges. To assemble, put the plates together. Use the right teeth and make it a steady house.
In Short:
the house is shaped like a castle
it comes in white-green
includes a hideout and play zone
made of safe material
it is pet-friendly and smooth
BEST CUTE HAMSTER PLAY HOUSE
Tmishion Soft Pink Hamster House
Warm And Soft Material
The Tmishion cute small play house is made of high-quality soft plush material. It comes in pink or blue and it will be a favorite place for resting, but playing as well.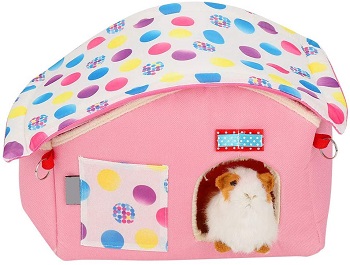 Hang The House
This house includes a hanging chain so you can attach it to the wire hamster cage. Your hamster will get to experience the fun of swinging. The house is great during winter because it will keep your hamster warm.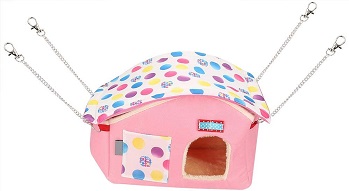 How To Clean?
You can easily detach this house from the hanging chains and wash it. It is simple to clean and water washable. The house is durable and sturdy. It comes with a fine sewing design and it won't break during the washing.
In Short:
soft and warm hamster play house
includes a hanging chain
easy to clean and wash
the material is soft plush
it is durable and sturdy
BEST PLAYGROUND HAMSTER PLAY HOUSE
Hamiledyi Large Hamster Playground
Natural Wooden Environment
The Hamiledyi playground is made of wood and it is a safe and natural fun environment for your hamster. It is made of high-quality material, and it will make your hamster feel safe and happy.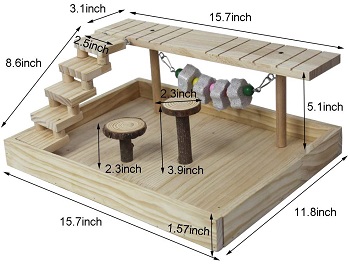 What Is Included
This playground includes many accessories and toys. There is a hamster play house that your hamster can use as a resting zone. There are wooden chewing toys, tunnels, and different climbing opportunities. This playground is ideal for large wooden hamster cages.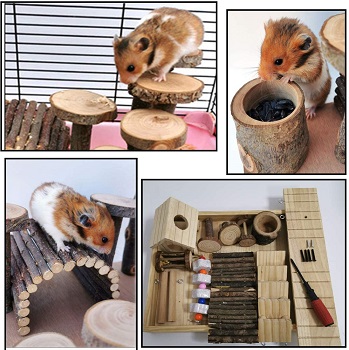 Why Get It?
This cool playground by Hamildeyi encourages your hamster's natural instincts. It alleviates stress and anxiety and makes your hamster active. It keeps them healthy and reduces boredom and loneliness.
In Short:
made of natural wood
includes a play house and toys
alleviates stress and anxiety
makes your hamster happy and occupied
reduces feelings of boredom
How To Pick: Hamster Play House
If you have an empty hamster cage, and you are still wondering whether you need to buy a hamster play house – the answer is yes! Read our guide and get to know the benefits of owning such a hamster cage accessory. Moreover, learn which features an ideal playing house needs to come with.
Keeps Your Hamster Active – A play house makes your hamster active. It allows it to play, run, and jump up and down the house. It keeps your hamster healthy not only physically, but also mentally. It is very important that every hamster cage, whether small or large, includes such a product.
The Size And Space – The size of the activity house depends on your hamster's size, but also on the size of the cage it leaves in. If you have a small or dwarf hamster, you don't need to get a very large house. On the other hand, not every house will be suitable for a Syrian hamster. Consider that before buying.
The Ideal Material – The perfect material that a play house is made of must be pet-friendly and non-toxic. It doesn't matter if your house is made of plastic, wood, or another material. The important fact is that if your hamster chews on it, the material won't harm it.
The Maintenance – Your hamster's playing house must be easy to clean. It should be made of odor-resistant material. The maintenance is very important. So, every time you clean the hamster's cage, don't forget to clean the hamster decorations and playing toys as well.
Extra Tips – Consider filling your hamster playing house or a hideout with bedding. Hamsters love digging and burying. Also, apart from filling the cage with a house, why not get a running wheel, chewing toys, and other accessories that will make your hamster happy and healthy.
To Sum Up
There is one model of a hamster play house that we particularly liked. It is the Pivby Exercise Nest House. We liked the fact that there are two houses included so your hamster will get to have more fun. If you are interesting in getting more decorations for your hamster enclosure, check out our article about hamster igloos.