Have you been trying to find a fun hamster cage that is also safe and durable at the same time?
Then you should look no more because we have prepared the top 6 list of the best fun hamster cages. Read all about the best of best, cute, 3-level, blue, aquarium, and travel hamster cage models. Don't miss our buying guide. You will find it at the bottom of this article.
The Summary
Best 6 Fun Hamster Cages
BEST OF BEST FUN HAMSTER CAGE
Ferplast Circus Hamster Cage
The Circus Design
The Ferplast modular cage is shaped liked a small circus. This cage comes with a patented design. It is made of thermoplastic resing roof and bottom. There are interesting decorations printed on the roof and the base. The rest of the cage is made of wire mesh.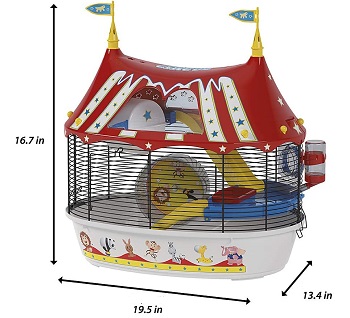 The Inside Of The Cage
On the inside, you will find two platforms and small plastic slides. There is a hamster running wheel included, a hamster food dish, and a hideout. This cage is perfect for one hamster and allows it to stay active and occupied.
Customize The Cage
This fun hamster cage is simple to set up. Customize the inside and install the content according to your preferences. The package includes colored stickers. Stick them on the inside and outside of this hamster fun house.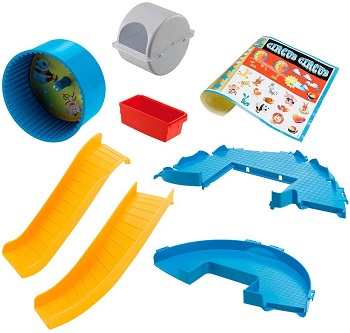 Safety And Quality
The cage comes with a safety door. Secure the door and feel relaxed about your hamster. The cage is made only of quality materials. The wires are chew-proof and the bottom is leak-proof. The material that is used for construction is non-toxic.
In Short:
the cage is shaped like a circus
it is made of thermoplastic and wire
includes fun activity content
the material used is non-toxic
the cage is safe and secure
BEST CUTE FUN HAMSTER CAGE
Pawise Hamster Fun Home
Material And Appearance
If you are looking for a small hamster cage for one hamster, then the Pawise could be the right one for you. It comes with a yellow non-leak plastic bottom and a safe and chew-proof wire top. The cage measures 16 x 11.8 x14.6 inches.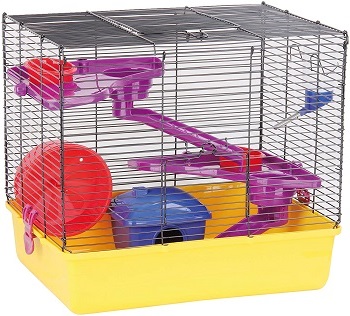 What Is Included?
The package includes many fun inside content that you are going to need to install. There are two platforms and two tunnels. A running wheel is here to allow your hamster to stay active. There is a small plastic hamster house, two food dishes, and a water bottle.
The Access
There is one access door and you will find it on the top of the cage. It allows you to open the cage with less risk that your hamster will escape. The top door will help you clean the inside of the cage and the hamster accessories and toys easily.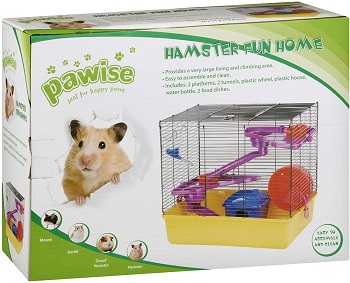 Good To Know
The Pawise fun hamster cage is safe and pet-friendly. It has no sharp edges. This cage is secure and no other animal will get to access it. The quality is pretty good and the cost of this cage is very affordable.
In Short:
the cage is made of plastic and wire
the wire is non-chew
it includes a large playing zone
the access door is on the top
the price of this cage is affordable
BEST 3-LEVEL FUN HAMSTER CAGE
Prevue Hendryx Hamster Enclosure
Tall And Spacious
You can easily fit one or two hamsters in the Prevue Hendryx tall cage. It is sturdy and long-lasting. The cage has three levels, two ramps, and two wire platforms. Your hamster will have a lot of space to jump, run, and rest in this cage together.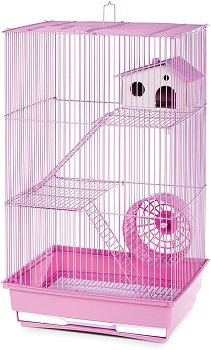 Fun And Easy To Customize
The Prevue hamster cage for 2 hamsters already includes a running wheel and a plastic hideout house for resting. There is extra space for you to add other hamster decorations and toys. Customize it to your likings and add extra wheels, tubes, and other content.
Choose The Color
This fun hamster cage by Prevue comes in different colors. Choose between blue, purple, yellow, green, lilac, orange, or mint-green. It will make your home fun and colorful as well.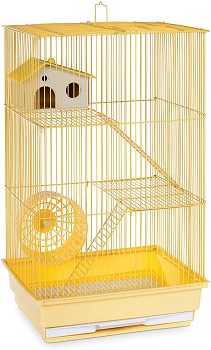 Easy To Maintain
There is one large removable tray included. Simply slide it out when you need to clean it. Change the litter on a daily basis. Moreover, the cage has a roof-top door that allows you to access this cage with no hassle.
In Short:
the Prevue cage is very tall
this cage fits two hamsters
includes platforms and ramps
there is a wheel and a hideout
choose between many cage colors
there is a top access door
BEST BLUE FUN HAMSTER CAGE
Midwest Homes Pet Hamster Cage
Themed Design
This hamster cage by Midwest Homes is "Hot Rod" themed. The cage includes rad decor and a tire. The tire will spin when your hamster is using the running wheel. This cage includes free accessories and fun hamster content and it is a great starter pack.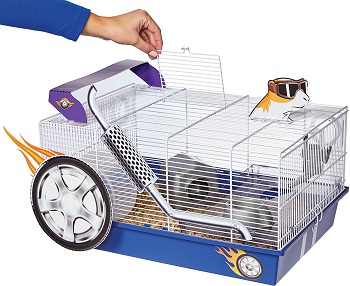 What Comes With The Cage?
There are water bottles and a food bowl. A small hideout is included as well that will provide your hamster with a safe resting place. The cage has an elevated feeding platform. If you are a first-time owner and you have children at home, we are sure this cage will be a great fit.
Other Designs
If you prefer another theme, you can choose between the Ladybug, Race car, or Butterfly. All of these cages include the same hamster accessories and decorations and are fun hamster cages. Get the hamster fun house you like most.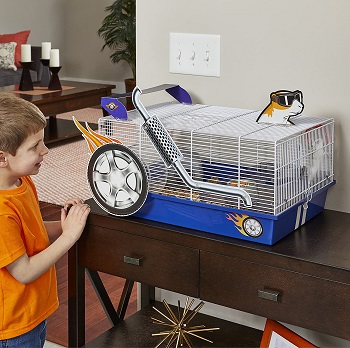 Deep Plastic Base
This cage is made of safe and chew-proof metal wires and a deep base. The base is made of non-toxic plastic and it is leak-proof. Add hamster bedding to the base and let your hamster dig and burry its toys in it. The cage is simple to clean and it is odor-resistant.
In Short:
this Midwest cage is Hot Rod themed
there are other themes to choose from
the cage includes free cage accessories
it contains a deep plastic base
the wires are safe, narrow, and chew-proof
BEST AQUARIUM FUN HAMSTER CAGE
Savic Fun Hamster Habitat
The Tank And High-Rise
This fun hamster cage by Savic contains a transparent lower tank and mesh wire high rise. You can fill the tank with sand, litter, or bedding and watch your hamster enjoy. Hamsters will love to dig and hide in the sand and build nests.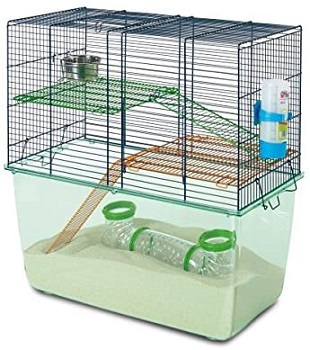 The Play Area
The Savic package includes a plastic Metro tunnel, two wire platforms, and two ramps. There is a complimentary food bowl and a plastic water bottle. Your hamster will get to climb from the tank to the wire mesh upper part.
The Size And Space
The overall size of this fun cage for hamsters is 20in x 10in x 20. 5. It provides a lot of horizontal and vertical space. You can fit two hamsters inside of this cage and watch them interact, play, run, and jump together.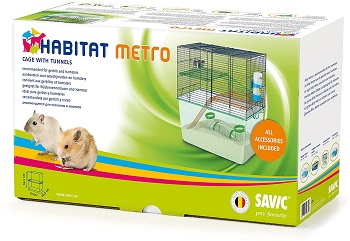 Useful Details
To assemble this fancy hamster cage simply attach the wire top with the tank. You can easily de-attach the top while cleaning. The cost of this hamster fun home cage is high. Only quality material was used to make this cage.
In Short:
this cage combines tank and wire top
the tank is transparent and sturdy
this cage has space for 2
add sand, litter, or bedding to the tank
includes platforms and ramps
the price is high
BEST TRAVEL FUN HAMSTER CAGE
Kaytee Crittertrail Small Carry Cage
About Kaytee Travel Cage
This cage by Kaytee is colorful, fun, and ideal for traveling. It is easily portable. It includes a carrying handle on the top. The cage is lightweight, small, but spacious enough and won't make your hamster feel bad and stressed during travels.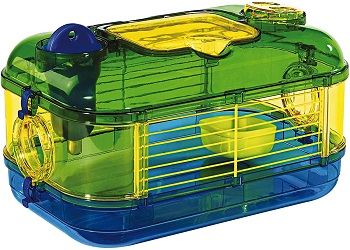 Compatible With Kaytee Accessories
This small cage can easily be connected to other Kaytee habitats and cages via tubes and tunnels. This means that you can create a large hamster environment and simply detach this one and use it as a temporary portable hamster cage.
Tips And Tricks
Remember that every hamster needs to have enough space for its everyday activities. So, unless you expand this cage and connect it to a larger habitat, we advise you to use this small carry cage only temporarily and for short trips. Provide your hamster with water during travel.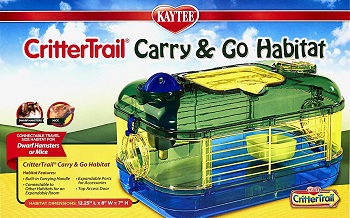 Included Content And Safety
This cage is one of the most fun hamster cages. It includes a plastic water bottle and a locking corner food dish. It has enough space for adding more hamster toys and hideouts. The bar spacing is narrow and the material is non-toxic. This cage is pet-friendly.
In Short:
a small and easy to carry cage
fun and colorful design
expand it and connect to other habitats
use it as a portable cage
safe and sturdy material used
How To Pick: Fun Hamster Cages
Hamsters are big sleepers and like to rest most of the time. They are also nocturnal animals and like to play during the night. It is incredibly important for hamsters to stay active and healthy. It is necessary to get your hamster a cage with a lot of space for all of its everyday activities. Read on to find out more about other features that your new cage must come with – safety, air circulation, and others.
Why Buy A Fun Hamster Cage? – Your little pet hamster will love to play, run, and jump around the cage when it is not resting. Getting a hamster cage with no activity content will only make your pet's life unhealthy and boring. Let is stay active, happy, and occupied.
The Size And Space – There are different sizes of hamster enclosures. Not every hamster is suitable for just any cage. Take into consideration your hamster's size and buy a hamster cage according to that. Syrian hamsters require spacious and tall cages, whereas smaller-sized cages will be enough for dwarf hamsters.
The High-Quality Material  – Remember that hamsters have natural chewing instincts. This is why you should buy a cage that is made of sturdy and chew-proof material. Moreover, the material used for construction should be non-toxic and pet-friendly in every way.
Good Ventilation – Allowing the fresh air to circulate the cage is very important for your hamster's health. Search for an enclosure that has a lot of ventilation holes or comes with a wire top. Just make sure that the space between the bars is narrow enough so your hamster wouldn't escape it.
Where To Buy? – You can get hamster fun home cages in any local pet shop. Another idea is to get them online. Why online? Because you can read the customer reviews and sometimes get the product on sale. Just remember not to buy from a website you don't trust.
To Sum Up
We consider the Ferplast Circus fun hamster cage the best of this list because of its cool and fun design. It already includes fun accessories and it is simple to maintain. The Ferplast fun and small hamster cage fits one hamster. It is a safe and modern hamster cage.