If you are looking for an extra-large hamster cage for your hamster or two hamsters, read our article.
Find out which six models we liked most and why. Read every important detail about the best of best, cat-proof, black, multi-level, aquarium, and 2-level hamster cage. Also, don't miss our buying guide. You will find it after you read the reviews.
The Summary
Best 6 Extra Large Hamster Cages
BEST OF BEST EXTRA-LARGE HAMSTER CAGE
Living World XL Syrian Hamster Cage
The Material And Design
The hamster cage by Living World is made of a deep plastic base and wires. The base is leak-proof. It allows you to fill it with hamster bedding. The upper part made of wires comes with narrow bar spacing.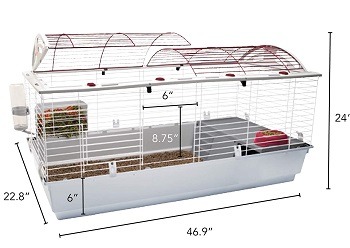 What Is Included?
There is a plastic platform and a small hamster ladder on the inside of the cage. Also, you will get a water bottle and a hamster food dish as well. The cage includes all the essential necessities.
Fits Two Hamsters
This extra-large hamster cage fits one Syrian hamster or two regular-sized or dwarf hamsters. This large Syrian hamster cage is wide and spacious. There is enough room for additional hamster toys and decorations.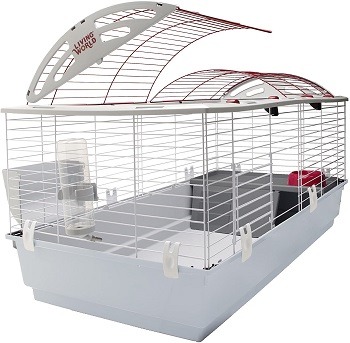 Easy To Clean
There is one large top opening which helps you access the cage easily. Clean the cage with no hassle. The top opening makes sure your hamster doesn't escape while you are cleaning the cage or refilling water or food bowl.
In Short:
made of plastics and wire
the cage is pet-friendly
it provides enough space
fits two dwarf-hamsters
can be used as a Syrian hamster cage
BEST CAT-PROOF EXTRA-LARGE HAMSTER CAGE
Rosewood Pico Hamster Cage Extra Large
Colorful Appearance
The cage by Rosewood is made for hamsters. You can choose between different cage colors. There is pink/purple, then translucent teal, and silver/green. This extra-large hamster cage has a lot of space and it is sturdy and long-lasting.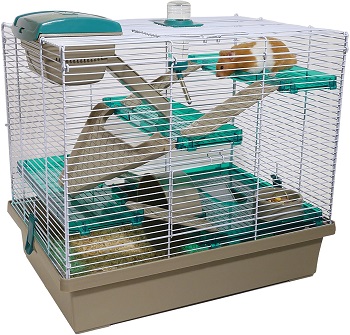 The Play Area
Hamsters need to stay active. This multi-level hamster cage will help your hamster feel occupied. The cage includes plastic platforms and ramps. There is a running wheel included, the plastic hideout, a water bottle, and a food dish.
Safe And Secure
No other animal will have the chance to access this cage. The cage is cat-proof and can easily be secured. The material used is non-toxic. Moreover, the wires are chew-proof and this cage makes you feel safe about your little pet.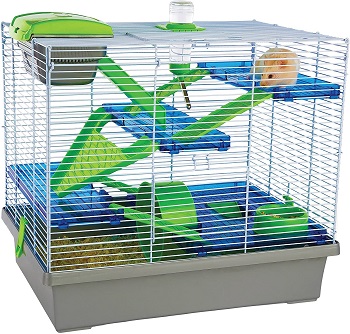 What More To Know
It is important that you gradually introduce your hamster to a new habitat. This is why we suggest you put your hamster in the cage and cover the cage with a light cloth. Give your hamster a few days of privacy before it gets used to the cage.
In Short:
choose between different cage colors
the cage is made of wire and plastic
includes platforms and ramps
the cage is safe and secure
the bottom is leak-proof
BEST BLACK EXTRA-LARGE HAMSTER CAGE
Pawhut Platform Rolling Cage
The Tall Design
This extra-large hamster cage by Pawhut comes with multiple levels. It has 6 floors and includes platforms and ramps. The cage is made of plastic and wires. It stands on rolling casters and it is easy to move.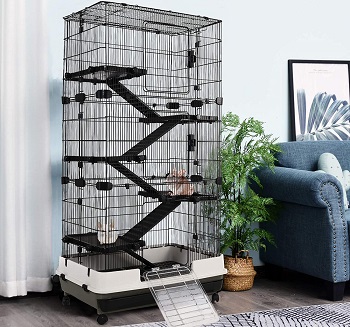 Multiple Levels
You can fit two or more hamsters inside of this cage. The multiple levels will allow them to interact, sleep, run, and play together. Each hamster will have a lot of space on its own. Add more hamster cage accessories and make your pets happy.
The Litter Tray
The cage includes a removable litter tray. It is simple to take it out and clean it. Put it back easily. Clean the tray, change the litter and maintain the cage every day. Use the casters to roll your cage and clean the surrounding area.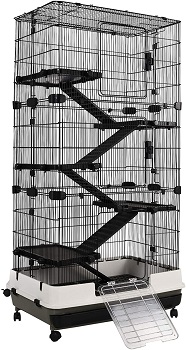 Indoor Use
Although this XL hamster cage is made of safe, anti-rust plastic and wire, it is advisable to use it indoors. This cage doesn't have a covered top. Also, your hamsters are safer on the inside.
In Short:
the cage is safe and pet-friendly
made for indoor use
the cage is rollable
it is very simple to clean it
it has many floors
BEST MULTI-LEVEL EXTRA-LARGE HAMSTER CAGE
Aivituvin Tall Wooden Hamster Habitat
The Construction
The Aivituvin cage is made of a wooden frame and wires. The cage is well-ventilated and completely safe for small animals. It is tall, spacious, and includes five levels.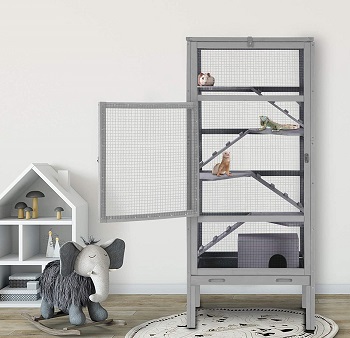 The Space For Activities
Your pet hamsters will love to play inside of this cage. They will love to run and jump up and down the platforms. There are safe hamster ladders included as well as the wooden hamster hideout.
The Front Door
Getting an extra-large hamster cage with small access is not a great idea. It doesn't help with maintenance or feeding. This is why the Aivituvin manufacturers made very large front access doors to this cage which helps you with everyday cleaning tasks.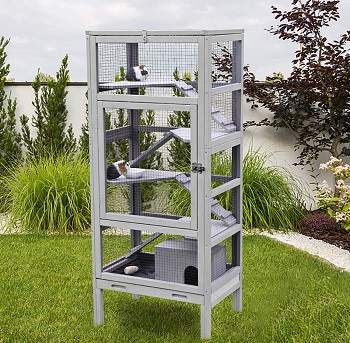 Indoor And Outdoor Use
You can use this cage in a humid environment and well. The wooden frame is coated in eco-friendly and waterproof paint. However, we suggest you use the cage in an indoor area because the top of this cage is not covered.
In Short:
Aitivtuvin cage has a lot of space
there are multiple levels
the cage is made of natural material
this enclosure is tall and safe
can be used indoors and outdoors
BEST AQUARIUM EXTRA-LARGE HAMSTER CAGE
You And Me Large Tank Top
Why Get An Aquarium Top?
You might have more than one hamster. Also, you may want to have a specially-designed cage in your home. This cage is large and provides your hamster with two different habitats in one. It is safe and easy to install.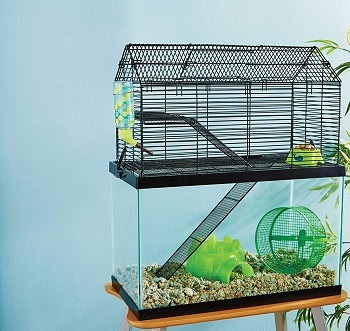 Product Overview
The You And Me wire high rise tank top is easy to attach. It fits any 10-gallon tank. It is sturdy and durable. The top includes a wire ramp so your hamster will get to climb from the bottom to the top easily. This wire hamster cage is safe and sturdy.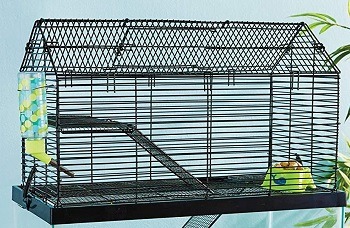 The Dimensions And More Details
The size of this tank top is 19.25″ L X 9.75″ W X 11.5″ H, 19.25 IN. The tank comes fully assembled so to attach it to the tank you are going to need less than a few minutes. There is one top door access to the cage. This extra-large hamster cage is convenient and affordable.
In Short:
get this top for a 10-gallon tank
comes fully assembled
includes a wire ramp
it is easy to attach
includes a top door access
BEST 2-LEVEL EXTRA-LARGE HAMSTER CAGE
Kaytee Critterhome Extra Large Habitat
About Kaytee XL Cage
The Kaytee Critter home cage is large and wide. It is ideal for Syrian hamsters, but it is suitable for other hamsters as well. The cage includes essential content. Customize it and add extra decorations and accessories.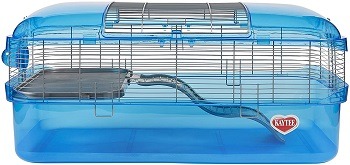 Size And Space
The Kaytee extra-large hamster cage measures 42" X 18". The included accessories are the platform, a spiral slide, a water bottle, and a food dish. Add this cage a hamster litter box. There is enough space for a hamster wheel and other cool and fun toys.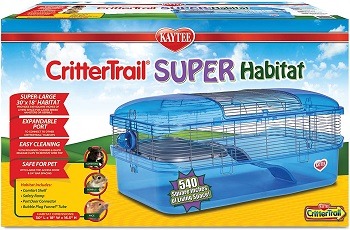 Safe And Smooth Surface
This cage has no sharp edges so it is completely safe and pet-friendly. The wires are chew-proof and this cage's access doors can be secured. This escape-proof hamster cage is leak-proof and easy to clean.
In Short:
the cage is large and spacious
it is suitable for Syrian hamsters
the surfaces are smooth and safe
this cage is easy to clean
simple to access the cage
How To Pick: Extra Large Hamster Cage
If you still don't know why your hamster needs a large cage, then check out this buying guide. In the next few paragraphs, you will find out which material your new hamster cage must come with. Learn about the importance of a play area and find out which cage decorations your hamster needs for feeling happy and occupied.
Why Get An XL Hamster Cage? – We suggest you get an extra-large hamster cage if you own more than one hamster. Also, these kinds of cages are perfect for Syrian hamster owners. Moreover, you will get to be creative and make your hamster a fun activity area with a lot of cool content.
The Good Material – The material you should be looking for wood, non-toxic plastic, and chew-proof wire. Hamsters are active animals, so make sure your new cage is sturdy, heavy-based, and long-lasting. The cage should also be well-ventilated and pet-friendly in every way.
Play And Activity Zone – Don't forget to create your hamster a zone that will make it stay active. Don't let your hamster stay bored and passive. Hamster love to play and run up and down the cage. Also, they are big sleepers so make them feel comfy and safe.
Extra Hamster Toys And Accessories – If your hamster cage doesn't already include the essential contents, then simply buy them. They are affordable and easy to install. Think about putting tubes, tunnels, hammocks, hideouts, and other hamster decorations to your cage.
The Price And Where To Get? – There are so many models of XL hamster habitats on the market. You will be able to find both the expensive and budget-friendly models. The models we have listed in this article are all very convenient to have and some of them are cheap big hamster cages. Get them from an online retailer that you trust.