Looking for a cheap big hamster cage that will meet your budget?
Then you definitely need to read our article. We have listed the six best cheap cages of larger sizes. Check out the best of best, cat-proof, with tunnels, metal, multi-level, and 2-level models. Also, we invite you to read our buying guide that you will find at the end of the article.
The Summary
Best 6 Cheap Big Hamster Cages
BEST OF BEST CHEAP BIG HAMSTER CAGE
Yaheetech Metal Hamster Cage
The Strong Design
The Yaheetech is a large cheap hamster cage that is made of safe metal. It is sturdy and long-lasting. The Yaheetech cage measures 25 x 17 x 37'' (LxWxH). This cage stands on four rolling casters and includes a removable tray.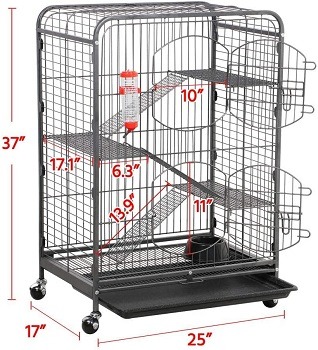 The Multiple Levels
Yaheetech wire hamster cage has four floors. It includes three metal wire platforms and ramps. The cage provides a lot of space and fits one, two, or even more hamsters. It can be used as a large Syrian hamster cage as well.
Safe And Pet-Friendly
The space between the wires is less than an inch which makes it safe for your hamster. The cage is made of pet-friendly and toxic-free material and it is bite-resistant. The Yaheetech is a cheap big hamster cage that can be secured to make you feel relaxed about your hamster's safety.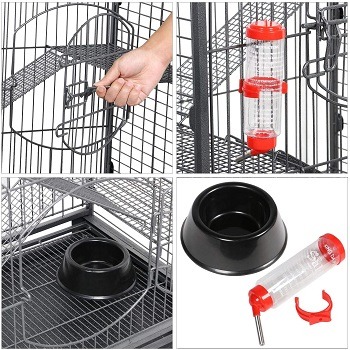 What Is Included?
Apart from three platforms and three ramps, there is a plastic water bottle included and a food dish. The cage provides space for adding extra hamster cage content and toys. Customize it and make your hamster happy and occupied.
In Short:
this is a large multi-level hamster cage
it fits more than one hamster
ideal for Syrian hamsters
includes platforms and ramps
comes with a water bottle and food dish
stands on four rolling casters
BEST CAT-PROOF CHEAP BIG HAMSTER CAGE
MidWest Large Fancy Hamster Cage
Secure And Durable
The MidWest is one of the modern hamster cages. It comes with a deep base and a cool and fun vertical PlaySpace. The cage can be secured. It allows no other animal to access it. You can feel safe about your hamster. The cage is long-lasting and sturdy.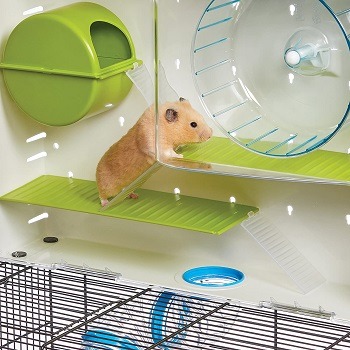 The Fun Content
MidWest cheap big hamster cage comes fully equipped. It includes all that your hamster will ever need. There are a water bottle and a food bowl. Moreover, inside of the cage, you will find tubes, an exercise wheel, platforms, and a small plastic hideout.
Size And Maintenance
The dimensions of this large hamster cage are 18.1 x 13.25 x 10.75. The cage fits one or two hamsters. There is a top access door included and the front side of the PlaySpace area can be opened. It helps with easier maintenance.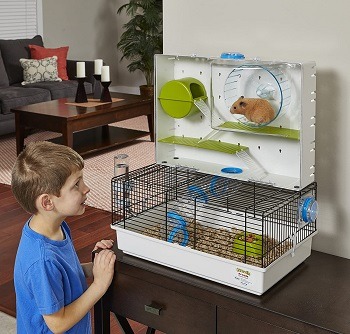 Useful Tips
The deep base is ideal for adding hamster bedding. Digging is a hamsters' natural instinct and adding hamster sand or litter will make it happy. Keep the cage clean and add fresh water every day.
In Short:
modern cage with unique design
includes vertical PlaySpace
the cage comes fully equipped
it is simple to maintain clean
this cage fits two hamsters
BEST WITH TUNNELS CHEAP BIG HAMSTER CAGE
Mcage Towner Hamster Habitat
Tall And Fun Cage
Hamsters are active animals that require a lot of space for playing and running. They love to explore and they need to stay active on a daily basis. The Mcage hamster cage is tall and comes with many fun hamster cage content.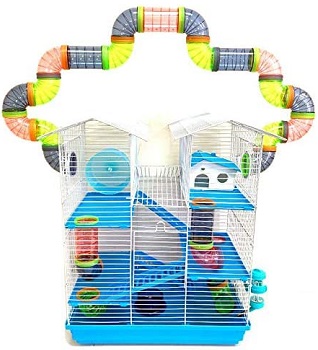 Promotes Active Hamster Life
This tall hamster cage by Mcage fits two hamsters or one Syrian hamster. It has two towers. It includes all the fun content that your hamster needs for an active life – platforms, ramps, external and internal tubes, a wheel, a hideout, a water bottle, and a food dish.
The Safe Material
Mcage cage is a cheap big hamster cage. However, the low price doesn't mean this cage is not made of safe and quality materials. In fact, the bottom is leak-proof and made of non-toxic plastic. The wire top is chew-proof, sturdy, and durable.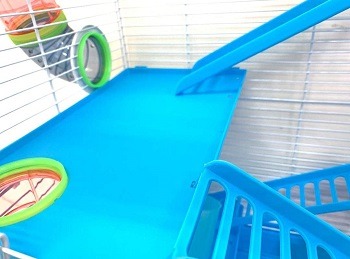 Expand The Play Area
Create a larger active zone and expand the Mcage hamster habitat. Get more tubes and tunnels and connect different cage habitats. Allow your hamsters to play and let them stay occupied. This will make them happier and healthier.
In Short:
the cage is tall and multi-level
it includes many fun content
makes your hamsters happy and active
you can expand the cage easily
the Mcage fits Syrian hamsters too
BEST METAL CHEAP BIG HAMSTER CAGE
You And Me Metal Tank Top
How To Use
If you want to have a slightly different hamster cage, then you should check out the You And Me wire top. This metal top gets installed onto a 10-gallon aquarium. It helps you create a larger and ventilated 2 in 1 hamster habitat.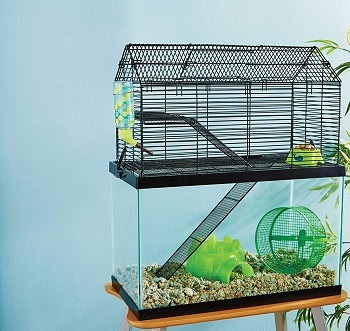 The Metal Design
The dimensions of this tank topper are 19.25″ L X 9.75″ W X 11.5″ H, 19.25 IN. The material used is safe and pet-friendly. The wires are bite-resistant and the space between them is narrow. The topper includes a large hamster ramp.
Customize Your Tank
Feel free to create a playing zone that you like most. Add the hamster bedding inside of the tank (tank is not included!) and install other hamster cage accessories such as a running wheel or hanging hammock to the wire topper.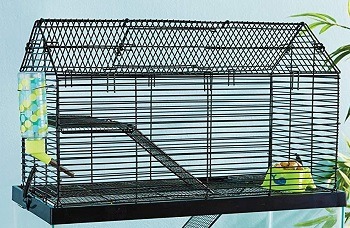 Why Get This Topper?
Convert your regular tank into a fancy hamster cage with this cheap big hamster cage topper. This topper will make your tank well-ventilated and safe. Your hamster will get to choose where to spend time.
In Short:
made of safe metal wires
this topper is well-ventilated
it is large and easy to install
gets attached onto a 10-gallon tank
it creates a cool and fancy habitat
BEST MULTI-LEVEL CHEAP BIG HAMSTER CAGE
Prevue Tall Hamster Enclosure
Choose The Color
The Prevue hamster cage comes in different colors and you can choose between purple, blue, orange, yellow, green, lilac, and several others. This is a tall and large cheap hamster cage that is ideal for one Syrian hamster or two dwarf hamsters.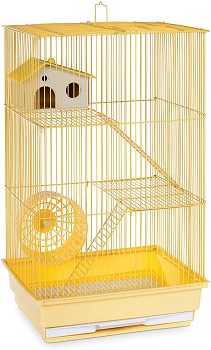 Multi-Level Wire Cage
There are three floors inside of this cage. The cage comes with two platforms and ramps. Your hamsters will have a lot of vertical space for all of their activities. The cage also includes a plastic running wheel and a small plastic hamster house.
The Maintenance
On the bottom, there is a removable plastic tray. The tray is leak-proof and simple to clean and put back. Apart from that, you can access the cage from the rooftop and clean the inside of your hamster habitat together with the cage content.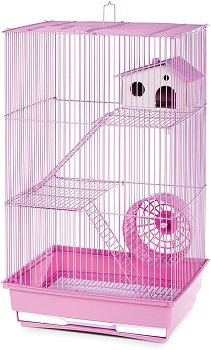 Useful Details
This cheap big hamster cage measures 14 inches long, 11 inches wide, and 22 inches high. The cage has a top handle so it is easy to carry as well. The material used is pet-friendly and the wires are chew-proof.
In Short:
comes in different colors
there are three levels
includes platforms and ramps
it is simple to access from the top
there is a removable plastic tray
the cage is chew-proof and safe
BEST 2-LEVEL CHEAP BIG HAMSTER CAGE
Ferplast Laura Habitat For Hamsters
The Design And Tunnels
This Ferplast cage is made of plastic bottom and wire top. The bottom is non-leak and the wires are sturdy and pet-friendly. This cage has two levels and includes the internal-external tubes that let your hamster stay active.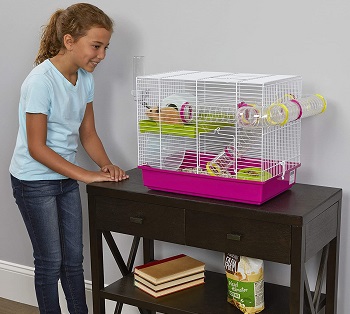 The Cage Content
Apart from the internal-external tubes, the cage includes a platform, an exercise running wheel, a small plastic hideout, and a water bottle. There is a small hamster food dish included as well. This cage is ideal for first-time owners.
Access To The Cage
There are two doors that this cage comes with – the front and top. Choose where to access the cage from. The top access doors allow you to maintain the cage more easily without feeling worried if your hamster will escape the cage.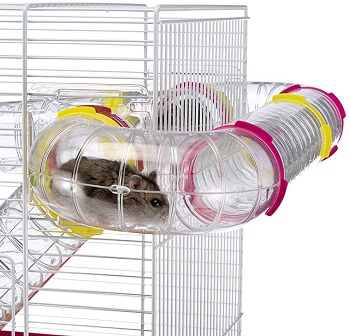 Secure And Safe
The top and front access doors can easily be secured. No other animal will get to access this cage. The Ferplast Laura cheap big hamster cage comes with narrow space between the bars and prevents your hamster from getting stuck between the wires.
In Short:
safe and pet-friendly cage
includes top and front doors
comes with essential cage content
the bottom is leak-proof
the wires are bite-resistant
it is simple to maintain the cage
How To Pick: Cheap Big Hamster Cages
Before buying just any cheap big hamster cage, you need to check out a few important features that it should include. First of all, learn the benefits of using a large hamster cage. Get a large cage if you want two or more hamsters to live together. Then, make sure the cage is strong, durable, pet-friendly, and easy to access. Read on to find out more.
Why Get A Big Hamster Cage? – If you have a Syrian hamster, there is no point in getting a small hamster cage. On the other hand, any hamster will love to live in a spacious environment. The bigger the cage is, the happier your hamster will be. Especially because it will have space for a large playing zone and a separate and private resting area.
How To Introduce Two Hamsters? – If you are getting a large cage because you want to get another hamster, then we suggest you first keep them in separate cages. Put the two cages together and leave them that way for a week or even two. Avoid stressing them out and gradually introduce them to each other. They will be thankful to you.
Sturdiness And Material – Any hamster enclosure needs to be made of strong and long-lasting material. Hamsters are very active when they are not asleep. You will want to feel relaxed about their safety. Make sure your new cage is non-toxic and chew-proof.
Safety And Security – The large hamster enclosure you are looking to buy must have no sharp edges. It needs to be easily secured. It is best if you get a cage with a smooth base. For example, the cage with a plastic bottom and wire top is an ideal cage for hamsters. It is safe for their little paws.
The Ease Of Cleaning – Look for a hamster habitat with large openings (that can be secured). The top access doors will help you clean the cage without fear that your hamsters will escape The maintenance is important and it needs to be simple. Get big hamster cages for sale on reliable online retail websites.