Do you want to add a cool ceramic hamster hideout to your hamster cage?
You definitely should! And before you do, we invite you to read our article. We have prepared six reviews about the best of best, cute, igloo, and three other models of ceramic hamster houses. Check them all out and read about these products in our buying guide.
The Summary
Top 6 Ceramic Hamster Hideouts
BEST OF BEST CERAMIC HAMSTER HIDEOUT
PopetPop Hamster Ceramic Hideout
The Cool Design
The PopetPop ceramic house for hamsters comes shaped like a watermelon shark. This hideout is suitable for any season. It has a large opening and it fits a hamster of any size. It is pet-friendly and safe. It makes any cage a modern hamster cage.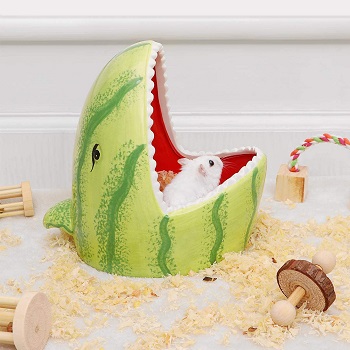 The Safe Material
Ceramic material is generally safe for mice, gerbils, and hamsters. This ceramic hamster hideout comes with smooth surfaces. The house is chew-proof and durable. Your hamster will feel cozy and relaxed inside of it.
Multi-Functional
The PopetPot hamster hideout will reduce your hamster's body temperature during warm summer days. On the other hand, it will keep your hamster warm and cozy in winter. This house can be used as a bathroom as well.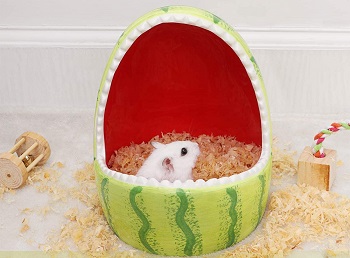 Easy To Maintain
Ceramic hideaways are generally very simple to clean. This house for hamsters is odor-resistant. Clean it from time to time. Use a clean cloth and pet-friendly detergent when cleaning. Rinse with warm water.
In Short:
the design is unique and cool
this house is multi-functional
keep your hamster warm in winter
reduces body temperature in summer
odor-resistant and easy to clean
BEST WITH TUNNEL CERAMIC HAMSTER HIDEOUT
Niteangel Tunnel Hideout House
Fun And Functional
This small hamster hideout house is shaped like a tunnel. It is a two in one hamster cage toy. Your hamster will use it as an activity toy and a safe resting zone. Depending on the size of your hamster, choose between the small or large Niteangel hideout.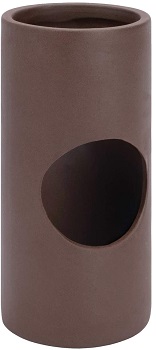 Sturdy And Durable Design
This ceramic hideout is heavy-based. Your hamster will get to stay as active as it wants without breaking or overturning this toy. The Niteangel ceramic hamster hideout is made of high-quality ceramics and it mimics the natural tunnel system.
It Is Chew-Proof
Niteangel ceramic tunnel house is strong and bite-resistant. This hamster house will last you a long time. It doesn't break easily and it is water-resistant. This exploring tube will make your hamster feel safe and cozy.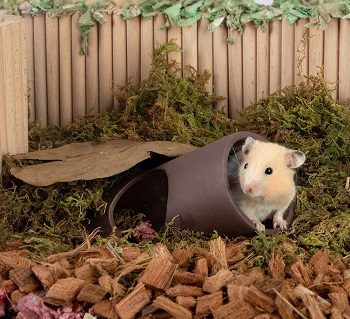 How To Clean?
This hamster hideout lasts even if it gets in touch with water. Simply rinse the tube under running water and dry it in the air. Clean it and change the bedding regularly.
In Short:
this is a two in one hamster cage toy
it is a tube and a hideout
made of quality ceramics
very simple to clean
this tube is sturdy and long-lasting
BEST CUTE CERAMIC HAMSTER HIDEOUT
Hypeety Ceramic Small Animal House
Animal Pattern
The Hypeety hamster hideout house is shaped like a small cow. The design is cute and the house easy to maintain. This white and black hideaway can be used as a resting zone or a bathroom.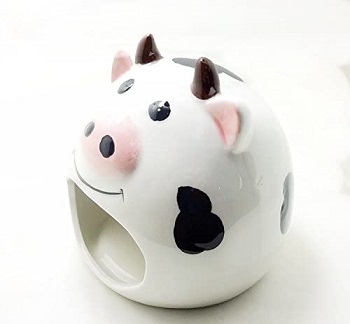 Odor-Resistant Hamster Cave
The ceramic material that was used for making this ceramic hamster hideout nest is of good quality. This means that it is resistant to odors and stains. It is durable, pet-friendly, and simple to clean.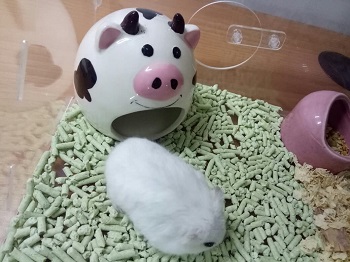 Why Get This Hideout?
Whether you have a large or small hamster cage, you will surely need to provide your hamster with a resting zone. Hamsters require privacy and every cage needs to have a safe space for your hamster's sleeping.
In Short:
the design is cute and small
this nesting cave is simple to clean
it is resistant to odors and stain
Hypeety hideouts are pet-friendly
heavy-based and sturdy
BEST NEST CERAMIC HAMSTER HIDEOUT
Petall Hamster Cave Hut Nest
Product Overview
Petall hideout for hamsters is a safe and durable hamster cage decoration. Your hamster will get to use it for sleeping or playing. The quality of the cave is high. The surfaces are smooth, non-scratching, and stain-resistant.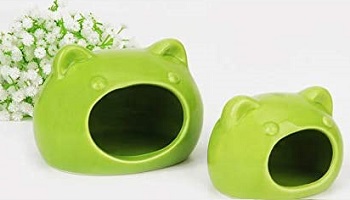 Choose The Size And Color
The Petall ceramic hamster hideout comes in four different colors. Choose between yellow, blue, green, or pink. Also, you can choose to get a small or large hideout, depending on your hamster's size.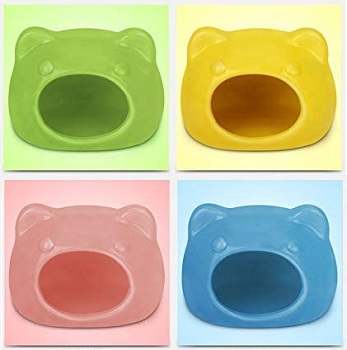 For Small Hamsters
If you have a Syrian hamster, we recommend you choose another hideout. Petall caves are suitable for hamsters or regular size or for dwarf hamsters. If you have two hamsters, get each of them one hamster house. Put this cave inside of a hamster cage for 2 hamsters and make them feel happy and safe.
In Short:
this nesting cave comes in 4 colors
there are two sizes – S and L
not recommended for Syrian hamsters
durable and strong material
they are simple to clean
BEST IGLOO CERAMIC HAMSTER HIDEOUT
Laak Ceramic Hamster Hideout
Shell Shaped Nest
The Laak hamster house is small and cute. It is shaped like a shell. This hamster house comes with a large opening. A hamster of any size can fit inside this ceramic hamster hideout. It is a hamster igloo that will make your fur friend feel safe.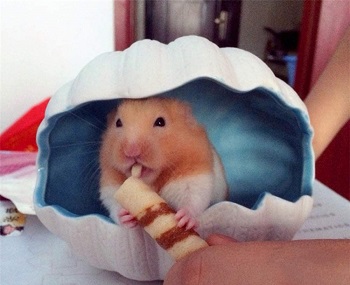 Different Colors And Size
This ceramic shell comes in three different colors. Choose between yellow, blue, or pink. Create your hamster a relaxing and colorful area inside of its cage. There is one size of this hideout model and it measures approximately 5.9″x 4.7″x 5.1″.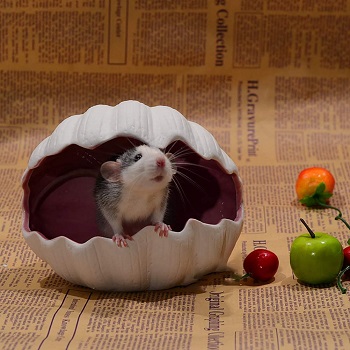 Why Get A Ceramic Hideout?
There are many benefits when it comes to using a ceramic hideaway. Ceramics will keep your hamster warm in winter and reduce its body temperature in summer. The ceramic material is safe and sturdy. It encourages natural nesting instincts.
In Short:
this hideout is shaped as a shell
comes in three different colors
the ceramic used is safe and bite-proof
any hamster size will fit this hideout
encourages your hamster's nesting instincts
BEST MINI CERAMIC HAMSTER HIDEOUT
Gutongyuan Small Hamster House
The Watermelon Design
This cute and small ceramic hamster hideout that is perfect for dwarf hamsters is designed by Gutongyuan. The size of this hamster house is 3.74 x 3.94 x 4.52 inches. This small hideout is shaped like a small watermelon.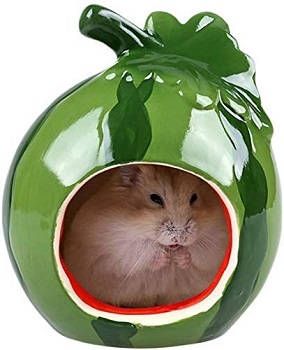 The High Quality
The material used for designing this ceramic nest for hamsters is ceramics of high quality. It is chew-proof and sturdy. This small hideout has a heavy base and it is not easy to overturn. The material is odor-resistant.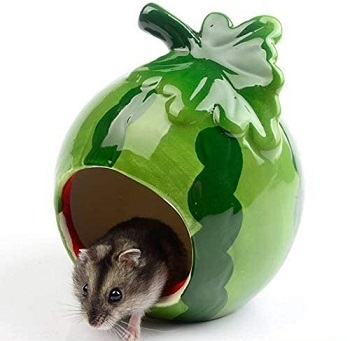 Useful Tips
Put this small hamster hideout inside of your dwarf hamster cage. Make sure you clean the hideout regularly. It is recommendable to rinse it under the water and use a pet-friendly detergent. Create your hamster a safe and chill zone and add hamster bedding inside of this house.
In Short:
this hideout is shaped like a watermelon
it is a small and safe hideaway house
ideal for dwarf hamsters
the Gutongyuan house is odor-resistant
the size of the hideout is 3.74 x 3.94 x 4.52 inches
How To Pick: Ceramic Hamster Hideouts
We want to make sure that you choose the best hamster hideout house. This is why we have prepared this small guide. It will help you make the right decision. Before buying a ceramic hamster hideout, read every hamster cage needs one. Also, ensure its quality is high. The ideal hideout is sturdy, chew-proof, and spacious enough.
Why Buy A Hamster Hideout? – Hamster houses and hideaway spaces encourage their natural nesting instincts. It is very important for these animals to have a resting area where they feel safe and comfortable. This is why every hamster enclosure should have a quality hamster hideout.
The Safe Material – Ceramics is generally a very safe material when it comes to hideouts. The important thing is that you search for a hamster house that is not too fragile or thin. Also, make sure the description says it is chew-proof and has no sharp edges.
Sturdiness And Durability – Another essential factor to search for is the heavy base. Your hamster will perform all of its everyday activities next to the hideout. Including playing and running around the cage. This is why your new house shouldn't be easy to overturn or break. An ideal house will last you a long time.
Space And Size – You should buy a hamster house depending on the size of your hamster and its cage. For example, Syrian hamsters require more space and larger hideouts. On the other hand, dwarf hamsters will squeeze into a small hideout.
Where To Get Best Hideouts? – There are so many cool models of hamster hideaways. You can surely get them in your nearest pet shops. However, we suggest you check them out online and read customer reviews. The models we have listed are pet-friendly, durable, and also cool, modern, and cute!
To Sum Up
In our opinion, the best ceramic hamster hideout is the PopetPop Hamster Ceramic Hideout. We liked it because a hamster of any size can fit this hideout. It is durable and pet-friendly. Every hamster cage needs to have safe hamster cage decorations. In case you want to check out more similar and fun products, we invite you to read our article about hamster play houses.