Have you been trying to find an ideal acrylic hamster cage?
Then be sure to read our article. We have made a top-six list of the products we find safest and worth buying. Check them all out and learn more about how to choose the best model for you in our buying guide.
The Summary
Top 6 Acrylic Hamster Cages
BEST OF BEST ACRYLIC HAMSTER CAGE
Homozy Acrylic Cage Hamster Enclosure
See-Through Design
You will enjoy watching your hamster play inside of the Homozy acrylic hamster cage. The cage is made thoughtfully with an aim to make your hamster feel comfortable and happy. The size of Homozy enclosure is 12.20 x 7.87 x 11.61.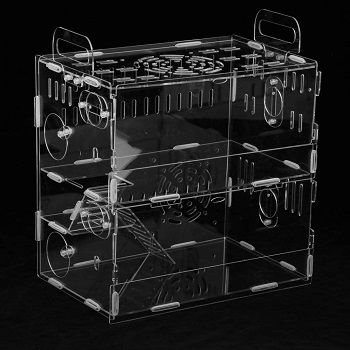 For One Hamster
This cage fits one hamster perfectly. It is wide enough and provides space for all of the important activities. This double-layer hamster tank includes no activity content so be sure to get hamster cage decoration, a water bottle, and a hamster food dish.
Odor And Stain Resistance
Hamsters love hygiene. It is extremely important that you clean the cage regularly. Cleaning will make your hamster happy and keep it healthy. Thankfully, the acrylic material of this enclosure is resistant to odors and stains so cleaning it will be no hassle.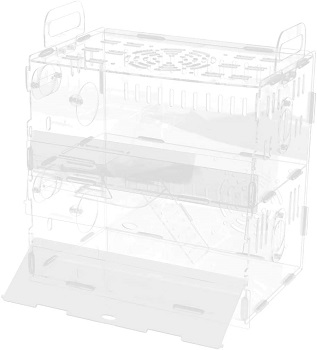 360-Degree Air Circulation
There are many ventilation holes that this tank enclosure for hamsters comes with. Hamsters need to breathe the fresh air constantly, so getting it a well-ventilated hamster cage is of utmost importance.
In Short:
see-through and double-layer cage
ideal habitat for one pet hamster
allows you to customize it fully
the Homozy cage is well-ventilated
it is simple to access the cage and clean it
BEST 2-LEVEL ACRYLIC HAMSTER CAGE
NXL Large Acrylic Hamster Cage
Two-Level Design
If you are looking for a large and wide hamster cage made of acrylic, then this model by NXL might be right for you. It has two levels and it includes all necessary cage content on each level. This acrylic hamster tank is comfortable and tough.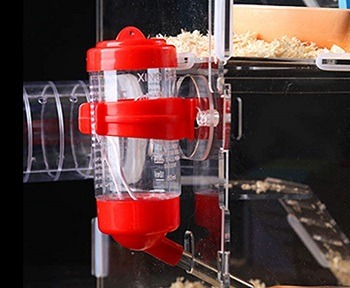 Space For Two
The NXL double-layer transparent acrylic hamster cage will fit two hamsters easily. Each hamster will have its own private area and enough space for playing alone or together. Have in mind that this hamster cage for 2 is not suitable for Syrian hamsters.
Full Equipment Included
On each floor, your hamster will get to use the play house and a hideout, a running wheel to keep it occupied, an external bathroom, a plastic water bottle, and a small food bowl. There is no possibility that your hamsters will feel bored.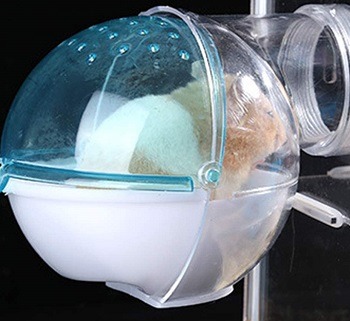 Safety And Comfort
For additional comfort, we suggest you add hamster bedding to the cage. Your pet hamsters will love to play and dig. The NXL cage is escape-proof and well-protected so no other pet will access the cage. Clean the cage often and make sure your hamsters are happy.
In Short:
NXL tank cage has 2 levels
there is enough space for two hamsters
the cage is completely transparent
includes all hamster cage content
this is an escape-proof hamster cage
BEST CAT-PROOF ACRYLIC HAMSTER CAGE
LLY Clear Acrylic Hamster Cage
Sturdy Material
The LLY clear acrylic hamster tank cage is made of long-lasting and quality material. It is heavy-based so there is no fear that the cage will turn over while your hamster is playing. This cage is comfortable and comes with smooth surfaces.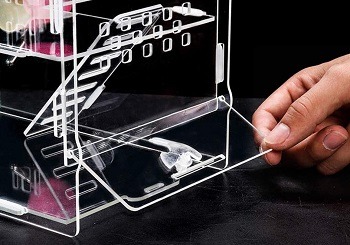 The Vent Holes
Cage ventilation is extremely important. Every hamster will feel happier and more active if its habitat is well-ventilated. The LLY acrylic hamster cage is designed in such a way that it provides great air circulation and allows your hamster to live in a healthy environment.
Easily Customizable
Inside this cage, you will find one acrylic platform and a ladder. Since this is not enough for your hamster's happy life, you will need to add extra decorations and toys. Get your hamster a hideout house, hamster litter box, a food bowl, water bottle, and activity content.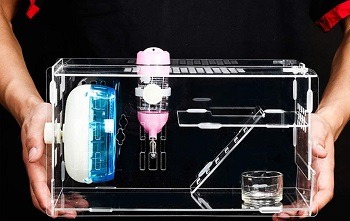 Escape-Proof And Secure
There are side doors that allow you to access and clean this cage with ease. The doors can be secured so you won't have to worry about your hamster escaping the cage. Also, this cage is cat-proof and no other pet will harm your hamster.
In Short:
made of long-lasting material
easy to clean and access the cage
the cage is sturdy and heavy-based
includes a platform and a ladder
add extras to this tank cage
BEST BLUE ACRYLIC HAMSTER CAGE
ZTCWS Acrylic Hamster Tank
Transparent And Blue
The top and base of the ZTCWS cage are made of blue plastic. The sides are see-through and made of sturdy acrylic. This blue small hamster cage includes a plastic hideout house, a running wheel, a drinking fountain, and a food bowl.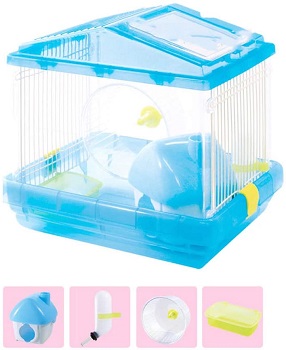 The Small Size
This cage will fit one hamster or dwarf hamster. The size is approximately 12.2 X 13 X 10.6 inches. The cage is simple to put together and de-attach if necessary. The cleaning of this acrylic hamster cage is very simple and takes no time.
Easily Portable
ZTCWS cage for small hamsters is lightweight and very easy to lift up. You can use this cage as a portable and travel hamster habitat. However, there is no handle on the top, so you will need to lift the cage with both hands if you need to carry it.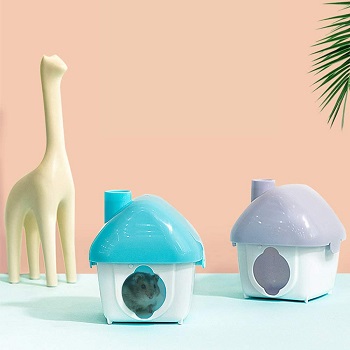 The Rooftop Access
There is one large rooftop opening. It allows you to access the cage with ease and it prevents your hamster from escaping its habitat while you are cleaning or refilling its food bowl or water bottle. The opening can be secured.
In Short:
it comes with a blue top and base
sides are made of transparent acrylic
the inside includes essential cage content
this cage is small and fits one hamster
there is one top access opening
BEST ENCLOSURE ACRYLIC HAMSTER CAGE
Aleko Acrylic Cage Tank Hamster
The Wooden Structure
The Aleko acrylic hamster cage comes with a wooden frame and a mesh top. It makes your hamster feel like it is living in a natural environment. The cage fits two hamsters and has a lot of space for all of their everyday activities.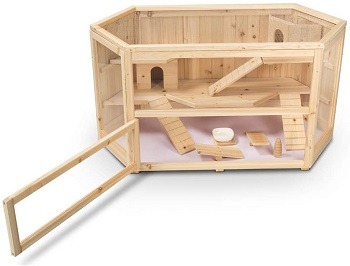 Size And Spaciousness
Hamsters require a lot of space. The larger their habitat is, the better. They are big sleepers and need to rest in a safe and comfortable private area. On the other hand, they are active during the night and love to run around the habitat and play. Hamsters love the Aleko habitat, it measures 44 x 24 x 23 inches.
Easy To Clean
There are two large openings – the top and front panel of the Aleko acrylic cage tank terrarium for hamsters can be fully opened. Make sure that your hamsters are safe when you open the cage. We recommend you open the top panel while cleaning. This will prevent your hamster from escaping.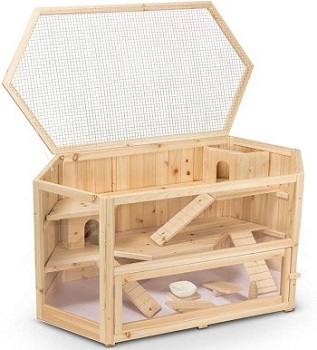 Included Cage Content
This is a multi-level hamster cage with many ladders and hamster hideouts. We are sure that your hamster will feel safe and cozy inside the Aleko terrarium. All the content, including the frame, is made of weather-proof and rot-resistant fir wood.
In Short:
made of weather-proof fir wood and acrylic
the cage is spacious and large
it easily fits two pet hamsters
two large openings – top and front
cage content made of rot-resistant material
BEST TUNNEL ACRYLIC HAMSTER CAGE
Mcage Transparent Hamster Habitat
Ideal For First-Time Owners
In case you are new to all this and are wondering which hamster cage a first-time owner should buy, then we have the right model for you! The Macage hamster habitat is see-through, it includes tunnels, a hideout, a wheel, a food bowl, and a water bottle.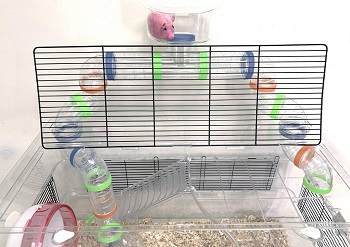 Pet-Friendly And Harmless
The acrylic material that was used for making this fun hamster cage is completely safe and non-toxic. The wire part of this cage is resistant to bites which makes this cage escape-proof. The surfaces are smooth, and the bar spacing is narrow.
Safe And Secure
The opening of this escape-proof hamster cage is located on the top. The wire access door of Mcage acrylic hamster cage can be secured allowing your hamster to remain inside of this cage unless you want to take it out. The content included is pet-friendly and ideal for hamsters.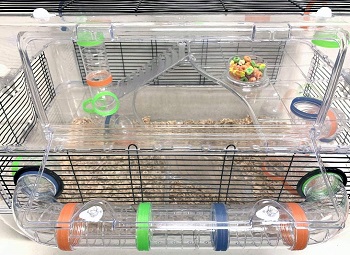 Why Buy Mcage Habitat?
We consider that a fully-equipped hamster cage is always a good idea. The Mcage hamster enclosure is an affordable and high-quality cage that will keep your hamster occupied and active. It also provides a safe and cozy private resting area.
In Short:
perfect for first-time hamster owners
includes all necessary cage content
made of acrylic and chew-proof wires
cage's quality is very high
keeps your hamster safe and active
How To Pick: Acrylic Hamster Cages
In our buying guide, learn all about the most important characteristics that you should look for in an acrylic hamster cage. We will talk about the ideal size, space, safety, and more. Keep on reading and be sure to buy a cage that meets all of your needs.
The Size Of The Cage – Before you buy a hamster cage, be sure that your pet fits it. If not sure, the larger the better. However, you should know that not every cage is suitable for all hamsters. Syrian hamsters require much larger cages than, for example, dwarf hamsters.
Space For Activities – Every hamster, whether small or big, needs to have space for its everyday activities. Hamsters like to sleep a lot, especially during the day. But when they are awake, they will want to explore and play. Be sure to buy a cage with enough space for all of that.
The Quality Material – To make certain that your hamster will stay happy, comfortable, and healthy, get a cage that is made of safe and non-toxic material. The cage you want to buy needs to be long-lasting, resistant to odors and stains.
Safety Features – What makes a hamster enclosure safe? Apart from the high-quality and toxic-free material, the cage must be completely pet-friendly. This means that there must be no sharp edges inside of the cage, the space between the bars must be narrow, and the wires must be chew-proof.
The Equipment – Many models already include cage content. There are so many hamster cags that come fully-equipped. However, if you prefer buying a cage that does not already include all the content, don't worry. You can always create your hamster a play area yourself.