Are you in search of an escape-proof hamster cage that will make you feel safe about your fur friend?
Then you must check out our article!
We have made the top 6 list of the best models and divided them into different categories. Read all about the best of best, metal, 2-level, and other models. Don't forget to read the buying guide we made to help you find the right model.
The Summary
Top 6 Escape-Proof Hamster Cages
BEST OF BEST ESCAPE-PROOF HAMSTER CAGE
Ware Chew-Proof Hamster Habitat
The Tall Design
The Ware cage for hamsters is made of sturdy metal wires and non-leak plastic bottom. It is tall and has multiple levels. The cage is secure and comes with a narrow space between the bars. It can fit one or two pet hamsters.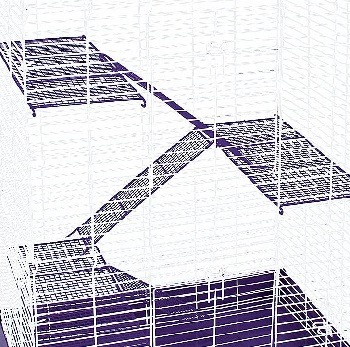 Made Of Safe Materials
This cage is completely pet-friendly. The material that was used is non-toxic and the wires are chew-proof. The cage's wires are painted in safe paint. Your hamster will feel safe and comfortable inside of this cage.
The Inside Of The Cage
There are four levels inside of this cage. The cage includes three ramps that lead to three platforms. This tall hamster cage has enough room for your hamster to play and stay active. Customize it and add more accessories and decorations.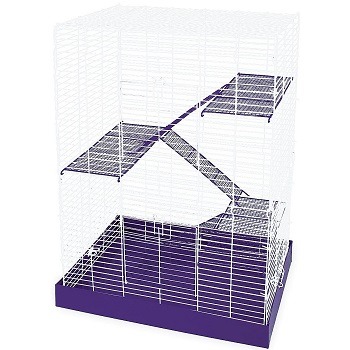 The Ventilation
Your hamster needs to have an escape-proof hamster cage that allows the fresh air to constantly circulate the cage. The Ware cage is just like that. Your fur friend will stay healthy and active.
In Short:
the Ware cage is chew-proof
it is made of toxic-free materials
the fresh air is entering the cage
it is tall and has multiple levels
there is a lot of inside space
ideal for two hamsters
BEST ENCLOSURE ESCAPE-PROOF HAMSTER CAGE
Little Friends Hamster Cage
The Small Design
This small cage by Little Friends is perfect for one hamster or dwarf hamster. The cage is made of a non-leak plastic base. The base is deep and allows you to put the hamster bedding inside of the. The top is made of safe wires.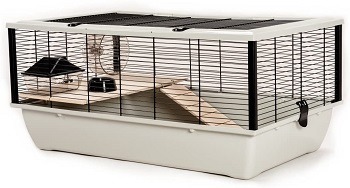 Cage Security
It is very important for you to get a hamster cage with a narrow bar spacing, especially if you have a dwarf hamster. They tend to stick their heads and bodies out. Not only can they escape, but also get stuck. This cage is the one we consider safe for such small hamsters.
The Access To The Cage
There is one door and it is located on the top. It will help you access the cage when you need to clean or reach out for your pet. Also, you will get to change the litter, refill the hamster food dish and water bottle with no hassle.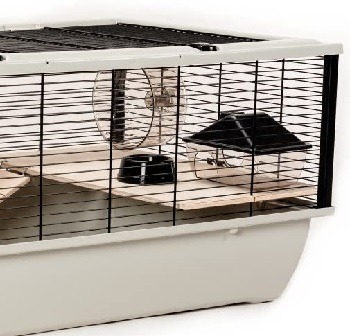 Last Details
This is another cage that is well-ventilated. The Little Friends escape-proof hamster cage is made of durable materials and will last you a long time. The cage includes essential hamster content – a wheel, a platform, ladder, food bowl, and a hideout.
In Short:
comes with essential starter content
homes one hamster or dwarf hamster
it is safe, sturdy, and durable
made of chew-proof wires
the deep plastic base is leak-proof
BEST METAL ESCAPE-PROOF HAMSTER CAGE
Mcage Metal Escape-Proof Enclosure
The Sturdy Appearance
The Mcage is a strong metal hamster cage. It can home more than one hamster or Syrian hamster. It is tall and large. It has multiple levels and a lot of space. The cage stands on four casters and it is simple to move.
The Spaciousness
This escape-proof hamster cage has a lot of space. The inside includes platforms and ladders. However, apart from that, there are no fun accessories included. Customize the cage and add extra hamster cage decorations.
The Storage Shelf
Underneath the cage, you will find the storage shelf. The shelf is a part of the rolling stand. You can choose to attach it to the cage or use the cage as a free-standing. The shelf can help you store hamster toys and food.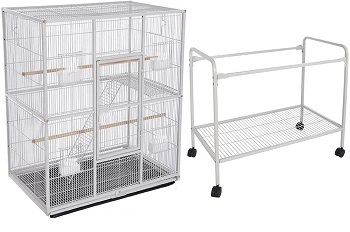 Secure Door
There is one large swing-out door that allows you to access the cage easily. The door can be secured with a metal lock. You can feel relaxed about your hamster's safety.
In Short:
the cage is strong and sturdy
made of safe metal
there is a storage shelf
the cage is large and spacious
includes secure access door
BEST 2-LEVEL ESCAPE-PROOF HAMSTER CAGE
Lonabr Hamster Wooden Habitat
The Wooden Construction
The Lonabr is a sturdy hamster habitat. It provides your hamster with a natural environment. The frame is made of wood. The front comes in acrylic and the top is made of robust wire net structure.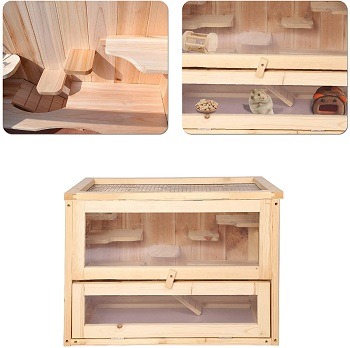 The Visibility
The design of this cage is see-through, although not completely. Still, you will be able to see where your hamster is and what it is doing. Moreover, the hamster will see its surrounding area as well.
The Two Levels
This cage has two floors. Each floor provides enough space for your hamster's activities. The top floor includes platforms and many climbing opportunities. This large wooden hamster cage will be an ideal home for one or two pet hamsters.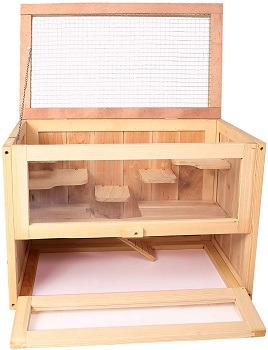 Large Access Doors
Access this cage through the large top or front access doors. The maintenance of this escape-proof hamster cage will be no problem. Make sure you clean not only the inside of the cage but the toys, accessories, and other content as well.
In Short:
large access on the front and top
there are two levels
the cage is made of natural wood
the platforms are included
well-ventilated hamster cage
BEST BLACK ESCAPE-PROOF HAMSTER CAGE
Prevue Chew-Proof Cage
The Black And Strong Cage
The cage by Prevue comes in black. This enclosure is perfect for hamsters because of the narrow bar spacing. The deep plastic base is leak-proof. The cage includes a platform and a plastic ramp.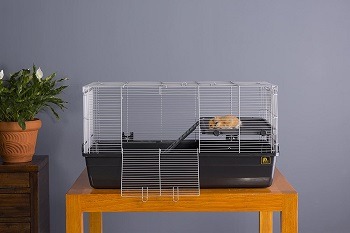 Main Characteristics
The space between the bars is tight – only  3/8". The overall cage dimensions are 32 ½'' L x 19'' W x 17 ½'' H. There are two large access doors and a lot of room for playing. This enclosure is an ideal escape-proof hamster cage.
Easy To Carry
This cage is simple to carry. There are two top handles, each on one side of the cage. The cage is lightweight and you can use it for traveling as well. This portable hamster cage is very convenient to have.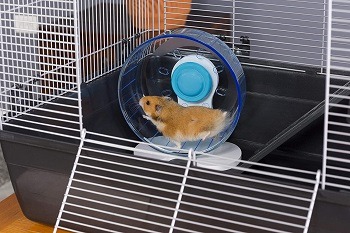 Pet-Friendly And Safe
The cage has only smooth surfaces and it is completely safe. There are no sharp edges. This cage is made of high-quality and strong material. It is chew-proof and your hamster will feel safe in it.
In Short:
comes in black color
made of plastic and wires
the cage is pet-friendly
made of safe material
the overall quality is high
use it as a portable hamster cage
BEST CUTE ESCAPE-PROOF HAMSTER CAGE
NXL Acrylic No-Escape Hamster Cage
The Transparent Design
The NXL hamster enclosure is made of acrylic. It comes as a see-through hamster cage. The cage is simple to maintain. It is odor and stain-resistant. It comes fully-equipped. There are two levels and a lot of space.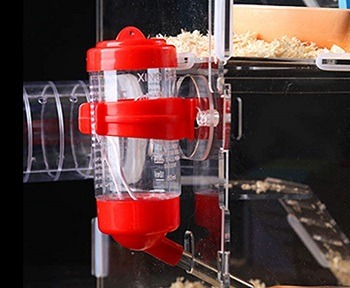 Smooth Surfaces
This cage is one of the best escape-proof hamster cages. There are no wires and there is no chance that your hamster will get stuck between the bars. This acrylic cage has only smooth surfaces and it is completely pet-friendly.
The Ventilation And Maintenance
There are many holes that provide the air to circulate the cage all the time. Your hamster will stay healthy and happy in this enclosure. The maintenance is simple and quick. There is an external hamster litter box included for easier cleaning.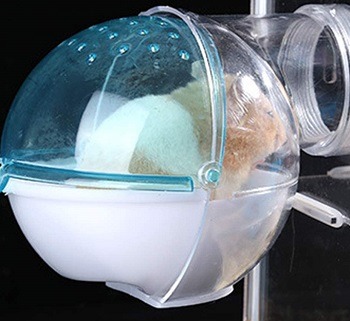 What Is Included?
The NXL cage comes fully-equipped. There are two levels. On each level, you can install the play houses and hideout zones, the wheel, and the hamster ladder. There are the food bowl and water bottle included.
In Short:
the NXL cage is see-through
it comes fully-equipped
it is well-ventilated
the cage is simple to clean
includes all that you need
How To Pick: Escape-Proof Hamster Cage
Before getting a hamster cage that you consider to be escape-proof, make sure it comes with all the important features that we have listed in this guide. The ideal escape-proof hamster cage must be made of safe and quality material. It needs to last you a long time. The doors must be secure. Read on to find out more.
The Design – First of all, you need to cage the cage with narrow space between the bars. If you have a dwarf hamster, it is advisable to get an aquarium tank or acrylic terrarium for hamsters. The cage needs to prevent any other animal from entering the cage.
Sturdiness And Safety – Hamsters are nocturnal animals. They love to sleep during the day and stay active during the night. You will want your cage to be strong and heavy-based. It needs to keep your hamster safe. Also, you must consider getting a quiet cag that is made of non-toxic material.
Security And Durability – The doors of your new hamster need to be securely locked all the time. If your hamster cage is standing on the rolling wheels, they need to come with brakes. The cage's overall quality must be very high. This guarantees that you will have a long-lasting habitat for your pet hamster.
The Extra Space – Any cage that you decide to buy for your hamster needs to have additional space for the activities. If your cage doesn't already include a large playing zone, then you can easily create it. Remember, hamsters need toys, accessories, and activity content. It makes them active, happy, and occupied.
Where To Buy? – We suggest you get the escape-proof cage online. Check customer reviews and ratings. Buy from a reliable retailer and get a discounted price or free shipping. The models we have reviewed in this article are available on Amazon.com.