Looking for cool and big hamster houses to put inside of your hamster habitat?
Then you simply have to read our article! We have explored the online market and made a list of the top 6 six models that we consider the best. Read all you need to know about the best of best, multi-chamber, ceramic, 2-level, cute, and blue big hamster hideout. Check out our guide and choose the right hideout easily!
The Summary
Top 6 Big Hamster Houses To Put In Cages
BEST OF BEST BIG HAMSTER HOUSE
Andwe Coconut Hut Hamster House
Safe And Comfortable
The Andwe coconut hamster house is safe and spacious. Your little pet will love to spend time inside of it. It will provide your hamster with a peaceful environment. There is a large access at the front side of the house.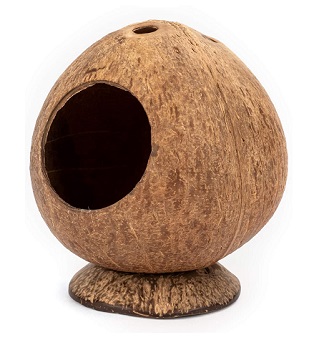 Natural And Pet-Friendly
This big coconut hamster hideout is made of natural and eco-friendly material. The house is reusable. It is safe for your hamster to use it daily. The inside of the house is secure. This big hamster house has no sharp edges and it is harmless.
How To Maintain?
This hamster hideout is simple to clean, although it takes some time to dry. Rinse the house under the running water and dry under the sun. We suggest you wash it and dry it before you use it for the first time. Inspect the toy before your hamster starts using it.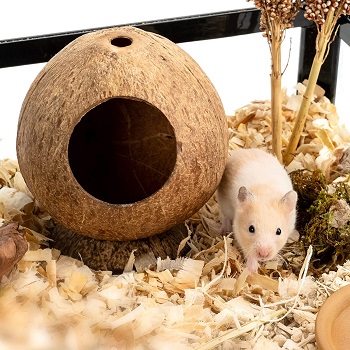 Tips And Tricks
The Andwe big house for hamsters will fit inside of any hamster cage. We suggest you get one hideout per hamster. The good idea is to add hamster bedding materials. Your hamster will probably hide its snacks inside of this house or simply dig and play inside of it when it is awake.
In Short:
cool and durable coconut design
there is one large access on the front
only eco-friendly material was used
the house is safe and very comfortable
add hamster bedding and watch your hamster enjoy
BEST MULTI-CHAMBER BIG HAMSTER HOUSE
Niteangel Wooden Hamster Hideaway
The Cool Design
This big hamster house by Niteangel is ideal for ordinary hamsters and dwarf hamsters. It is not recommendable to use this house if you have a Syrian hamster. This is a house with three chambers and it includes a mini-maze. There is one entrance/exit door.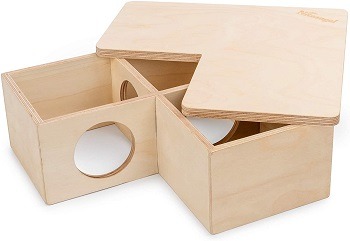 Play And Rest Zone
Your hamster will surely use this house not only when it needs rest, but also when it wants to play. The top of the house is flat and your hamster will use it as a play platform. The inside of the house is in the dark, so your hamster will get to sleep during the day.
Easy Maintenance
It is very important that you do the cleaning on a daily basis. Clean not only the cage but also the cage content and hamster cage decorations. To clean the Niteangle hamster hideout, simply remove the lid and when you are done, put it back on.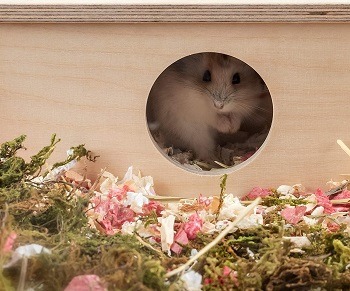 The Safe Material
This is a high-quality hamster house. It is made from Birch Plywood and it is sanded to smooth. There are no sharp edges. The Niteangel house is a harmless, pet-friendly, secure, and safe hamster hideaway. You can get it at a low price.
In Short:
comes with three chambers
the inside of the house is dark
it is a perfect resting house
flat platform allows your hamster to play
made of safe and harmless material
the house is sanded to smooth
BEST CERAMIC BIG HAMSTER HOUSE
PopetPop Big Hamster Hideout
The Material And Design
The PopetPop is a ceramic hamster house. The ceramic material is smooth, durable, and heavy-based. This house is not simple to overturn. The PopetPop big hamster house comes with an interesting watermelon and shark modeling.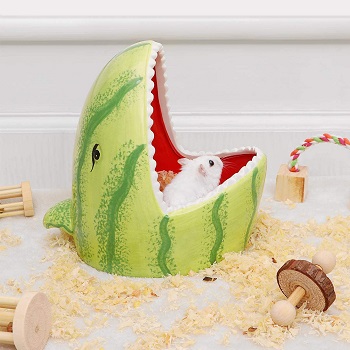 The Benefits Of Ceramics
Ceramics houses are here to reduce your hamster's body temperature during warm summer days. On the other hand, your hamster will feel warm inside of this house in winter. Ceramic hamster hideouts are safe, comfortable, and have smooth edges.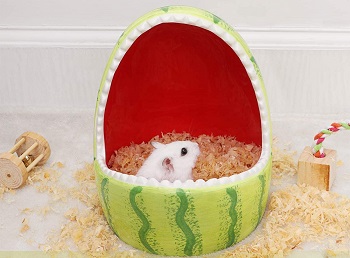 Multiple Use
Your little fur buddy will love to spend time inside of this house. It will use it for playing and resting. If you wish, you can convert this house into a hamster bath. You choose. Be sure to clean the house regularly. The house is resistant to odors and it is simple to maintain clean.
In Short:
made of safe ceramic material
keeps your hamster warm in winter
reduces body temperature in summer
the house is odor-resistant
it is simple to clean this house
can be used as a hamster bathhouse
BEST 2-LEVEL BIG HAMSTER HOUSE
Gutongyuan Double Deck Cage House
The Cute Design
This is a pink and white hamster house. It has two levels. Your hamster will get to choose the level when it comes to playing or resting. This hamster play house has a top hideout area that your pet will use as a resting place. There is a balcony as well.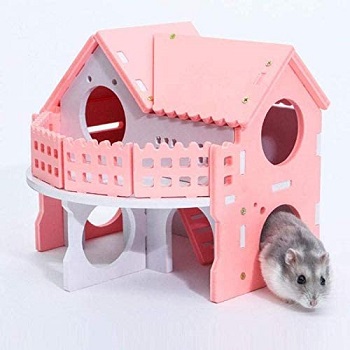 The Natural Material
The Gutongyuan big hamster house is made of natural wood. This house is pet-friendly and completely safe. The size of the house is approx. 6.7 x 6.1 x 5.9 inches (L x W x H). The house has no sharp edges and there is nothing on the insider or outside of the house that would harm your hamster.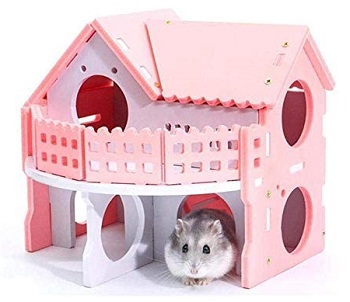 Useful Information
You won't need to set this house up or put it together. The house ships fully assembled. The house is simple to maintain – you can directly rinse it under the running water. This house is strong, sturdy, and long-lasting. The cost of it is affordable for everyone's budget.
In Short:
this is a 2-level hamster house
it is a play house with a hideout
comes in white and pink color
the house ships fully-assembled
simple to maintain and requires no assembly
BEST CUTE BIG HAMSTER HOUSE
Penn-Plax SpongeBob Pineapple House
Creative And Fun Design
The Penn-Plax manufacturers have created this SpongeBob Pineapple house for every cartoon lover. This house is ideal for households with children. It is a hamster house that fits multi-level or tall hamster cages. It is great for large Syrian hamster cages as well.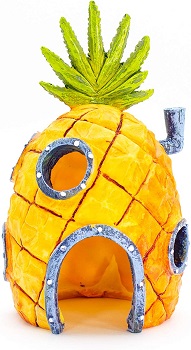 Durable And Waterproof
This big pineapple hamster house is made of a sturdy base. It won't get overturned easily. The material used is durable resin. This house can be used in aquariums as well. It is waterproof and resistant to saltwater. It is not limited to fish only – we are sure your hamster will love it!
Size And Space
The approximate size of this big hamster house by Penn-Plax is 5 inches tall. It is very spacious and well-ventilated. Add the hamster bedding inside of this house and create a comfortable resting area. Get creative and customize your cage with other Penn-Plax cage decorations.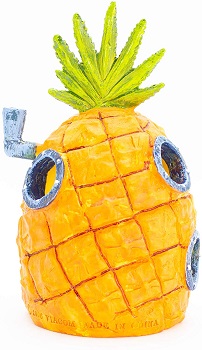 Easy To Clean
The Penn-Plax hamster house is odor-resistant. To clean, simply take it out of the cage and wipe it down or rinse it off with warm water. Don't use the soap, even if it is pet-friendly. Be sure to do the cleaning often. Hamsters love hygiene. It is important for hamsters' healthy life.
In Short:
cool SpongeBob pineapple house design
the house is heavy-based and durable
it is waterproof and odor-resistant
this hamster house fits in tall cages
maintain the house clean regularly
BEST BLUE BIG HAMSTER HOUSE
Hamiledyi Wooden Hamster Hideout
The Two-Pack
The package includes two Hamiledyi products – a blue play house and an additional platform. Both products include a small hideout area. The play house is big and apart from the hideout, it has a climbing wall gym and windows. Both houses are well-ventilated and pet-friendly.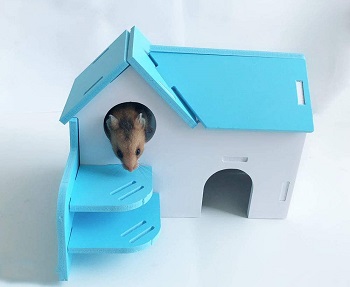 Why Get These Houses?
The Hamiledyi big hamster houses encourage your hamsters' natural nesting instincts. They provide your hamster with a fun and safe environment. There are the lookout holes so your hamster will see its surrounding from the inside of the house.
The Assembly And Cleaning
You can easily put together these hamster houses. Simply put the plates together with the right teeth. The cleaning is simple. Use a clean cloth and wipe the houses down. The bottom floor of houses can be removed. Customize your empty cage and convert it into a fun hamster cage.
In Short:
the package includes two houses
each house includes a hideout area
there is a climbing wall gym
there are lookout holes
it is simple to put together the houses
How To Pick: Big Hamster Houses
It is very important that you get a hamster house for your cage. Hamsters are nocturnal animals and they spend most of the daytime asleep. They require a dark place where they need to feel safe and comfortable. Before buying a big hamster house, be sure that it is made of pet-friendly materials. Read on and find out more.
Why Buy A Hamster House? – Hamsters' natural instinct is to spend the daytime resting and sleeping. Your pet hamster needs to have a dark and safe hideout house inside of its cage where it will feel comfortable and wait for the night to come.
The Safe Material – There are so many different types of hamster hideouts. It doesn't matter if you get a wooden hamster house, a ceramic or plastic one. What you should have on your mind is if the material is pet-friendly and safe. It should be non-toxic and resistant to your hamster's bites.
Ideal Hamster House Size – Get the hideout large enough to fit your hamster. Of course, have in mind that if you have a Syrian hamster, you are going to need a bigger house. Add hamster bedding to the house and allow your hamster to dig and feel comfortable inside of it.
Safe And Cozy – The best hamster house that you can get is the one with smooth surfaces both from the outside and inside. Also, make sure it has vent holes. A plus is if the house includes lookout windows as well. Choose the hamster cage that you consider the coziest for your little buddy.
Where To Buy? – We suggest that you look for hamster hideouts and play houses online. Be sure that you buy from a manufacturer you trust most. Also, buy from a reliable website such as Amazon.com or similar.