If you are in search of the best luxury and deluxe hamster cage, then you should check out our article.
We have found six such models and divided them into categories. Find out all about the best of best, enclosure, cat-proof, and three other models of luxury hamster cages. And don't forget to read our buying guide as well!
The Summary
Top 6 Deluxe And Luxury Hamster Cages
BEST OF BEST LUXURY HAMSTER CAGE
Iris Deluxe Hamster Cage
Choose The Color
The Iris Delux cage for hamsters comes in two colors – red and blue. You can choose the color you prefer. The cage is transparent and provides good visibility. It includes essential content for your hamster's everyday activities.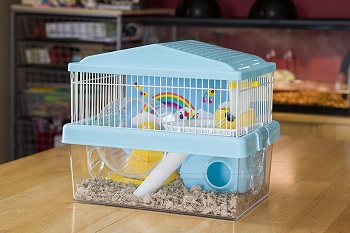 Main Characteristics
This luxury hamster house is perfect for one hamster. It is made of high-quality material. The size is 14.06 x 9.25 x 11.50-inches. This escape-proof hamster cage has a deep plastic base. It is leak-proof and well-ventilated. The wires are chew-proof.
The Cage Content
The inside of the cage is fully-equipped. There is everything that your hamster needs for a comfortable life. You will find a running wheel, a small plastic hideout house, a water bottle, a food dish, and a platform with a ladder.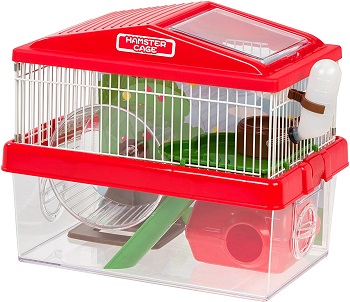 Tips And Tricks
We suggest you introduce your hamster to its new habitat gradually. Cover the cage with a light cloth and leave your hamster to explore the cage for a couple of days in privacy. Add hamster bedding and hamster litter box to the cage.
In Short:
there are blue and red colors to choose
the cage is ideal for one hamster
it comes fully-equipped
there is a deep plastic base
the cage is well-ventilated
BEST ENCLOSURE DELUXE HAMSTER CAGE
Living World Deluxe Habitat Hamster Cage
The Material And Design
The Living World cage for hamsters comes in large size. It is made of a deep plastic base. It is leak-proof and has no sharp-edges. The upper part is made of wires. The space between them is narrow and the fresh air is constantly coming in.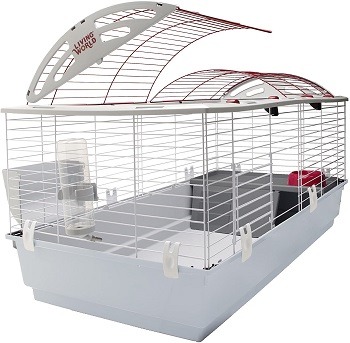 Large And Spacious
This luxury hamster cage by Living World provides a lot of space. You can fit a hamster of any size inside of this cage. Even two hamsters or Syrian hamsters will find this cage safe and comfortable. There is enough space for all of the hamster's everyday activities.
What Is Included?
This large Syrian hamster cage by Living World comes with one plastic platform. There is space underneath the platform that your hamster will get to use as a hideout area. You will get a feeding bowl and a plastic water bottle.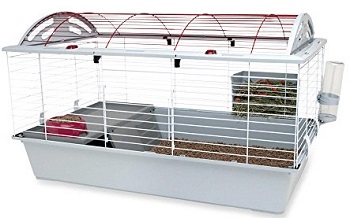 Useful Details
The size of this deluxe hamster cage is 30.7 L x 18.9 W x 19.7 H inches. The top of the cage is well-ventilated and it allows the fresh air to come in constantly. The cage is simple to assemble – it takes less than 10 minutes and requires no tools.
In Short:
the cage is large and spacious
fits two hamsters or Syrian hamsters
is assembles in less than 10 minutes
simple to access and clean the cage
the cage includes a platform and hideout
it has a deep non-leak base
BEST CAT-PROOF DELUXE HAMSTER CAGE
Aleko Deluxe Hamster Cage
Wooden Construction
Getting your hamster an enclosure that provides it with a natural environment is always a great idea. The Aleko cage is made of safe and natural wooden materials. It is pet-friendly and ecologic. Your hamster will feel safe and comfortable.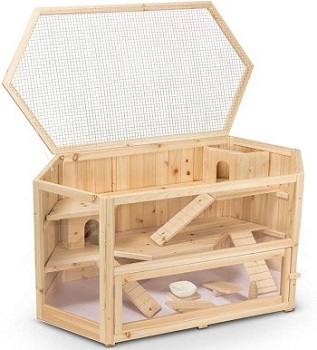 Large Play Area
Inside of this luxury and deluxe hamster cage, your hamster will get to play and run as much as it wants. There are three levels, ladders, and hideout houses. This extra-large wooden hamster cage provides space for two or more hamsters.
The Ventilated Top
The top of this luxury hamster palace cage comes with wire mesh. The top allows the fresh air to circulate the Aleko cage constantly. This feature is very important for your hamster's both physical and mental health. Every cage needs to be well-ventilated.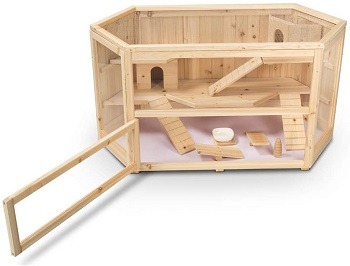 Easy To Access
Choose how to access the cage – from the top or the front door. Both sides of this luxury hamster cage open easily and help you maintain the cage clean or refill the hamster food dish or water bottle. Remember to clean the cage and its content as often as possible.
In Short:
this is a wooden deluxe hamster habitat
includes 3 tiers and hideouts
there are small hamster ladders included
the cage has a lot of space
fits 2 or more hamsters
it is simple to open and access
BEST 2-LEVEL LUXURY HAMSTER CAGE
Prevue Pet Products Deluxe Hamster Habitat
Cage For Two
You can use the Prevue deluxe hamster cage for two hamsters. The cage includes two platforms and ladders. Each platform comes with a plastic hamster hideout house. There is one large running wheel included and the cage provides a lot of space.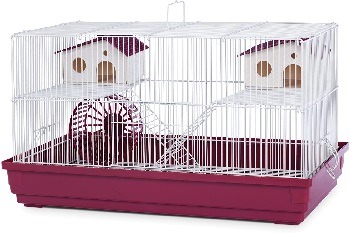 Color And Design
Prevue luxury hamster cage for 2 comes in two colors. Choose between the Bordeaux Red or Lime Green. This Prevue Hendryx Deluxe hamster and gerbil cage is pet-friendly and safe. The bottom of this cage is made of a non-leak base and white wires. The space between the bars is narrow.
Tips For Dwarf Hamsters
The bottom of the plastic base comes with wires. If you decide to use this cage as a dwarf hamster habitat, we suggest you remove the wire and add hamster bedding instead. This will be safer for your dwarf hamsters' little paws.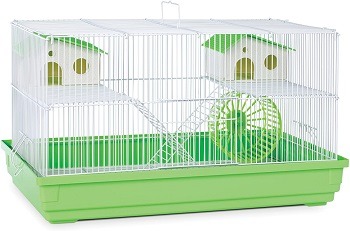 The Access To The Cage
There is a door in the middle of the front side of the cage. The size of the opening is approximately 5.5" and it makes it easier to access the cage, refill the water bottle or food dish, add extra hamster toys, or simply pet your hamster.
In Short:
this cage fits 2 small hamsters
the bottom is leak-proof
there are two platforms and ladders
it includes two plastic hamster houses
the price of this Prevue cage is affordable
BEST BLUE DELUXE HAMSTER CAGE
Kaytee Super Pet Luxury Hamster Cage
Small And Lightweight
If you are in search of a small deluxe hamster cage for your dwarf hamster or a portable hamster cage, then check out this model. The Kaytee enclosure is a 1-story cage. It includes an exercise wheel, a food bowl, and a water bottle. The cage is lightweight and easy to carry.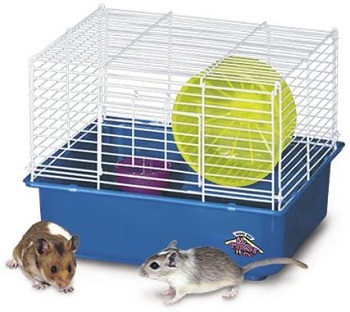 Simple Design
This cute hamster cage by Kaytee comes with a deep blue plastic base and white metal wires. The plastic bottom is smooth and the upper part is bite-resistant. This luxury hamster home has no top handle, but you can carry it in your hands because it does not weigh too much.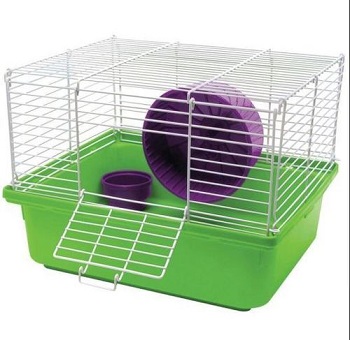 The Setup And Cleaning
This is another model of a hamster cage that requires less than five minutes for the setup. The upper and lower part of the cage simply snap together. You will need no tools for the assembly. There is a small access door included too that helps with cleaning.
In Short:
the cage is simple and cute
it has a deep and non-leak bottom
the wires are chew-proof
cage includes essential content
to assemble simply snap the two parts
lightweight and simple to carry
BEST WITH TUNNELS LUXURY HAMSTER CAGE
Penn-Plax Luxury Hamster House
Cool And Fun
The Penn-Plax deluxe hamster cage comes with a unique and modern design. We consider that this cage is ideal for small or dwarf hamsters. There is a deep plastic base that stimulates the underground environment. It is ideal for resting as well.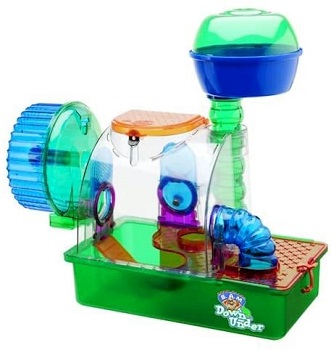 The Activity Area
The vertical play space area will keep your hamster occupied and active. Hamsters require play zones because they encourage their natural instincts of exploring and climbing. There are tubes, tunnels, an exercise wheel, and ladders included.
The Size And Space
This fun hamster cage will be a perfect home for one hamster. We suggest you don't use this cage for two hamsters. The space that this enclosure provides is just enough for one hamster. This luxury hamster cage has all that a hamster needs. It is safe and pet-friendly.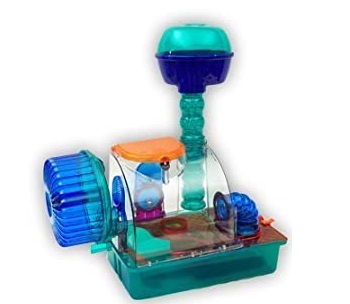 Quality And Price
The overall quality of this cage is quite good. The plastic is non-toxic and leak-proof. If you want to enlarge this luxury hamster home, connect this cage to other cages of habitats via Penn-Plax tubes. The cost of this luxury hamster palace is very affordable.
In Short:
the cage is fun and cool
includes a modern activity area
it is made of non-toxic material
the bottom is leak-proof
you can connect it to other habitats
How To Pick: Luxury And Deluxe Hamster Cages
Hamsters aren't complicated pets. However, you will need to make sure that you get them a safe and pet-friendly habitat that encourages their natural instincts – the proper size, the safe material, activity zone, and hamster cage decorations. Read on and find out more about this topic.
The Ideal Cage Size – Get a cage of a proper size. Do you have a small hamster or a dwarf hamster? Then get a smaller-sized hamster cage. Do you own two hamsters or a Syrian hamster? Then you should definitely look for a large and long hamster cage. Your hamster needs to have enough space for all of its activities.
Non-Toxic Material – One of the most important features when looking to buy a cage for a hamster is surely the safe materials. Hamsters like to chew, so getting them a bite-resistant, and non-toxic cage is a must. Don't purchase just any cage. Be sure it is pet-friendly.
The Play Area – Hamsters like to sleep a lot so getting then an ideal wooden or plastic hamster hideout house is a must. However, when they are awake, they will require additional playing content. Make sure your cage has all the essential hamster cage accessories and keep your hamster occupied and active.
Hamster Cage Content – The content that every hamster enclosure needs to come with is the hideout, a water bottle, and a food dish. Apart from that, it would be perfect to have an exercise wheel, tubes or tunnels, platforms, slides, and ladders. Combine some of the listed decorations and your hamster will be grateful.
Quality And Price – The products that we have listed in this article and all made of high quality and toxic-free materials. These are the two most important factors that you need to take into consideration before you buy a luxury hamster cage. The prices vary, but there are a lot of convenient luxury houses on the market.