If you are in search of a black hamster cage, then don't miss our article.
We have made a top list of the six best cages in black color. Read all about the best black, with pink, 2-level, metal, cute, and hamster enclosure. Also, we invite you to learn more about the features that every good cage needs to come with. Find out more within our buying guide.
The Summary
Best 6 Black Hamster Cages
BEST OF BEST BLACK HAMSTER CAGE
Ferplast Black Wooden Hamster Cage
Metal And Wooden Construction
Ferplast hamster cage comes with a wooden frame and a black robust wire net. The cage is sturdy and long-lasting. It fits hamsters of any size. The cage is cat-proof and it will prevent any other pet from accessing the cage.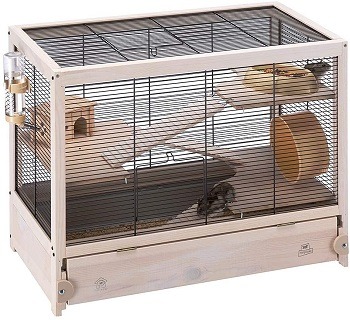 Cage Content Included
This is a multi-level hamster cage. It includes three wooden platforms and three ladders. Apart from that, you will find a hamster food dish, a small wooden hideout house, and a water bottle. All accessories that your hamster will ever need are included.
The Deep Base
This black hamster cage with a wooden structure includes a deep and non-leak plastic base. Feel free to fill it with hamster bedding. Hamsters love to dig and burrow, it is their natural instinct. Your hamster will be grateful to you. The base is simple to maintain clean.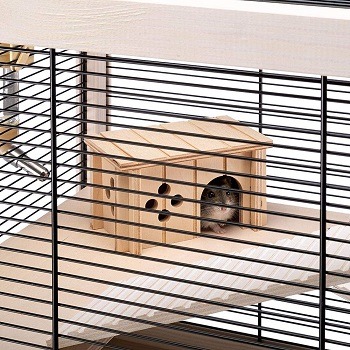 Good To Know
This Ferplast Hamsterville cage for hamsters measures approximately 22.75L x 12.25W x 2.6H inches. There are two doors – the front and top ones. They allow you to access the cage without hassle. The cost of the cage is medium. This is a cage that is made of high-quality and durable material.
In Short:
wooden structure and robust wire net
cage includes platforms and ladders
there is a wooden hamster hideout included
deep plastic base is easy to clean
there are top and front door access
BEST PINK AND BLACK HAMSTER CAGE
Bernie Black & Pink Hamster Cage
Product Overview
If you are in search of a sturdy black hamster cage with all the equipment included, then you need to check out the Bernie cage. The reason why we liked it is because it is made of strong and chew-proof wires and includes safe and smooth plastic activity content.
Size And Use
The overall measure of this wire hamster cage is 11.42 x 18.11 x 14.57 inches. The cage does not weigh too much so if you need to lift it up, you will get to do it with no problems. This cage will fit most hamsters. However, if you have a Syrian hamster, we consider you to check another model.
What Is Included?
On the inside of the cage, you will find plastic activity content that will make your hamster happy and occupied. There are two platforms and two ladders (they are safe for your hamster's tiny paws). Moreover, you will find tubes, a hideout, and a running wheel.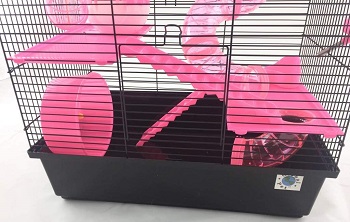 Feeding And Cleaning
The package includes a plastic food bowl and a water bottle. To refill the food dish or clean the cage you will get to access the cage through the top or side door. Don't forget to clean the cage and the content as well. Do it often. Hamsters love hygiene.
In Short:
the cage is made of safe wires
it includes pink plastic content
the cage is simple to clean
access the cage from the top or side
it is a safe and comfortable hamster cage
BEST 2-LEVEL BLACK HAMSTER CAGE
Pawhut Small Hamster Cage
The Simple Design
Pawhut cage for hamsters is made of safe wires and a deep plastic base. It has one large front opening and allows you to easily access it. This black hamster cage stands on four rolling wheels. You can easily move it from one corner to another.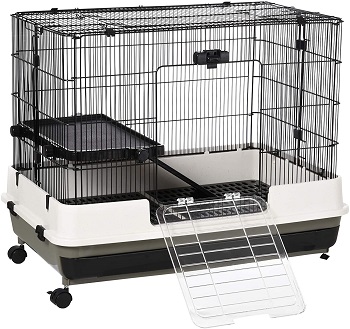 Two Cage Levels
Inside of this cage, there is one plastic platform. The safe ladders lead to the platform. You are going to need to get additional hamster cage decorations, for example, a black hamster wheel, a small hamster hideout house, chewing toys, and a hamster food dish.
Removable Tray
On the bottom of this cage, you will find a removable tray. It will help you maintain the cage clean. Be sure to dispose hamster litter or sand regularly. Make hygiene your priority and do everything that you can for your hamsters happier and healthier life.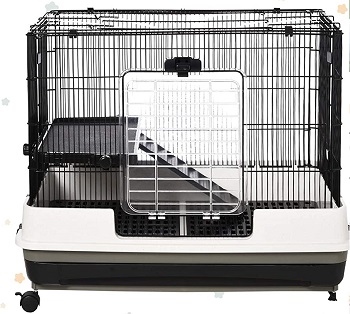 Tips And Tricks
We suggest you use this hamster enclosure for your Syrian hamster or even two hamsters. We are sure they will feel happy and comfortable inside of this habitat. Our recommendation is that you add hamster bedding and let your pets enjoy digging.
In Short:
the cage is made of wire and plastic
it is pet-friendly, safe, and secure
the cage stands on four rolling wheels
it is easy to access the cage
there are two large openings
BEST METAL BLACK HAMSTER CAGE
Yaheetech Sturdy Hamster Enclosure
Tall And Multi-Level
Getting your hamster a large or tall hamster cage is always a good idea. You will love this cage especially if you have a Syrian hamster. The cage has multiple levels and it is spacious. The cage is quiet which will help you sleep during the night while your hamsters are active.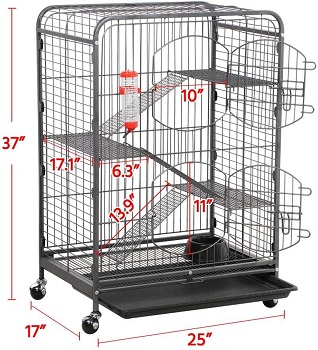 The Levels And Safety
The Yaheetech cage for hamsters includes four levels – there are three wire platforms and ladders. Do not get this cage if you have dwarf hamsters because their tiny paws may get stuck between the wires. The cage is safe and durable, but best to use as a large hamster habitat.
The Access And Portability
There are two front access doors that will help you with cleaning and maintaining the cage. Also, the cage is tall and sturdy so the rolling caster that it stands on will help you move the cage and clean the surrounding area if necessary.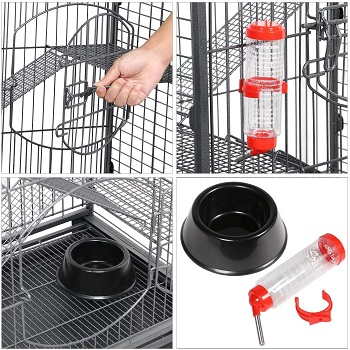 Good To Know
The overall size of this black hamster cage is 25.2 x 17.1 x 36.8'' (LxWxH). The space between the bars is less than an inch. The water bottle is included as well as the food dish. This cage's price is very affordable. The cage is long-lasting and of high quality.
In Short:
durable, tall, and sturdy cage
comes with platforms and ladders
perfect for Syrian hamsters
it is quiet and pet-friendly
the price is affordable for everyone
BEST CUTE BLACK HAMSTER CAGE
Petloft Yellow And Black Hamster Habitat
The Black And Yellow Design
We liked this cage's combination of colors – black wires and yellow deep plastic base. The top wire part of this cage for hamsters is bite-resistant and the base is leak-proof. The cage has two handles on the top and it is easy to carry.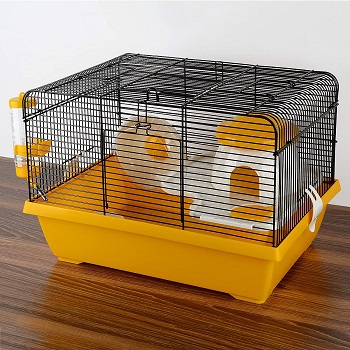 Easily Portable
This cage is pretty lightweight (it weighs approximately 4.43 pounds). Thanks to the top handles, you will get to carry it around with no problems. Use this cage as a portable hamster cage as well or choose another cage that will serve that purpose.
The Activity Area
There is a cool playing zone that is included inside of this yellow and black hamster cage. Your pet hamster will get to explore and stay active. The cage comes with one plastic platform, a hideout house, and a running wheel. There is a water bottle included as well.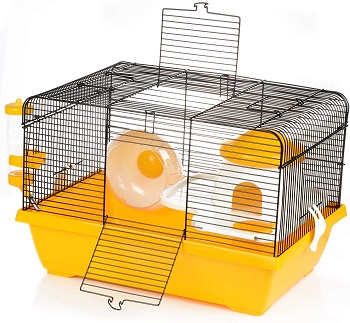 The Price Vs. Quality
The cost of this cag is pretty affordable. We find that this cage is made of high-quality and pet-friendly materials. We recommend you don't buy it if you have two hamsters or a Syrian hamster. However, this cage is perfect for regular-sized hamsters or dwarf hamsters.
In Short:
the cage comes in black and yellow
it is bite-resistant and leak-proof
it includes all essential cage content
this cage is ideal for dwarf hamsters
price of this enclosure is affordable
BEST ENCLOSURE BLACK HAMSTER CAGE
Mcage 3-Level Hamster Metal Cage
Classic Enclosure Design
Mcage is a black hamster cage made of metal wires. It is sturdy and long-lasting. Its design is simple. Except for the platforms and ladders, this cage does not include any decorations or activity content. The cage measures 24″L x 16″W x 24″H.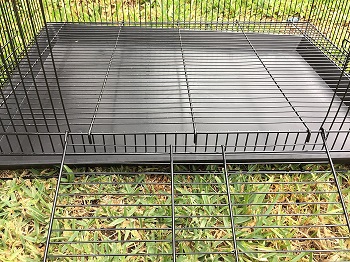 For Syrian Hamsters
This is a large Syrian hamster cage. Its wires are too wide for small dwarf hamster paws and hence not safe enough. Also, the cage provides enough space for Syrian hamsters. They love to explore and jump up and down, which they will get to do inside of this Mcage enclosure.
The Setup
This cage is incredibly easy to set up. It will take less than 10 minutes to do that and you will need no additional tools. This cage by Mcage comes with a foldable design so if you need to store it, simply fold it. It is space-saving.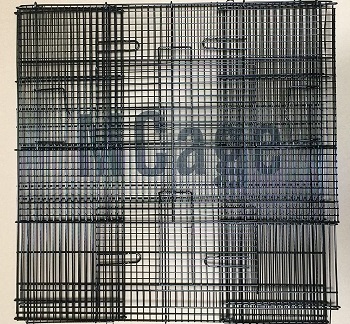 Useful Details
The Mcage hamster black wire cage has two front doors. It is simple and easy to access. There is a slide-out bottom pan tray that makes the cleaning easier. Customize this cage, add extra hamster toys and accessories. Make sure your hamster feel occupied and it stays active.
In Short:
this cage is foldable and easy to store
the design is classic and simple
it is an ideal cage for Syrian hamsters
Mcage enclosure has three levels
customize is and add extra accessories
How To Pick: Black Hamster Cages
There are so many black hamster cages on the online market. However, before you buy just any, you have to be sure that it meets all of your needs. Besides the cage's size and price, there are a few important key factors that decide whether a cage is worth buying or not. Read on to find out more about this topic.
Size And Space – The first thing to consider is the cage's size. Dwarf hamsters require less space than Syrian hamsters. This is why you have to know the approximate size of the cage you are looking for. Also, it needs to provide additional space for activity contents.
The Cage's Quality – What makes an ideal hamster cage? Besides the perfect size, your new hamster habitat needs to be strong and sturdy. A perfect cage is heavy-based and made of high-quality materials that ensure your cage is quiet and long-lasting.
Security And Safety – The safest cage for hamsters is the one that is resistant to bites and made of non-toxic materials. Also, the access to the cage needs to be secured. The cage must have no sharp edges and it needs to be completely harmless.
Is The Cage Pet-Friendly? – Before buying, control the size of the bar spacing. It needs to be as narrow as possible but still allow the air to circulate. This will prevent your hamster from escaping (and we all know that they are fantastic escape artists), and you will want to make sure their paws won't get stuck between the bars.
Final Tips – We suggest that you add hamster bedding, litter, or sand to the base. Hamster love to dig and play. Also, if your cage comes empty, then customize it and add all sorts of fun hamster cage decorations, such as a plastic or wooden hamster hideout, tubes, wheels, etc.
To Sum Up
In our opinion, the best black hamster cage on this list is the Ferplast Black Hamster Cage. We consider this cage safe and durable. it is made of high-quality material. It includes all the essential content such as activity content and hamster food dish. For similar models, we suggest you have a look at our article about more hamster enclosures and find the one that meets your needs.