If you are in need of a new hamster habitat and looking to buy a 2-level hamster cage, then you should check out our article.
Read more about the best six models we have listed – the best of best, cat-proof, enclosure, blue, cute, and black. Find the cage that best suits your needs and don't forget to read our buying guide as well.
The Summary
6 Best 2-Level Hamster Cages
BEST OF BEST 2-LEVEL HAMSTER CAGE
Kaytee Crittertrail Two Level Habitat
Plastic And Wires
The Kaytee 2-level cage for hamsters is made of durable and sturdy plastic material. This Kaytee two-level habitat is heavy-based and the base is deep and smooth. The middle part of the cage is made of chew-proof wires. It allows the air to circulate all the time.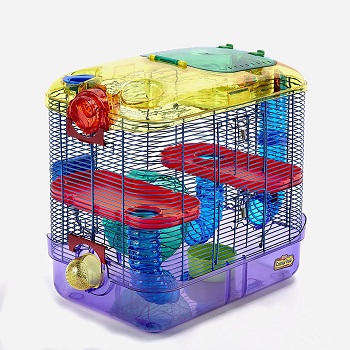 Cage Content
There are play tubes, platforms, and a running wheel included. Also, you will find a hamster food dish and a water bottle. This fun hamster cage has all the important accessories and content that your hamster will need. There is space for adding more toys.
Expand The Cage
The 2-level hamster cage is just enough to be a one-hamster habitat. However, if you get another hamster or simply want to enlarge the habitat, connect this cage to other Kaytee cages via tubes and tunnels. Read more in the user manual.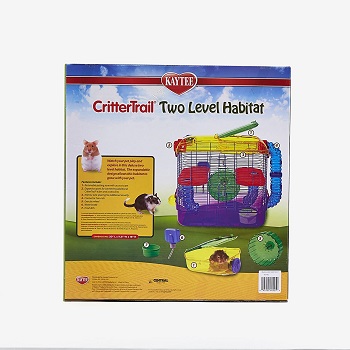 Clean Without Hassle
This Kaytee 2-level hamster cage for hamsters is made of odor and stain-resistant material. There is a top opening that allows you to access the cage easily. Clean the cage regularly and make hygiene a priority. It is important for your pet's health that you clean the cage every day.
In Short:
the cage is sturdy and durable
made of plastic and wires
the deep base is leak-proof
includes all the important content
you can expand the cage easily
BEST CAT-PROOF 2-LEVEL HAMSTER CAGE
Ferplast Favola Hamster Cage
Sturdy And Spacious
This cage by Ferplast is large and spacious. It can fit two hamsters or a Syrian hamster. The cage is made of a transparent deep plastic base and a bite-resistant wire top. The dimensions of the cage are 23.6L x 14.4W x 11.8H.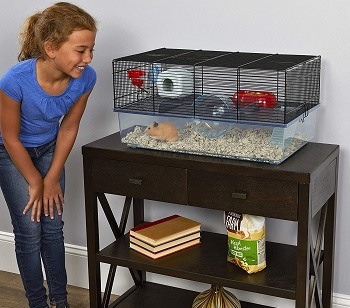 It Comes Equipped
If you are looking for a cage that already includes some of the cage content, then you may like this cage. It includes a running wheel for hamsters, a hideout house made of plastic, a food dish, and a water bottle. There is space for additional accessories.
The Setup And Cleaning
To assemble, simply connect the base with the wire top. You can easily de-attach the cage when cleaning. There is an opening on the top of the cage as well, so you can access the cage with no hassle and fear that your hamster will escape.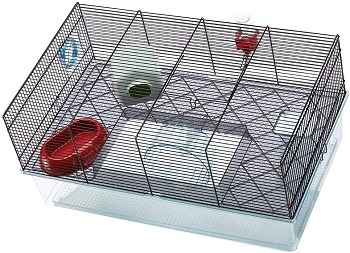 Pet-Friendly And Safe
This hamster cage for 2 is made of quality and pet-friendly material. The wires are strong and resistant to bites. Although anti-rust, the Ferplast 2-level hamster cage is not made for outdoor use. The top is not covered and the cage is not weather-proof.
In Short:
the cage is pet-friendly and secure
it comes fully-equipped
simple to assemble and clean
fits two hamsters or one Syrian hamster
perfect for indoor use
spacious, large, and wide
BEST ENCLOSURE 2-LEVEL HAMSTER CAGE
Mcage Two Level Hamster Cage
Transparent Design
If you like to watch your hamster play or doing other everyday activities, then a see-through cage might be the right one for you. Mcage hamster enclosure is made of transparent plastic and chew-proof wires. Its size is 16″ length x 11″ depth x 16″ height.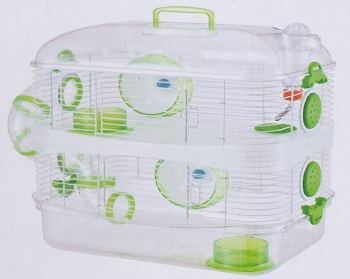 Cage Ventilation
Hamsters need to breathe the fresh air all the time. It is important for their mental and physical health. This means that the cage you are getting must be well-ventilated. Just like the Mcage. It allows the fresh air to circulate and has tight bar spacing which makes it safe.
What Is Included?
This 2-level hamster cage comes with a few essential cage accessories. There is a running wheel, a food bowl, and a water bottle on each floor. The Mcage requires you to add more decorations such as a hamster play house, play tubes, or other extras.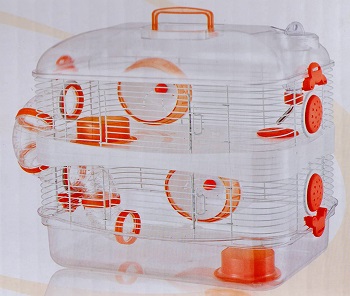 Useful Details
Mcage habitat is another cage that can easily be expanded. So, if you decide to get another hamster, get more Mcage accessories and connect your old cage with a new one. The assembly is simple and quick, no tools required. The bar spacing is 1/2 inch.
In Short:
Mcage cage is see-through
made of plastic and safe wires
the cage is well-ventilated
includes a wheel, a bowl, and a bottle
it is easy to set up
BEST BLUE 2-LEVEL HAMSTER CAGE
YML Plastic Hamster Enclosure
Product Overview
If you are in need of a fully-equipped 2-level hamster cage that comes at an affordable price, then read more. The YML is a one-hamster cage. It is made of a translucent plastic base, a strong wire top with tight bar spacing, and includes fun cage content.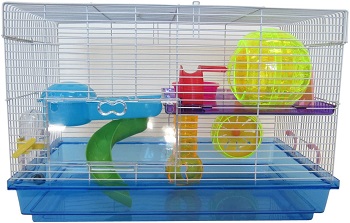 Cage Content Included
The cage comes with one plastic platform, a spiral slide, a hamster food dish, a plastic drink bottle, a play tube, a hamster exercise wheel, and an exercise ball. All of this will be enough for your hamster to live a happy and active life.
Size And Space
The YML cage dimensions are  18L"x12W"x12H". The cage does not weigh too much so it is easy to lift up. Bar spacing is tight enough and safe for your hamster's paws. This cage provides just enough space for a happy hamster life.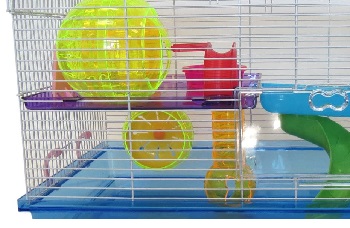 Cage Security
If you have other cats or dogs at home and are wondering if this cage is cat-proof then you can relax. This is a secure and escape-proof hamster cage. It will allow no other pets to access the cage and it will keep your hamster safe.
In Short:
YML is a plastic and wire hamster cage
it comes fully-equipped
the cage is simple to set up
it is lightweight and simple to maintain
this a cat-proof hamster cage
BEST CUTE 2-LEVEL HAMSTER CAGE
PawHut Pink Hamster Habitat
Roll The Cage
Almost all PawHut hamster cages stand on four rolling casters. They are simple to roll to another side of the room. This model is just like that. It is a large Syrian hamster cage. It is made of plastic and leak-proof base and a wire top.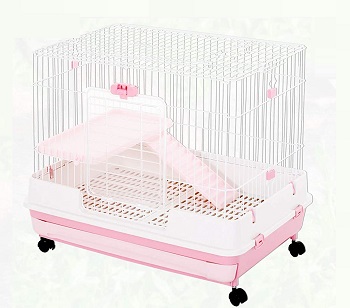 Secure And Chew-Proof
The rolling wheels of this 2-level hamster cage can easily be secured. Also, the cage has tight bar spacing (0.95") which prevents your hamsters from getting stuck. The wires are resistant to bites as well. This cage will keep your small pet safe.
Space And Dimension
The PawHut cage will fit a rabbit, pet mink, chinchillas, guinea pigs, or Syrian hamsters. The size of the cage is 32″L x 20.75″W x 26″H. The inside of the cage includes one plastic platform and a ladder. It has enough space for adding extra cage content.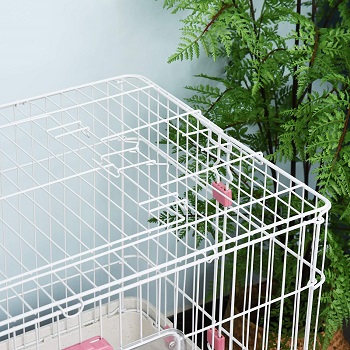 Combined Material
The cage's bottom is made of pink and white sturdy and non-leak plastic. The base is deep. We suggest you add hamster bedding. The top is made of metal wires painted in white. Customer satisfaction with this two-level hamster cage is high.
In Short:
PawHut cage stands on four wheels
the rolling wheels can be secured
this cage is made of plastic and metal wires
there is one platform included
it is perfect for one Syrian hamster
BEST BLACK 2-LEVEL HAMSTER CAGE
Prevue Sturdy Fancy Hamster Cage
Elegant Basic Design
If you are looking for a cage that will fit into your modern home decor, why not consider this fancy hamster cage? It comes in black. Its design is quite basic – the cage is made of a deep plastic base and chew-proof wire top.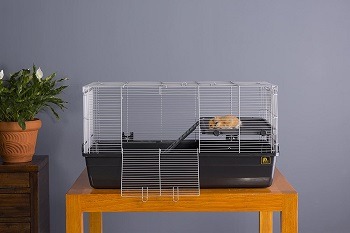 The Cage Openings
There are two opening doors – the top and side one. We suggest you access the cage from the top opening when cleaning. This way you will make sure that your hamster won't escape the cage. Both doors can be secured.
Ventilation And Bar Spacing
Prevue 2-level hamster cage is well-ventilated which is important for your hamster's health. The fresh air circulates the cage all the time. Also, the space between the wires is narrow enough to keep your hamster's paws safe (3/8 inches).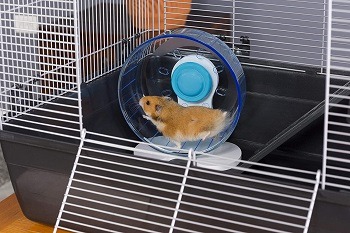 The Size And More
The overall dimension of the Prevue hamster cage is 32 ½'' L x 19'' W x 17 ½'' H. The inside of the cage includes a plastic platform and a safe ladder. This cage is leak-proof and has no sharp edges. It is perfect for one or two hamsters.
In Short:
basic black and elegant design
narrow space between the bars
leak-proof plastic base
chew-proof and sturdy metal wires
fits up to 2 hamsters
this cage is well-ventilated
How To Pick: 2-Level Hamster Cages
How to know which 2-level hamster cage is worth buying? It may seem there is a lot to think about. This is why we have made a small guide to help you pick the right cage for your hamster. Before buying, be sure that your cage is resistant to bites, has a leak-proof base, is made of quality materials, and is safe in every way. Keep on reading to learn more.
Non-Toxic And Chew-Proof – Hamsters' natural instinct is to chew. Your pet hamster will surely try to do that more than once. This is why your new cage must be made of sturdy material that is resistant to its bites. Moreover, the material needs to be pet-friendly and made of toxic-free materials.
The Deep Base – The ideal hamster cage comes with a deep and leak-proof plastic bottom. It should come with smooth surfaces. Add hamster sand, litter, or bedding, and watch it play and have fun. The bedding will encourage the hamster's natural instinct of digging.
Other Important Features – In short, there are a number of other features that your hamster enclosure needs to come with. For example, some models come fully-equipped, while others have no content but can be customized.  Also, the ease of maintenance is also very important.
Quality And Price – There are so many two-level hamster cages on the market. You will surely find the one that meets your budget. Remember that not every expensive cage is necessarily made of quality materials. On the other hand, there are so many affordable products that will be safe and secure for your hamster. Buy online and read customer reviews.
Where To Get? – You can get such products in any pet shop. If you follow our suggestions, we are sure that you will find the right cage easily. The products that we have listed in this article are available online. Check them out, read customer reviews, and find hamster cages on sale.
To Sum Up
Getting a sturdy, long-lasting, and well-ventilated hamster cage is very important. This is why, out of all of the listed products, we liked the Prevue 2-level Hamster Cage most. Its simple black design makes it fit into any home decor. Also, it is safe, secure, and the customer rating is 5 out of 5! If you want to learn more about similar products, then read our article about the black hamster cages. You might also like our article about the six best 3-level hamster cages.