Are you in search of an aesthetic hamster cage that is made of quality materials and suits your style?
Then look no more! Find out which top six aesthetic cage models we have reviewed in this article. Learn more about their characteristics and features. Don't miss reading our buying guide as well. It will help you pick the right cage for you and your little pet.
The Summary
Best 6 Aesthetic Hamster Cages Reviews
BEST OF BEST AESTHETIC HAMSTER CAGE
Aivituvin Wooden Large Hamster Cage
Wood, Acrylic, And Mesh
The Aivituvin cage for hamsters is made of a wooden frame. The front comes in clear and see-through acrylic. The top and sides of this large wooden hamster cage come with wire mesh walls that allow the fresh air to circulate the cage.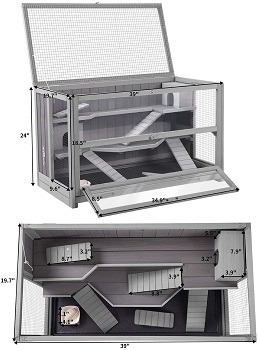 Spacious And Large
There is plenty of space inside of this hamster cage. The large size makes this cage suitable for homing two hamsters or Syrian hamsters. The cage measures 38.98″L x 19.69″W x 24.02″H. It is heavy-based and cannot be moved easily.
Fits Two Pet Hamsters
The Aivituvin aesthetic hamster cage fits more than one hamster. Each of your fur buddies will have just enough space for all of their activities – rest, interaction, and play. There are multiple levels inside of this cage. Ladders and hideouts are included too.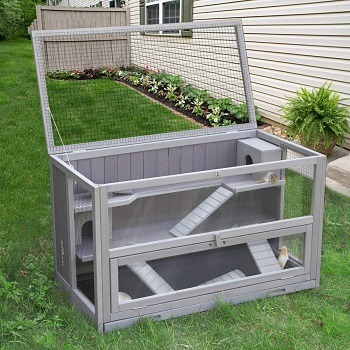 Weather-Proof And Durable
All the material that was used to build this hamster enclosure is of high-quality. The inside of the cage has no sharp edges. The cage will last you a long time. The material is weather-proof and can be used outdoors. However, we suggest you keep your hamsters inside – the top is not covered nor waterproof.
In Short:
made of acrylic, mesh, and wood
the cage is sturdy and heavy-based
front and sides are see-through
it can fit more than one hamster
weather-proof, but not water-proof
BEST AQUARIUM AESTHETIC HAMSTER CAGE
Savic Tank And Wire Modern Cage
Combination Of Two Habitats
The bottom part of this Savic hamster habitat is made of a transparent tank, while the top part comes as a wire high-rise. Each level of this hamster cage provides a lot of space. There is a ladder that leads from one floor to the other.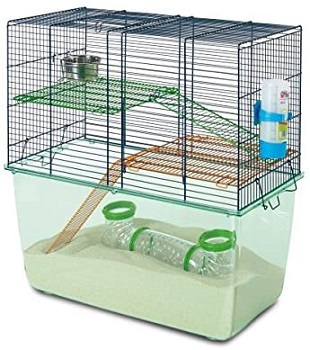 Pet-Friendly Material
The material that was used to built the Savic aesthetic hamster cage is non-toxic. The tank has smooth surfaces and is safe for the hamster's tiny paws. The wire part comes with tight space between the bars and it is resistant to your hamster's bites.
Customize Your New Cage
Although this new tank habitat includes a ladder, a play tube, a water bottle, and a food bowl, we suggest you add hamster bedding, litter, or sand as well. It will keep your hamster healthy, active, and encourage its natural instinct of digging.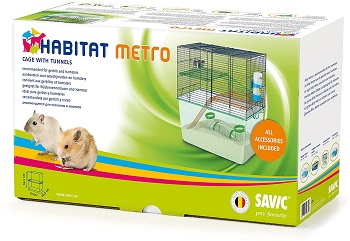 Useful To Know
This product measures 20in x 10in x 20. 5. It is ideal for one hamster and it will fit one Syrian hamster as well. The cost of this 2-level hamster cage is medium. The quality is high and we are sure any hamster will feel comfortable living in this cage.
In Short:
made of transparent tank and wire top
the cage has two large levels
ideal to be a one-hamster habitat
includes a play tube, platform, and a ladder
add hamster bedding, sand, or litter
BEST BLACK AESTHETIC HAMSTER CAGE
Prevue Black Sturdy Hamster Enclosure
Elegant Black Design
This cage by Prevue is a one-hamster cage. It comes in black color and it was painted in safe and pet-friendly paint. The cage is heavy-based and durable. It is sturdy and bite-resistant which will make you feel completely safe about your hamster.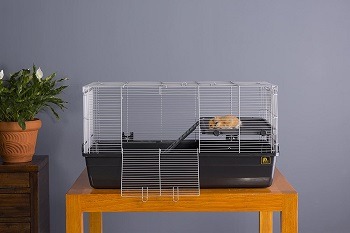 The Deep Base
Having an aesthetic hamster cage is not enough. You must consider cages other qualities. For example, the Prevue cage has a deep plastic base that is leak-proof. This makes it easier to clean and it allows you to add bedding or sand so your hamster could play and dig.
Tight Bar Spacing
The space between the wires is ideal – 3/8''. This means that your hamster won't be able to escape through the bars. Also, its paws won't get stuck in between. You can home a dwarf hamster inside of this cage as well.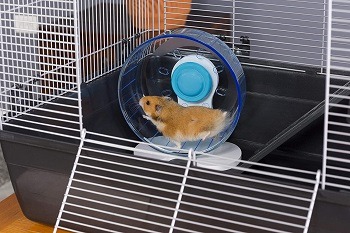 Important Characteristics
Dimensions of this black cage are 32 ½'' L x 19'' W x 17 ½'' H. The cage is made for indoor use. It includes a plastic platform, a hideout area underneath it, and a ladder. Get your hamster a hamster litter box and be sure that you clean the cage often.
In Short:
the cage is elegant and sophisticated
cage is sturdy and durable
the wires are chew-proof
space between the bars is narrow
the cage is pet-friendly and non-toxic
BEST ENCLOSURE AESTHETIC HAMSTER CAGE
Little Friends Fancy Hamster Habitat
Fancy Design
The Little Friends cage for hamsters is made of a white, deep plastic base and black wires. The inside of the cage includes elegant cage content made of wood. This fancy hamster cage will fit into any modern and elegant home decor.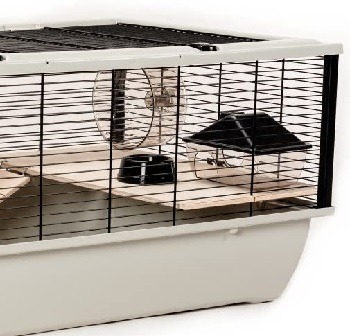 The Ventilation
Your hamster will feel happy and safe inside of this cage. The sturdy wires that the top and sides are made of allow the fresh air to circulate the cage all the time. This is important for your hamster's mental and physical health.
Accessories Included
This aesthetic hamster cage doesn't come empty. In fact, all the essential cage content is included – a small platform, a ladder, a hamster hideout house, and a running wheel. Get this cage and use it as a starter hamster habitat.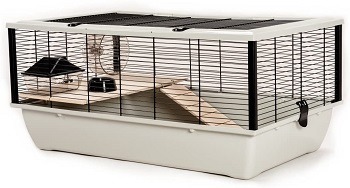 Easy To Assemble And Store
You will put this cage by Little Friends together in no time. The assembly requires no tools. Also, if you wish to store the cage, you will save space. The case is easily collapsible for transport and sturdy and strong when put together.
In Short:
the design is elegant and fancy
this cage is well-ventilated
it provides space for one hamster
the included accessories are pet-friendly
this is a great starter kit cage
BEST CAT-PROOF AESTHETIC HAMSTER CAGE
Lonabr Safe Wooden Habitat
Safe And Natural Cage
The Lonabr aesthetic hamster cage is made of natural wood and non-toxic acrylic. It is a long-lasting and heavy-based hamster terrarium habitat. The top of this cage comes with a robust wire which provides the cage with great air circulation.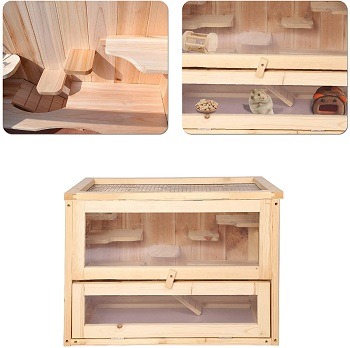 See-Through Design
The acrylic front panel of the cage is transparent. Your hamster will have great visibility to the outside of the cage and the surrounding area. Also, you will get to watch your hamster play, rest, and do other fun activities.
Two Floors
This aesthetic large cage has two floors. Your hamster will have a lot of space to play and run up and down. The cage will fit Syrian hamsters as well. We are sure that the Lonabr large Syrian hamster cage will make your pet happy and secure.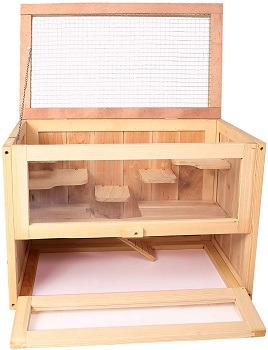 More Important Details
This cage's size is 23.6″(L)×16.5″(H)×13.8″(W). The cage weighs 22 lbs. It features platforms and a ladder. The quality is high and the material is 100% pet-friendly. The cage is made of non-toxic and anti-rust material. The price is budget-friendly.
In Short:
the cage is safe and pet-friendly
it has a see-through front panel
there are platforms and a ladder included
Lonabr cage fits Syrian hamsters
there is a lot of space inside the cage
BEST MULTI-LEVEL AESTHETIC HAMSTER CAGE
Pawhut Pink Syrian Hamster Cage
Product Overview
The Pawhut manufacturers have made a cute pink hamster cage that comes with large dimensions. This tall hamster cage has 4 levels and is ideal for Syrian hamsters. There are three platforms and three ramps. The cage is made of a plastic base and wires.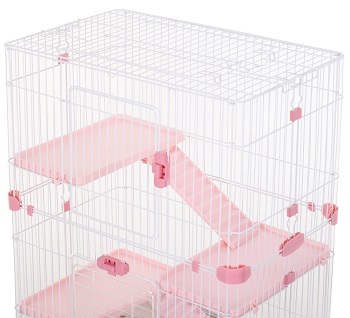 Three Openings
Pawhut aesthetic hamster cage has three access doors. There is one opening on the top, and two on the front side. The doors will help you access the cage from all sides and the cleaning or refilling the food bowl won't be a hassle.
Easy To Move
You can easily move this cage if you need to. The cage stands on four rolling casters. The casters can be secured when you don't need the cage to move. Move the cage from one room to another or when you want to clean the surrounding area.
Dimensions And Safety
Overall dimensions of this cage are 32″L x 20.75″W x 43.25″H. The bar spacing is narrow – less than an inch. The cage is pet-friendly and made of smooth surfaces. The wires are resistant to bites and the deep base is leak-proof.
In Short:
comes in pink color
the cage is sturdy and tall
there are 4 levels
includes plastic platforms
stands on 4 rolling casters
it is easy to clean and move
How To Pick: Aesthetic Hamster Cages
Getting a modern, elegant, and aesthetic hamster cage is easy. But finding one that is completely pet-friendly, spacious enough, easy to maintain, and secure is not always an easy job. We suggest you keep on reading this guide to find out why the above-listed characteristics need to be a priority when buying a hamster cage.
Material And Design – You are probably looking for a cage with an authentic look that will fit into your home nicely. There are many modern hamster cages on the market that will surely meet your needs. However, you also have to think about your hamster's needs. No matter the design, hamsters require a sturdy, quality, safe, and spacious cage.
Deep Base And Hamster Bedding – A big plus is if a cage that you want to buy includes a deep and plastic base. The base should be leak-proof and easy to clean. Add hamster bedding to the cage and allow it to play and enjoy its habitat fully. Hamster bedding will encourage your pet's natural instinct of digging. It will keep it healthy and happy.
Security And Safety – We consider that the best type of a hamster cage is the one with a plastic base and wire top. The bar spacing must be narrow. Hamsters have tiny paws that may easily get stuck. Also, the ideal cage for hamsters is made of non-toxic material that is resistant to bites.
Durability And Hygiene – What you should have in mind before you buy a hamster cage is the stain and bite resistance, the ease of cleaning and maintaining, and the durability of the product itself. Get a sturdy, heavy-based hamster cage that is not easy to overturn.
Accessories, Decorations, And Extras – For the first-time owners, we suggest you get your hamster a fully-equipped cage. This is how you will easily get to know what your hamster likes more. You can always customize the play area and add more hamster cage content.
To Sum Up
Whether you are about to get a hamster for the first time, or you simply want to replace an old hamster cage, we suggest to consider getting the Little Friends Fancy Hamster Habitat. This aesthetic hamster cage comes with essential cage content – a platform, hideout area, a wheel, and a hamster food dish. There are similar fancy hamster cage models that we wrote about. We hope our reviews will help you find the right hamster enclosure for your fur buddy.