Are you looking for a new guinea pig outdoor enclosure?
You don't know which one will be perfect for your pet?
Check our post because we reviewed 6 different categories. Keep reading to find out the best large, with wires, 2 levels, portable and small, and pick one with the best features that will satisfy your pet's needs.
The Summary
Best 6 Guinea Pig Outdoor Enclosures
BEST OF BEST GUINEA PIG OUTDOOR ENCLOSURE
Unipaws House
Wooden Material
If you're preferring a wooden design, this can be your choice. It is constructed with 100 % solid fir wood, that will have long durability. With a wood-sided design, your pet will be protected and have enough privacy.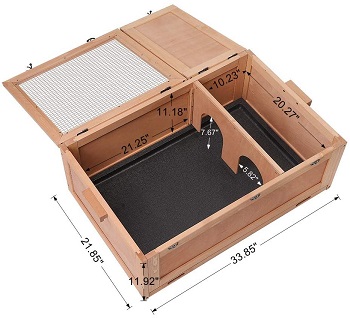 Large Habitat
With the measurement of 33.85 x 21.85 x 11.92 inches your lovely guinea pig will have enough space in this guinea pig outdoor enclosure. This large environment will provide easy movement and activities.
Great Air Circulation
At the top of this outdoor guinea pig hutch are net wires that will provide great air circulation as well as enough protection from other animal predators. There are also door latches for maximum protection.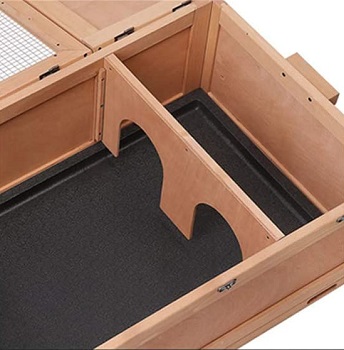 Absorbent Bottom
The enclosure is separated in two, there is a run area and an enclosed hutch. Because of the absorbent coconut bottom, your lovely pet will have a fresh environment. The sliding tray is perfect for quick cleaning.
In Short
Made of solid fir wood for durability
Large space with the run area and hiding box
Wires at the top for circulation and safety
Absorbent bottom provide a comfortable habitat
Sliding tray for quick cleaning
BEST LARGE GUINEA PIG OUTDOOR ENCLOSURE
PawHut Enclosure
Galvanized Frame
If you're planning on buying a large guinea pig habitat, you will be satisfied with this one. It is made from a metal wire frame that will last you a year. Wires are tight enough to provide safety from escaping or stuck between.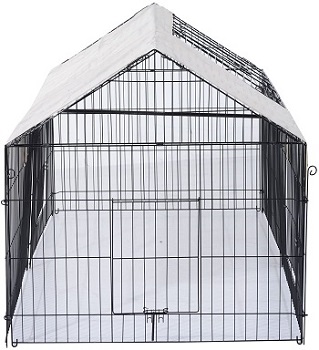 Large Interior
This spacious guinea pig outdoor enclosure measures 86.5 x 40.5x 40.5 inches so your lovely pet can have enough space for playing, moving around as well some other activities in this safe habitat.
Roof Cover 
With multiple side and top doors, you will have quick and easy access inside, so you can do some daily cleaning or feeding routine. So your pet stays protected from weather, there is a roof cover that is water and UV-resistant.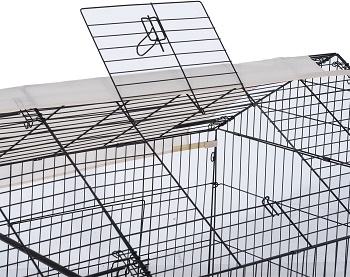 Easy Moving
Even it is a large enclosure, it is pretty much lightweight so you will have no problem with moving around your garden. It can be also easily stored when not in the use. No problems with assembly because of the connect frame system.
In Short
Metal frame for safety and durability
Large space provides easy moving and activities
Multiple access from the side and the roof
Roof cover for weather protection
Connect frame system provide easy assembly
BEST WITH WIRES GUINEA PIG ENCLOSURE
Rockever Habitat
Comfortable Space
Metal wires and solid wood is constructed for long durability and maximum safety. This guinea pig enclosure has 40 x 36 x 14 inches and it is the perfect choice if you're looking for a comfortable area for your pet.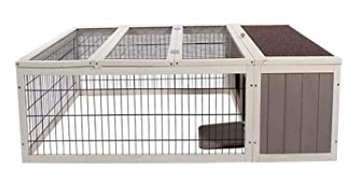 Wooden Hutch 
This outdoor guinea pig run has a large area for activities, without a bottom, so your pet can have a natural environment. When your guinea pig needs some privacy or weather protection, there is a side wooden hutch.
Quick And Easy Access
Because of the fully opened top roof, you can have easy access inside of the guinea pig outdoor enclosure to do some cleaning and changing water and food. Also, the hutch roof can be opened, too, so you can check your lovely pet.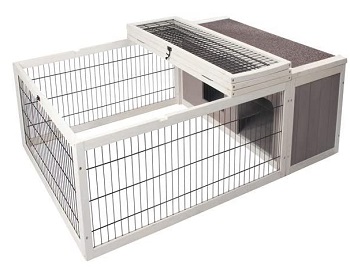 Safety Latches
An enclosure can be easily moved from side to side and stored when you're not using it. Don't worry about predators, there are safe metal latches and tight wireframe to provide a safe environment for your pet.
In Short
Made from metal wires and wood frame
Large area for playing and activities
Easy access from the full opened roof
Easy for moving and storing
Protected from predators with wires and metal latches
BEST 2 LEVELS GUINEA PIG OUTDOOR ENCLOSURE
PawHut Hutch
Lilac Color
This 2 level guinea pig cage is made from solid fir wood and it is painted in a beautiful lilac color that will perfectly suit every garden or backyard. Paint is non-toxic so you don't need to worry about your pet's safety.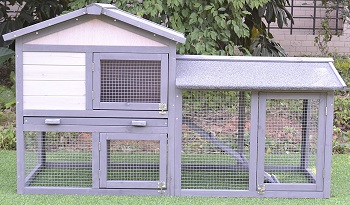 Elevated Area
With a measurement of 58 x 21.25 x 33 inches, your pet will be so comfortable and have so much fun in this large area. There is an access ramp to the elevated area, which is perfect for resting and privacy.
Protection From Weather
The roof of this guinea pig outdoor enclosure is made from waterproof and anti-UV material, so you will have no worries when there is rain outside or high temperature. Wires will provide great air circulation, so your pet can have fresh habitat.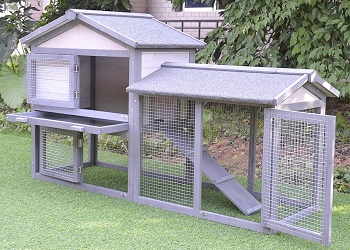 Quick Entrance And Cleaning
There are multiple doors for access, on the bottom as well as on the elevated area, so you can save your time and energy with your daily routine. The sliding bottom tray is perfect for quick cleaning.
In Short
Beautiful design in lilac color
Sturdy construction with weather protection
Large run area and access ramp to the top hutch
Quick access from multiple doors
Wires for protection and air circulation
BEST PORTABLE GUINEA PIG ENCLOSURE
HiCaptain House
Natural Wood 
The enclosure is made from natural fir wood and it is painted with pet safe paint, so you don't need to worry about your guinea pig health. This portable guinea pig cage is a perfect choice if you want a simple design pet house.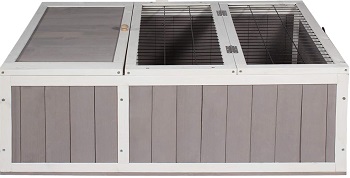 Double Room Design
With a measurement of 36x 24 x 13 inches, this guinea pig outdoor enclosure will provide great living space for your lovely pet. It has a double room design, with a run area for activities and an enclosed hut for pet privacy.
Quick Access From The Top
With both open, run area top as well as hut top, you can do quick daily maintenance. The wooden floor is easy for cleaning, you can put some bedding to provide more freshness and comfort in your pet habitat.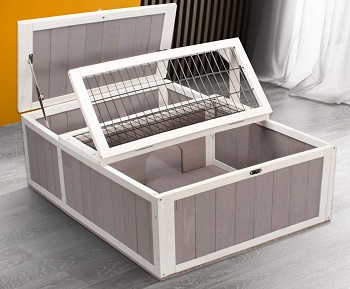 Easy Assembly
Because of safety latches, your pet will be protected from escaping and predators like cats and birds. Easy moving and transport with this enclosure will save you time and energy. Pre-drilled holes provide quick assembly.
In Short
Firwood with pet safe paint for safety
Designed with run area and hut space for privacy
Open run and hut top for quick access and daily routine
Safety latches provide protection from escaping and predators
Quick assembly with pre-drilled holes
BEST SMALL GUINEA PIG OUTDOOR ENCLOSURE
JAXPETY  Hutch
Rust-resistant For Durability
If you need a small guinea pig cage, this enclosure is perfect for your pet. This guinea pig outdoor enclosure is made from solid pine to provide a long durability. It is painted with non-toxic paint and it is rust-resistant.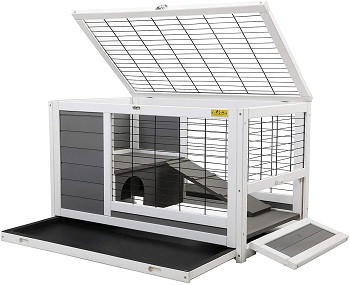 Elevated Area With Nesting Box
With a dimension of 35.4 x 20.9 x 21.3 inches, your pet will have enough space for easy moving and comfort. There is an elevated area with an access ramp that can be used for feeding. Underneath, there is a nesting box.
Sliding Tray
The top of the roof can be fully opened, so you can quickly change the food and water when needed. Also, there is a large sliding bottom tray for easy cleaning with only soap and water, and it is ready for use in a few minutes.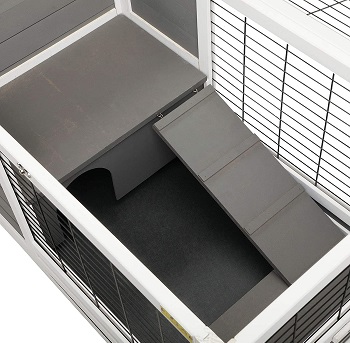 Moving And Storing
Lockable doors and tight wire mesh provide maximum safety from escaping as well as attacks from predators. Because of the smaller dimension, it can be easily moved and stored whenever you need it.
In Short
Solid pine and non-toxic paint
The elevated area with access ramp
Nesting box for pet privacy
Fully opened roof for quick access and maintenance
Large sliding tray for quick cleaning
How To Pick The Best Guinea Pig Outdoor Enclosure?
Picking the perfect enclosure for your lovely pet can be hard, but keep on reading which features will help you with choosing the best one. No matter if this is your first time buying it, or you only need a new one, it is important that your pet has an enjoyable and comfortable environment.
Size Of The Enclosure – Guinea pigs are active animals, so one of the important features to check first is measurement. If you have one guinea pig make sure that you choose a minimum 7.5 square feet cage, generally around 30 x 36 inches is a great option. If you have multiple guinea pigs, don't go under 30 x 50 inches.
Durable Construction – There are different kinds of material on the market, so check out the quality that will provide longer durability. If you're looking for a wireframe cage, make sure that is sturdy and painted for rust resistance. Also, if you're looking for a wooden design, check the type of wood, if it is solid and if it has weather protection.
Quick Access Inside – So you can do some daily routine such as feeding or changing the water as well as cleaning, check out the access. If it is possible, choose the one that has multiple doors, from the side and the top. That feature will save your time with maintenance so you can provide a fresh and comfortable habitat to your lovely pet.
Safe Environment – Outside guinea pig enclosures need to have maximum protection so you don't need to worry about pet safety. This means that you need to check the space bar between wires, so your pet can't escape outside. Also, latches need to made from sturdy metal. It is a very important feature especially because of outdoor predators.
To Sum Up
From our top pick, the best guinea pig outdoor enclosure that is recommended is Unipaws house. It is made from solid wood that will have long durability. Easy for moving, easy access, and great large space for your pet comfort. For more cool guinea pig houses to pick, go check this post and find the best cool guinea pig cages for your lovely pet. Also, if you're looking for a larger indoor cage, check this post where we picked the best large indoor guinea pig cage.