Do you want to buy a perfect 2 level guinea pig cage for your lovely pet?
You don't know what type do you want?
You are at the right place. We reviewed 6 different categories so you can pick the best plastic, outdoor on wheels, and much more. Check our guide for more information that will help you choose the best two level guinea pig cage on the market.
The Summary
6 Best Two Level Guinea Pig Cages
BEST OF BEST 2 LEVEL GUINEA PIG CAGE
Ferplast Krolik Cage
Wireframe Design
If you're looking for wire guinea pig cages that will perfectly fit in your interior, this Ferplast one is for you. It is made of a sturdy wireframe with a plastic bottom in a red and white color combination.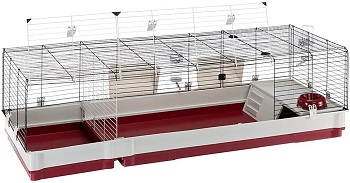 Safe Space
This cage measures 63.8 x 23.6 x 19.7 inches. Your pet will have a large playground in this two-level guinea pig cage. Don't worry about safety, wires are strong and tight enough so your pet can't escape.
Free Accessories
There is an elevated area on one side of the cage, with an access ramp that can be used for the feeding area. With the cage, you will get 2 hay feeders, a water bottle, and 2 feeding bowls, so your pets can have separate feeding areas.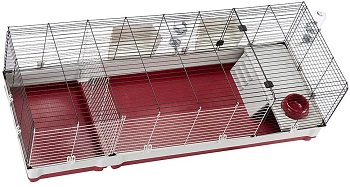 Wire Extension
For pet privacy, there is an underneath hideout. Also, there is a wire extension, when you want to separate pets or clean the space. Easy access and cleaning because of the removable bottom. Perfect cage for easy transport and storing, as well.
In Short
Wireframe with plastic bottom
Large living space with an elevated area
Wire extension for separate space
Easy access and cleaning
Included accessories for feeding and drinking
BEST PLASTIC 2 STORY GUINEA PIG CAGE
Kaytee Cage
Colorful Design
This 2 story guinea pig cage is made of sturdy wires with a plastic top and a deep plastic base in purple color. Colorful plastic guinea pig cage measures 42.25 x 7.75 x 18.25 inches, so your pet can enjoy maximum comfort.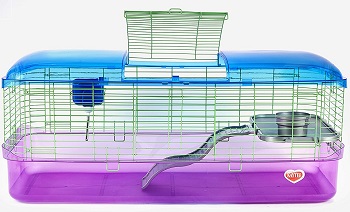 Elevated Area
Cage has a large playground and an elevated platform with an access ramp, which is the perfect place for feeding and relax, as well. You will get a water bottle and a small feeding bowl with the package.
Removable Base
When you need to access 2 story guinea pig cage, there are doors on the top and the front. Because of the removable bottom plastic base, you can easily wipe out the mess with a towel or use warm water and soap.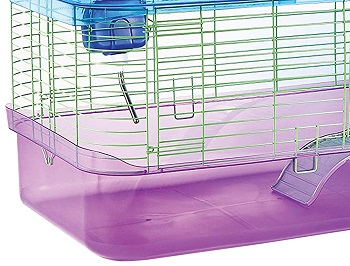 Lightweight Construction
It is lightweight, so you can move it from place to place. Perfect for transport, and store when you're not using it. Easy to assemble, you will need no tools, it is ready for use in a few minutes.
In Short
Wireframe with deep plastic base
Large habitat for moving and playing
The elevated area with access ramp
Front and top roof doors for access
Lightweight for caring and storing
BEST OUTDOOR TWO LEVEL GUINEA PIG CAGE
CO-Z Hutch
Natural Wood
This outdoor guinea pig hutch will perfectly fit in your backyard or garden. It is made of a natural anti-corrosion wood with weather protection and an asphalt roof so it can last you many years.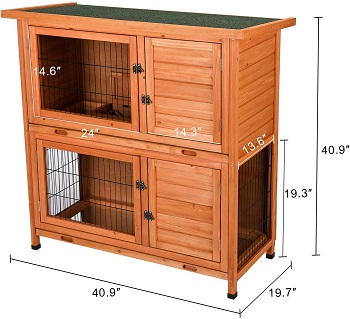 2 Levels
Hutch measures 40.9 x 19.7 x 40.9 inches and it has 2 levels with a large living space. The bottom area is perfect for playing, and an elevated area with an access ramp can be used for feeding and some pet privacy.
Easy Observing
When you want to observe your pet, there is the wire mesh on both levels, as well as multiple doors for quick access. Doors have a lock system so your pet can't escape. Plastic trays can be slide out for easier cleaning.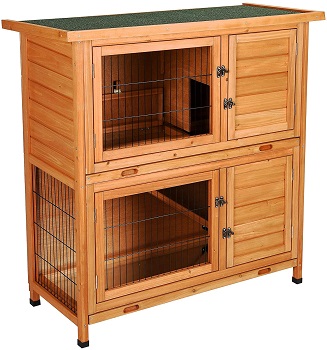 Safe Space
Your pet will be safe in this 2 level guinea pig cage, from other predators, because of the sturdy wires and lockable doors. It is easy to assembly in a short time, you will need about 30 minutes.
In Short
Natural wood with an anti-corrosion protection
Asphalt roof protects from sun and rain
Large living space on 2 levels
The elevated area is perfect for a pet's privacy and hiding
Sturdy wires and lockable doors protect from predators
BEST PINK GUINEA PIG TWO STORY CAGE
Pawhut Cage
Cute Design
If you're looking for a pink guinea pig cage, this cute one is the perfect option. This 2 story guinea pig cage is made from sturdy wires with a wire mesh system for pet safety. It has a plastic bottom and 4 rolling wheels.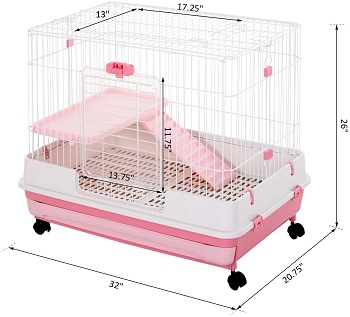 Great Comfort
With a dimension of 32 x 20.75 x 26 inches, this two-story guinea pig cage will provide great comfort and easy moving of your pet. It has a platform with an anti-slip ramp for access, which is the perfect place for a better view outside.
Door Ramp
So your pet can go explore outside while you're doing your pet's daily routine, there is a bottom plastic ramp. Also, you can have access from the top, to make sure your pet doesn't escape outside.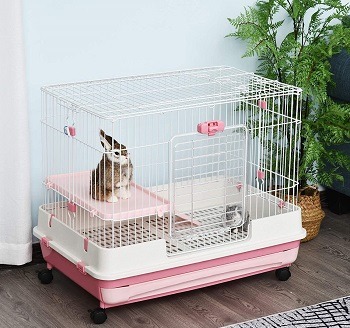 Quick Maintenance
The sliding tray is perfect for easy cleaning. A mesh panel between the tray and your pet's feet will help you with maintenance, and your pet will have clean feet and habitat. Wheels with brakes provide the cage to stay in place.
In Short
Wires and plastic bottom in pink and white color
Spacious space with an elevated platform
The sliding tray provides easy cleaning
Clean habitat with bottom mesh panel
Rolling wheel for quick moving
BEST LARGE TWO STORY GUINEA PIG CAGE
Good Life Cage
Weatherproof Hutch
For your garden or backyard, this large guinea pig habitat is the perfect option. It is made of natural fir wood, with non-toxic paint in the and grey color combination. Asphalt roof protects from bad weather.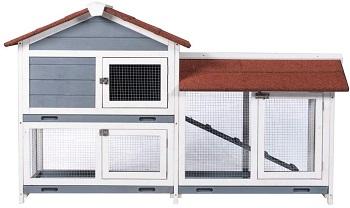 Large Run
This two-level guinea pig cage measures 62 x 21 x 37 inches. The large bottom run is perfect for playing and easy moving. Access ramp to the elevated hutch will provide the pet's privacy and rest. It is a perfect place for making a nest, as well.
Multiple Doors 
So you can check your pet while in hutch, use the small door window. Daily maintenance will be quick and easy because of large bottom doors that will provide access to every corner of this two-story guinea pig hutch.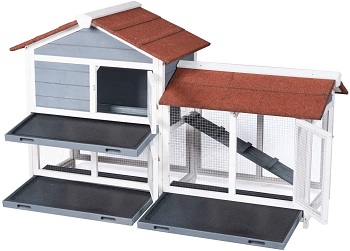 Safe Environment
When you need to clean the mess, pull the sliding tray, and wipe out with a towel or water, so your pet can enjoy in fresh habitat. Sturdy wires will provide enough air circulation and protection from predators.
In Short 
Made of natural fir wood with non-toxic paint
Weatherproof protection and sturdy wires for safety
Large run with elevated hutch for pet's rest
Easy access with multiple doors
Sliding trays on both level
BEST ON WHEELS 2 LEVEL GUINEA PIG CAGE
Scurrty Hutch
Weather Protection
If you're looking for a 2 story guinea pig cage for easy moving, this can be your choice. It is made of fir wood and an asphalt roof that will protect your pet from rain and the sun if you use it outdoor.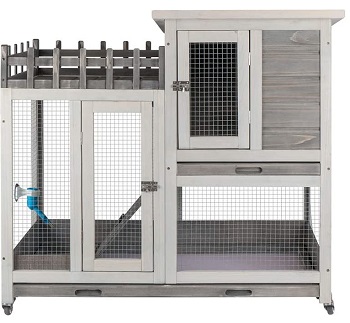 Fresh Environment
The cage measures 40 x 36 x 26 inches, for maximum comfort of your furry pet. So your pet can have enough fresh air, there is the wire mesh on both sides. Mesh is tight enough to prevent escape.
Elevated Hutch
This guinea pig cage on wheels has an elevated hutch, with a wooden ramp for quick climbing. This is a perfect space when your pet wants to hide and have some privacy. Make the feeding area inside of the hutch.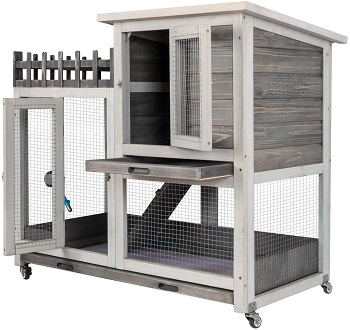 Quick Movement
Large front doors on both levels will provide quick and easy access, and bottom sliding trays will save your time with cleaning. Rolling wheels will make sure you can move this 2 storey guinea pig hutch quickly.
In Short
Made of fir wood with an asphalt roof for weather protection
A large run area with an elevated hutch
Wire mesh for great air circulation
Quick access from front doors
4 rolling wheels for quick moving
How To Pick The Best Guinea Pig Two Story Cages?
If you're looking for the best two-story cages for guinea pigs, our guide will be very helpful. There are some important features like cage dimensions, quick access, daily cleaning, and much more that will help you to pick the best cage for your lovely pet.
Cage Dimension – One of the most important things when picking the cage for your pet is the cage size. You want to make sure your pet has great comfort in the new habitat, as well as a place for playing and resting. 7.5 square feet guinea pig cage is the minimum size for one pet, don't go under 30 x 36 inches for enough comfort.
Elevated area – When picking the two-story guinea pig cage, check if there is an elevated area with an access ramp for easier climbing. Platforms need to be sturdy and large enough so your pet can fit easily. It is a great space for the feeding area, as well as a better view outside of the cage.
Easy Entrance – Doing a daily routine for your pet can take time and energy. When picking the 2 level guinea pig cage we recommend buying the one with multiple doors, so you can easily reach every corner. This will help you so you can quickly put fresh food, change the water, or play with your pet, as well.
Daily Cleaning – Make sure that your pet has fresh and clean habitat every day, so he can have a happy life in its cage. We recommend picking the cage with a removable bottom made of plastic for easier cleaning. Also, a great option is a cage with sliding trays, so you can wipe out the mess quickly.