You're searching for a perfect pink guinea pig cage?
You are at the right place!
In this article, we reviewed the best plastic, multi-level, fun, outdoor, and indoor so you can find the perfect one. Also, keep reading and you will learn why and how you should choose the best cage for your guinea pig.
The Summary
Best 4 Pink Guinea Pig Cages
BEST OF BEST PINK GUINEA PIG CAGE
Pawhut Cage
Corrosion Resistance
This cage comes in combination with white wireframe and pink parts such as inside features and bottom base. The frame is fully painted so it has corrosion resistance for longer durability. Large space will provide great comfort for your lovely pet.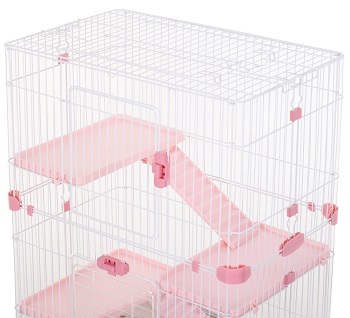 Platforms And Ramps
Pink guinea pig cage includes 3 platforms with anti-slip ramps for the safety of your pet. Your pet will be active because of climbing and playing on different levels of the cage.  You can put their feeding and drinking bowl on platforms and avoid the mess at the bottom.
Doors With Safety Lock
There are 3 openings for access inside the tall guinea pig cage, two from the front and one from the top roof. Doors have a safety lock so you don't have to worry about the possibility of a pet escaping. The bottom front door can be used as ramps so your pet can explore outside.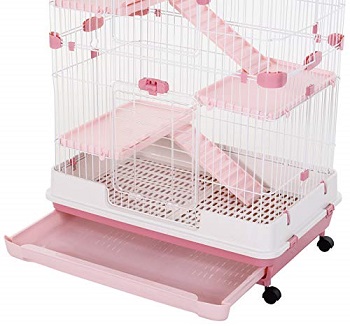 Wheels And Brakes
Easy maintain because of the sliding bottom tray. It is plastic, so you can use only soap and water and save your time. Movement and transport around home or yard are easy because of 4 rolling wheels. Also, it has 2 safety brakes to stay in place.
In Short
White and pink design with large living space
3 platforms with anti-slip ramps for activity
3 doors for quick access
Easy cleaning with sliding bottom tray
4 wheels with brakes for easy transport
BEST PLASTIC PINK GUINEA PIG CAGE
Zoozone Cage
Transparent Design
This beautifully designed plastic guinea pig cage is transparent on the sides. It has a white wire top roof that can be fully opened for easier access inside of the cage. The deep bottom base of the cage will provide great comfort and privacy for your pet.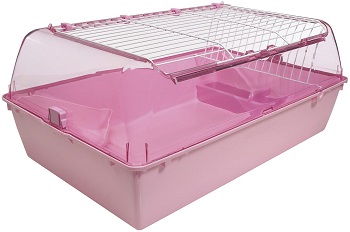 Feeding And Drinking Area
Because of the large space, you can put some additional features such as toys, tunnels, ramps, and much more to make the environment more fun and active. On the side of the bottom base is a place for the feeding area. The package includes a water bottle holder.
Access For Cleaning
The opening roof will provide quick and easy access for maintenance and cleaning. The bottom of the cage has safety locks and can be easily removed. Because of the plastic material, you will clean it quickly with soap and water and it is ready to use in a few minutes.

Easy Movement
This cute pink guinea pig cage is easily portable, it can be moved from side to side and used wherever you want. The recommendation is for using it indoors because of the wire roof. Your pet will have a safe and enjoyable environment in this cage.
In Short
Transparent plastic on the sides
Large living space for comfort
A place for feeding area at the side of the cage
Easy entrance to maintain
Easy transport and movement
BEST INDOOR PINK GUINEA PIG CAGE
Little Friends Cage
Simple Design
If you're looking for some simple design cage, this modern guinea pig cage can be your choice. It has a metal wire construction with a deep pink plastic bottom. Don't worry about the security of your pet, small space bars between wires will provide a safe environment inside of the cage.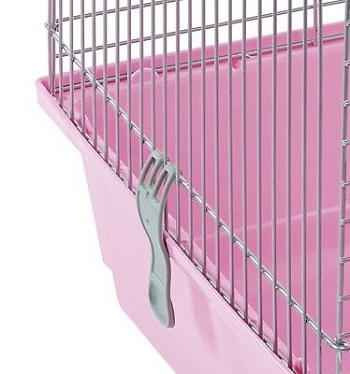 Bowl And Hayrack
There is spacious space for your pet comfort and you can add some fun features if you'd like your pet to stay more active and healthy.  The cage has an inbuilt bowl and hayrack, that is attached on the outside. This will help you with quick maintenance.
Large Doors For Access
This pink guinea pig cage has a large opening on top and from doors for easy access inside. The front door has a drop-down opening so your pet can explore outside. The bottom base has a safety lock so it can be easily removed for quick cleaning with water and soap.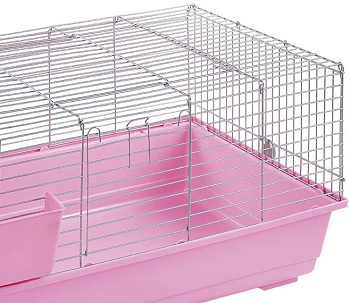 Quick Assembly
With instructions included, you will only need a set of pliers for quick assembly. Because of the dimension, the cage is easy to carry on, so it is great for transport and movement. Your pet will enjoy this small but functional environment.
In Short
Simple and functional design
Inbuilt bowl and hayrack
Entrance from the top and front
Easy assembly with a set of pliers
Great for transport and movement
BEST OUTDOOR PINK GUINEA PIG CAGE
Lovupet Cage
Fir Wood Construction
This pink guinea pig hutch is constructed with solid fir wood and wires for good air circulation. It is painted with eco-friendly paint, thas will be safe for your pet health. The asphalt roof and the whole construction is waterproof so it will have long durability.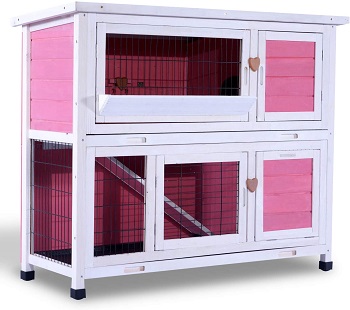 Enclosed Hutch
The guinea pig cage has 2 floors with a large living space, so your pet can be active. There is a ramp for access to the top floor. One side of the cage, on both floors, has an enclosed hutch so your pet can have privacy while, for example making a nest.
Multiple Doors For Entrance
There are 4 front doors and an openable rooftop for maximum entrance inside. You will have easy access to change food and water for your lovely pet.  No worries about cleaning because of the sliding bottom tray that will provide the maximum hygiene for your pet.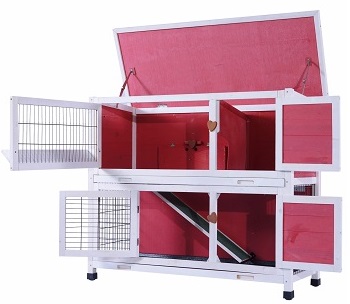 Plastic Stand 
A pink guinea pig cage will be the perfect choice for your backyard. The plastic stand will provide stable construction and easier movement and transport. Cage is easy to set up, with only half an hour of work. Your pet will love this cute and functional habitat.
In Short
Solid wood cage with waterproof protection
Large living space with 2 floors
Enclosed hutch for privacy
Easy access with multiple doors
Plastic stand for stability and easy transport
How To Pick Best Pink Guinea Pig Cages?
When picking a perfect cage for your lovely pet, except it needs to be pink, make sure it is a good choice for your guinea pig. You need to find the best one considering the quality of construction, size, functionality, additional features, and much more.
Sturdy Construction – Choosing the material of the cage is on your preferences, whether you prefer wire guinea pig cage, plastic, wood, or something else. Always make sure that is it constructed with a quality type of material, with stable and sturdy construction and anti-corrosion. This will provide the safety of your pet and longer durability.
Right Cage Size – Make sure that the measurement of the cage is enough for your pet comfort. Pets love to have enough place for activity but also for privacy and rest. If you can't pick between larger or smaller ones, always choose larger, if you're planning on having more pets or adding some features inside the cage.
Functionality And Features – The functionality of your pet cage will provide you quicker time for maintaining and cleaning, so make sure it has easy access inside. Also, a functional environment is very important for your pet, too. Be sure that features are safe and sturdy, easily accessible, etc. That will provide a comfortable life.
Color Combination – There are a variety of pink colors so choose the one that you prefer and that will suit perfectly in your home. The best combination that is recommended is white with pink parts, such as the bottom base. Less is more, and you can always add more colors with fun features inside of the cage.
Portability – Make sure that the pink guinea pig cage is lightweight so it can be easily moved from place to place with a carry handle. This feature is especially important if you bring your pet with you when you're traveling. Everybody will love your travel guinea pig cage when they see it.
To Sum Up
The best pink guinea pig cage that I recommend is the Pawhut cage. This cute pink cage has a large space for enough comfort for your pet, with 4 levels for an active and healthy life. If you also want to check some other colors for the cage, check this post to find the best red guinea pig cage. Also, if you want to have some smaller cage, check this post to find the best small guinea pig cage and choose the best one.