Are you looking for perfect tall guinea pig cages to fit in your home?
Then check out what we have chosen!
Then read our reviews to find the best one for your guinea pigs. We reviewed 6 different cages and you can choose between indoor, outdoor, on wheels, plastic or small, and find the perfect one for your guinea pigs.
The Summary
Best 6 Tall Guinea Pig Cages
BEST OF BEST TALL GUINEA PIG CAGE
Midwest Deluxe Guinea Pig Cage
Safe Indoor Space 
Square black construction with sturdy frames and wires will give your pet's safe environment. With the cage size of 36 x 24 x 63 inches, your guinea pigs will have enough space for comfort. The cage includes 3 horizontal wire spacing of 1/2 " for minimal risk of stuck in between.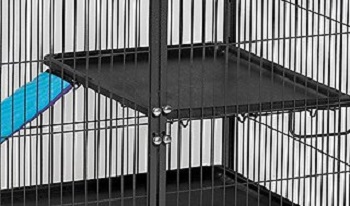 Playful Features
The indoor large guinea pig cage includes 2 pans and 3 plastic ramps that are cover in colorful material that make the cage very interesting looking.  Ramps are covered with non-slipping material so your pets' feet will be protected. Also, there are 2 adjustable shelves to have playful habitat so your pets can be more active.
Dual Locking Doors
Like most tall guinea pig cages, this one comes with access on both levels with double doors that are made full-width. With a removable shelf between levels, you will have maximum accessibility to clean and change the feeding area. Doors have dual locking that is 'critter-proof' and it will provide maximum security for your guinea pigs.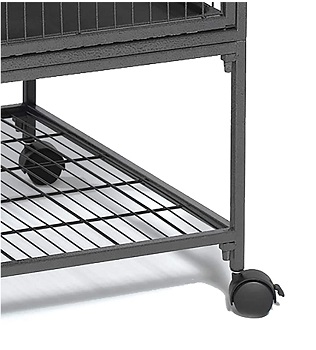 Leak-proof Pans
With wide shelves and pans that are leak-proof, your pets will have a great environment for playing. The tall guinea pig cage is stable and easy to maneuver because of its 4 wheels that can be locked. You can easily move it without worrying about security because of sliding.
In Short:
Construction with a sturdy frame
Features for playful environment
Full-width doors for easy access
Wide shelves with leak-proof pans
Locking wheels for maximum security
BEST PLASTIC TALL GUINEA PIG CAGE
PawHut 4 Tier Stage Guinea Pig Cage
Large and Stylish
The cage is constructed with metal tubes and wires. To give it modern look it is painted with a finish of hammertone pattern. A measurement of 31.5 x 20.5 x 50-5 inches cage will provide a large playful and living space with the comfort of your guinea pigs. This stylish cage is resistant to rust and wear.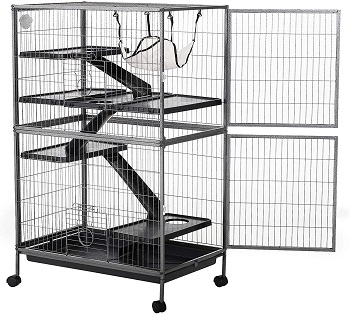 Removable Base
The plastic guinea pig cage has multiple doors so you can have easy access to make quick cleaning and changing feeding areas. A large deep base is providing your guinea pigs comfort for making a nest. Because the bottom is removable, you will have no problems with easy and quick cleanup.
Playful 4 Tier Platform
With 4 tier platform on this tall guinea pig cage that is placed at different heights, your pets will have active time. There are also ramps so they can easily go up and down with the addition of a hanging hammock. With these features, your guinea pigs will have a playful environment with enough comfort.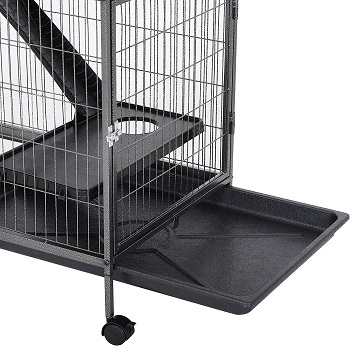 Safety Latches 
Even it is high construction, you will not have problems with transport. These tall guinea pig cages has 4 universal wheels for easy movement from one place to another. When the cage is not in the use you have safety latches to be sure it will stay in place.
In Short:
Stylish hammertone pattern look
Multiple doors for quick access
Removable base for quick cleaning
4 tier platform and different features
Wheels with safety latches
BEST OUTDOOR TALL GUINEA PIG CAGE
Aivituvin Guinea Pig Cage
Solid Fir Wood
This brand makes tall guinea pig cages of solid wood from fir and paints them with grey eco-friendly paint. Paint is waterproof and non-toxic so you don't have to worry about the health of your pets. The side and the top of the cage have wire mesh for great air circulation.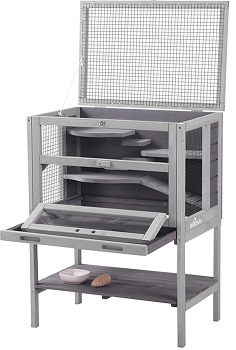 Bottom Layer For Storage
This outdoor guinea pig hutch has 6 small platforms and a ramp for a playful and climbing time for your guinea pigs. The deep bottom tray is leak proof so your pets can have a comfortable habitat.  The bottom layer is for storing toys and food and in this package, you will get one chewing toy and bowl for free.
Visible Front Doors
For easy access, you have visible front doors for observing your pets and easy feeding. Use side walls with wire mesh for attaching a bowl of water or chewing toys. Because the wire mesh is on both sides of the cage you can separate the feeding and drinking area for better comfort.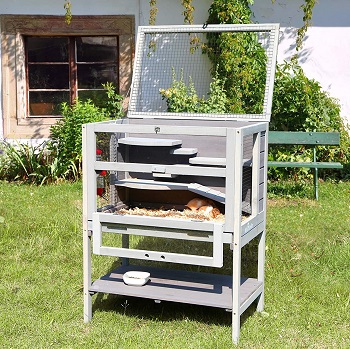 Leak-Proof  Bottom Tray
Cleaning the cage is easy because of the big front doors and full-width top roof. Because of its wire mesh roof, you will need to protect it from rainy weather. A great improvement for this cage is a leak-proof bottom tray that is deep and can be easily slid out.
In Short:
Made of solid fir wood
6 platforms and ramp for playing
Bottom layer ideal for storing
Easy access from front doors and roof
The bottom tray that is leakproof
Chewing toy and water bowl included
BEST ON WHEELS TALL GUINEA PIG CAGE
Prevue Hendryx Guinea Pig Cage
Tubular Steel And Wires
These tall guinea pig cages stand comes in a beautiful cream color. It is made of tubular steel and white wires to protect your pet's habitat. On the bottom, it has a deep plastic base. Even if the cage measurement is pretty small, this is the ideal choice if you want a small and functional cage for your guinea pigs.
Small and Functional
From features, the cage includes 1 platform and 1 ramp for playful and active time for your pets.  Even if the cage is not big, your guinea pigs will have enough space to have comfort.  You can use a platform for the drinking area, just attach a bowl of water on the wires.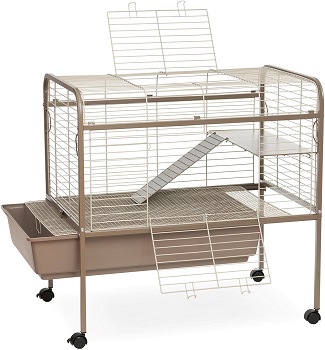 Slide Bottom Base 
Doors are situated on the top and on the side of the cage so you will have easy access inside it. Cleaning is quick and easy because of the bottom plastic base that can be slide out,  you will only need water and soap and it will be ready for use in a few minutes.
Easy Transport 
Movement and transport are easy because of the dimension of the guinea pig cage with 4 wheels. It can be used indoor or outdoor, I'm suggesting indoor because of the unprotected roof. But if you prefer outdoor, just cover the roof and your pets will enjoy the fresh air.
In Short:
White and cream color combination
Small and functional space for pets
Easy access with 2 doors
Deep plastic base can be slide out
Easy movement because wheels and cage dimension
BEST INDOOR TALL GUINEA PIG CAGE
Pawhut 6-Tier Guinea Pig Cage
Large Space And Construction
The simple steel cage with wires in the white and plastic bottom base in white and black color combination will suit in every interior. 0.5 " wire space is great for the safety of your pets from possible escaping or stuck between. It has enough space for air ventilation.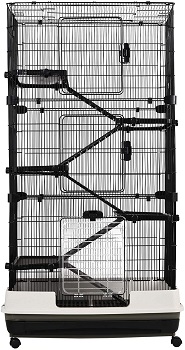 Multiple Platforms And Ramps
Inside the cage is a 6-tier platform with 4 ramps so they can easily go up and down. Bottom doors can be also used as a ramp so your guinea pigs can have easy access outside of the cage. Your pets will have maximum comfort and happy active life inside their habitat.
Deep Bottom Base
Access to the indoor guinea pigs cage for two pets is easy because of multiple doors. The bottom base is deep enough for nesting and it has a slide-out function for quick and easy cleaning without too much mess. Because of the bottom grid, there will be no problems with wet and dirty pets' feet.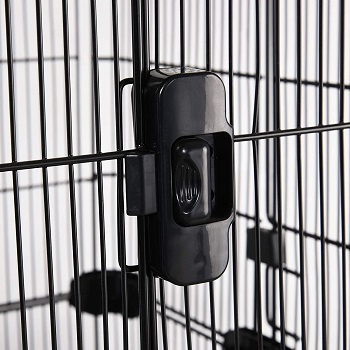 Safe Transport With Brakes 
This large and tall guinea pig cage is an ideal choice if you want your pets to have comfort, and be playful and active in their environment. Even if the cage is large, it is very easy to transport because of its 4 rolling wheels and 2 safety brakes, so you will be sure that it stays in place.
In Short:
Large and tall cage for maximum comfort
Multiple platforms and ramps for playing
Bottom grid to avoid dirty and wet paws
Easy transport with wheels
2 safety brakes for security
BEST SMALL TALL GUINEA PIG CAGE
Zeny Guinea Pig Cage
Durable and Safe Structure
This simple design cage is made of steel wires with a high-quality stable structure. It has anti-rust protection for durability and is made with rounded corners for owners and pets protection. It has 4 level wire platform for maximum enjoyment in the environment of your guinea pigs.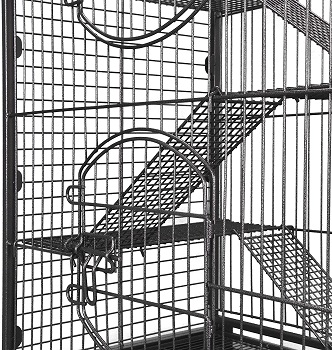 Spacious Cage
A multi-level platform with 4 ramps to go up and down will give your pets an enjoyable time in their environment. A spacious and tall guinea pig cage will provide enough space for your guinea pigs to have comfort. You can easily attach chewing toys to side wires to give them more fun.
Removable Tray
2 front doors will give you easy access to change water and food. You can also attach drinking bowls to one of the wires on the side. Bottom tray cleaning is easy because of its pull-out system. Mesh panel that is placed between the tray and your pets will ensure your pet's hygiene because of droppings.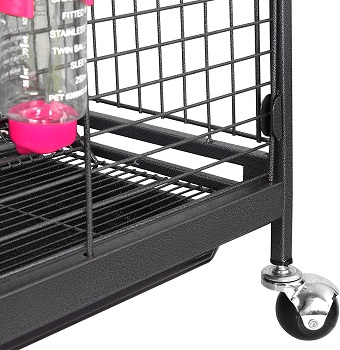 Free Gifts
This small space-saving guinea pig cage is easy for transport and movement with  4 rolling wheels. It can be easily folded when is not in the use and it will take minimum space in your home. With the package, you will get a free 250 water bowl and feeder bowl for your lovely pets.
In Short:
Safe structure with rounded corners
Multi-level platform for an enjoyable time
Mesh panel for pets hygiene
Easily folded when not in use
Free gifts for feeding and drinking your pets
How To Pick Tall Guinea Pig Cages?
Tall guinea pig cages are good because they provide space when you don't have much free space. But, to make sure you picked the right model, read our short guide about cage proportions, materials and other important factors you should consider.
Cage Proportions – If you're looking for a tall pet cage make sure that, besides fitting in your place, your pets also have enough space. One guinea pig needs a space a guinea pig cage with minimum of 7.5 square feet, so make sure how many guinea pigs you will ft in, so that won't be too narrow for their comfort.
Quality Construction – When cages are taller than average ones, you need to be really careful when choosing the right quality.  Make sure that the cage is stable and not flimsy, in fact, to have solid construction. With those features, you won't be in worry about the possibility of turning over.
Accessibility – Because of its height, make sure you have full access to the cage, especially the feeding and drinking area. The cage needs to have at least 2 doors, choose one that has doors on different sides and if it's possible the one with full-width doors to have the best access.
Safety Transport – Taller guinea pig cages have the possibility of easier turnover, so make sure that the one you choose has 4 wheels or stable construction, like a wire guinea pig cage, if it only has a stand. If it's possible choose one with safety brakes, to make it sure that your cage with guinea pigs will stay in place.
Deep Bottom Base – To make sure your pets will have enough comfort, choose a cage with a deep bottom base so they can have a  place for nesting and cozy sleeping. You can also put a mesh panel in between the tray, that will help them with their hygiene and your clean-up process.
More Features – Taller constructed cages can have many more features to add. You can have level platforms, ramps, hanging hammocks, and much more. You can buy them chewing toys and place them on different levels of the cage. Your pets will have an active and fun environment in this tall guinea pig cage.
To Sum Up
The best tall guinea pig cage that I recommend is Midwest deluxe cage.Cage has a stable construction and a large and comfortable space for your pets. It has 4 levels and full-width doors for quick and easy access. If you're looking for a tall guinea pig cage with few levels check this post about  best multi-level guinea pigs cage. If you'rere looking for a cage with stackable features, check this post to find the best stackable guinea pig cages and choose the perfect one.