Do you need to buy a corner guinea pig cage for your pets?
You're not sure which one to pick from the market?
You are in the right place because we found the best 2 models so you can choose the best space-saving cage for your guinea pig. Check our guide at the end, you will find some good tips.
The Summary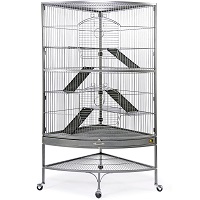 Best Of Best:
Prevue Cage
This guinea pig cage is made of a sturdy metal frame with a large living space so you can fit up to 3 pets.
Jump To Review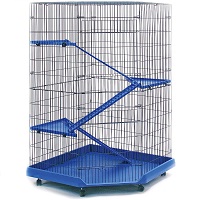 Best Portable:
Prevue Pet Cage
If you're looking for an easy portable cage, this is a great option. It has a large living space with a plastic base and platforms.
Jump To Review
Best 2 Corner Guinea Pig Cages
Best Of Best: Prevue Cage
Sturdy Construction
If you're searching for sturdy construction with a large living space for your pet, this is the best option for your interior. This corner guinea pig cage is made of a metal frame with sturdy wire mesh that will provide durability and safety, as well.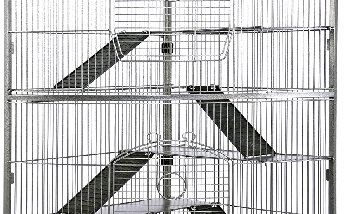 Metal Platforms
With a measurement of 39 x 27 x 63 inches, you can easily fit up to 3 guinea pigs. The cage comes with 4 metal platforms with anti-slip access ramps, so your pets can be active and have fun.
Large Shelf For Storing
For quick access, there are 2 front doors, so you can refill after, put fresh food, and play with your pets as well. There is a large bottom shelf at the bottom of this multiple guinea pig cage, the perfect place for storing food.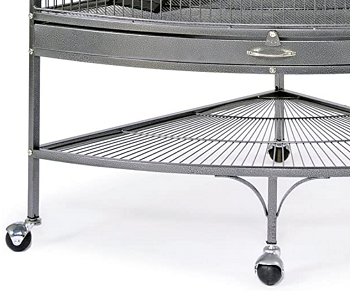 Rolling Wheels
Wire bottom will make sure your pet has clean habitat and dry feet. There is a sliding tray at the bottom, pull the tray and clean the mess with only soap and water. Rolling wheels provide easy moving in any direction.
In Short
Metal frame with sturdy wires
Large living space for 2-3 guinea pigs
4 metal platforms with access ramps
Front doors for quick access
Additional shelf for storing
Easy cleaning and moving
Best Portable: Prevue Pet Cage
A portable guinea pig cage with a space-saving design is always a great option for your pets. This Prevue one is made of a sturdy frame with wire mesh that is tight enough so your pets can't escape outside or stuck in between.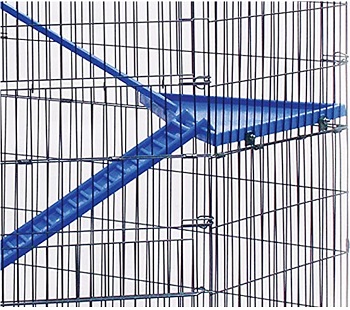 Blue Plastic Platforms
This corner guinea pig cage measures 34 x 34 x 55 inches, perfect living space for 2 guinea pigs. There is a large blue bottom base with access ramps to the platforms, so your pets can climb and have an active life in their environment.
Easy Maintenence
With multiple doors, you will have no problems with easy access inside of this cage, when you need to change the feeding area. A plastic base can be easily cleaned with only soap and water, so your pets can enjoy the freshness.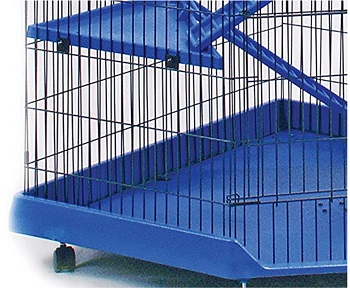 Wheels With Brakes
Because of the large base, you can put some guinea pig corner house, which will be the perfect hideout place when pets want to have rest and privacy. The stable cage can be easily moved with 4 rolling wheels with safety brakes.
In Short
Sturdy frame with wires
Spacious space for 2 guinea pigs
The large blue base will multiple platforms
Easy cleaning and maintenance
Quick access from multiple doors
Wheels with safety brakes for moving
How To Pick The Best Corner Guinea Pig Cage?
If you're looking for some space-saving design for your home, keep on reading because we will help you to pick the best cage for your pets. There are some important features that you need to keep in mind while buying, so make sure you check our tips down below.
Size Of The Cage – So your pet can have enough comfort and a happy and long-living life, make sure to first check the dimension of the living space. If you have 2 guinea pigs, pick the cage that is around 30 x 50 inches. If you're picking the guinea pig cage for 3, the recommended size is 30 x 62 inches for great comfort.
Sturdy And Stable Construction – Besides size, the important feature as well as the stable and sturdy construction, for durability and pet's safety, as well. We recommend cages that have a metal frame with tight wires so your pet can't be stuck in between or even escape outside. If you're looking for tall guinea pig cages, make sure it is not flimsy.
Quick Access – So you can reach every corner of the cage, make are it has multiple doors for quick access. This feature is very important, because it will save you time and energy with your daily pet routine, so you can easily refill the water or put some fresh food. Make sure that the doors have a lock system, for safety.
Additional Features – Depending on your preferences pick the corner guinea pig cage that has some additional features that will help you with routine. We recommend picking the cage that has a sliding tray for easy cleaning. The additional shelf is great for easy storing. For easy moving, pick the cage with rolling wheels with brakes.
To Sum Up
The best corner guinea pig cage on the market in our opinion is Prevue Cage. It has a sturdy frame and large living space so you can fit up to 3 guinea pigs. If you prefer wire cages, check our post to found out which are the best wire guinea pig cages on the market. If you have another pet, like a cat, read this post and pick the best cat-proof guinea pig cage, so your pet can have a safe environment.