Are you looking for the best multiple guinea pig cage for your pets?
You are at the right place!
Read this post and check out all you need to know about them! Find out which cage is best for your pets, no matter if you have two or more of them. We reviewed the best indoor, outdoor, on wheels, large and portable cages to satisfy your and your pet's needs.
Summary
Best 6 Multiple Guinea Pig Cages
BEST OF BEST MULTIPLE GUINEA PIG CAGE
Krolik XXL Guinea Pig Cage
Extra Large Space
The cage has a simple design and combination of white and burgundy with an included wire extension. It is providing extra-large space for your guinea pigs with 63.8 x 23.6 x 19.7 inches. Originally, the cage is intended for 2 rabbits, so you can put up to 3 guinea pigs because of their smaller sizes.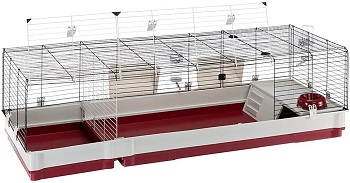 Separate Feeding And Drinking Area
This large cage for guinea pigs includes 2 water bottles for drinking. For food, you have an elevated area and feeding bowl, so your pets can eat and drink separately at the same time. You can easily and quickly store food and drink because of the multiple cage doors.
Maximum Comfort For Your Pets
A red guinea pig cage with a wire extension separated in two makes it easier for your pets to make a nest. With large space in the cage, your pets will have maximum comfort and be separated if need, for example, if some of the pigs need to be separated because of injury.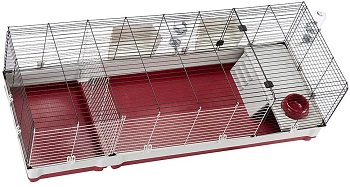 Easy To Clean And Access
It is very easy to assemble this cage and you will not need any tools. The multiple guinea pig cage is very easy to clean because of its plastic base at the bottom and multiple doors access. Wires will make it last longer and make it safe for your guinea pigs.
In Short:
Simple design with two colors
Extra space for your pets
2 areas for drinking and eating
Separate place for nesting
Easy to assembly and clean
BEST INDOOR MULTIPLE GUINEA PIG CAGE
AmazonBasics Guinea Pig Cage
Simple Feeding Area
The cage has a simple black design with an iron frame. It is separated in two, to provide your guinea pigs safe and comfort habitats. The feeding area is in the corner of the cage and you can easily move it from side to side depending on your pet's needs.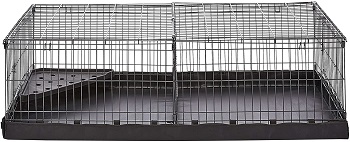 Leak-Proof Bottom
Because of its small weight, the multiple guinea pig cage is very easy to maintain and to move from one place to another. The bottom of the cage is leak proof so it can be used indoors and outdoors but because it doesn't have roof protection better option is using it just indoors.
Easy Maintain
Easy cleaning is an important feature when you're choosing a large indoor guinea pig cage. Detach wires from the bottom base and clean with water with soap. Because of its leak-free canvas, it will be more durable and very easy to maintain when you need it.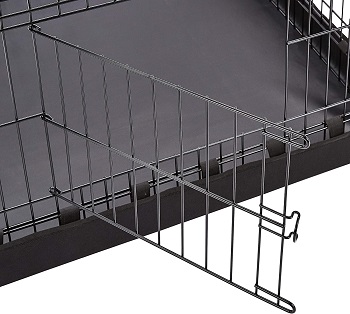 Quick Set-Up
For cage setup you will need no tools, it is very easy and quick. You will need a few minutes for the whole process and you can easily store it when you don't use it. Because of its removable divider, you can give your guinea pigs a fun environment.
In Short:
Simple black design with iron frame
Lightweight for using and storing
For indoor and outdoor use
Leakproof bottom for easy maintain
Easy cage set up without tools
BEST ON WHEELS MULTIPLE GUINEA PIG CAGE
Kaytee Multi-Level Guinea Pig Cage
Colorful Design
This fun and multicolor design will be your first choice if you're looking for something fun. With a combination of purple, green, and pink your pets will have a great environment.  Quality wire construction makes it safe for your guinea pigs.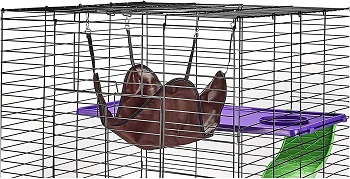 Multi-Level With Fun Features
A multi-level guinea pig cage is a great choice if you have active pets or you only want to provide them a fun environment. Inside it features safety ramps, a tunnel, a spiral slide, and a hammock for active pets home. It also includes 3 comfort shelves so pets can relax separately.
Easy To Assemble And Clean
The multiple guinea pig cage on wheels is very easy to assemble, you will not need any tools. The bottom is deep plastic so you will not have any problems with cleaning. It can be easily removed and if needed replaced.  A deep plastic base will give your pets good comfort and protection.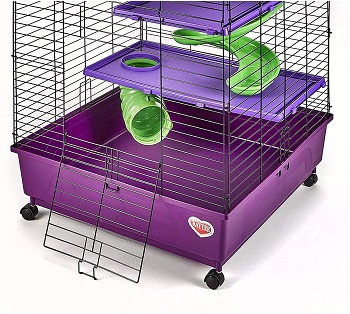 Safe Locks And Latches
Because of its wheels, this guinea pig cage can be easily moved and stored wherever you want. Don't worry about security, it has adjustable tab locks with latches that are chew-proof. Your pets will have a safe environment.
In Short:
Colorful and fluorescent design
Multi-level cage with different features
Ideal for active pets
>Deep plastic base for good protection
Adjustable tab locks for security
BEST PORTABLE MULTIPLE GUINEA PIG CAGE
Songmics Run Guinea Pig Cage
Water-Resistant Bottom
This multiple guinea pig cage comes with floor matt fabric that is water-resistant so you don't need to worry about the knocked bowl. Your pets will have a great cozy environment with a big playing area to maintain daily activity.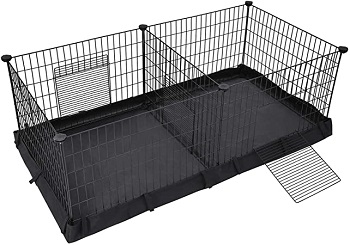 Doors As Ramps 
A safe area with metal wire will give your guinea pigs protection from escaping. With 2 doors, it's easy to have access to the cage. If you love to give your pets open space, you can set doors as ramps, so they can have fun in and out of the cage.
Safe Cage Construction 
With simple cage construction, you will not have a problem to assemble this portable guinea pig cage. Connect grid panels with angle connectors in a few minutes. The bottom is secure with zip ties and non-slip pads that will prevent scratching your floor.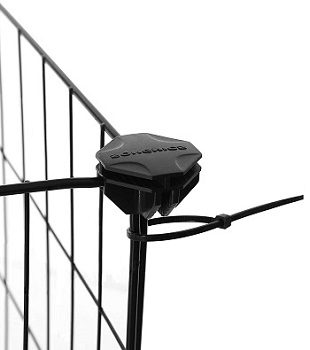 Easy To Transfer 
The small grid spacing is ideal for small pets such as guinea pigs to protect from escaping and you will not worry about the transfer. It is a great portable cage because of its bottom fabric and large space for an enjoyable ride.
In Short:
Metal wire construction for safety
Water-resistant bottom fabric
Big playing area with door ramps
Non-slip pads protection
Rubber mallet for assembling included
BEST OUTDOOR MULTIPLE GUINEA PIG CAGE
Pawhut Outdoor Guinea Pig Cage
Durable Cage Construction
Large outdoor guinea pig enclosure construction with two levels that will provide your guinea pigs great space. It is made from solid fir wood, painted with a combination of light purple and white non-toxic paints. The roof is water safe and anti UV that will give protection with any type of weather.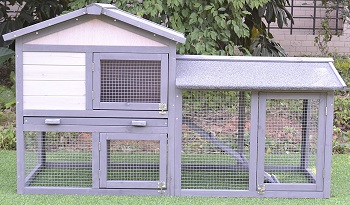 Elevated Enclosure For Playing
A great big playing area will provide a fun and enjoyable environment for your guinea pigs. The internal ramp is connected with the elevated enclosure, so pets will have easy access.Your furry pets will have a great space for exercise.
Four Lockable Doors 
Construction has access from 4 lockable doors that are based on the front so you will easily have access to cage space. Two doors are for the elevated enclosure and for the bottom interior. It makes it easy to change your pet's feeding and drinking area.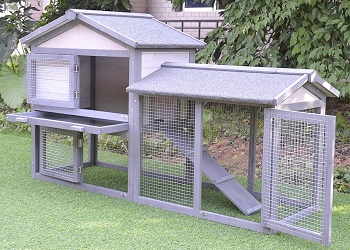 Stable And Safe Place
Because of its metal slide for dropping tray, the multiple guinea pig cage is easy to clean. Wire mesh will provide circulation so your pets can have fresh air. Stable wood construction and wire mesh will protect your pets from animals and predators.
In Short:
Durable construction with two levels
Big playing area with an internal ramp
Easy access to indoor
Easy cleaning and changing feeding area
Safe construction from predators
BEST LARGE MULTIPLE GUINEA PIG CAGE
Pawhut 4-Level Guinea Pig Cage
Neutral And Modern Design
This multiple guinea pig cage comes in modern design with neutral black, white, and gray colors so it will easily fit in your interior. It is made from a sturdy metal frame and wires so your pets will have safe construction. Small space between wires will protect your pets from getting stuck.
3-level Doors Access
Large guinea pig habitat space has 3 platforms with ramps that are anti-slip. There are 3 openings, one is on the top and two are on the front of the cage for easy access. Bottom doors can be used as a ramp, so your pets can come outside of the cage.
Easy Transport With 2 Brakes
The cage comes with 4 universal wheels and also 2 brakes so it will be easy to move and transport wherever you need. Cleaning is very easy, you will only need to remove the bottom tray and use soap and water.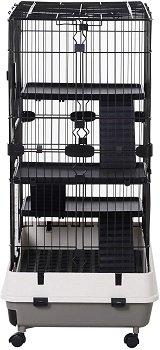 Design To Prevent Splashing
A fence is designed heightened so it will prevent pets waste from splashing. The level space area will keep your guinea pigs active, and a comfortable floor will provide your guinea pigs good comfort and won't hurt their paws.
In Short:
Modern design for easily interior fit
Safe construction with sturdy metal frame
3 platforms with ramps
Comes with 4 wheels and 2 brakes
The heightened fence prevents splashing
How To Pick Multiple Guinea Pig Cage?
No matter if your buying your first guinea pigs cage or you want a new one, there are some specifications that you must keep in mind to provide the best habitat for your pets.
Cage Size – Pets need to have enough space so they can play and have comfort in their environment, especially if they are very active guinea pigs. Also, make sure to have enough space for the feeding and drinking area. Don't go under 32 x 20 x 43 inches for low cages and 324 x 24 x 41 inches for cages with levels.
Transport And Weight – Cages are pretty much lightweight because of their plastic bottom base or water-resistant material, so it's easy to move it where you need. For easiest transports choose one with wheels and brakes to make sure that is safe in the place.
Cage construction and safety – Even if most of the multiple guinea pig cages have metal or iron frame with wires, make sure that is of good quality. Less space between wires will provide much more safety for your pets so that they can't get stuck between.
Separate Feeding And Drinking Area – Separated places for eating and drinking are the best options if you have enough space in your cage depending on the number of your guinea pigs. It will provide less fighting between pets and provide the best comfort in the habitat.
Easy access – Most modern guinea pig cages with few doors are the best choice so you can access easier to clean or change water and feeding area. Doors can be also used as a ramp for your guinea pigs so they can have free outdoor access.
Separated Place In Cage– Usually it is separated with wire extension and it is a great option if you have male and female guinea pigs. The place is mainly intended for nesting and for separating injury or sick guinea pig from others.
To Sum Up
The best multiple pigs cage that I recommend is
Krolik XXL Cage. This multiple guinea pig cage provides your pets with enough space for comfort. It has a separate feeding and drinking area and a place for nesting. Access to the cage is very quick because of its multiple doors. If you're looking for new play areas such as tunnels, read this post about best tall guinea pig cages. Also, read this post about the best wood shaving for guinea pigs and choose the best one for the comfort of your pets.