Wishing you could house your guinea pig in an outdoor guinea pig cage but can't seem to find the right fitting model?
You can read reviews of nothing but them in this article. If you continue reading, sure enough, you'll find a model suitable for your guinea pig. The reason why is that we've tried hard to review models different from one another like pens, enclosures, hutches, hutch and runs, and more.
The Summary
Best 12 Outdoor Guinea Pig Cages
BEST OF BEST OUTDOOR GUINEA PIG CAGE
Prevue Pet Products Pen
Panel Number
The pen consists of 8 panels that are each colored differently. It uses blue, red, green, and yellow colors. It's made out of wire and doesn't feature a top so it acts as a playpen. The wire spacing is 3/8-in and it has a 36-in diameter. It forms the shape of an octagon.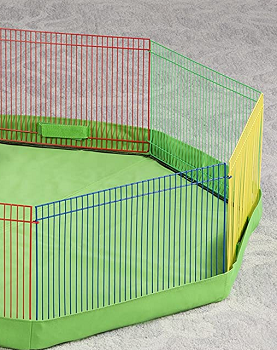 Indoor Use
If you'd like to use it indoors, you can get a cover mat for the bottom to prevent your guinea pig from getting your floors dirty. If you'd prefer an exclusively indoor pen that's made out of fabric materials, you can read the guinea pig outdoor playpen article next.
In Short:
Made out of wire
It's colored blue, red, green and yellow
The bottom cover is sold separately
Features no top
Consists out of 8 panels
Has a 3/8-in wire spacing
BEST PEN OUTDOOR GUINEA PIG CAGE
Tespo Pet Playpen
Customizable Size
In case you'd like a bigger pen but like this one, you don't have to look far to find one since you can buy the same model and expand it. Everything you need for assembly comes with it like the rubber hammer. If you'd like a smaller pen, you can read the guinea pig outdoor pen article next.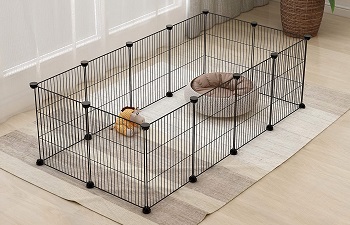 Wire Panel Connection
Same as the pen before, this one is made out of wire but it's exclusively colored black. It features 12 panels and you can arrange them however you'd like. It features cable ties to better connect the panels and 12 anti-slip mats to make it more stable as well.
In Short:
Consists of 12 wire panels
Comes with a rubber hammer for assembly
Can be expanded by buying the same model
Features cable ties
Comes with anti-slip mats
Can be assembled in multiple ways
BEST ENCLOSURE OUTDOOR GUINEA PIG CAGE
Unipaws Small Animal Starter Kit
Split Areas
The interior of this cage is split into two parts with a divider with a solid wood panel featuring two arched doors. You can check on your guinea pig by opening up the top that locks with 3 different locks. One top part features wire netting while the bottom features a cleaning tray.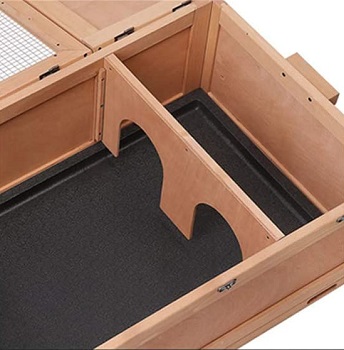 Wood Details
It's made out of solid wood or fir wood to be specific. This is great since this type of wood handles outdoor moisture and weather elements well. If you'd like to learn more or simply check out other models, you can read the outdoor guinea pig enclosure article next.
In Short:
Made out of solid fir wood
Firwood handles moisture well
Consists of 2 separate areas
The areas are split with a divider with 2 arched doors
The top opens up and locks with 3 locks
On top, there is a wire netting area
The bottom holds a cleaning tray
BEST HUTCH OUTDOOR GUINEA PIG CAGE
Aivituvin Indoor Outdoor Cage
Fir Wood Build
The cage is primarily made out of fir wood that handles moisture well, with the combination of its grey finish and wheels on the bottom, you can even use it indoors. If this is not what you're after and want an exclusively outdoor guinea pig hutch, you can read about other models in the linked article below.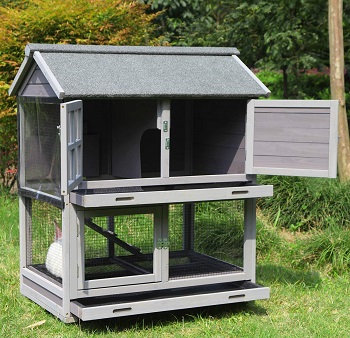 2 Level Cleaning
It has a 2 level construction and each level features its cleaning tray. The top level has one wire side and 2 front doors while the bottom level is fully made out of wire and has one entrance. The house roof is a waterproof asphalt roof and your guinea pig will get to climb on a ramp to access each of the 3 areas or 2 levels.
In Short:
Made with fir wood
Has an asphalt house rooftop
Consists of 2 levels
Comes with a ramp for levels access
Features some wire sides
Has 3 entrances
Sits on wheels for moving it indoors
BEST HOUSE OUTDOOR GUINEA PIG CAGE
Savic Rody Igloo Hideaway
Plastic Build
The plastic it's made out of is colored green but it can come in pink or blue color as well. It's fully rounded and consists out of two plastic shells, the top and bottom one that easily separate when you need to clean the interior. These shells snap together.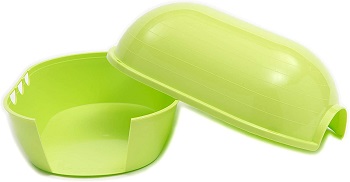 Inside Ventilation
Through the front entrance that has an open concept, the interior will get properly ventilated but the side vents will help with that as well. If this guinea pig house outdoor model is not what you were aiming for you can read about others in the guinea pig plastic house article.
In Short:
Made out of a top and bottom plastic shell
The shells snap-on or off easily
Has a front entry points
Features side vent windows
Has a solid bottom
It's colored green
BEST LARGE OUTDOOR GUINEA PIG CAGE
PawHut 64″ Wooden Outdoor Hutch
Run And Hutch
There are two parts to this hutch. One is a large run area and the other one is a hideout area. Overall, this large guinea pig hutch is square-shaped since it's around 64-in long and wide. For even bigger or smaller models, you can read the outdoor guinea pig hutch article next.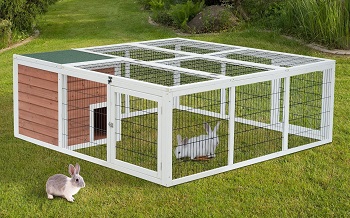 Hutch Access
The hide-out area of this cage is small but enough. It has a top access entrance while your guinea pig will get to access it through the arched opening. The top is covered with an asphalt roof to prevent leaks. The hideout is made out of fir wood while the run area has a wooden frame but wire sides. the run area has one front and one top entry point.
In Short:
Has a run area and a hideout area
The run area has 2 doors
The hideout area has a top door and an inside opening
Made with fir wood and wire
It's around 64-in long and wide
The hideout has an asphalt rooftop
BEST HUTCH AND RUN OUTDOOR GUINEA PIG CAGE
Trixie Enclosed Outdoor Run
Run Doors
Although it doesn't come with a hutch on its own. It's easy to connect it to one because of its 2 trap doors, side door, and large front door. If you'd prefer a truly outdoor guinea pig hutch and run, you can find one or more in the outdoor guinea pig run article.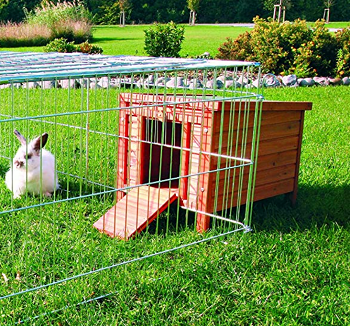 Wire Protection
It will well protect your guinea pig from predators due to the wire build that also features a top. The wire is galvanized which means it will resist rusting and corrosion thanks to the thin zinc layer coating. It's around 56-in long, 45.5-in wide, and 22.75-in tall.
In Short:
Comes with 2 trap doors
Has a side and large front door
Made out of wire
The wire is galvanized for rust and corrosion resistance
Easily connects to guinea pig hutches
It's around 56-in long, 45.5-in wide, and 22.75-in tall
BEST WITH WIRE OUTDOOR GUINEA PIG CAGE
Rockever Guinea Pig Habitat
Top Entrance
Although there's plenty of ventilation coming from the wire run part of this cage, you can open up the 2 part top that features hinges and forms a triangular shape to easily access your guinea pig and for even better ventilation If you'd prefer elevated options, you can read the guinea pig outdoor enclosure article next.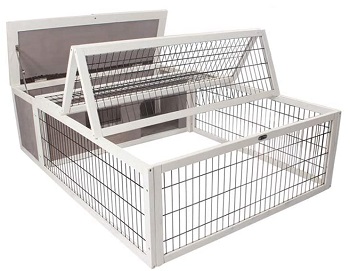 Hide Out And Run Access And Bottom
The hide-out area top is small and features a top asphalt roof entrance so you can easily clean it. It's made out of solid wood features an entrance and a ventilation window hole. The bottom of the hideout is removable while the run area doesn't feature one. It's 40-in long, 36-in wide, and 14-in tall.
In Short:
It's 40-in long, 36-in wide, and 14-in tall
Has a hideout and run area
The top is only covered with entrances
The hideout has an asphalt roof
Features a bottom in the hideout
The hideout access goes on through one entrance
BEST SMALL OUTDOOR GUINEA PIG CAGE
Jaxpety Rabbit Hutch
Wood And Wire Finish
Unlike other popular outdoor cages that are made of fir wood, this crate is made with pine wood. It has wire sides and the wood has a spray paint finish while the wire has a plastic spray finish. Both help to protect it from outdoor elements. It features a top and side entrance.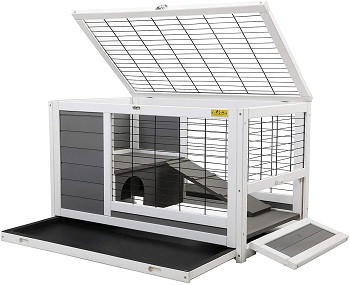 Interior And Bottom Contents
The bottom is covered with a hidden plastic tray that can slide out for cleaning. As it is, it comes with a small hideout and an elevated top area that can be accessed using the provided ramp. It's 35.4-in long, 20.9-in wide, and 21.3-in tall. If you'd prefer to have it bigger, you can check out other guinea pig outdoor enclosure models next.
In Short:
Made with pine wood and wire
Both feature protective finish coatings
Comes with a hideout, elevated area, and access ramp
Features a hidden slide-out cleaning tray below
Has a side and top entrance
BEST PORTABLE OUTDOOR GUINEA PIG CAGE
Magshion Wooden Cage Hutch
Storing It Away
At first glance, you couldn't guess why and how this cage is portable. The reason why lies in the folding design that also allows you to store it but save space while doing it. It's made to be an outdoor guinea pig run model exclusively so check out others for hideout area runs.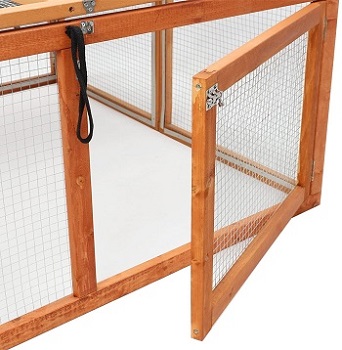 Frame And Sides
It has a wooden frame made out of pinewood and features wire sides. Each of the side panels features hinges that allow you to fold it down. It's 41-in long, 45.7-in wide, and 20-in tall. It features 2 doors and can be carried with a rope handle when folded down. It features a metal hook so it can stay folded.
In Short:
Made out of pine wood
The side panels feature hinges
Can be folded
Comes with a rope carry handle
Stays folded down suing the metal hook
Has 2 entrances
It's 41-in long, 45.7-in wide, and 20-in tall
BEST ON WHEELS OUTDOOR GUINEA PIG CAGE
Aivituvin 47″ Two Story Hutch
Elevated Design
Some of the 4 wheels on the bottom can be locked to make it more stable when it's not being moved. The elevated design also helps keep predators away and prevents mold build-up on the bottom. It's made with fir wood that handles moisture well and features wire windows in the center and to the left.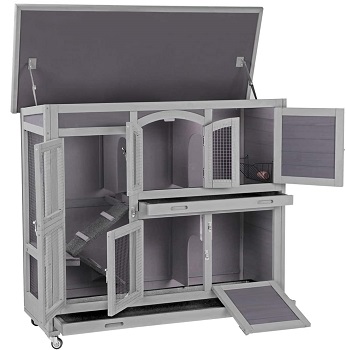 Access And Cleaning
It has a total of 5 entrances so any part of this 2 level cage can be accessed easily. The 2 ramps help your guinea pig access each floor. It has a top and bottom slide-out cleaning tray, the top is also an access door and it's made to be rain resistant. For waterproof options and smaller models, you can read the outdoor guinea pig hutch article next.
In Short:
Has 2 levels
Features 2 access ramps
Has 5 doors in the front and a top access door
The top is rain-resistant
Made out of fir wood
Features 2 cleaning slide-out trays
Sits on 4 wheels, some of which are lockable
BEST 2 LEVEL OUTDOOR GUINEA PIG CAGE
Good Life Two Floors Hutch
Cage Areas
The cage has 2 levels but also a left and right side. The top floor sits on top of the part of the run area that extends to the right side as well. The top is accessed through the single ramp while you can access it through the single door in the front. The run area features 2 doors.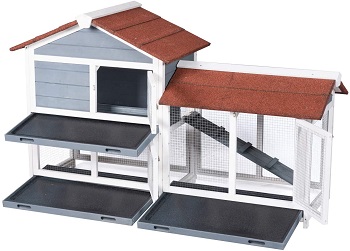 Cleaning And Size
There's a total of 3 cleaning slide-out trays. 2 are reserved for the run area and one for the hideout. It has 2 house asphalt rooftops that are waterproof and are positioned horizontally and vertically. It's 62-in long, 21-in wide, and 37-in tall. If you'd prefer your cage to be taller and not longer, you're sure to find more in the outdoor guinea pig hutch article.
In Short:
Has an extended run area
The second floor is accessed through a ramp
Features 3 entrances in total
Has 2 asphalt roofs
It's 62-in long, 21-in wide, and 37-in tall
How To Pick An Outdoor Guinea Pig Cage
Choosing an outdoor guinea pig cage is more than just about finding the most durable option. There's a lot of things to consider like build materials, size, included areas, your own and your guinea pig's needs so continue reading to find about all of the mentioned things and more.
Guinea Pig Cage Size – The first thing on the list of things you should worry about is guinea pig cage size. A single guinea pig should have a habitat with at least 7.5 square inches while two guinea pigs should be housed in a cage with at least 10.5 square feet of space. We won't bore you with the maths of how you're going to calculate that as there are plenty of online square footage calculators.
Cage Bedding – There's plenty of ca beddings to choose from and it's an essential part of owning guinea pigs and having them be inside a cage. What you should avoid is oily woods, usually softwoods since they can make them sick or cause an allergic reaction. Focus on hardwoods or perhaps recycled paper shavings.
Pens VS Cages – Pens don't feature a top but are a cheaper way to let your guinea pig have some outdoor time and get their daily exercise. They shouldn't be left unmonitored if you opt for them. Cages cost more but won't require you to keep a constant eye on them.
Outdoor Weather Protection – Almost all of these are made with a combination of wood and wire. The wood commonly used is fir or pine wood. Firwood is an excellent choice for outdoor applications since it will go back to its original form even if it expands or shrinks due to moisture. Wire can be durable but if you'd like to make sure it is, look for galvanized wire options or ones coated with plastic finishes to protect it from rusting or corroding.
Cage Portability – If you'd like to keep your options open and have a cage that you can also use indoors, you can either opt for a pen, or for cages with folding designs and/or ones that come sitting on wheels. The wheels don't just make them more portable but also prevent mold build-up due to trapped moisture.
Guinea Pig Outdoor Cage Time – Even if you get a cage with a run area, your guinea pig should still get some outdoor guinea pig cage time to keep happy and healthy both mentally and physically. If you can't supervise your guinea pig for that long when this happens, a cage with an outdoor area will reduce the need but not vanish it completely.
To Sum Up
Which outdoor guinea pig cage you'll choose solely depends on the number of guinea pigs you own, your needs, what you want to use it for, and last but not least, your budget so we wouldn't even want to recommend one because we might not always get it right for each person and guinea pig. If you'd like to read about enclosures or habitats, you can always read the guinea pig enclosure article or the guinea pig hutch article. If you'd prefer to have all models, sizes, and different function cages included, you'll find reviews of them all in the guinea pig cages article.