Are you searching for the best deluxe guinea pig cage for your pet?
You can't decide which one will be perfect?
We reviewed 6 different models so you can find the best transparent, large, for outdoor use, and much more, so make sure you keep on reading and pick the best one from our list!
The Summary
Best 6 Deluxe Guinea Pig Cages
BEST OF BEST DELUXE GUINEA PIG CAGE
Midwest Cage
Durability And Safety
If you're looking for a modern design, with sturdy construction, this Midwest one is the best choice for your pet. It is made of a steel frame with strong wire mesh that will provide durability and safety, as well.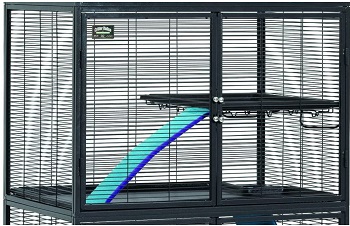 Large Area
This deluxe guinea pig cage measures 36 x 24 x 63 inches, so you can easily fit 2-3 pets. A large area will provide easy moving and playing. There are 3 large platforms with covered ramps for easy climbing.
Quick Entrance
For easy entrance to this large indoor guinea pig cage, there are front doors that have a lock system for safety. You can easily reach every corner of the cage and put some fresh food on platforms.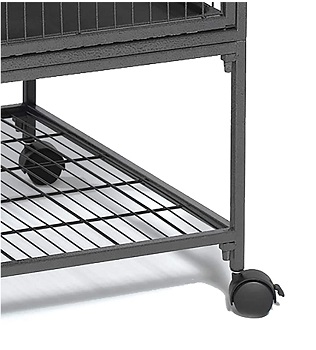 Storing Place
When you need to clean the mess, just use soap and water and it will quickly be ready for use. So you can easily move the cage, there are rolling wheels with brakes. The additional shelf at the bottom is the perfect plaw for storing the food.
In Short
Modern design and sturdy construction
Large living space for multiple guinea pigs
Multiple platforms with soft ramps
Easy access and cleaning
Additional shelf for storing
BEST TRANSPARENT DELUXE GUINEA PIG CAGE
Aleko Cage
Wooden Frame
This deluxe guinea pig cage is made from a wood frame with an acrylic front so you can easily observe your pet. Wire mesh at the top and on the sides will provide great air circulation.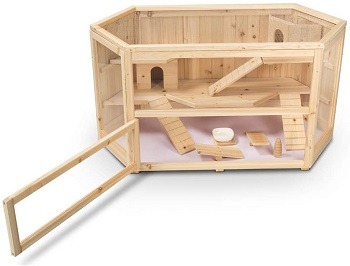 Hideouts For Privacy
Cage has 48 x 25 x 6 inches so your pets can have great comfort in a new habitat. It has a large bottom area with 2 levels. There are 2 hideouts, perfect space for pet's privacy and rest.
Easy Access
Bottom doors can be fully opened so your pets can go explore outside while you refill the water and food. For easy access to the top levels, you can open the top roof, as well.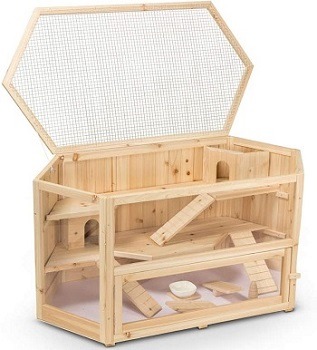 Easy Moving
This indoor guinea pig cage for 2 can be easily moved when you need to clean the bottom of it. Wipe out the dust from the acrylic windows and it will look like new. You will get a small feeding bowl with the package.
In Short
Wood design with acrylic windows
Spacious space for 2 guinea pigs
2 levels with hideouts
Easy access from front and top
Easy maintenance and cleaning
BEST MULTILEVEL DELUXE GUINEA PIG CAGE
Prevue Cage
Strong Wires
Cage is made of a sturdy metal frame with strong wires that will last you a long time. Wires are tight for your pet's safety, and enough wide to provide great air circulation in this deluxe guinea pig cage.
Maximum Comfort
If you're searching for a multi-level guinea pig cage with a large living space, this is a perfect choice. It has 37 x 23.13 x 63.38 inches, so your pets can have maximum comfort. You can easily fit up to 3 guinea pigs.
Adjustable Shelves
There are 5 shelves with non-slip access ramps. You can adjust the shelves how you want, depending on your pet's needs. Thee is a hammock, the perfect spot to relax. Lockable doors will provide quick access and safety.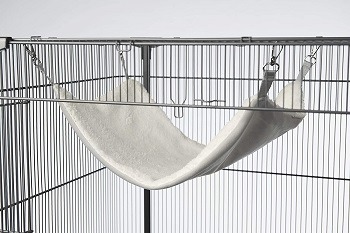 Easy Moving
The sliding tray will save you time and energy with cleaning. There is a mesh panel at the top, so your pets can have dry and clean feet. 4 rolling wheels provide easy moving in any direction. There is an additional shelf so you can store the food.
In Short
Sturdy frame with tight wires
Large living space for 3 guinea pigs
Adjustable platforms with access ramps
The lock system on doors provide safety
Easy cleaning and moving
BEST ON WHEELS DELUXE GUINEA PIG CAGE
Prevue Eearthtone Cage
Cute Design
If you're looking for a spacious space and easy moving cage, this guinea pig cage on wheels will be the best option. It is made from a metal frame and coated with an earth-tone finish that will perfectly fit in every interior.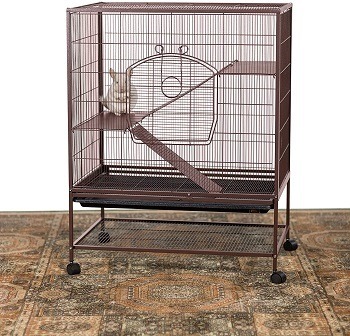 Metal Platforms
This deluxe guinea pig cage measures 31 x 20.5 x 40 inches. There are 2 solid metal platforms with an ess ramp, that will last you a long time. For more comfort, you can put soft covers.
Wind-lock Door
When you need to do a daily pet routine, there is a front door so you can put some fresh food and water on the platforms. The door has a special wind-lock system for maximum protection, so your pet can't escape outside.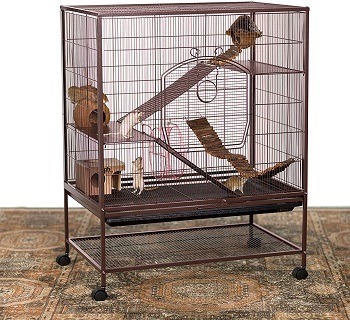 Quick Moving
Because of the wire mesh bottom, your pet will not stand on their dropping, so they can always have clean feet. The sliding tray at the bottom is easy to clean. A large shelf ad the bottom is perfect for storing. Move the cage easily with wheels.
In Short
Metal frame with cute design
Spacious space for great comfort
Metal platforms with access ramps
Wind-lock doors for maximum safety
Easy moving with 4 wheels
BEST LARGE DELUXE GUINEA PIG CAGE
Pawhut Hutch
Weather Protection
If you need a large guinea pig habitat for your garden or backyard, this Pawhut one is a great option. Hutch is made from solid fir wood with an asphalt roof that will protect your pets from the weather. It is painted with non-toxic paint.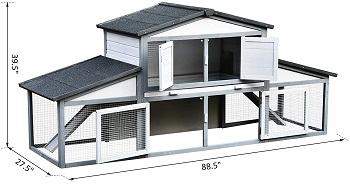 Extra-large Space
The cage measures 89.5 x 27.5 x 39.5 inches, so you can easily fit multiple guinea pigs. There is a large run area, perfect for activities and playing. At the middle of the hutch is an elevated area with 2 access ramps.
Lockable Doors
This deluxe guinea pig cage has multiple doors, so you can easily reach every corner of it. Doors are on both levels, and they have a lock system so your pets can be safe in their habitat.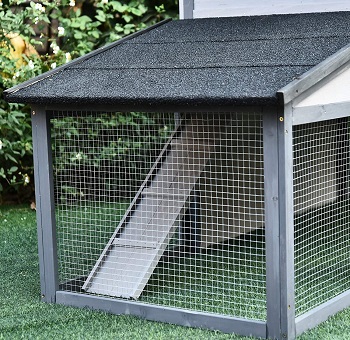 Wires For Safety
When you need to clean the hutch, there is a sliding tray at the bottom of the elevated hutch. Wire mesh system will provide enough air and it is sturdy enough to protect your pets from predators such as cats and birds.
In Short
Made of solid fir wood with non-toxic paint
An asphalt roof will protect from weather
Extra-large living space with elevated hutch
Multiple doors on both levels
The safe environment from predators
BEST OUTDOOR DELUXE GUINEA PIG CAGE
B BAIJIAWEI Hutch
Weather And UV-protection
This deluxe guinea pig cage is made from solid wood with eco-friendly paint in two color combinations, that will perfectly fit in the environment. It has an asphalt roof for weather and UV-protection.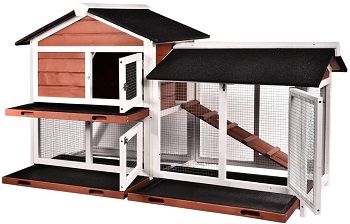 Elevated Hutch
With a measurement of 62 x 17 x 36.8 inches this outdoor guinea pig hutch will provide maximum comfort, and you can easily fit up to 3 guinea pigs. The large run area has an access ramp to the elevated hutch when your pet wants to have rest.
Quick Maintenence
So you can easily do daily pets routines such as feeding and maintenance, there are multiple doors on both levels. Lock at the doors will provide maximum safety so your pets can't escape outside of the hutch.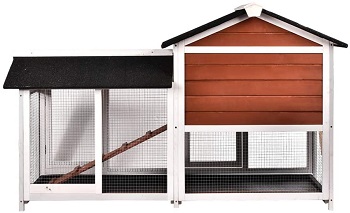 Easy Setup
3 sliding trays on both levels are a perfect feature for easy cleaning, so your pet can always have fresh habitat. Use the water and soap for a bigger mess. The hutch is easy to assemble, you will need about 30 minutes for the whole setup.
In Short
Solid wood with an asphalt roof
Weather and Uv-protection
Elevated hutch with an access ramp
Quick access with multiple doors
3 sliding trays for easy cleaning
How To Pick The Best Deluxe Guinea Pig Cage?
If you decided that you want to buy a deluxe cage for your guinea pigs, but you're not sure which one to pick, read our guide. There are some important features that will help you with buying such as type of the material, cage dimensions, functionality, and much more, so keep on reading to make sure you choose the best option.
Type Of The Material – There are different types of materials on the market, and depending on your preferences you can pick the one that you prefer the most. You can choose between metal and wire cages, wooden and acrylic ones. Just make sure it will perfectly fit in your interior and environment.
Cage Size – Besides the material of the cage, one of the most important things to keep in mind is how big is the living space of the cage. Guinea pigs love to be active and move around. If you have 2 guinea pigs pick the cage with 30 x 50 inches. If you're looking for a guinea pig cage for 3, the cage needs to be around 30 x 62 inches for enough comfort.
Pick The Best Design – Deluxe guinea pig cages are very popular on the market, and you can choose from a variety of them. If you prefer metal wire cages, pick the one in black or rose earth tone color that will look perfect in your interior. There are also wooden hutches that has a beautiful design in different color combinations.
Functionality And Maintenence– Besides the look and the size f the cage, a feature that is also important is functionality. So you can easily do daily routines such as feeding, make sure there are multiple doors for quick access. For easy maintenance, pick the cage that is easy to clean so your pets can always enjoy in fresh habitat.
To Sum Up
From 6 different models that we reviewed, the best deluxe guinea pig cage is definitely Midwest Cage. It has a simple but modern design, with a large living space and a lot of functional features. If you want to check cages in red color, read this post because we pick the best red guinea pig cage on the market. Also, if you want a stackable option, check this post and pick the best stackable guinea pig cage for your pet.