Do you want to find the best wire cage for your furry pet?
Then read this post to be sure you're making the best decision. Find out which are the best wire guinea pig cages from small, portable, outdoor, on wheels, and on 2 level cage, and chose a perfect one for your pet.
Summary
Best 6 Wire Guinea Pig Cages
BEST OF BEST WIRE GUINEA PIG CAGE
8 Square Feet
This wire cube guinea pig cage provides 8 square feet of living space for your guinea pig. If you're the first owner of this pet, this cage is a great choice. Because of the sides of the cage that are 14 inches high, your guinea pig will have enough space for an enjoyable and fun environment.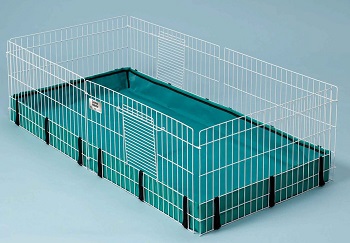 Divider Panel And Ramps
Cage has a folding top that is providing multi-access to your pet environment. Also, it has a guinea pig cage divider panel and dors and ramps with a hinged lock system, so your guinea pig can have a playing place and care areas if needed.  You can put additional toys and features inside of the cage to make it more fun.
Durable PVC Bottom
The bottom of the cage is made of lined PVC material, that is durable and leak-proof, so your pets' feet will have a comfortable place that is enough gentle and protected for their sensitive feet. When you're looking for guinea pig cages make sure that the bottom material is durable and safe for your pet.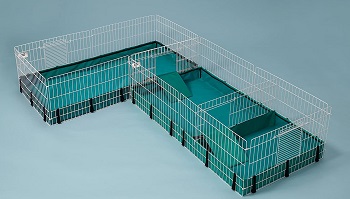 Removable Base For Outdoor
You can use the cage outdoor or indoor because of its removable PVC bottom. Wires are providing protection from outdoor predators so don't worry about safety while the pet explores and plays outside. The cage is easily portable and you can easily clean the bottom because of its washable material.
In Short
Wire construction with 8 square feet
Folding top for maximum access
Divider panel and ramps for playing and caring
Bottom of the cage made of PVC material
Removable base for outdoor and indoor use
BEST SMALL WIRE GUINEA PIG CAGE
AmazonBasics Guinea Pig Cage
Small But Functional
This iron wire cage with a plastics base is a great option if you want a smaller place for your guinea pig. With a combination of white and cream colors, it will fit in every interior. Even if it's not a larger cage, your pet will have enough space for having a playful time and a comfortable habitat.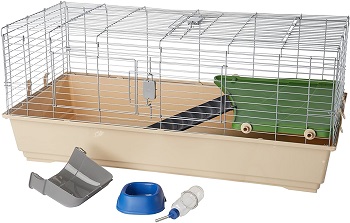 Easy Cleaning
With front 2 side doors you will have quick access to change feeding and drinking area. Because of its plastic base, it's easy to clean with only water and soap. If you don't want to spend much time cleaning, choose this type of wire guinea pig cages that has smaller proportions.
Additional Features
The small guinea pig cage includes a balcony with an access ramp so your pet can have a better view outside. The balcony is also adding dimension to the cage and making space underneath for better privacy. From other features inside of the box, you will get a hay guard and water bottle that has a non-drip system.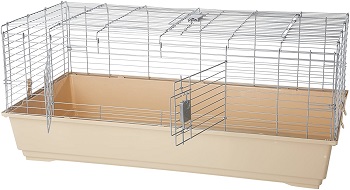 Simple set up
Cage is a simple assembly and you will need no tools for setup. The recommendation for this type of guinea pig wire cages is to use it indoors, just make sure that the temperature is not too low for your pet. Your guinea pig will enjoy this cozy space and have great living habitat.
In Short:
Small and functional cage for your pet
Quick 2 sides doors access
Easy cleaning plastic base
Free additional features for your guinea pig
Simple assembly in a few minutes
BEST ON WHEELS WIRE GUINEA PIG CAGE
PawHut Guinea Pig Cage
Rounded Corners For Safety
Black metal wire construction with rounded corners will provide safety for owners and pets. Space between wires is providing enough safety from possible pets stuck between and also enough air circulation. This large space for a living will provide your pet coziness.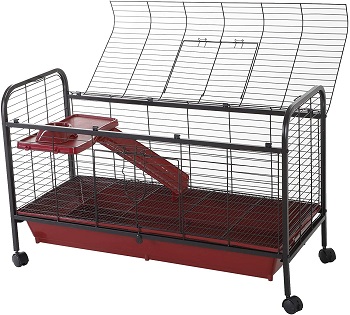 Multiple Doors Access
There are multiple doors and a large full-width top door for quick access and changing the feeding and drinking area. The side doors can be used as a ramp so your pet can have easy access outside of the cage. A deep plastic base is great for quick and easy cleaning.
Top Platform Area
With the multi-level design, your pet will have an elevated area for feeding and drinking place. There is a ramp for easier access to the top platform. Your guinea pig has the whole bottom floor for playful times and a comfortable resting and sleeping moments.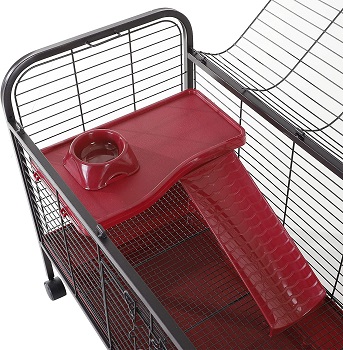 Safety Latches On Wheels
This guinea pig cage with 4 rolling wheels and 2 safety latches will provide easy transport and movement. If you need that kind of feature keep in mind to choose and buy wire guinea pig cages with quality construction and wheels with safety latches to keep the cage stay in place.
In Short:
Construction with rounded corners for maximum safety
Large doors for quick access
Deep plastic base for easy cleaning
Separated area on the top platform
4 wheels with safety latches for easy movement
BEST PORTABLE WIRE GUINEA PIG CAGE
PawHut Guinea Pig Playpen
Steel Construction
Black steel construction wires will provide safety and enough air ventilation. Cage is water and rust-resistant so it can be used indoor or outdoor, depending on your preferences. A deep black plastic base will provide enough comfort and space for your guinea pig.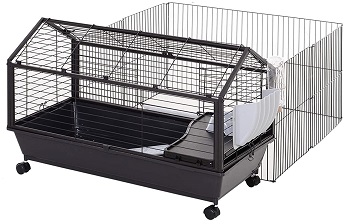 Free Accessories
This comfortable space inside the cage has the bottom resting floor and top platform with ramp access for feeding and drinking area. In the box, you will get free accessories for your guinea pig such as a bowl, water bottle, and food dish,. Your pet will have a nice and sweet place to live in.
Roof Opening For Access
Front doors have a latched design and can be used as a ramp so your pet can have access outside of the cage to have playful time. The roof of the cage can be fully opened for quick access inside of it, ideal for fast and easy cleaning and changing water or food.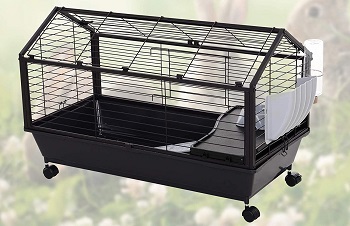 Additional Run Space 
Because of its small weight and 4 wheels, the guinea pig cage is portable and it is secure with 2 brakes to stay in place. If you're looking for wire guinea pig cages with additional run space for indoor or outdoor use, this is a great option. When not in use, run space can be easily folded.
In Short:
Cage is water and rust-resistant
Free accessories for feeding and drinking
Easy access from the rooftop
Wheels and brakes for easy movement and safety
Additional run space for occasional use
BEST OUTDOOR WIRE GUINEA PIG CAGE
Rockever Guinea Pig Cage
2 Separate Areas
Cage is constructed with quality iron wire with a combination of fir wood marginal parts. It has 2 separate areas, one for run open space and one inside of the hut, that is fully closed and protected. A durable structure will keep your guinea pig safe.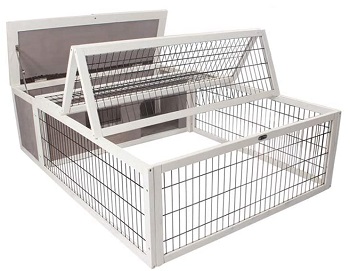 Waterproof Roof
The spacious hut with outdoor guinea pig run has a solid structure and fully opened roof for quick access. The bottom floor is removable so it will be easy for cleaning and maintaining. Don't worry about rain, hut has an asphalt roof so it will protect your guinea pig from bad weather.
Spacious Area
A spacious run area will give your pet a fun environment and space for joy and exercise. You can put different kinds of accessories to complete the playful areas, as well as adding a feeding and drinking area. Because this part of the cage has no bottom, it will be easier for cleaning.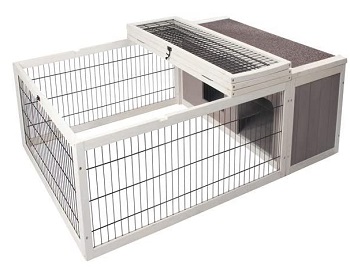 Full Roof Access
Perfect outdoor choice if you're looking for wire guinea pig cages for your backyard that is easy to assemble. Run area has a roof that can be fully opened and folded so you can have full access to your pet cage. It has a durable latch to make sure your pet is safe.
In Short:
Durable construction made of solid wood and wireframe
Separate sleeping and running area
Hut with a waterproof roof
Spacious run area for enjoyable habitat
Folded roof for maximum access
BEST 2 LEVEL WIRE GUINEA PIG CAGE
Savic Guinea Pig Cage
Solid Construction
Solid cage construction with white iron frames and a quality deep plastic base will provide your guinea pig enough space to have a comfortable habitat. It has rounded corners for maximum safety of your guinea pig and your own. It will nicely fit in any interior.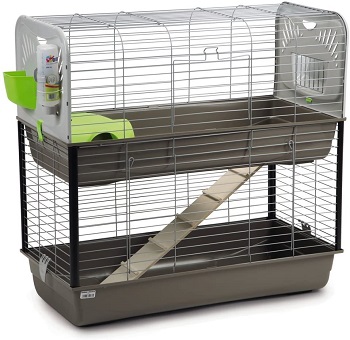 Attach Areas For Feeding
Wire guinea pig cages are a great option because of its possibility to hang any kind of accessories on the sides. This cage has a plastic base that is attached to the sides and it is providing easier access for feeding your pet without much mess.
Features and 2 Levels
Guinea pig cage with 2 levels is made for maximum comfort of your guinea pig. It has a wooden ladder for easier access to the top level. A hideaway is great for plying or for the privacy of your pet. Both accessories, with a drinking bottle and feeding bowl, are included in the package.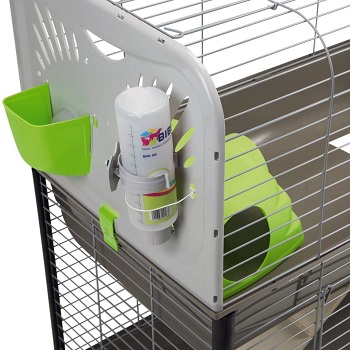 Easy To Assemble
Extra-large doors on the front will provide easy access inside of the cage. Because of the plastic base, cleaning will be easy and quick. Cage is easy to assemble and to transport because of its lightweight. Your pet will enjoy this cozy environment.
In Short:
Constructed with iron frames and quality base
Hanging feeding areas for easier access
2 Levels for maximum comfort
Additional free accessories in the package
Large doors for access and cleaning
How To Pick Best Wire Guinea Pig Cages?
Wireframe cages can have so many advantages for using but make sure that you choose the perfect one depending on their features. Pay attention to the quality of construction and wires because of the external features such as water or rust, cage safety, and much more.
Quality Cage Construction – Stable and quality cage construction needs to be one of the most important features when choosing a cage for your guinea pig. Quality cage will have longer durability so choose the one with a metal or iron frame and wires. Make sure that there is enough space bar between wires for air circulation.
Water And Rust-resistant – If you're using your guinea pig wire cage indoor or outdoor be sure that they are water-resistant. Mostly they are protected with special paint to make sure that there will be no problem with moisture that will lead to faster rusting.
Additional Accessories – Pets love to have a fun and enjoyable environment to keep them active. Make sure you have enough accessories for the feeding and drinking area, but also some toys so they can have a playful time, as much as guinea pig houses. Mostly you will get some free features with the package.
Quick Access – To provide the best environment for your pet, quick and easy access to the cage is very important. Make sure that the cage you choose has large and multiple doors, for changing water and food. Also, be sure that the cleaning parts are easily accessible, choose one with a slide-out system.
Cage Safety – Wires can be a dangerous feature because of the possibility that guinea pigs can be stuck in between or even escape from the cage. Make sure that the space between wires is enough to avoid this kind of situation. Also, make sure that the cage has about a durable latch for pets' safety.
Easy Movement – If you prefer to have, from time to time, your gounea pig cage indoor and outdoor, make sure that you choose a cage with wheels and safety brakes. Wire guinea pig cages with wheels are the best choice for quick transport and storage when you don't use it. Make sure your brakes are on.
To Sum Up
The best wire guinea pig cages that I recommend is Midwest Cage. It has a large space for maximum pet comfort, removable PVC bottom, and large doors for quick access. If you're looking for a cage for transport, check this post and find the best travel guinea pig cages for your pet. Also, if you want to add some features to your pet cage, check the post, and findthe best wooden guinea pig houses to put in the cage.