Do you want to find the perfect small guinea pig cage for your pet?
One that can fit easily in your home?
Then read this post where we have reviewed some of the most popular models. Read to find the best outdoor, on wheels, pink, on 2 levels, or indoor models and find the perfect xage for your pet and your space.
The Summary
Best 6 Small Guinea Pig Cages
BEST OF BEST SMALL GUINEA PIG CAGE
AmazonBasics Guinea Pig Cage
Perfect Size
Cage is made from a combination of iron wires and a deep bottom plastic base, in a simple white and beige color combination. This small guinea pig cage measures 31.7 x 21.8 x 18.1 inches and it will be the perfect size for the comfortable habitat of your pet.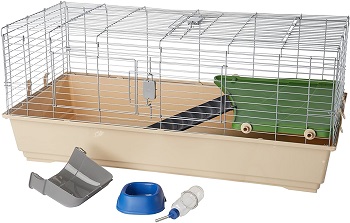 The Balcony For Additional Space
Inside the cage, there is a ramp for easier access to the balcony, so your pet can have a better view outside and additional space underneath for privacy. The drinking bottle and hay guard are attached to the wires for easier access while the feeding bowl is on the balcony.
Large Opening Top
Access to the cage is pretty easy because of the opening top and front doors. You will have no problems with changing food, guard or drink when needed. Don't worry about safety, there is lock protection on the doors so your pet can stay safe.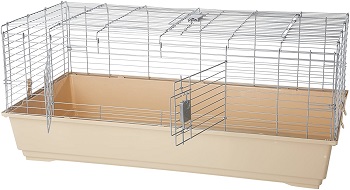 Quick Assembly
Because of the guinea pig cage with plastic bottom base, you will have no problem with cleaning, just use water and soap. This small guinea pig house is easy to assembly, you will need no tools. With the package, you will get all the mentioned additional accessories.
In short
Cage with iron wires and plastic base
Ramp with the balcony for an active life
Easy rooftop access for quick maintain
Easy to assemble without tools
Free additional accessories in the package
BEST OUTDOOR SMALL GUINEA PIG CAGE
U-Max Guinea Pig House
Simple Design
This small guinea pig cage with a simple design is made from a fir wood frame with metal wire mesh. It is painted in a combination of grey and white color, with eco-friendly waterproof paint for maximum security of construction. Your pet will enjoy this cute habitat.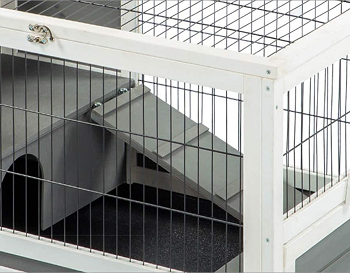 Plastic Sliding Tray
Openable wire mesh roof for easy access to the wood guinea pig house will provide quick-changing feeding or drinking area.  The roof has a lockable system for maximum security. The wooden house has a sliding plastic tray that is removable so it saves your energy and cleaning time.
Free Toy
Cage has a ramp with timber ridges to prevent your pet from sliding or slipping back.  Also, it has a wooden guinea pig hideout for resting and comfort. In the package, you will get a free chewing toy so your pet can have even more fun in this nice and small guinea pig hutch.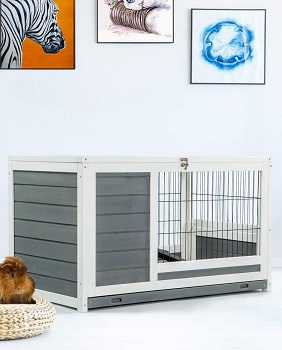 Easy Manual For Assembly
This small guinea pig house is very easy to assemble because of its pre-drilled holes and easy manual that you will get with the package. Because of the wire mesh roof, make sure to protect it from possible rain weather on the balcony or backyard.
In short
Grey and white wood design
Openable roof for quick access
Plastic sliding tray for quick maintain
Wooden hutch for comfort and rest
Easy to assemble the cage
BEST ON WHEELS SMALL GUINEA PIG CAGE
Prevue Guinea Pig Cage
Hammertone Finish
Cage is constructed with metal wires and hammertone finish with a measurement of 25 x 17.13 x 34 inches for enough space for your guinea pig.  It is stable and will fit in any space of your home because of a simple design.
2 Level Cage
Inside of the guinea pig cage with wheels, it is a plastic ramp and a balcony for easy view. This cage with the small guinea pig run will provide the active life of a pet and enough space for additional accessories. Your guinea pig will have enough comfort and an enjoyable environment.
Easy Maintain
With large front doors and an opening roof, you will have easy access to changing drinking and feeding areas. Maintain and cleaning is also easy because of the bottom tray that can be pulled out. On top of the tray is wire mesh so your pet will have no problem with hygiene.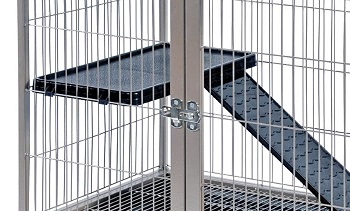 Large Storing Shelf
Because of its 4 easy-rolling wheels, you will have no problems with transport and movement. On the bottom of this small guinea pig cage, you have a large storage shelf that can be used for storing food, toys, and supplies.
In short
Hammertone finish and simple design
Plastic ramp and balcony for a view
Large front and upper doors
Pull out system bottom tray
Large shelf for storing accessories
BEST PINK SMALL GUINEA PIG CAGE
PawHut Guinea Pig Cage
Cute Design
A small guinea pig cage is made of a metal frame and a plastic bottom base, with a white and pink color combination. This cute design will be a great option for your female guinea pig and it has an ideal dimension for enough comfort for your pet.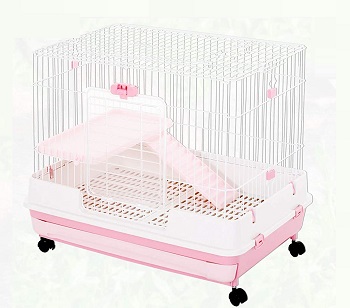 Ramp With A Platform
It has 2 openings for easy access, one the top and on the front of the pink guinea pig cage. The front door can be used as a ramp, so your guinea pig can have access in and out. For the activity of your pet, there is an anti-slip ramp with a platform for a playful environment.
Easy Cleaning
Because of the removable tray, cleaning will be easy so you will save your time and energy. At the top of the tray, there is a wire mesh to avoided mess from the restroom, so your pet can have a clean and healthy environment.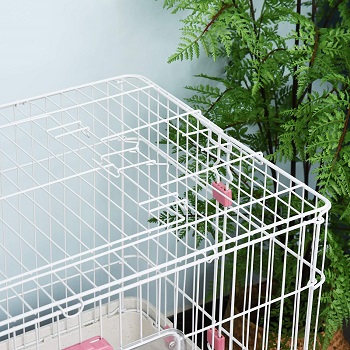 Quick Movement
With 4 wheels and 2 brakes, this small indoor guinea pig cage will provide easy movement and transport. It is very easy and quick to assemble, so your pet can enjoy this deluxe cage and have a happy and long life.
In short
Cute pink and with design
2 openings for quick access
Easy cleaning because of the removable tray
4 wheels with 2 brakes for easy transport
Quickly and easy assembly
BEST 2 LEVELS SMALL GUINEA PIG CAGE
Kaytee Guinea Pig Cage
Blue and White Color Combination
Cage is constructed with a white metal wireframe and a deep bottom base in blue color. It has small bar spacing between wires to avoid possible stuck of your pet. Your pet will enjoy this small guinea pig cage with different features.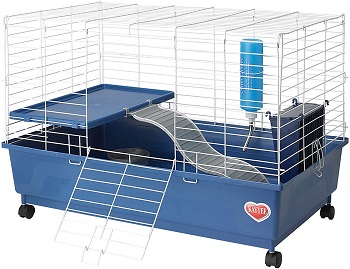 Secure Door Lock
It has a front door for access inside of this small guinea pig house, so you can clean or change the feeding and drinking area. For the safety of your pet, there is a secure lock so you will be without worry about possible escaping outside.
Additional Accessories
Inside of the two level guinea pig cage, there is a safety ramp with a comfortable shelf, so your pet can have an active life with additional space underneath the shelf for more privacy when needed. It has a feeding bowl. water bottle and hay buffet for that comes with the package.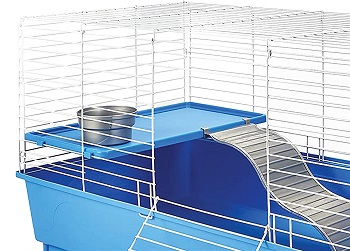 Easy For Transport
Don't worry about movement, because with 4 caster wheels you can transport it wherever you want. If you're looking for a guinea pig cages for small spaces this is a perfect choice for easy storage when not in the use and a great cage with enough space for your pet.
In short
Blue and white color design
Front door access with secure lock
Free accessories in the package
Easy movement and storage
Ideal for small spaces
BEST INDOOR SMALL GUINEA PIG CAGE
Ferplast Guinea Pig Cage
Classic Design
If you're looking for a simple beige design with a metal wire frame and plastic bottom, this is the best small guinea pig cage you can get. This cage will suit every interior and your guinea pig will have an enjoyable environment.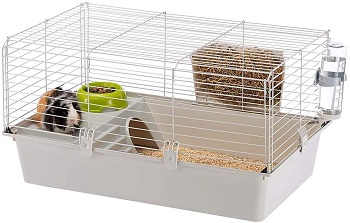 Pet Hutch
It has a large deep base for maximum comfort and stairs for a large shelf that will provide a better view outside as well as a place for a feeding bowl. Additional space underneath the shelf is for a small indoor guinea pig house, which is the perfect place for rest and sleep.
Secure Side Latches
Access from the full-width front door makes it easy for you to maintain the cage, change food, and clean mess. The water bowl and hay feeder are attached to the wireframe so you can quickly change it. With secure side latches, you will be sure about pet safety.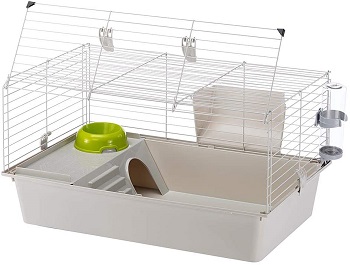 Starter Cage
Cage is very easy to assemble in just a few minutes. Easy to transport and move from side to side. This is a great starter cage for indoor use and your pet will enjoy this fun habitat. The package includes all the accessories for feeding and drinking.
In short
Simple design for interior
Large deep base for comfort
Guinea pig hutch for privacy
Full-width doors for quick maintain
Included accessories for feeding and drinking
How To Pick Up The Best Small Guinea Pig Cages?
Small cages for your guinea pig can be very hard to choose because you need to provide enough comfort for your pet but also additional features for normal and functional pet life. Check out construction, stability, security, accessibility, and other features that are important to you.
Room Fitting – When you're buying a brand new cage the first thing you need to do is measure the space that you're planning to put the cage. Check the measurement online to be sure it will fit perfectly, especially if you have a small space in your home.
Stable construction – No matter which material is a cage made from, make sure it has stable and solid construction. Even if the smaller cages tend to have better stability than larger ones, check features and feedback from other consumers to be sure about the right choice.
Cage Security – Cages are mostly made of metal wireframes with a combination of some other material. Because of the wire doors and roofs, make sure the wire guinea pig cage has secure tab locks to be sure about pet escaping. Also, make sure that the bar space between wires is small enough so your pet cant stuck between.
Comfort Space – The comfort of your pet needs to be one of the priorities when buying a small guinea pig cage. Smaller cages can also have enough living space so make sure that the measurements and additional accessories fit your pet needs.
Easy Access – Quick and easy access to the cage is important because you want to save your time and energy when cleaning. Choose the cage that has a minimum of one access door. The best option, if you can choose from a variety of cages, will be with full-width front doors or rooftop.
Accessories For Fun – Pets love to have an active and fun environment that is very important for their healthy and long living life. So, you can add some additional toys and a guinea pig plastic houses. If you don't want to cover the bottom and run space, you can attach it to the wires on the sides or the top.
To Sum Up
The best small guinea pig cage for recommendation is the AmazonBasics cage.It has a stable construction, enough space for your guinea pig, and additional features and accessories for a fun and active environment. If you're looking for some plastic cage for your pet check out this post and find the best plastic guinea pig cages. If you want a cage that is opened so your pet can have access outside of the cage, check this post to find the best open guinea pig cage and find the perfect one.