If you are considering buying a multi-level hamster cage, you have come to the right place.
In our article, we have prepared the six coolest and most modern hamster cages there are on the market. Check them all out. Find out the most important details about the best of best, enclosure, 2-level, and other models. Read our buying guide to help you pick the best hamster cage for you.
The Summary
Best 6 Multi-Level Hamster Cages
BEST OF BEST MULTI-LEVEL HAMSTER CAGE
Midwest Deluxe Hamster Cage
The Included Accessories
This hamster cage by Midwest includes everything your little pet needs. The cage has one plastic platform and a plastic ramp. There is a storage shelf under the cage that will serve to store food and toys. The cage stands on four rolling casters.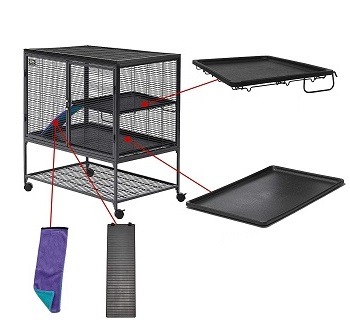 The Ideal Size
This cage is of great size (36″ L x 24″ W x 39″ H), especially for a hamster. Your pet will have a lot of space for all of its everyday activities. You will also get to customize the cage according to your preferences. There is enough space for a running wheel, hanging hammock, or a plastic hamster house.
The Access And Assembly
This multi-level hamster cage comes with double access doors that make the maintenance hassle-free. Also, you will get to feed your pet easily. The setup is quick and easy. You will require no tools. The instructions for the assembly come in the package.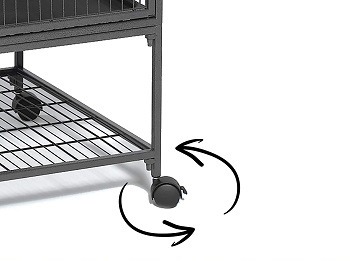 Why Is Midwest Cage The Best?
We find this cage one of the best because it has a lot of space, already includes some of the fun accessories. Moreover, the cage is completely customizable. It is made of safe and sturdy material, easily rollable, and very simple to maintain.
In Short:
includes a ramp and platform
it is completely customizable
sturdy, durable, and non-toxic environment
stands on four rolling casters
provides a lot of space
BEST ENCLOSURE MULTI-LEVEL HAMSTER CAGE
Aivituvin Multi-Level Cage
The Wooden Construction
This is a large wooden hamster cage that is made for outdoor and indoor use. The cage is waterproof and made of solid fir wood. The material used for the construction is eco-friendly and provides your little pet with a natural and cozy environment.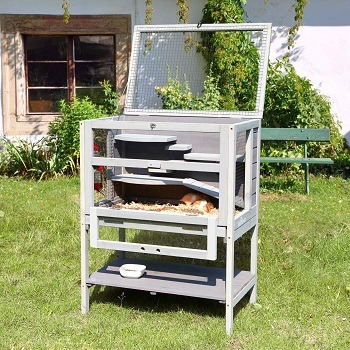 The Safe Design
This cage by Aivituvin measures 23.6″L x 15.7″W x 31.5″H. It is of ideal size for your hamster and its height is perfect for you as well. The cage stands on four legs. There is a storage shelf under the cage. It comes in grey and has transparent sides.
The Play Zone
Your hamster will have a lot of space for playing and staying active. This hamster wooden house includes six platforms and a large ladder. There is enough space for adding your hamster a small hideout house, a water bottle, and a food bowl.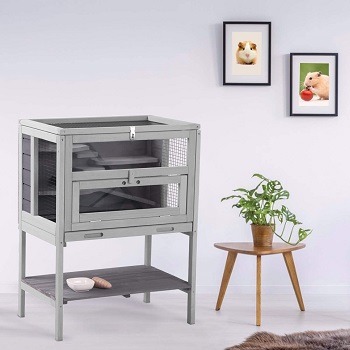 The Cage Ventilation
This multi-level hamster cage comes with a wire net top that allows the fresh air to constantly come in. This is very important for your hamster's health. The cage can be opened on the front so you can take it out and play with it as well.
In Short:
constructed out of solid fir wood
the material used is eco-friendly and safe
the cage is waterproof
use it indoor or outdoor
there is a storage shelf under the cage
it stands on four legs
BEST 3-LEVEL MULTI-LEVEL HAMSTER CAGE
Aleko Wooden 3-Level Enclosure
The Natural Wooden Enclosure
Your one or two hamsters will get to live in this wooden enclosure together. It will make them comfortable and it will feel natural. This cage's dimensions are 44 x 24 x 23". The cage is not large but provides enough space for your little pets.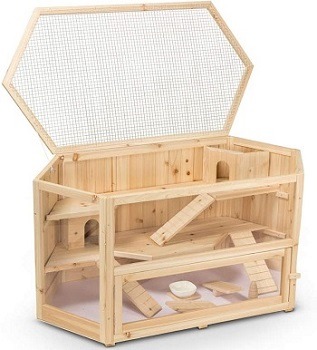 The Simple Design
The Aleko small hamster cage is made of mesh on the top, acrylic front and sides, and fir wood frame. The material used for the construction is non-toxic and is completely safe for your hamster's health. The cage is exclusively made for indoor use.
The Activity Area
Your little buddy will get to play inside of this cage as much as it wants. There are three levels, three ramps, and two hideouts included. The cage provides enough space for you to add hamster toys, another food dish (one is already included), and a water bottle.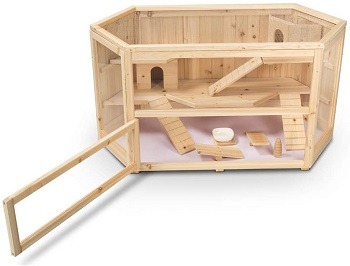 Clean And Refill Food Bowl
Open the acrylic panel to access the Aleko multi-level hamster cage. Maintain the cage clean often and refill the food dish or the water bottle regularity. Clean the panel as well and make sure your hamster stays in a safe, well-kept, and tidy habitat.
In Short:
the cage fits one or two small hamsters
enclosure made of mesh, acrylic, and fir wood
includes a fun activity zone
the material used is eco-friendly
the cage is made for indoor use
it is easy to clean and maintain
BEST METAL MULTI-LEVEL HAMSTER CAGE
Prevue Hendryx Hamster Cage
The Small Design
This cage by Prevue is a small hamster enclosure that is made of metal wires and a plastic base. The base of the cage is leak-proof. It is snap-off as well which helps with cleaning. The cage comes in two colors, Bordeaux Red or Lime Green.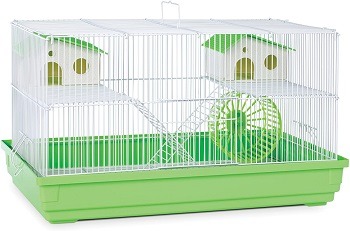 What It Includes
The cage has two platforms, each on one side of the cage. Each platform is connected to a small hamster ladder. On each platform, there is a small plastic hideout house. The cage includes a running wheel that will allow your hamster to stay active.
Easily Portable
You can take this cage wherever you need to. This is a portable hamster cage. The cage is small and lightweight and can serve as a travel cage as well. The overall dimensions are 22 1/2" L, 12" W, 12 1/2" H. The space between the bars is 5/16".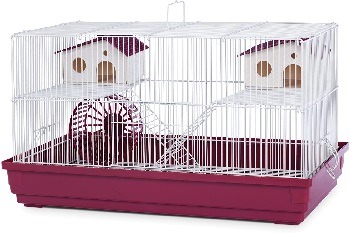 The Price Of The Cage
This cage is budget-friendly. We would say that its price is pretty affordable for almost anyone. The quality of this Prevue multi-level hamster cage is good. Check out this convenient cage online to learn more about its characteristics.
In Short:
small and lightweight
the cage is easily portable
it comes with a top handle
it can serve as a travel cage
the price is affordable
cage's quality is pretty good
BEST WITH TUNNELS MULTI-LEVEL HAMSTER CAGE
Mcage Hamster House
About Mcage Cage
This cage is a great cage for hamsters. It is fun, safe, and affordable. The cage is made of safe black wire and an acrylic leak-free base. The cage fits one hamster and provides it with a lot of space for playing, resting, and running around.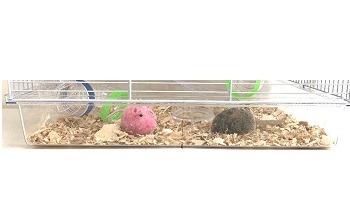 The External Tunnels And Other
The cage comes with long transparent tunnels. There is a fun running wheel included, a platform, a ladder, and a hideout plastic house. The cage dimensions are 19 x 12 x 15″. The cage is lightweight and easily portable. It can easily be expanded.
More Interesting Details
The cage is space-saving and fits anywhere in your home. It is made for indoor use. The material used for construction is non-toxic. The wires are chew-proof so your little hamster won't be able to escape the cage. The bar spacing of this wire hamster cage is 3/8.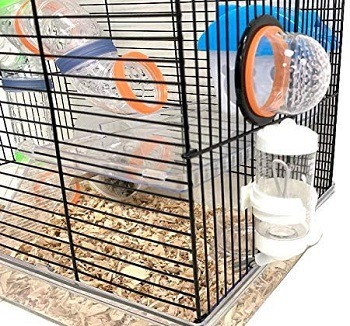 Why Buy?
Get this multi-level hamster cage if you have a medium-sized pet hamster. It will provide it with a lot of fun and safe space. This cage is perfect for your hamster's everyday activities. The price is affordable and the cage quality is pretty high.
In Short:
made for indoor use
this is a fun and safe cage
comes with tunnels and a hideout
includes running wheel, platform, ladder
the price is affordable
BEST CAT-PROOF MULTI-LEVEL HAMSTER CAGE
Savic Geneva Modern Cage
The Cool And Fancy Design
The Savic Geneva is a multi-level hamster cage that is ideal for hamsters and gerbils. The cage comes with a recognizable and unique design. It is completely transparent and fits perfectly into any modern home.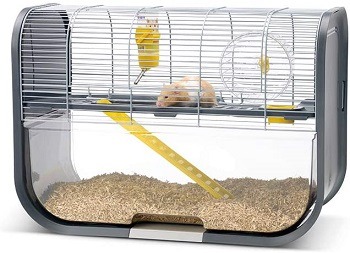 Comes With All That You Need
You can use this cage if you are a new or an expert hamster owner. The cage has one level and small hamster ladders. There is an exercise wheel included. It comes with a water bottle and a food bowl. The cage provides a lot of horizontal and vertical space.
Cat-Proof And Secure
You will get to feel safe about your hamster all of the time. The wire top of the tank can be opened and securely locked. The top of this modern hamster cage is here to provide you with easy access.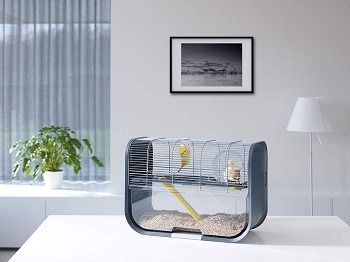 Last Useful Details
The Savic Geneva cage comes as a 23. 5in x 11. 5 x 17. 5" design. It is made in Belgium and only high-quality materials are used for constructing it. You can get this cage online. The price is medium. We are sure your hamster will have a happy life inside of this cage.
In Short:
unique, recognizable, and fancy design
modern and small hamster cage
the cage is cat-proof and secure
safe for your little pet hamster
get it at a medium price
How To Pick: Multi-Level Hamster Cage
Getting the right hamster enclosure is very important. You surely want your fur buddy to stay as healthy, active, and safe as possible. This is why we have prepared a small list of the features that you need to consider before you purchase your new multi-level hamster cage. Read on to find all about them.
The Cage Dimensions – When it comes to hamsters, feel free to choose any size of the cage. If you have one hamster, getting a small cage will be just fine. If you want your cage to fit two hamsters, get a long hamster cage. The important is that your pet has at least some space to roam around, play, jump, or rest.
Hamster Cage Material – Most of the hamster cages are made of plastics and iron or metal. In our opinion, the cages that combine these two materials are the best ones. The plastic bottom is leak-free and easy to clean, and the wires will provide good ventilation and prevent your hamster from escaping. Make sure the material is non-toxic.
The Cage Ventilation – It is very important that your hamster has a lot of fresh air. This is why we suggest you don't buy a cage that is completely made of plastics and has small openings. Your little pet will be healthier, happier, and safer in a well-ventilated enclosure.
Safety And Security – Your new cage should have lockable openings. Moreover, the space between the bars should be narrow to prevent your hamster from sucking between the wires. The wires need to be chew-free and the cage must not have sharp edges.
Your Budget –  Generally, hamsters cages are not expensive. You will easily find many cheap and budget-friendly models on the online market. Check the availability of each model that we have reviewed and see if you can get an on-sale model.
To Sum Up
Although all of the listed multi-level hamster cages are of great quality and completely safe for your fur friend, there is one model that specifically caught our attention. It is the Aleko Enclosure. We like it because it reminds us of a quality terrarium for hamsters. It is made of natural and eco-friendly material and includes wooden hamster hideouts and a large activity area.