Looking for cool and functional hamster carrier bags and cases?
Our article brings you six reviews about the best hamster carriers. We have divided these models into six categories – best of best, cute, bag, and three other. Read all reviews and our buying guide to find out the right model for you and your hamster.
The Summary
Best 6 Hamster Carrier Bags
BEST OF BEST HAMSTER CARRY CASE
Hamiledyi Hamster Travel Carrier
The Cool Design
This small hamster travel carrier is made of sturdy plastics. It has a circular design. Its see-through top is easy to open. There is a large handle on the top that allows you to carry this lightweight hamster carrier anywhere.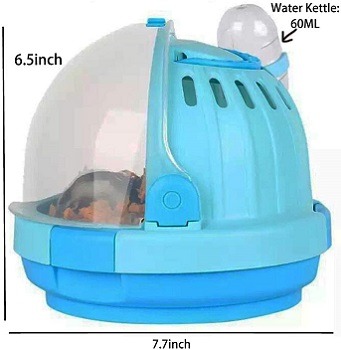 Eco-Friendly Material
The Hamiledyi hamster carrier cage is made of healthy and eco-friendly material. It is completely harmless and healthy. The cage has no sharp edges. This is a hamster carrier with a water bottle. Your hamster will never be thirsty.
Enough Space
Overall dimensions of this carrier are 7.7″ x 6.5″. This provides just enough space for a hamster. However, make sure you use this enclosure only for short trips and temporary purposes. Hamsters need to have a lot of space and stay active.
Useful Details
This carrier includes ventilation holes that allow the air to circulate and your hamster. The fresh air is always coming in. The price is very budget-friendly and in our opinion, this small hamster cage for traveling is convenient to have at home.
In Short:
ideal for short trips
small but spacious enough
convenient and budget-friendly
made of eco-friendly material
hamster travel cage with water bottle
BEST CUTE HAMSTER TRAVEL CARRIER
Detop Dwarf Hamster Carrier
Soft And Large
This Detop is a perfect takeout bag for small pets. It is ideal for hamsters. It provides a lot of space and is completely safe. It is made of soft material. It includes nylon straps. It is made of plastic mesh, velvet outer layer, sponge middle, and thin velvet lining.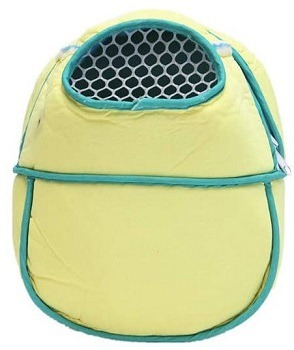 Backpack Design
This hamster carrier bag comes shaped as a backpack. However, you do not wear it the same way. You hang this bag on your shoulder. This bag is lightweight and easy to carry. Its overall size is 9.9inches, wide 7.9inches, deep 2.95inches.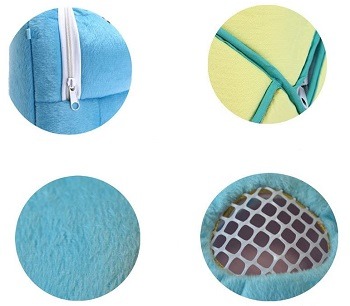 Strong And Long-Lasting
This portable hamster bag comes with a strong but smooth zipper. It is incredibly cozy and comfortable. The breathable mesh allows the fresh air to circulate the carrier all the time. This is another low-budget but high-quality carrier.
In Short:
large and lightweight travel bag
comes with smooth and soft inside
it is strong and long-lasting
the cost is budget-friendly
material used is pet-friendly
BEST ENCLOSURE HAMSTER CARRIER BAG
Misyue Travel Cage With Water Bottle
About Misyue Cage
The Misyue hamster portable cage is small and lightweight. The cage comes with a water bottle that makes sure your pet is never thirsty. It is designed as a small plastic carrier. The material used is safe ABS. The cage is odor resistant.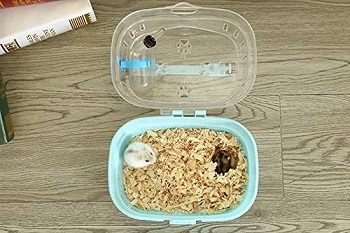 The Blue Design
Misyue is a small and fancy hamster cage for traveling. The top of the cage is transparent and allows you to check on your hamster any time. The blue bottom part is plastic and leak-free. The cage is ventilated, sturdy, and durable.
The Dimensions And Maintenance
The size of this hamster carrier cage is 5.5 x 8 x 5.1". There is a sturdy top handle that will make carrying easy. The cage is lightweight, it weighs only 0.44 pounds. Maintain this cage easily. Open up the top of it to clean.
In Short:
small and easily portable carrier
it comes with a sturdy handle
the bottom is blue and the top transparent
it is very simple to maintain
it's a hamster travel cage with a water bottle
BEST CAT-PROOF HAMSTER CARRIER CAGE
Adoggygo Small Hamster Carrier
New And Upgraded Design
The Adoggygo manufacturers have improved this hamster bag carrier. The new design is much safer and more comfortable. There is a plastic mesh edge that has been sewn. This prevents the loose threads exposure. The bag is soft and warm.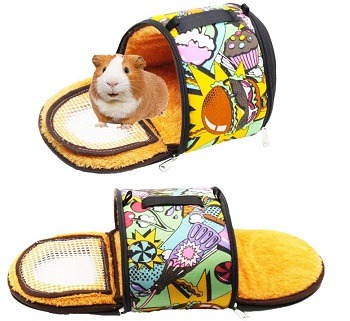 Durable And Easy To Carry
The new travel bag carrier for hamsters by Adoggygo is made of durable material. The strong shoulder strap and the hand carry belt make the carrying safe. Choose which way you want to carry the bag. It is lightweight and carried easily. It prevents other animals from harming your hamster.
Includes An Extra Leash
There is a small hamster leash included that will prevent losing your pet when outing. The leash is completely safe and pet-friendly. However, don't use it too often. Use this hamster bag carrier only for a short period. It is made of adopting soft material.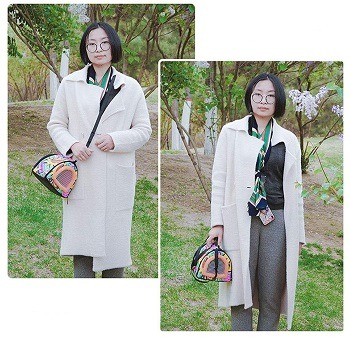 Check The Size Before You Buy
Don't buy this cage if your hamster is too big. Make sure it fits in this cage. The dimensions are 8″L x 7″W x 7″H. However, we are sure most of the hamsters fit perfectly in this bag.
In Short:
comes with upgraded design
it is very easy to carry
small and lightweight hamster bag
includes a hamster leash
made of safe and soft material
keeps your hamster warm
BEST CAGE HAMSTER CARRY CASE
Living World Syrian Hamster Travel Cage
Risk-Free Design
This hamster pet carrier is designed to be risk-free, cat-proof, etc. It is small, sturdy, and makes you feel safe when carrying your hamster. It comes with ventilation holes and creates a comfortable environment.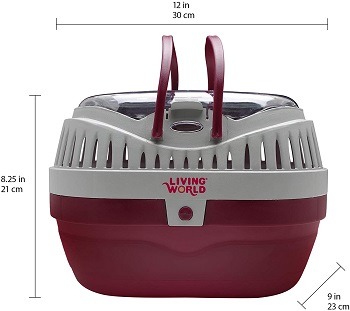 Safe And Non-Slip
The Living World hamster transport cage is spacious enough to be considered a portable large Syrian hamster cage. It is made of non-toxic material and has non-slip floors. The material used is durable. There are two sturdy handles on the top.
The Size And Maintenance
This hamster transport cage measures 12-inch length by 9-inch width by 8.25-inch height. It is ideal for hamsters of all sizes. The cage is very simple to open and access. You will reach for your hamster with no hassle and get to clean it easily.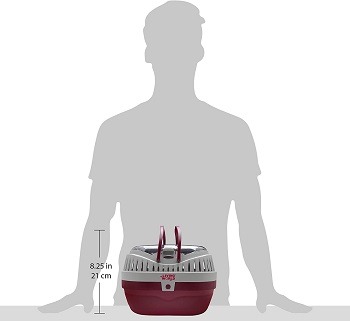 What To Have In Mind
Make sure your hamster fits the cage. Also, don't use it permanently. The portable hamster carriers are designed to be used for short-term periods. Provide your hamster a food dish and water bottle and make it feel as stressless as possible.
In Short:
the cage is easy to carry
fits all hamster sizes
ideal for Syrian hamsters
it is safe and lightweight
comes with two sturdy handles
BEST BLUE HAMSTER TRAVEL CARRIER
Habitrail Transport Habitat
For Short Term Use
The Habitral is a small blue transporter for hamsters. It should be used for short trips or vet visits. The cage is safe and secure. The wide opening is here to allow you to reach out for your hamster with no hassle.
Expandable Feature
Even though this hamster travel carrier is small, it can easily be expanded. If you get additional tubes, tunnels, and trails, you can connect it to other hamster habitat and make it a tall or long hamster cage.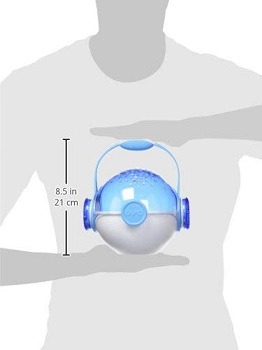 The Size And Weight
This cage's overall dimensions are 7 x 7.8 x 5.4 inches (without the handles). The cage weighs 11.64 pounds. There is a large top handle that makes the carrying much easier. This cage is easy to clean and is made of pet-friendly material.
In Short:
safe, small, and lightweight
it is easy to expand it
comes with a large top handle
it has an interesting blue design
the cage can be secured
How To Pick: Hamster Carry Cases And Carriers
What makes a good hamster carrier bag or cage? It is not only about the cool design or affordable price. What is very important is the size and material. Also, your new portable hamster carry case or cage should be easy to secure and cat-proof. Read on and find out all about the must-have features of such a hamster pet carrier.
The Design And Space – Even though you are getting a small hamster carrier, you should be careful about its size. Compare your hamster's size and the space that the cage provides. Your carrier could be a modern hamster cage, but it needs to be spacious enough as well.
The Secured Door – Make sure your little pet's new travel carrier has easy-to-access doors that can be secured. You will want to feel safe about your hamster while traveling. A big plus is if the cage is 100% unreachable to other domestic animals.
The Size And Portability – You are going to need a small travel carrier that is easy to carry. This means that it should weigh a lot. However, don't forget that your little buddy must have enough space for the water bottle or food dish as well.
The Extras Included – Many models already include a water bottle. This is a great extra accessory that helps your hamster feel less stressed. Don't allow your pet to be thirsty. Get it a chewable toy as well.
Where To Get? – Get the reviewed models online. Make sure that you buy from a good and quality manufacturer. Order from a reliable online retailer. All of the listed products are available on Amazon.com.