If you are in search of a cool and cute hamster food dish, then you will find our article interesting.
In the following paragraphs, read the six reviews and find the best dish for your hamster cage. We have divided the food and water bowls into different categories – best of best, water, pack, ceramic, small, and cheap. In the end, our buying guide will help you find the right bowl for your hamster.
The Summary
Top 6 Hamster Food Dish And Water Bowls
BEST OF BEST HAMSTER FOOD DISH
Omem Hamster Dish
The Design And Size
This hamster bowl can be used for food and water. It comes with a watermelon circular design. The size is 3.14 inches in diameter. The height is 1.57" and the bowl weighs only 0.38 lbs. It is made of safe ceramic.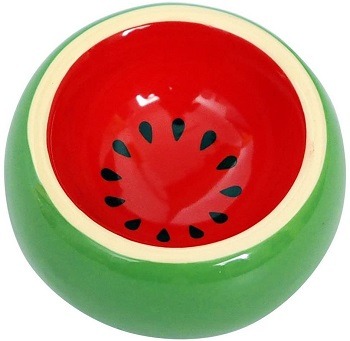 Hygienic And Easy To Clean
This cute watermelon bowl is incredibly easy to maintain clean. It is safe and hygienic. It is odor-resistant. The bowl fits in any large or small cage. It fits in perfectly into a fun hamster cage or a playhouse.
Compact And Convenient
If the hamster cage that you have bought comes empty, or you simply want to customize and change your enclosure, this bowl will come in handy. It is incredibly cute and convenient to have. It is ideal for small animals.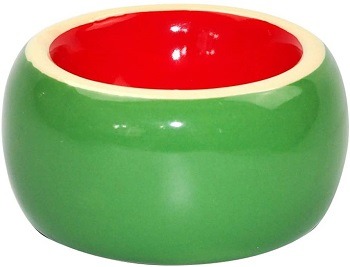 Non-Absorbent And Durable
Apart from it being odor-free, this Omem hamster food dish bowl does not absorb food or food colors. Also, it is gnaw-proof. The bowl is twice-baked and heavy-duty. Your little pet hamster won't be able to chew on it or knock it over.
In Short:
cute watermelon design
it is odor-free and non-absorbent
the bowl is safe and hygienic
sturdy and easy to clean
made for food and water
BEST WATER HAMSTER FOOD DISH
Kaytee Hamster Water Dish
Use It For The Water
This Kaytee food dish is ideal to use for the water. It is stable and chew-proof. It is heavyweight so your hamster won't get to spill the water. If you combine this bowl with a leak-proof cage, you will get to clean the cage with no problems.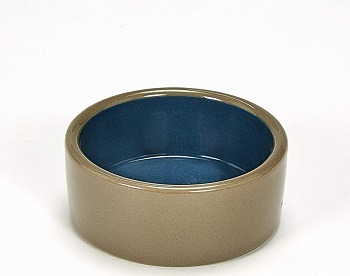 The Ceramic Design
Kaytee hamster bowl for water is made of ceramics. It comes with a circular design. It is dark-blue from the inside and grey from the outside. It features a hi-glaze non-toxic finish. This bowl can be washed in the dishwasher with no damages.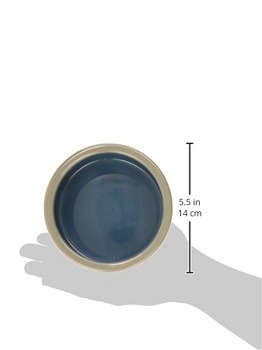 Fits Into Any Cage
We are sure that this hamster food dish bowl will fit into any hamster enclosure you have – whether it is a small hamster cage, or tall and multi-level. Customize your cage and add your hamster more cool and safe hamster accessories to have fun with.
In Short:
perfect to be a water bowl
it does not absorb liquids
fits into any hamster cage
features a hi-glaze finish
you can wash it in the dishwasher
BEST PACK HAMSTER FOOD DISH
Kathson Food And Water
The Two-Pack
Get two bowls in one pack. The Kathson pack will bring you both a sturdy and stable water bowl and a non-absorbent and easy-to-clean hamster food dish. Each bowl comes with a different design. They fit any crate and enclosure, from small to tall hamster cage.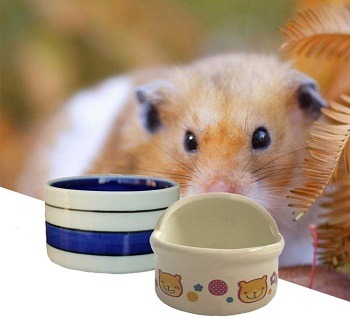 The High-Quality
Both of the bowls are made of premium quality ceramic material. The bowls have high thermal stability. These bowls have proven stability and durability. The ceramic used is toxic-free and completely harmless.
The Hygiene
These bowls are sterile and hygienic. They are easy to clean. You can wash them in a dishwasher. The water bowl has an arc top. This specially-designed top will prevent the water from spilling.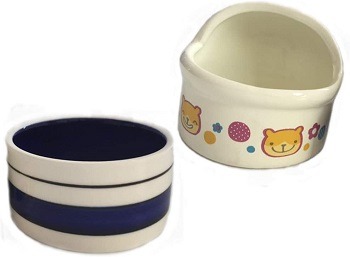 Useful Details
The food dish comes in white and blue sophisticated design. The size of it is 2.9 × 1.5 inches. The water bowl is white and has a cute animal pattern on it. Its size is 2.7 × 2.5 inches. The price of this two-pack is very budget-friendly and convenient.
In Short:
the pack includes a water and food bowl
the water bowl has an arc top
arc top prevents water from spilling
bowls are made of sterile ceramics
price of the pack is affordable
BEST CERAMIC HAMSTER FOOD DISH
Anone Hamster Feeding Bowl
No-Spill Design
The Anone feeding hamster bowl is another bowl made of ceramic. This model comes with a non-spill design and arc-top. This ensures your hamster doesn't spill the liquid or the food when playing around the cage.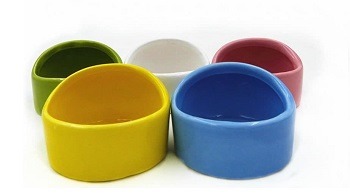 Many Colors
One hamster feeding bowl is very affordable so you can get more of the same model. Make your hamster cage fun and colorful and get it a combination of yellow, pink, white, blue, or green feeding bowls.
The Size And Quality
When it comes to size, the Anone ceramic bowls measure 2.8 x 2.7 x 1.8 inches and weigh 2.4 ounces each. This means that they fit into any hamster enclosure. The ceramic used to make these bowls is sterile and double-baked.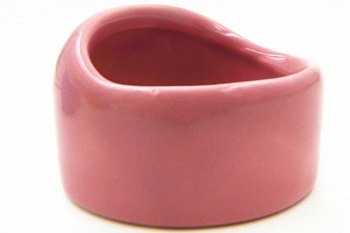 Customize Your Cage
If you want to change your cage's appearance and add different hamster food dishes, activity and play toys, and other decorations, then get these colorful and interesting bowls. Convert your enclosure into a fun hamster play-house.
In Short:
the Anone bows is no-spill
it has an arc top to prevent spilling
the bowls come in different colors
they make your cage fun and cool
one food dish measures 2.8 x 2.7 x 1.8"
BEST CHEAP HAMSTER FOOD DISH
Living World Small Green Bowl
The Good Quality
This is one of the coolest and most affordable bowls. It is made of sterile and bacteria-free material. This bowl is sturdy and ergonomically-slanted. Your hamster will have easy access to food or water.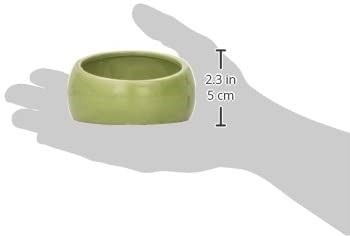 Different And Fun Colors
The model we are presenting to you comes in green. However, you can choose between another color such as pink, blue, or terracotta. Make your cage fun and colorful and get two or more bowls. They will definitely fit into your cage.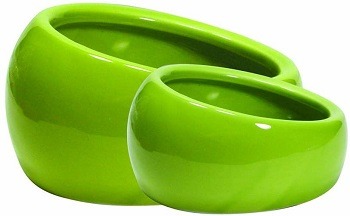 The Size And Weight
Each of the Living World hamster food dishes measures 3.5 inches L x 3.5 inches W x 1.5 inches H and weighs 4.22 ounces. They are heavy-based and it is not so easy to spill water or food from them. Put them in any of your hamster enclosure.
In Short:
the price is very cheap
the quality is pretty high
it is a bacteria-free and sterile bowl
comes in different colors
it is heavy-based and no-spill
BEST SMALL HAMSTER FOOD DISH
CoscosX Hamster Dish Bowl
About CoscosX
The material is long-lasting and chew-proof ceramics. The bowl is difficult to overturn. The bow does not absorb food and food colors. It is ergonomic and perfect for small hamsters.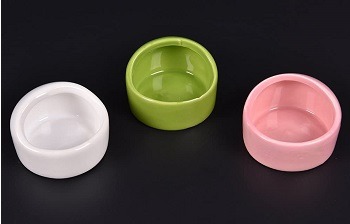 The Dimensions
The size of each little bowl is 2.36" X 1.69". The bowl is perfect for small animals – hamsters, mice, gerbils, etc. Each bowl will make a great addition to your hamster's cage.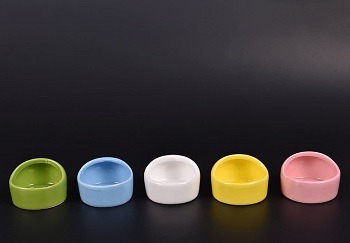 Easy To Maintain
Just like every other hamster food dish bowl on our list, the CoscosX is very hygienic and simple to clean and maintain. Don't forget that apart from cleaning your hamster's enclosure, you should also clean its accessories, hamster litter box, and toys.
In Short:
bowl is durable and heavy-based
ideal for hamsters and small animals
the price is budget-friendly
the bowl is hygienic and sterile
it is no-spill and difficult to overturn
How To Pick: Hamster Dish
It may seem an easy job to pick a perfect hamster food dish and hamster water dish. We will not say that it isn't easy, but there are a few things that you must take into consideration, apart from the cool design and price. It is the quality of the material, the design, the size, and maintenance. Find out more details.
The Safe And Quality Ceramic – The ceramics needs to be completely non-toxic and of high-quality. Your little hamster dish needs to be double-baked, non-chew, and heavy-duty so that it doesn't get overturned easily.
The Ergonomic Design – The ideal bowls are no-spill and come with an ergonomic design. Your hamster should be able to access it easily. Some models have an arc top that prevents food from spilling. Make sure your little bowl fits in your cage.
The Size And Weight – The smaller the bowl, the better. Not only it will fit into any cage, but it will be easier and faster to refill and clean it. Also, your hamster will prefer the small to large bowl. Ensure your dish has a heavy-based bottom.
How To Clean? – Most of the dishes can be cleaned in the dishwasher. Choose the hygienic and sterile bowl. It should be bacteria-free as well. Clean it regularly.
Where To Buy? – You can get super-cool and high-quality hamster dishes and feeding bowls online. Before buying, check the manufacturer and make sure it is reliable. You will find the best models online on famous retail websites.
To Sum Up
Out of these six hamster food dishes, we mostly liked the Omem Hamster Dish one. Its design is pretty cool and the bowl fits in any cool and modern hamster cage. Together with other hamster cage accessories and decorations, it will convert every empty enclosure into a fun and colorful hamster cage.