Are you in need of a hamster hutch?
Do you want your hamster to live in an environment that is as natural as possible?
Then don't miss this article. Here, you will read all the important details about the best hutches for hamsters. We have divided them into six categories – enclosure, cat-proof, with metal, and more. Scroll down to read our guide and check out which model we consider the best.
The Summary
Best 6 Hamster Hutch Cages
BEST OF BEST HAMSTER HUTCH
Aivituvin Tall Hamster Hutch
The Tall Construction
Aivituvin hamster hutch is tall and multi-level. It is made of a solid fir wood frame and wire mesh. There are large front and top doors for easy access. The hutch is painted only with eco-friendly paint. This cage is natural, waterproof, and completely safe for your hamsters.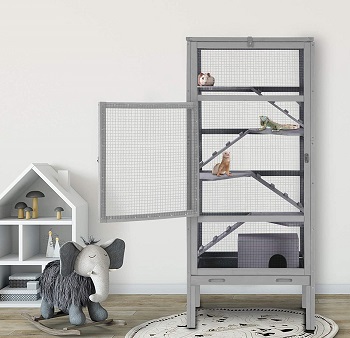 Multiple Levels
There are five levels inside of this cage. There are connected with four ramps. The cage includes four platforms as well. This cage allows your hamsters to run, jump, play, and explore as much as they want. This tall hutch is very fun and spacious.
Space For Two
The Aivituvin cage is an ideal hamster cage for 2. Your hamsters need a lot of space for all of their everyday activities. They should have a special resting zone and an activity play zone. The size of the Aivituvin hutch is 23.6″L x 15.7″W x 55.1″H.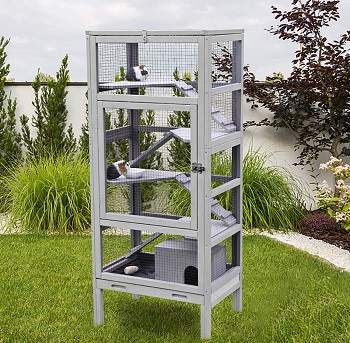 What Is Included?
On the first level, there is a large hideout house that will serve as a resting zone for your hamsters. Apart from the platforms and ramps, there is a no-leak pull-out tray included. A chewing toy and a food dish bowl are included as well.
In Short:
includes all that you hamster needs
fits two pet hamsters
the hutch is tall and spacious
this is a 5-level hamster cage
the cage has two large access doors
this hamster cage is waterproof
it can be used outdoors as well
BEST ENCLOSURE HAMSTER HUTCH
Ferplast Hamsterville Hutch
The Material Used
The Ferplast Hamsterville is a sturdy and long-lasting hamster hutch cage. It is made of a solid wood frame and robust net wires. The material used is toxic-free and pet-friendly. The space between the wires is narrow which makes this cage safe for your pet.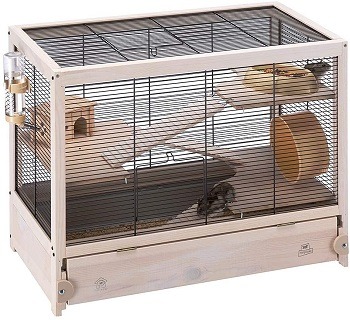 The Inside Of The Hutch
On the inside, you will find four levels (three wooden platforms connected by three wooden ramps). Each of the platforms includes one hamster decoration or accessory – a running wheel, a food bowl, and a wooden hamster hideout.
The Access Doors
Keeping your hutch clean is very important both for you and your hamster. When in search of an ideal hutch or any type of enclosure, make sure there are doors that allow you to access the cage easily. This cage comes with top and front doors and allows you to clean with no hassle.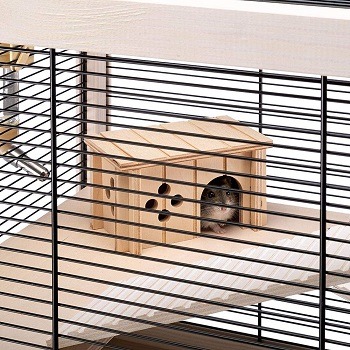 The Maintenance
This cage is simple to maintain. Apart from the access doors, there is an easy-to-remove bedding and a plastic base. It helps you to dump the litter more easily. Clean the cage accessories with a soft and moist cloth.
In Short:
this hutch is sturdy and durable
it is made of solid wood and net wires
there are platforms and ramps
on each platform, there is one accessory
the cage is easy to access
clean this hutch with no hassle
BEST CAT-PROOF HAMSTER HUTCH
Scurrty Large Syrian Hutch For Hamsters
For Syrian Hamsters
This large hutch by Scurrty is not suitable for all small animals. In particular, it can be used only if you have larger-sized pets such as Syrian hamsters, large pet rats, rabbits, etc. The space between the wires is not narrow enough for small or dwarf hamsters.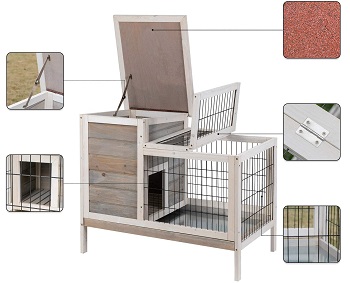 The Large Design
It is ideal to get this cage if you have two or three Syrian hamsters. Each of them will have just enough private space. This hutch measures 36.2 X 19.6 X 30.7 inches. There are the open area and the large hideout rest zone. Underneath, you will find a pull-out tray.
Safe And Waterproof
The iron wires of this cage are study and chew-proof. They are here to protect your hamster from cats or any other domestic animals. You can feel completely safe about your hamsters inside of this hutch. The top of the hutch is waterproof so you can use it outdoors or in a humid environment.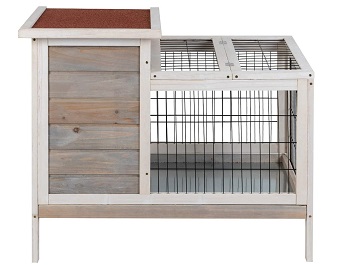 The Setup And Cleaning
This large wooden hamster cage comes unassembled. The setup is simple and quick. The instructions are provided within the user guide. The maintenances is very simple as well. Access this hamster hutch through the two top doors and clean the cage with ease.
In Short:
for Syrian hamsters or large pets
fits two or three Syrian hamsters
the cage is pet-friendly and sturdy
wires are chew-proof and cat-proof
this is an indoor-outdoor hutch
the setup is simple and clean
BEST MULTI-LEVEL HAMSTER HUTCH
Aleko Wooden Cage
Fun Environment
Aleko hutch for hamsters is made of rot-resistant fir wood frame, wire mesh on the top, and the transparent acrylic front and sides. It provides a lot of space for your hamster to play and rest. There are two hideouts, three ramps, and three tiers.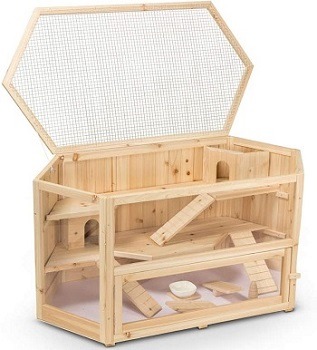 Easy To Access
This hutch has a top and front access. Open the cage whenever you need to clean the inside, refill the food bowl or water bottle, or simply pet your hamster. Maintain the cage every day. Make sure your change the hamster litter box and clean the accessories and toys too.
Natural And Comfortable
The material that is used for the construction of the Aleko hamster hutch completely safe and eco-friendly. It will make your pet hamster comfortable and cozy. The overall size of the Aleko fun hamster cage is 48 x 25 x 6 inches.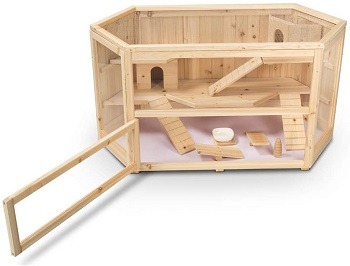 Why Get This Hutch?
You should consider getting the Aleko hutch if you want your hamster to live in a natural habitat. The acrylic front and sides provide you a good visibility to the inside of the cage. The cage is convenient to have and its cost is medium.
In Short:
this is a fun and eco-friendly hutch
it is made of non-toxic and safe material
the cage has levels and hideouts
this is a natural and cozy hamster environment
the wire top makes it well-ventilated
BEST METAL WIRE HAMSTER HUTCH
Petsfit Cage For Syrian Hamsters
A Large Construction
The Petsfit is another hutch that is suitable for Syrian hamsters or other small animals of similar size. Do not use this cage if you have smaller-sized hamsters or dwarf hamsters. This enclosure is large and made of long-lasting material.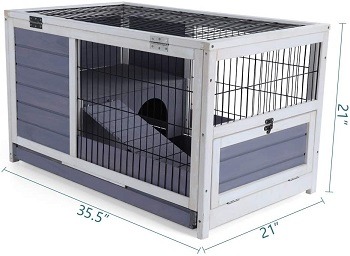 The Spacious Design
There is just enough space for the two or your Syrian hamsters to live together. This cage's dimensions are 35.5 X 21 X 21 inches. On one side of the hutch, there is a hideout. Your hamster can climb the ladders and reach the top of the hideout.
The Assembly And Cleaning
To set up the cage, use the instructions. There are pre-drilled holes and the assembly is simple and quick. To clean, you can remove the bottom tray and clean the inside with no hassle. Moreover, this hamster hutch opens on the top and allows easy access.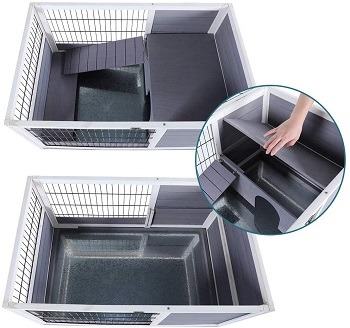 Add More Accessories
This hutch allows you to add more hamster cage accessories and decorations. Make sure your hamster is active and get it tubes, tunnels, running wheels, and some of the chewable hamster toys.
In Short:
easy to set up and clean
provides a lot of space
suitable for Syrian hamsters
there is a hideout and ladder
the hutch is made of wood and wires
it is pet-friendly and safe
BEST 2-LEVEL HAMSTER HUTCH
New Age Wooden Acrylic Hutch
Secure And Safe
The New Age hamster hutch is safe and secure. It protects your hamster all the time. No other domestic animal or pet will be able to access it. The cage is sturdy and long-lasting. It is heavy-duty and harmless. There are no sharp edges.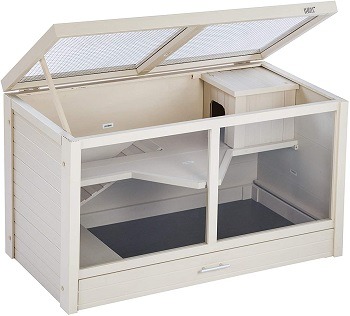 High-Quality Material
This hutch is constructed out of natural woof, wire mesh, and eco-fley. The front side of it is transparent and provides good visibility. The material used is of high quality and the cage is anti-rot and durable.
The Hamster Play Zone
There is a safe hamster ladder included that leads the platform. On the platform, your hamster will find a spacious wooden hideout. There is a lot of space for your hamster to play and stay active. Feel free to install other decorations and accessories.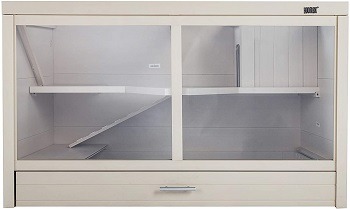 Useful Details
The overall dimensions of the New Age enclosure are 43.3 x 23.6 x 23.6 inches. The weight of the cage is 43.78 pounds. The cage may fit another hamster as well. You can also use the cage for a Syrian hamster. This is an escape-proof hamster cage that will make you feel relaxed.
In Short:
this cage is of high-quality
the hutch is long-lasting and large
it is durable and anti-rot
includes a hideout, platform, and a ladder
there is a lot of space for activities
How To Pick: Hamster Hutch
Before buying, we suggest you to read our article. Hopefully, it will help with your decision. We have listed several essential features that every hamster hutch cage needs to come with. These are the size, material, space, and safety. Read on and find out more.
The Size Of The Hutch – The size of the hutch depends on your hamster's size. If you have a small hamster or a dwarf hamster, obviously you won't need a large hutch. On the other hand, if you have a Syrian hamster or two or more hamsters, then it may be smart to get a cage with a lot of horizontal or vertical space.
The Quality – You need to ensure the cage that you are looking to buy is made of non-toxic, anti-rust, chew-proof, and completely safe material. Most of the hutches are made of eco-friendly and natural material. Choose wisely.
Spaciousness And Play Area – Every hamster, whether a big or small one, needs to have enough space for all of its everyday activities. That includes the resting area and the play zone. Get a cage that will make your hamster active, comfortable, and safe.
Security And Safety – An ideal hutch for hamsters can be secured and it is cat-proof. A safe cage is not only made of quality materials, but it has no sharp edges, comes with narrow wire spacing, it is non-leak, and chew-proof.
Why Buy A Hamster Hutch? – We suggest buying a hutch for your hamster if you have a lot of indoor space or if you prefer keeping them outdoors. Many models are waterproof and can withstand high and low temperatures. Your hamster will love the natural environment these hamster enclosures provide.
To Sum Up
If we were to buy a hamster hutch, we would choose the Aivituvin Hutch. We like the fact that it has a lot of space for at least two hamsters. Moreover, it is a multi-level hamster cage and lets your hamster stay active. If you liked it as well, you may also like our article about the tall hamster cages.