Are you tired of searching for a small dog ball launcher to keep your little dog happy and safe while playing?
Just continue reading this article cause we've got the answer for you. we reviewed ball throwers fit for small dogs and put them in categories like an automatic, shooter, and even sticks to end your search no matter what type of product you're looking for.
The Summary
Best 6 Small Dog Ball Launchers
BEST OF BEST SMALL DOG BALL LAUNCHER
Idogmate Rechargeable Pet Ball Launcher
Ball Material And Size
The tennis balls that come with a small dog ball launcher are made like a tennis ball but don't hurt your dog's teeth. The balls are 1.65-in diameter wide and the machine support balls up to 1.75-in diameter. They are made to fit a small dogs' mouth. it's worth noting that these balls, although non-abrasive do not support heavy chewing.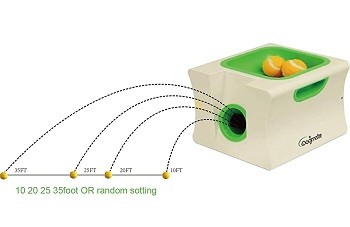 Powering The Machine
To save power, this automatic ball thrower for small dogs has an auto turn-off feature. The way you power the machine is through an AC adapter or a rechargeable Li-ion battery that can support up to 250 launches when fully charged.
Throwing Range And Settings
The iDogMate mini ball launcher has 4 distance settings ranging from 10,20,30, and 35 feet. You can choose any of these to be fixed or you can choose the option which randomly selects the throwing distance every time.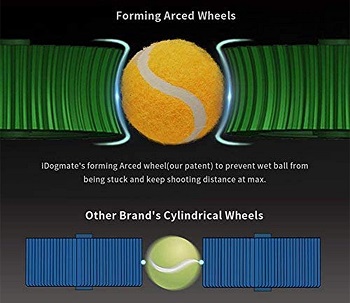 Controlling The Machine
It's small in size but has a large, hollow basket on top so that your dog can place the balls in to shoot by himself. It also has a remote control for you to set it up from a certain distance so that you don't have to come to the machine every time you want to change something.
In Short:
Features 4 distance setting and one random distance setting
Fit to be used outdoor with an included rechargeable Li-ion battery
Has a remote control for operating from a distance
Comes with 3, felted, 1.65-in diameter balls
BEST TENIS SHOOTER SMALL BALL LAUNCHER
Nerf Dog Tennis Ball Blaster
Color And Design
This small dog ball launcher is designed with style in mind. This small dog tennis ball launcher is orange and blue colored. Not only that, but it is also transparent. It is 12-in long and looks tough and durable because it's made of plastic with these properties.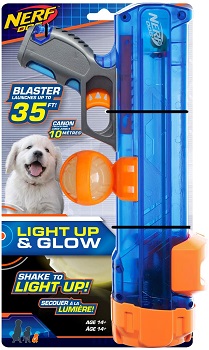 Distance Range
It will shoot balls up to 35 ft in the air which is enough for small dog breeds to keep them entertained but not tire them out completely.
How It Works
The way it works is simple: put the blast out hole onto the ball or place the ball inside yourself, pull the orange lever to lock it into place, and pull the trigger to shoot it up. You can adjust the throwing distance yourself by pulling the orange lever further.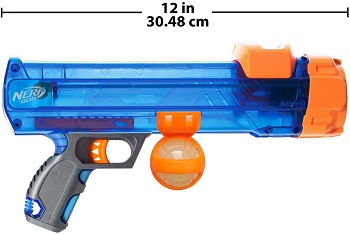 LED Glow Ball
The ball that goes with it glows upon shaking it. It has a 2-in diameter and is fit for small dogs to fit in their mouth. This ball is not a tennis ball though. It is a Nerf style LED ball. You get one with the ball shooter, but you can also use other 2-in size balls for it to work. It also has a little plastic pouch to store another ball.
In Short:
Provides Simple ball pickup and shooting
Comes with a glowing LED ball
Fits 2-in sized balls
Transparent color design
BEST INTERACTIVE SMALL BALL LAUNCHER
iFetch Frenzy Launcher
Brain Puzzle Game
Note that the iFetch mini frenzy toy is not a small dog ball launcher, it's made to keep your dog's brain active by playing a game of guessing with him. It's simple in design, featuring a vase shape that opens at the top and it has 3 holes on the bottom sides.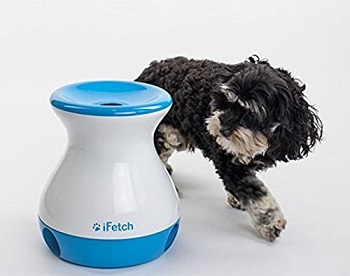 How It Works
Your dog uses it in a way that he places the ball inside the top and the machine randomly shoots out a ball 6-12 feet away through the 3 different holes. It's fun for the dog because he never knows where it's going to shoot next and it's useful for your dog to get familiar with self ball throwers.
Ball Reward System
It's great because it doesn't use a food reward system, the ball is the reward that replaces food. You get with the machine 3, 1.6-in diameter balls that are not abrasive. For storing the balls you'll get a secret compartment on the machine for them.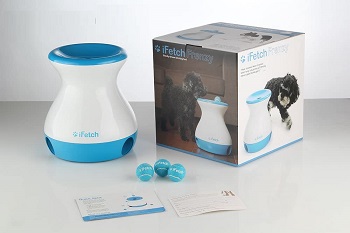 No Electricity Use
For this small ball thrower, you don't need electricity to run it and it won't disturb your dog since it is quiet when operating. As for storage, it doesn't come with additional pieces and it has a secret compartment on the bottom to store balls.
In Short:
Doesn't use electricity
Quiet when in use
Good brain puzzle for dogs
comes with 3 balls
BEST THROWER STICK SMALL BALL LAUNCHER
Chuckit Small Ball Launcher
Material, Color, And Flexibility
This small dog ball launcher features a fun, blue color with the ball being blue and red. The colors make the ball easy to spot. It's completely made out of light plastic that is flexible for larger throwing distance and it has a rubber grip handle for you to easily operate it.

Launchers' Ball Size
The Chuckit small ball launcher for dogs will come with a ball of perfect size to fit into a small dogs' mouth. It's a ball of a 2-in diameter which is a little bit smaller than the standard size to fit inside the mouth of a small dog.
Easy And Safe Ball Pickup
You don't have to get your hand dirty when picking up the ball and you don't have to hurt your back while picking the ball up since the front where the ball lies is designed to make it work in a way where you just scoop the ball from the ground and throw it again with the

2x  The Average Hand Throwing Distance
It doesn't have a specific throwing distance because that is up to you but it does get you 2x larger throwing distance than you would normally get by throwing the ball with your hand. With that said, the distance depends on how long the product is as well so since it's suited for smaller dogs it's shorter so you'll probably get a smaller throwing distance with it.
In Short:
The throwing distance is dependent on you
Ball pickup doesn't get your hands dirty or your back hurting
Made of light plastic
The grip handle is covered with rubber for better grip
BEST AUTOMATIC SMALL BALL THROWER
Felix & Fido Automatic Ball Launcher
Durable Small Balls
The 3, 1.5-in diameter balls that come with the small dog ball launcher are durable and made in a way where they don't get stuck in the machine even when wet after prolonged playing. They are intended to be used by small dogs only and the machine fits into only this size of balls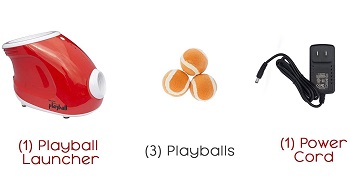 Playing By Himself
This might as well be an interactive ball launcher since you can train your dog to play fetch with himself since the machine shoots out balls when placed on the top basket like a tube which then travels into the shooting hole. When the ball is detected it'll fire it out. Note that you or your dog should only place in the shooter one ball at a time.
Power Saving And Space Use
It has a power-saving design and can be used indoor and outdoor. For outdoor use, you can have it run on 6, C-sized batteries and for indoor use, you can plug it in with an AC adapter.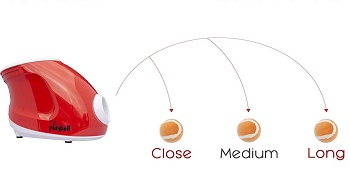 Non-Specific Distance Range
The distance range is not very specific but you have 3 distance setting of close, medium, and long that you can adjust on the machine. The furthest this machine can throw the ball is 20 ft which isn't that far, but enough for small dogs and perfect for indoor use.
In Short:
Short distance range of 20 ft max
Comes with 3 1.5-in diameter balls fit for the machine
Made in a way that your dog can play by himself
2 powering options for indoor and outdoor use
BEST CHEAP AUTO BALL LAUNCHER FOR SMALL DOGS
Afp Automatic Dog Ball Launcher
Distance Range Fit For Small Dogs
This launcher is able to throw the ball 10,20 or even 30 ft away. This provided distance is great for small dogs as it doesn't launch the ball too far. With these three distance settings, you will be able to use this small dog ball launcher outdoor and indoor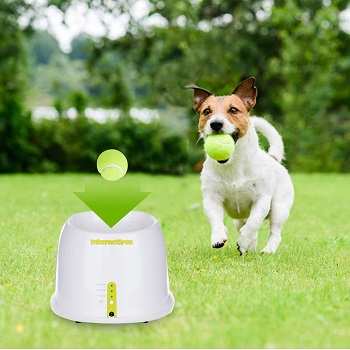 Training Aid Properties
The top of the launcher is slightly tilted to the back to motivate your dog to place the ball inside while standing behind the launch area. This will keep your dog safe as the launcher won't fire the ball into your dog. Another property of this launcher that aids in training your dog is the treat compartment to reward your dog after he's successfully finished a task
Powering The Launcher
To power the launcher, you'll get two options: with an AC adapter that is included and through batteries which are not included in the package. This helps you with choosing to use the launcher for outdoor play by using batteries and for indoor play by using the AC adapter.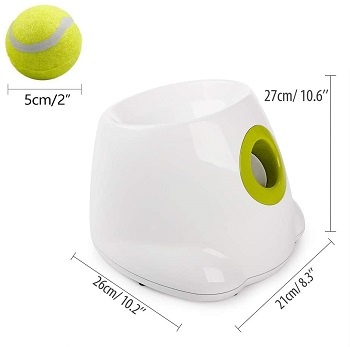 Safe Ball Size
The balls that fit into this machine are of the perfect size for a small dogs' mouth. You'll get three of them with the machine. They are felted, non-toxic, and really durable to last you and your dog a long time. The balls' size is 2-in in diameter.
In Short:
Powered through an AC adapter or batteries
3 distance setting of up to 30 ft
Has a treat compartment for training
Has a tilted top to aid in training
How To Pick A Small Dog Ball Launcher
Small dog ball launchers will, since they are made for smaller breeds, have weaker and lower specs, but you still want to get the most bang for your buck. The products can be different in many aspects like ball material and durability, throwing range, etc. They are rightfully designed with such specs but to make the choice easier, here are some things you should think about before buying.
Ball Size And Material – the balls that come with the launchers shouldn't be bigger than 2-in and no smaller than 1.5-in since small dogs can't find a larger sized ball in and the smaller sized balls become a choking hazard. You should also think about the balls' durability since heavy chewing can cause the ball to break into smaller pieces that your dog can then swallow
Throwing Distance – For products that are suited for smaller dogs, you'll usually get a maximum of 35 ft of throwing distance. which isn't a lot but considering the size of your dog it's great. You also have to consider where you're playing with your pet, is it outdoor or indoor?
Outdoor/Indoor Use – because they have such a small throwing distance usually, most of these are great for indoor use and because you can't really adjust the throwing angle, the are mostly gonna be shot by laying low so you won't have to worry about breaking things that are precious to you just like your dog
Keeping The Work Load Low – By this we mean that they all have some sort of thing to aid you in using it. For a product that requires you to be present and playing with your dog, you'll get a product design that allows for easy ball pickup so you don't put pressure on your back that would be caused by constantly getting down to pick the ball up and for products that are powered by electricity you can usually teach your dog to play by himself. If these things are not included, you're better off finding something else.
To Sum Up
These small dog ball launchers can bring you and your dog a lot of happiness because of how they transform playtime into an easy and not so time-consuming task and the one that does this best is definitely theiFetch Frenzy. It's not really a launcher, but it does shoot up the ball up to 12 ft away and it's not only a playtime toy, it's also a game puzzle to keep your dog mentally active as well. It's great for indoor use, doesn't need electricity to run, operates on a quiet level, and can be used by your dog himself. Now, if you have a large dog which makes these unsafe for your dog to use check out this article about ball launchers for large dogs, but if you're more interested in interacting with your pet read this post about interactive ball launchers and make sure playtime is used as quality time spent together.